Linux is a well-known open-source operating system whose functionality can currently be observed on various platforms for running servers, embedded computers, and PCs. The Linux operating system can handle several services, including app scheduling, the file system, and primary peripheral devices. Since Linux can perform such activities, file management is a typical administrative task for Linux end users. Therefore, you will require the best file manager for Linux.
Multiple files are necessary for daily use on our system. However, we may not need many of these in the future; therefore, the entire filing system has become obsolete. The best file manager for Linux functions as a practical aid for managing all files.
There are several advantages to locating the ideal app, beginning with the fact that it can handle a big workload. Other capabilities include:
Deletion.

Managing disc space allocation.

Discovering files.

Renaming or removing files.

Accessing files with other apps.
Finding the best file manager for Linux may sound simple, but it is everything. It is because not all Linux file managers 2022 are equally competent. Thus, we intend to present an overview of the best file managers for Linux. It will aid you in choosing the best option and making a logical choice.
Excited? So, let's get started.
8 Best File Manager For Linux in 2022 (For Power Users)
Here is the list of the Best File Manager For Linux.
1. Thunar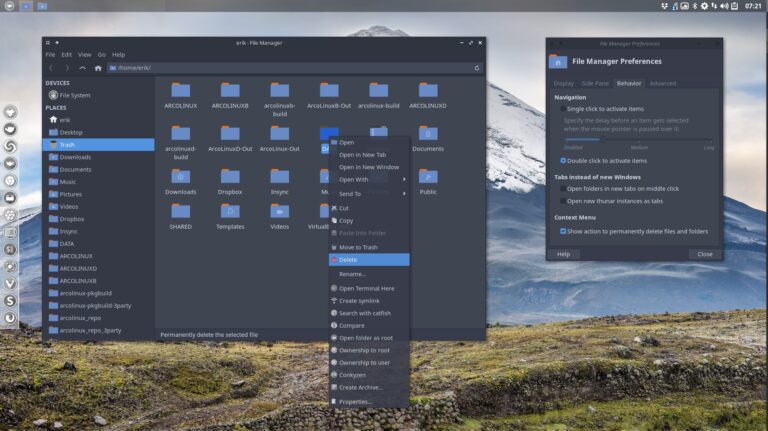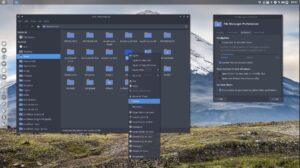 Thunar is a file manager for Linux that tries to deliver superior speed and response time compared to the majority of other options in the category. In addition, the XFCE Desktop environment uses the GNOME accessibility tools to create software that is more accessible.
There are numerous advantages to using the file manager; it is a user-friendly option that even novices can benefit from while still meeting the needs of advanced users. Moreover, if you ever feel that the app's default capabilities are insufficient, you can expand its capability using other plugins. It complies with all applicable requirements and is accessible via assistive technology. It also includes a terminal emulator for efficient operation.
Thunar allows you to rename several files simultaneously. In addition, it offers emblems to mark folders for improved and faster visual references. The software also includes a volume manager that allows you to control removable media devices automatically. You can also easily send any file or folder using the "Send To" option.
Standout Feature:
Lightweight and user-friendly

Volume manager feature

It features a send-to option to facilitate sharing of folders and files.
2. Konqueror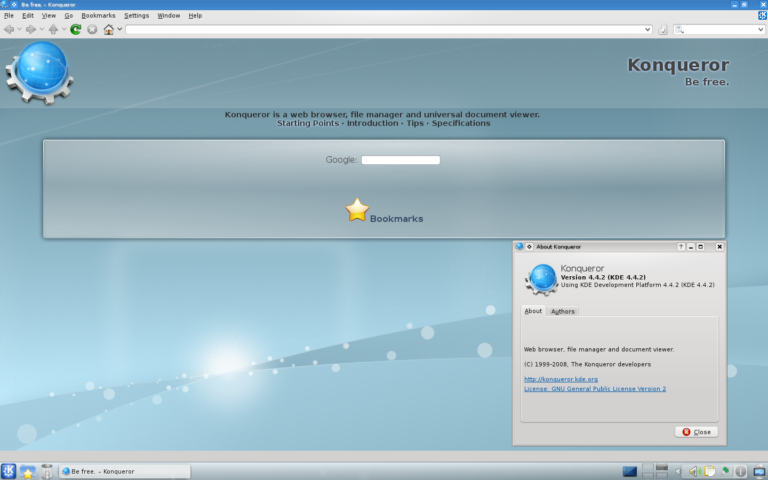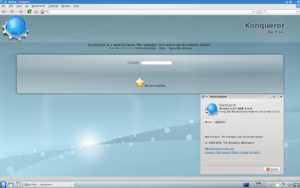 Next in our list of the best File Manager For Linux Power Users is Konqueror. It is an open-source, free app with some unique features, making it one of the best file managers for Linux. An exclusive part is the system's web browser, which provides the Internet connection. In addition, it provides access to both local and network files from a single file manager. Therefore, it is appropriate for both a web browser and an effective file manager.
You may quickly move, copy, delete, and search for files with Konqueror's user interface, which is basic yet functional. In addition, it offers additional capabilities such as success tracking, SMB file sharing, FTP and SFTP access, etc. The software is extensively customizable to accommodate all user preferences.
The app includes an FTP client with a split view interface that displays local and distant files in the same window. It is also compatible with numerous plugins, such as KIO, KParts, kdegraphics, service-menus, and thumbnails. Finally, it enables users to navigate the web using KHTML or KDEWebKit as its rendering engine.
Standout Features:
Allows downloads from several websites

Practical and straightforward to operate

Compatible with numerous plugins that augment functionality.
3. Dolphin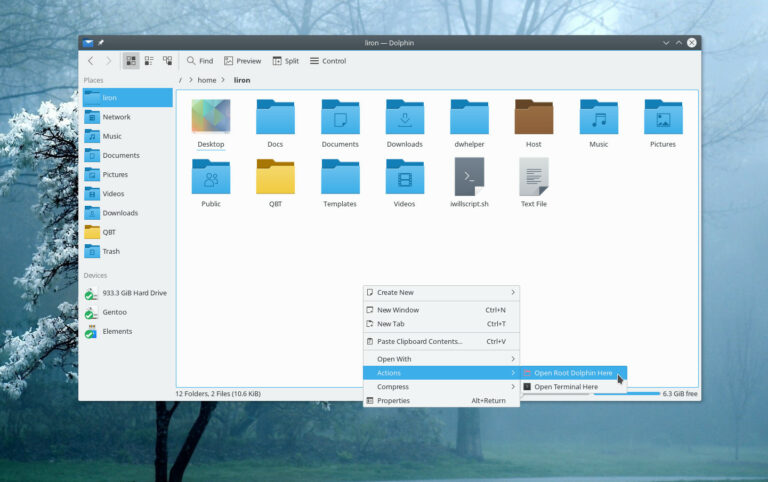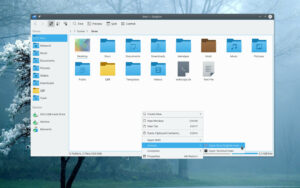 If we talk about the top-notch File Manager For Linux you can use in 2022, Dolphin File Manager, one of the best file managers for Linux, is also the default file manager for the KDE desktop. It has a default configuration that grants you access to a panel listing on the left with the default options home, root, trash, and network. Simultaneously, its primary section will display a list of the current directory's contents as details, columns, or icons.
The primary section closely resembles the terminal window listings. Through the expandable folders option, you can select to view or hide the directory tree's hierarchy while on it. You can toggle the two-pane layout ON or OFF with the split button and launch multiple tabs. If you're ever confused about what a button does, you can get a helpful tooltip by pressing shift + F1 while the cursor is over it.
Overall, Dolphin is an exceptional, lightweight, and robust file manager with an appealing, clutter-free, and natural appearance. Its design expedites file browsing, deletion, and transfer while allowing customization and adaptability.
Standout Features:
Integrated terminal emulator for executing commands

Improve its functionality with various plugins

Offers undo and redo options for forward and reverse stages.
4. 4Pane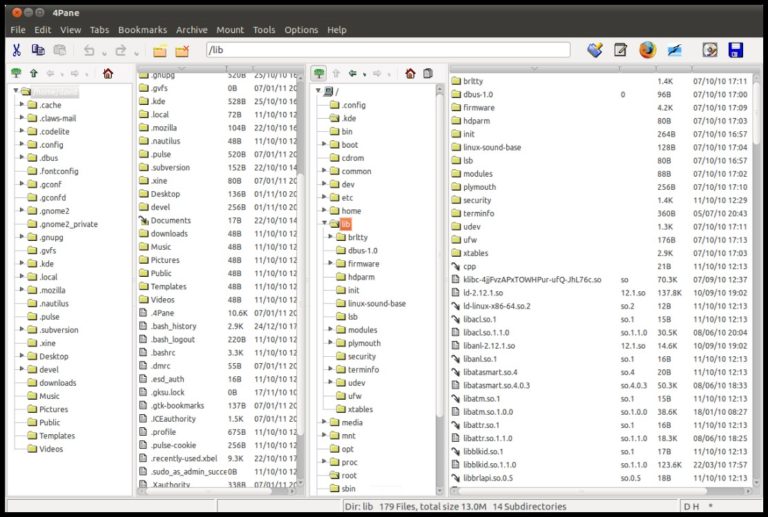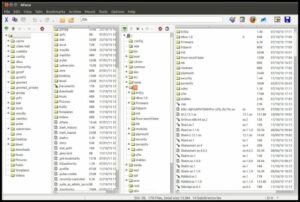 If you want the best file manager for Linux that prioritizes performance over aesthetics, 4Pane is an excellent option. It is among the best File Managers for Linux Systems. It gets its name from its default configuration, which consists of two identical pane pairs. Each pair consists of a comprehensive file list and a directory tree view. However, you have the option to add or remove panes, as well as to store bookmarks or tabs.
After initiating 4Pane, a wizard scans your system to create the initial configuration or allows you to import an existing option. Once you have configured 4Pane to your specifications, you can save that configuration as a template. This best Linux terminal file manager provides available keyboard shortcuts, which can be configured for most functions. According to its documentation, practically everything can be adjusted using "Options"> "Configure 4Pane menu" and "[by] pressing F1," you will receive context-sensitive help.
Its interface includes menus and buttons for mounting and dismounting discs and partitions. You can also quickly return to frequently visited folders. In addition, 4Pane can manage removable files, Samba shares, and NFS, as well as do mass renaming and file duplication.
4Pane offers a built-in terminal emulator. Unfortunately, you cannot use escape, su, or sudo, nor can you escape the sequences, even though it is not fully functional. However, it supports command histories, pipes, and redirections, which will save you a considerable amount of time.
Standout Features:
Includes a built-in terminal emulator

Ideal for large renaming or duplicate production.

Simple to operate
5. Nemo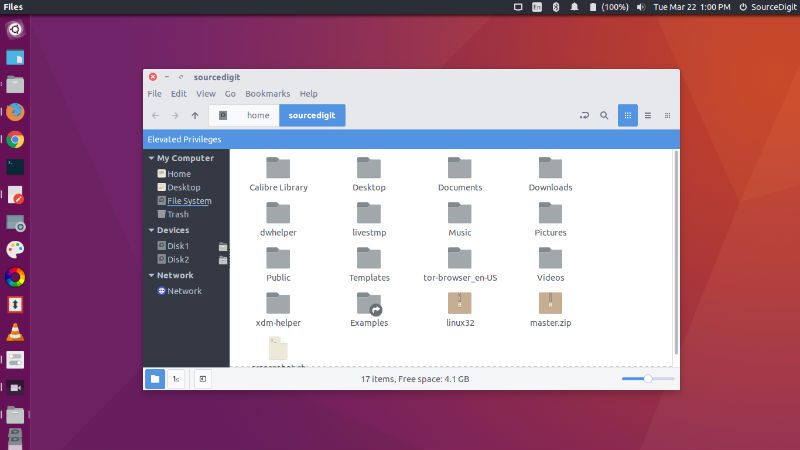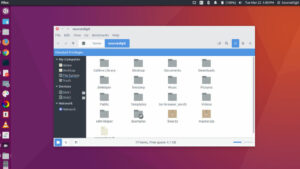 Nemo File Manager is one of the best file managers for Linux available. It is a feature-rich app for the cinnamon desktop environment from Linux Mint. It is an open-source, free app with a clean, intuitive, and straightforward graphical user interface.
Nemo's usage of GIO (Gnome Input/Output) and GVf (GNOME Virtual file system) to maximize performance is a crucial advantage. In addition, it features a dual-pane mode that makes it easy to copy, move, and paste folders and files. Another benefit of the file manager is that you may access both local and network files from the same window. In addition, this best Linux best file manager reddit supports many bookmark management capabilities (such as the GTK bookmarks management option) and provides powerful navigation options such as refresh, back, forward, and up.
This popular File Manager For Linux includes an integrated terminal that may be used to execute commands directly from the file manager. Additionally, users can toggle between the path entry widgets and breadcrumb widgets. You can also add other extensions if you wish to expand its functionality.
Standout Features:
Delivers impeccable performance

Supports FTP and MTP

Feature-rich file manager
6. Nautilus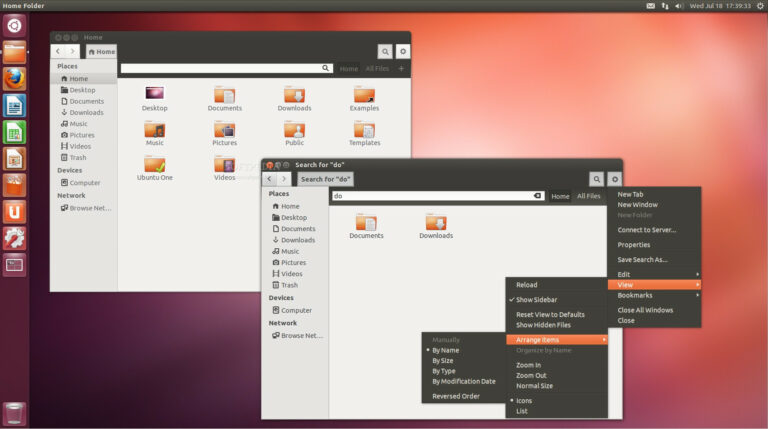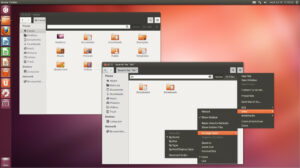 Are you still seeking the famous and best File Manager For Linux to customize your workflows? On Fedora 14, you will find the efficient app Nautilus, which is appropriate for all types of file management activities. The software will show a multi-pane interface with a tree on the left and a few icons. This area is reserved for watching any file and is referred to as the Browser mode of the app.
Additionally, it has a mode that launches a separate window for each folder you open. Therefore, you can see it in whichever manner you like. Regarding features, Nautilus is one of the best file managers for Linux. It allows you to watch the directory's contents in the compact, icons, and list views, as they are all accessible via a drop-down menu. You can also choose between a single or double click to open the file, and the thumbnails can be enabled or disabled based on your preferences.
Additionally, Nautilus allows you an alternate view of all folders within the window. In addition, the top bar provides additional buttons for accessing recently visited folders. A little arrow-shaped icon activates each toolbar's search capabilities on the right-hand side. Notes or emblems in the form of small images can be attached to files to make them easier to locate, which is a notable feature of the app.
Standout Features:
Use the app in two modes

Facilitates file location.

Use the search function to locate a specific file.
7. PCManFM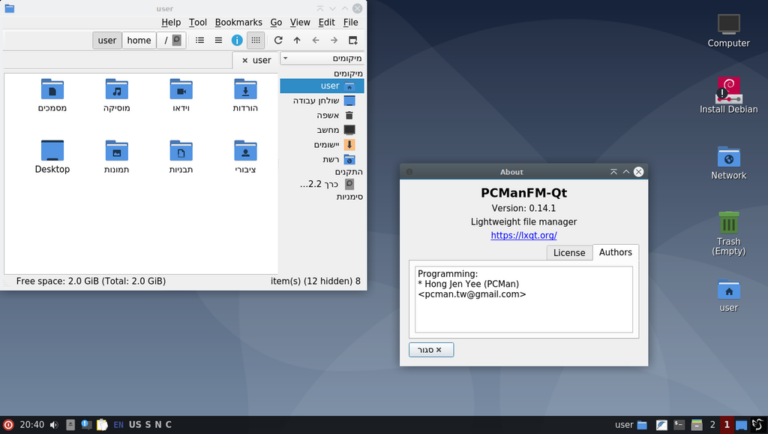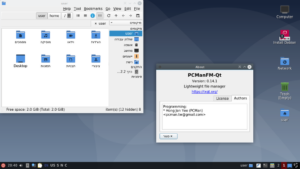 Next in our list of the best File Manager For Linux is PCManFM. It is a lightweight yet feature-rich file manager designed to compete with the industry's most popular apps, like Thunar and Nautilus. It ranks as one of the best file managers for Linux due to the abundance of features that distinguish it from other options. It is a free app with a dual panel, linguistic support, thumbnail images, and bookmarks to maximize functionality.
PCManFM offers a variety of open views, including detailed views, compact views, thumbnail views, and icon views. In addition, the app provides a volume management feature that enables rapid mounting and unmounting ejection of storage devices and space management.
The app is compatible with Gvf and offers complete access to remote files, allowing it to manage WebDav, SPTP, and SMB. The Drag & drop feature makes it convenient while boosting accessibility. Additionally, the software can be customized by installing numerous plugins.
Standout Features:
Lightweight and easy to operate

Gvf support

Feature-rich choice
8. Krusader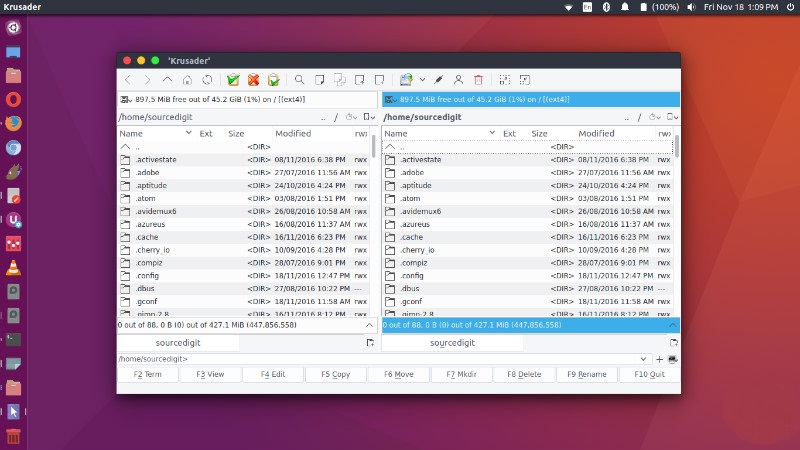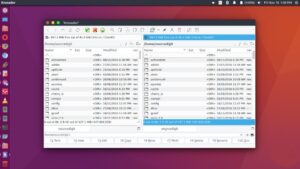 This top File Manager For Linux is a powerful dual-pane file manager that is optimal for the KDE plasma environment. It is derived from the Midnight commander, allowing you to use the same keyboard navigation and command structure. The app's ability to use the trackball or mouse for navigation and conventional drag-and-drop operations is an outstanding feature. Its user interface is an additional efficient feature that lets you view all the files' details, sizes, and types.
The software provides terminal integration capabilities that permit the addition of instructions via the active panel. It also enables file transfer via SFTP and FTP, allowing you to exchange files with others without any difficulty. In addition, it supports numerous archive file formats, such as RPM, ZIP CPIO, tarball, etc. Through it, you can synchronize any directory.
ALSO SEE: Best Photo Editor for Linux
Some of the additional useful features that make Krusader one of the best file managers for Linux are administration-related. For instance, it enables efficient editing of file rights and ownership; you may create an advanced search module and compare file contents. Of course, you can always download more plugins from the KDE store if you believe the functions are insufficient.
Standout Features:
Modify file permissions and ownership with ease

Compare the contents of the files

Use plugins to augment the functionality
FAQs
What is the best file manager for Linux?
Several options might be categorized as the best file managers for Linux. Thunar, Konqueror, Dolphin, and Nautilus are included.
Is Dolphin the best file manager for Linux?
Dolphin is the KDE plasma environment's primary file manager and an excellent Linux file manager reddit with comprehensive capabilities.
Is Thunar better than Nautilus?
Thunar and Nautilus are two of the most popular file managers for a best file manager for the Linux list. Both of these offer superior functionality and features and are lightweight. It'll be up to the user to choose the best option.
Final Words
Choose the best file manager for Linux based on your needs, tastes, and expectations from the abovementioned options. Since each user may desire a unique set of features, the most logical course of action is to choose the best file manager for Linux based on the user's preferences. Our list describes nearly all of the features and what you will receive when you download the software. According to our recommendations, the three best apps in this area are Thunar, Konqueror, and Nautilus.