Art is a thrill and a source of satisfaction. Due to numerous powerful technological breakthroughs, designers have generated great visual representations using their computers and other digitally intelligent gadgets. For example, the best free Drawing Software For Windows combines a realistic simulation of colors, textures, effects, and tools with direct control over virtual brushes and pens to allow for seamless three-dimensional work.
Moreover, drawing apps for PC enable users to produce photorealistic artwork using a diverse range of built-in tools, effects, and colors that can be exported in various file formats. Unfortunately, however, many of the Drawing Software For Windows packages are pretty pricey.
However, if you're looking for free options, your search ends here. This post will discuss some of the best Drawing Software For Windows currently available and their highly competitive and appealing features.
Top Free Drawing Software/Programs For Windows in 2022
Here is a list of the Best Free Drawing Software for designers. Some of the unique options for Drawing Software For Windows available in the current marketplace. Let's scroll through the list!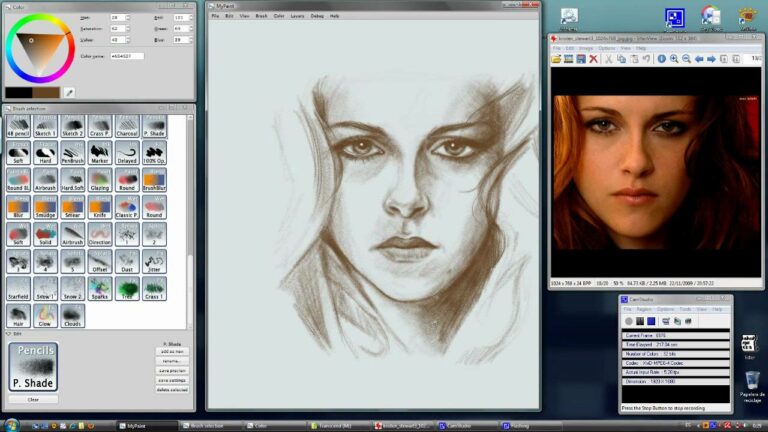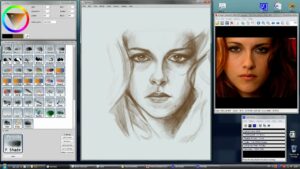 Price: Free
Compatibility: Linux, Windows 10 or above, macOS
MyPaint is an open-source graphic editor that digital painters mainly use. It is a simple-to-use, lightweight, and prolific painting tool that is one of the best drawing apps for PC.
Furthermore, MyPaint is one of the best free Drawing Software For Windows available, featuring a highly configurable and versatile brush engine, a smooth brush flow, an unlimited canvas size, and a distraction-free Fullscreen mode. In addition, it includes features such as pressure-sensitive drawing, layer management, and basic color tweaks.
MyPaint makes it simple to produce expressive artwork by simulating the effects of pencils, paints, ink, and charcoal. Additionally, MyPaint has an intriguing tool called Notepad, which allows you to experiment with different brushes before actually painting with them.
Key Features of MyPaint
MyPaint contains a full-screen view which lets you view even the minute elements.
You can easily add shortcuts to improve the workflow.
It provides a vast list of painting tools that can assist you in creating your art.
Using the app, you can create whichever art you wish as you get infinite canvas size.
Pros
Gamut masking coloring wheel.
Infinite canvas size.
Dynamic brush library.
Simple & user-friendly interface.
Cons
No animation tools.
Slow Undo function.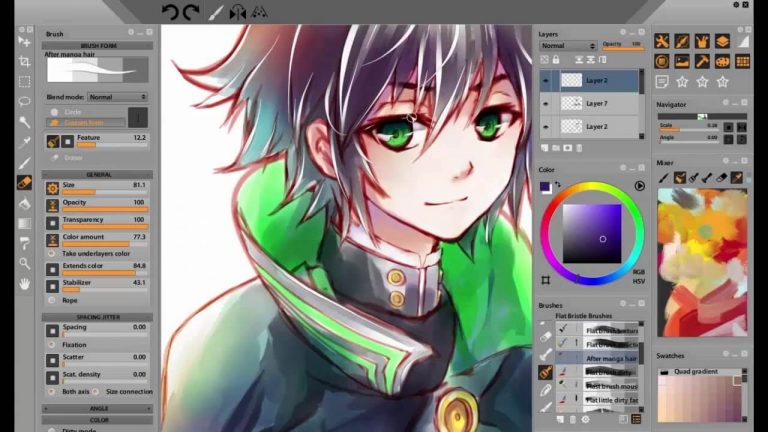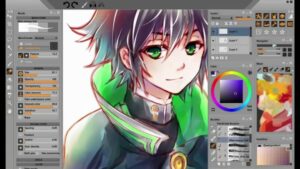 Price: $19.00
Compatibility: Windows, iPad, macOS
Paintstorm Studio is a professional-level drawing app for the PC that provides strong tools for effortlessly creating fantastic artwork. In addition, it's an excellent Drawing Software For Windows that features extensive symmetry tools, a dynamic UI, and customizable brushes.
Additionally, this drawing software free download for Windows 10 offers a free trial edition to start the app 30 times before it expires. Besides, Paintstorm Studio can be purchased for $19.00 for a lifetime license.
Notable Features of Paintstorm Studio
The software provides bristle brushes for every need & requirement.
It contains a dynamic interface where you get to every tool easily.
You can quickly work on multiple layers.
The brushes provided are fully customizable as per requirements.
Pros
Advanced symmetry tools.
Dynamic interface.
Cons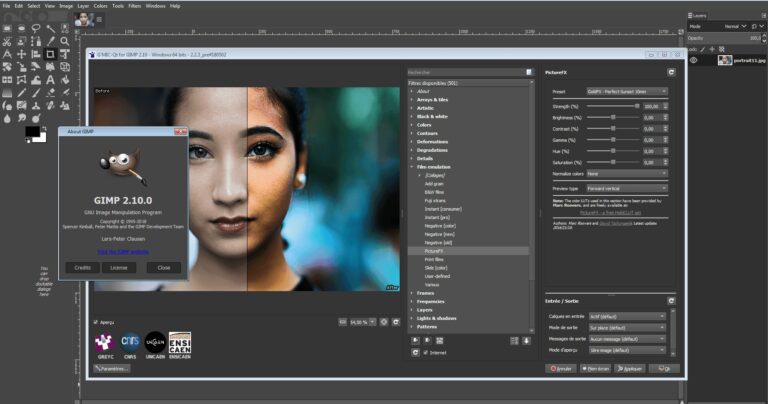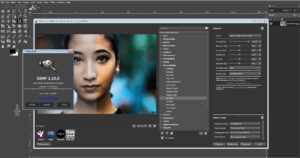 Price: Free
Compatibility: GNU/Linux, OS X, Windows
GIMP is a competent and versatile open-source image editor. Its professional-quality capabilities enable users to effortlessly fine-tune old illustrations or create new ones, making it the best free Drawing Software For Windows available. With practice, it may perform similarly to Photoshop.
Furthermore, GIMP features industry-leading tools for high-quality image alteration, including automatic picture enhancement, color correction, customizable brushes, cloning, and filters. GIMP integrates well with various programming languages, including Python, Perl, and Scheme. In addition, its highly flexible user interface empowers artists to develop truly distinctive graphics.
Notable Offerings of GIMP
It even has graphic design elements.
The software can be quickly customized according to the requirements.
The software allows you to create mockups for re-use.
Unlike other apps, you can manipulate the photos in high quality.
Pros
Provides extensibility with custom plugins.
Professional features for image editing such as the smudge tool, dodge & burn tool, fuzzy select tool, healing brush, etc.
High customization.
Supports loading & saving of virtual files.
PSD support.
Cons
The UI is overwhelming for new users.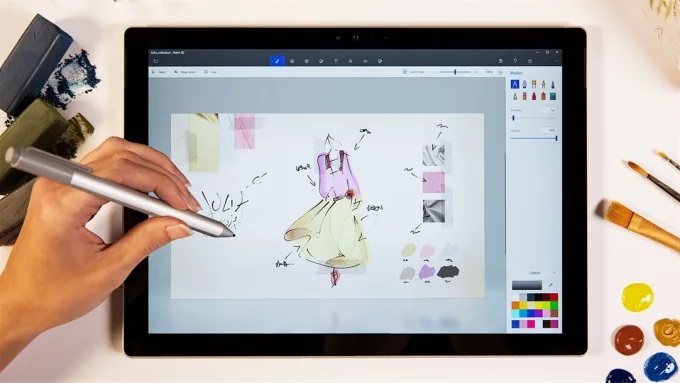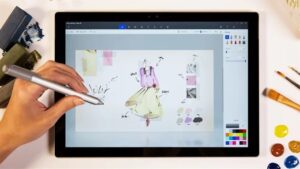 Price: Free
Compatibility: Windows 10
Paint 3D is the best free computer drawing program that ships with a Windows 10 operating system. Microsoft Paint 3D is a simple, kid-friendly piece of software. It makes it simple to create three-dimensional objects and apply animation to them.
Additionally, With Microsoft Paint 3D's 3D object creation tool, you can either import a model from the available options or design your shape and convert it to a 3D model. The 3D model can be rotated precisely, and creating animations is a breeze. Besides, paint 3D enables the creation of 3D images with a finish and lighting effects. These 3D graphics are compatible with various Microsoft Office apps such as Word, PowerPoint, and others.
Key Features of Microsoft Paint 3D
The recent update brings more security to the user's data.
Easily choose the shape that you wish to create.
You can quickly copy your 3D model & paste them into any Microsoft Office app.
Using the new tube brush, you can easily create short dollops & ribbons.
Pros
Variety of paint effects.
Kid-friendly software.
Easy 3D image editing.
Cons
Standard picture editing tools are missing.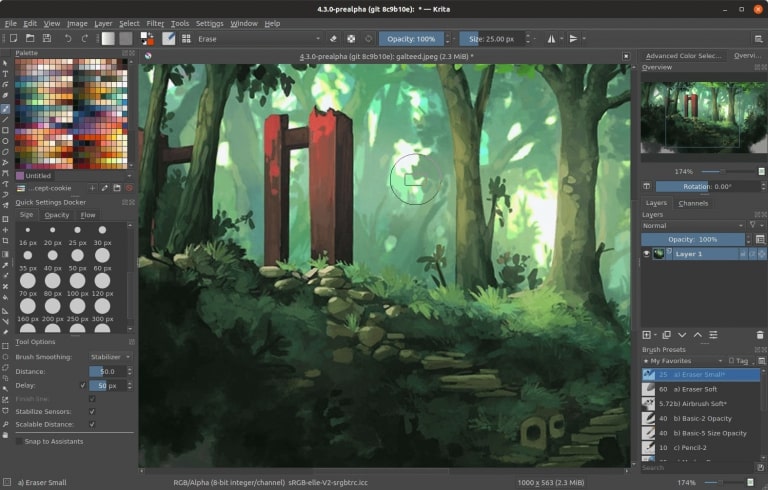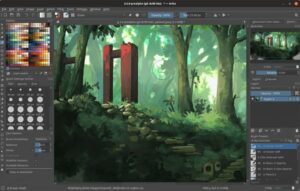 Price: Free
Compatibility: macOS, Linux, Windows
Krita is the greatest free Drawing Software For Windows since it is fast, flexible, and easy to use. Its professional-level toolset offers a novel option for both amateur and professional artists. Krita is one of the most excellent drawing tools for PC, featuring advanced 2D and 3D animation capabilities.
Moreover, Krita is an extremely intuitive interface that enables designers to develop their layouts. Additionally, Krita includes several advanced image editing functions, including brush stabilizers, drawing helpers, professional effects, vector tools, smooth layer management, and mirroring tools.
Further, Krita is an incredible Drawing Software For Windows that dramatically improves the realism of digital artworks. In addition, the Resource Manager enables artists to collaborate on brush and texture packs, expanding their toolbox.
Notable Offerings of Krita
This Drawing Software For Windows provides a brush stabilizer that can help you work easily for all the users who have shaky hands.
You can effortlessly import brush packs and textures anywhere and export them to other artists using the software.
It provides a handy wrap-around mode to assist users in quickly creating textures & patterns.
The software contains 9 brush engines that can be customized & changed according to the requirements.
Pros
PSD files support.
Intelligent & unique 9 brush engines.
High customization.
HDR image Support.
Skilled Wrap-around mode.
Enhanced OpenGL provides increased canvas size & speed.
Cons
I May experience a few lags after updating.
Cumbersome text tool.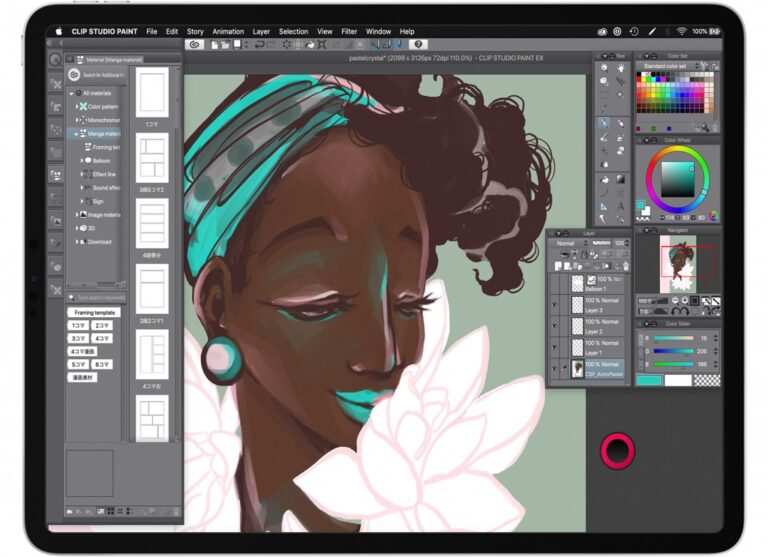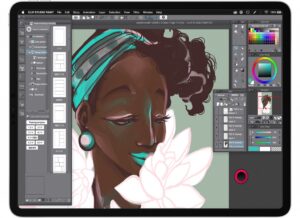 Price: After Free Trial, $49.99
Compatibility: Windows, Android, Chromebook, macOS, iOS
Well, Clip Studio Paint is one of the best free Drawing Software For Windows available, boasting professional-grade capabilities. Due to its remarkable features, improved capabilities, and increased flexibility, this Drawing Software For Windows is commonly used for animation, illustration, and comic creation. In addition, clip Studio includes robust vector tools and a comprehensive set of coloring tools that provide improved responsiveness when creating artwork.
Furthermore, Clip Studio Paint enables you to choose from various preset brush possibilities or develop and apply custom brushes to get a certain impact on your design.
Clip Studio's current edition includes advanced animation features and compatibility with all major file formats, making it one of the best drawing apps for PC.
Key Features of Clip Studio Paint
The software is straightforward to use with its clean & clear interface.
You can easily customize brushes as per your requirements.
If you face any software issue, you can simply check the website & learn every aspect.
The software allows you to create concept art/ painting/ character art/ illustration & animation.
Pros
Excellent coloring options.
Powerful vector tools.
Highly customizable brushes.
Massive user base & community.
Cons
Text tools lack versatility.
Animation with no audio support.
Confusing Interface.
7. Corel PaintShop Pro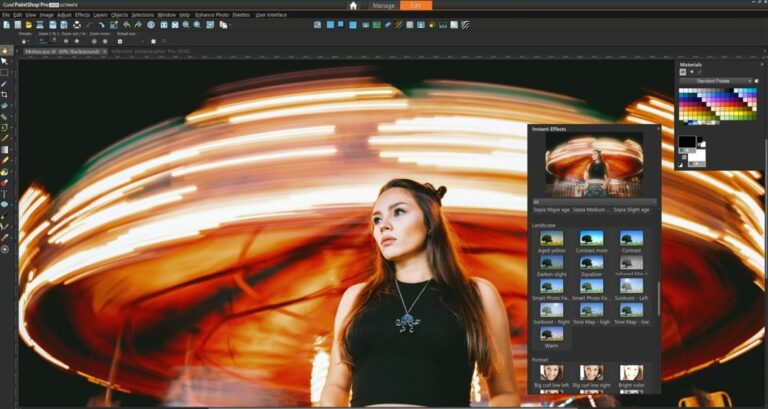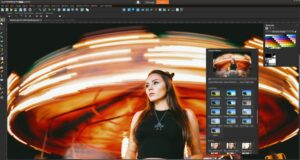 Price: $7.99/ month
Compatibility: Windows 7, 8, 8.1 & 10
Corel PaintShop Pro is the best app on our list of Best Software for Digital Artists. The software includes several valuable features that make work easier for any user. Regardless of your line of work, you may use this software to create the highest quality art. It provides a scalable and cost-effective licensing model. It also includes a slew of other capabilities that might assist you in generating animations and graphics.
Additionally, this best drawing software for PC enables the creation of animation in only three simple steps. At the same time, the Photoshop brush can be used to modify photos. Furthermore, it integrates with Photoshop, making it simple to work with the tools. Besides, it is available in three flavors: PaintShop Pro, PaintShop Pro Ultimate, and Photo Video Bundle Ultimate. You may select any version that corresponds to your genre of work.
Special Offerings of Corel PaintShop Pro
The app supports a majority of file formats for import & export.
With every update, the app gets new tools & features.
Photo Video Bundle Pro is a one-stop solution for photo & videos editing.
It provides various brush formats of Adobe, PaintShop, and Jasc.
Pros
All file formats are supported.
Regular updates to make the software user-friendly.
Free trial available for new users.
It lets a variety of brush formats.
Cons
The price of the software can not be considered budget-friendly.
It doesn't support older versions.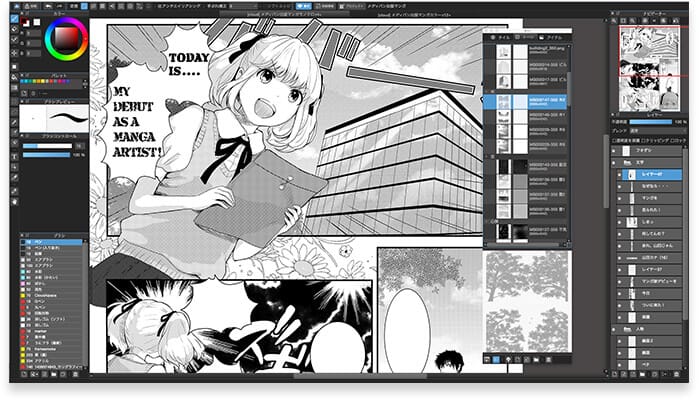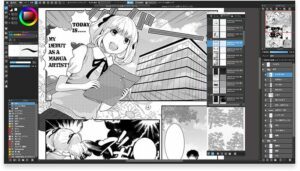 Price: Free
Compatibility: Windows, macOS, Android, iOS
MediBang Paint Pro is one of the best Best drawing apps for Windows 2022 for creating realistic comics, manga, and digital art. It includes a slew of superior layer management, a fluid workflow, an easy-to-use comic panel, and excellent community support like other computer sketching tools.
Besides, MediBang Paint comes pre-installed with over 800 pre-designed backgrounds and templates, a large selection of customizable brushes, and a choice of typefaces and styles from which you can make an illustration according to your imagination.
Moreover, MediBang Paint includes an integrated feature for free cloud storage of your artwork, allowing you to save space on your smartphone and quickly move your artwork between devices.
Key Features of MediBang Paint
You can get access to perspective grids for creating clean backgrounds.
Further, you can get a stabilization tool to draw with your shaky hands.
It allows you to work on multiple pages & save them all in one place.
You can efficiently add the files from other apps & devices.
Pros
Simple Interface.
Versatile brush presets.
Supports multiple platforms.
PSD file support.
Cons
Distracting ads pop up when the app starts.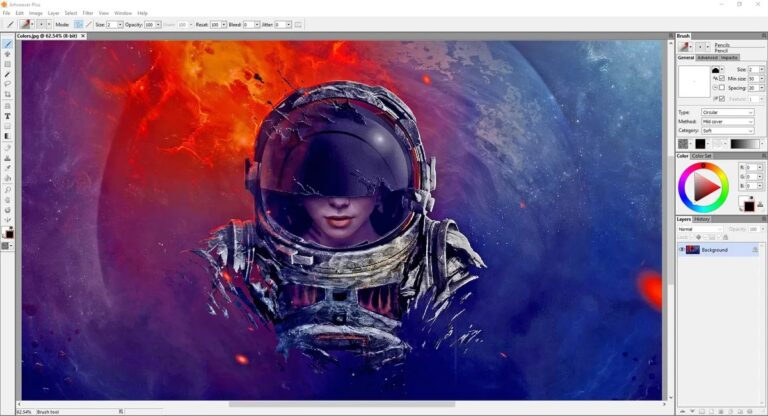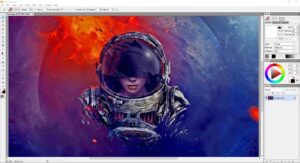 Price: Free
Compatibility: Windows
ArtWeaver is a computer drawing program that bears a strong resemblance to Photoshop. However, it includes unique built-in editors that facilitate photo editing.
ArtWeaver is a full-featured app with a large selection of realistic brushes, an intuitive UI, additional editing filters, and an excellent layering capability. In addition, this free Drawing Software For Windows includes a function that allows you to make unique digital artwork by drawing textures.
Besides, ArtWeaver is a handy and straightforward drawing app suited for children due to its highly flexible brush editor. Additionally, it enables collaboration with other artists via the internet.
Notable Features of ArtWeaver Free
Using this software, you can skillfully work with other artists on the same project.
You get seamless editing & painting experience with its robust tools.
It contains many realistic brushes that you can use.
It provides straightforward use tools to create your favorite artwork.
Pros
Ultra-realistic effects.
Configurable brush editor.
Kid-friendly software.
Intuitive interface.
Creative editing tools.
Cons
Lesser text features in comparison to others.
10. Expression Design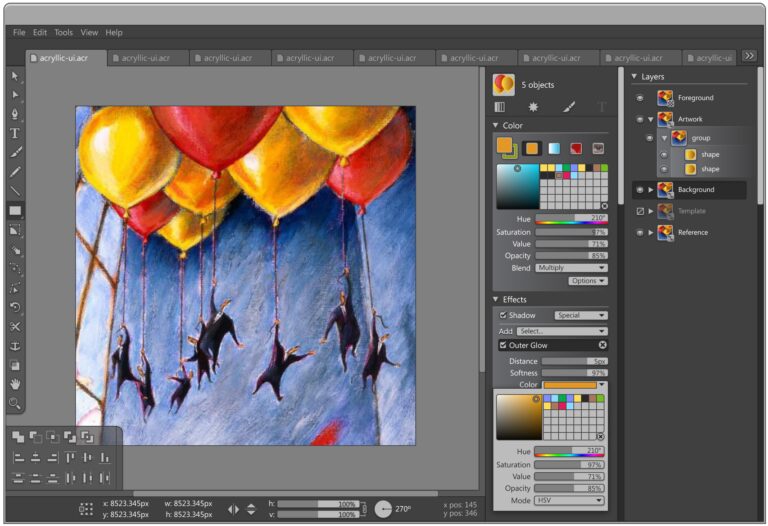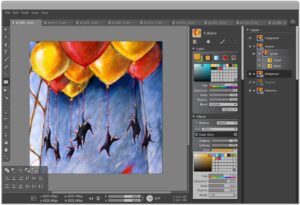 Price: Free
Compatibility: Windows
Microsoft Expression Design is a high-end graphics editing software designed for developing web-based graphics, user interfaces, and other vector graphics with fewer visual effects. It is a small and simple-to-use program that allows you to build a personalized workspace for future usage.
In addition, this Drawing Software For Windows has various advanced composing tools, including a B-Spline with complete curve control, a Slice tool for selectively selecting and hiding portions of a picture, and full layer support for slicing and blending images.
ALSO SEE: Free Email Clients For Mac
Furthermore, Expression Design provides a plethora of basic image editing features for creative developers and supports various file formats, including the option to export as a bitmap.
Pros
Bitmap export.
Super preview tool to see the site in multiple browsers simultaneously
Powerful composing tools such as B-Spline, Bezier, etc.
Cons
Lacks advanced image editing features.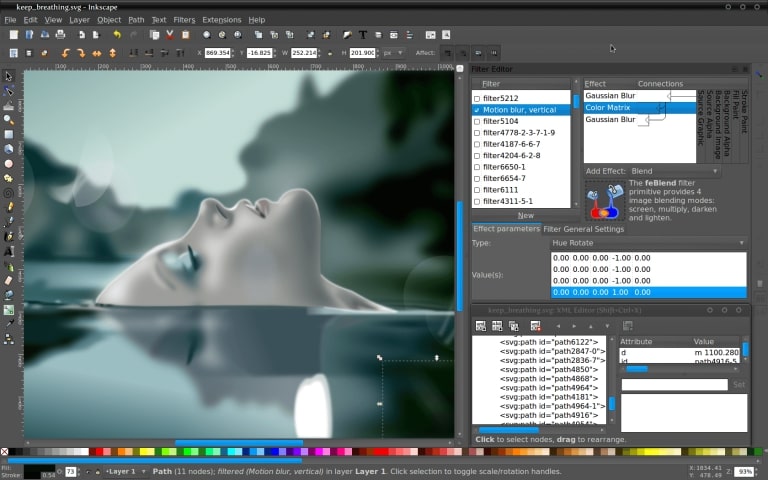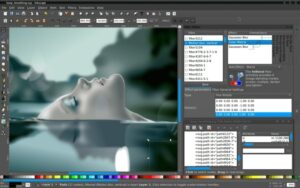 Price: Free and Open-Source
Compatibility: Linux, macOS, Windows
Inkscape is the top free Best Free drawing software for designers, developed by a group of very gifted artists and enthusiasts. Besides, this free Drawing Software For Windows is jam-packed with exceptional features and tools, making it a solid competitor to professional products like Adobe Illustrator.
For a rich picture production experience, Inkscape includes:
A flexible and straightforward interface.
Quick node editing.
Well-designed vector editing tools.
Filters.
Complex effects.
Creative Commons metadata.
Ample export options.
A wide variety of snapping tools.
It's extremely beneficial when a webpage contains hundreds of different images.
Notable Features of Inkscape
You can import or export in various file formats as the software is compatible with most file extensions.
You can get shape, drawing, objection creation, pencil, pen, and calligraphy tools.
The software is compatible with path insetting & out setting.
The software contains flexible drawing and text tools to make your work easy.
Pros
Optimized speed.
A vast range of vector managing tools.
Multiple file formats support.
Great International community.
Cons
Unsuitable for highly experienced designers.
Text tools lack flexibility.
Cluttered Interface.
FAQs: Best Drawing Programs for Windows PC

What is Drawing Software?
In its simplest form, drawing software is a computer tool that enables you to produce magnificent works of art. For instance, Microsoft Paint is one of the most straightforward and effective free painting apps available for Windows 10 and earlier operating systems. In addition, there are numerous such programs with advanced features for creating and editing images.
Which Drawing App is Best for PC?
The best drawing app for computer varies according to the user. What is optimal for one user may not be optimal for another. It is entirely dependent on your specifications, expertise, and abilities. You should choose software that includes all necessary capabilities and is simple to use.
What program can I use for free to draw on my computer?
On the Internet, you probably find various programs that allow you to draw whatever you want. You can choose and download the app that best suits your drawing needs. Some have less functionality (for example, free apps like MS Paint), while others have an abundance of features that allow you to draw anyway (Ex. paid tools like Corel PaintShop).
Are Drawing Programs Free?
Yes, the majority of drawing apps for PC are free to download and use. MS Paint, for example, is free to use. However, some premium products offer restricted access to their functionality via demos, trial versions, etc.
Conclusion – Best Free Drawing Software For Windows in 2022
Nowadays, fascinating digital graphics may be generated quickly and easily, withdrawing apps for the PC. Well, this essay will provide you with a list of the most appealing free Drawing Software For Windows that we discovered. However, there is no clear victor. Additionally, each Windows drawing offers unique features and tools for digital painting and image editing, allowing you to create dynamic artwork customized to your style and requirements.
Finally, subscribe to our Newsletter immediately to stay current and informed on all aspects of the technical world. Additionally, please share your thoughts on this in the comment section below!