Improve Your Email Management On macOS – Meet The Best Free Email Clients For Mac!
This year marks the 47th anniversary of email, and the communication market is currently more extensive than ever! Email Services will continue to be a critical component of your communication and work, whether you use productivity, project management, or task organization app.
Furthermore, many of us have crowded inboxes, as organizations and individuals exchange 269 billion emails daily. That is enormous. Therefore, if you require assistance in organizing, handling, and replying to critical emails on a timely basis. Besides, if you are dissatisfied with your present email platform, the good news is that other best free email client for Mac 2022 are available to assist you in succeeding.
What To Look For: When Choosing The Top Email Clients For Mac?
We've analyzed dozens of Email Clients For Mac to assist you in selecting the best fit. Further, the optimal desktop client includes the following features:
1. Full Range of Features
You should get the capability to read, compose, search and organize your Inbox at your convenience.
2. Supports Integration
Try choosing the Email Clients For Mac that supports many popular services and open protocols.
3. Excellent User Experience
Select an Email Service Provider with an intuitive UI and hassle-free navigation. Hence, we focused on email apps instead of web services.
4. Advanced Tools
Email Filtering, Scheduling, Reminders, & Custom Notifications. Choose a desktop client that provides effective functionalities to enhance your experience.
5. Extra Perks
Additional features like reading receipts, the ability to undo an email, quickly find essential emails, security features, and other management tools are the added spark.
Finally, Price & Budget are critical considerations. Therefore, we've included some free Email Clients For Mac that provide paid email packages worth considering.
9 Free Email Clients For Mac in 2022
Here is a rundown of the best email provider solutions on your Mac.
1. Spark – Must-Have Email Client For Better Management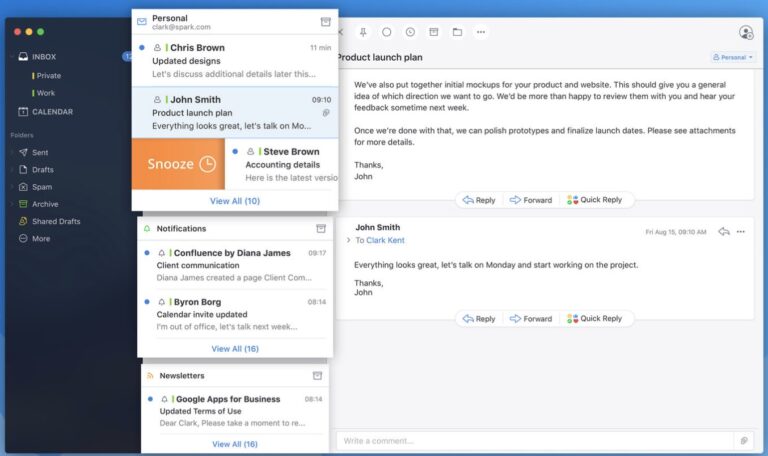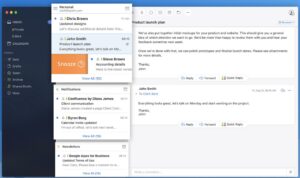 It is among the best free Email Clients For Mac in 2022. Spark is a fantastic em client based on automatic features that help you organize your inbox, make one-click replies, and schedule emails. Besides, it includes sections such as Personal, Notifications, and Newsletter to assist you in prioritizing your actions. In addition, its scheduling tool is incredibly effective at automating the sending of specific emails regularly.
Highlights: Spark
Keep messages organized by category.
Smart Inboxes to watch urgent messages on top.
Ability to create custom signatures and other personalization tools.
Receive notifications for critical emails only.
Effective snoozing functionality. Select mails that can be responded to later.
Quickly gets integrated with your OS to use the Email app through the notification center.
The email client learns to automate specific processes with time as per your preferences.
Preserve all your folders previously associated with your account.
| Price: | Compatibility: | Latest Version: | File Size: |
| --- | --- | --- | --- |
| Free/ $6.39 per Month | macOS 10.13 or later | 2.9.22 | 49.6 MB |
Limitations in the Unregistered Version:
Inefficient tech support for Free users.
Email templates available – 5 per team.
Only 5GB total storage for Team.
Standard link sharing is available.
2. Apple Mail – Default Email Client On macOS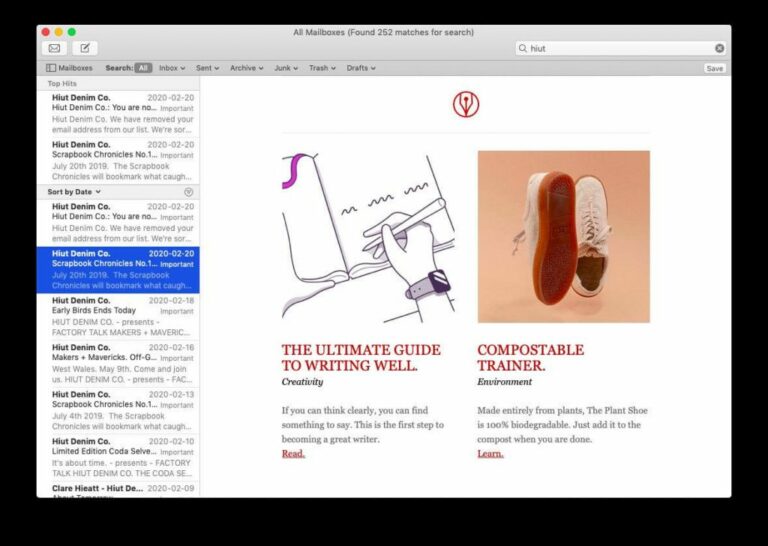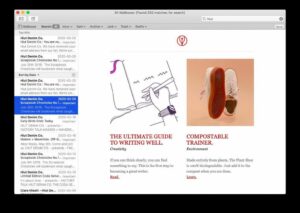 Are you seeking for the best free Email Clients For Mac? Well, Apple Mail is a free email client that comes pre-installed and ready to use with the operating system. Besides, this best email app for Mac manages all of your email accounts in one location and includes crucial features such as Smart Folders, VIP Email Notifications, and Attachment Markups.
Highlights: Apple Mail
It already comes installed with your Mac operating system.
Sort messages into a mailbox for quick watching.
Tap & Drag to Customize the Apple Mail Toolbar.
It helps you keep an eye on essential Emails.
Create multiple email signatures and switch between them instantly.
Supports a variety of filters for simple email management and organization.
Smart Mailbox shows all the messages that meet your specific criteria—an effortless way to find important emails.
| Price: | Compatibility: | Latest Version: | File Size: |
| --- | --- | --- | --- |
| Free | With all Macs | Varies with Device | — |
Limitations in the Unregistered Version:
No registered version. Native Mail App for Mac users!
3. Zimbra Desktop – For Excellent Collaboration Online & Offline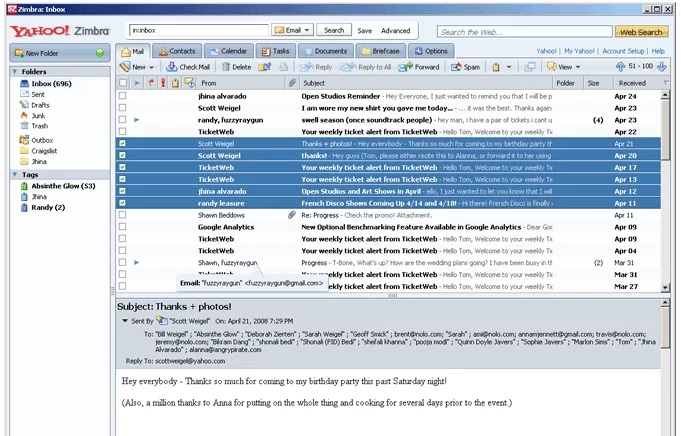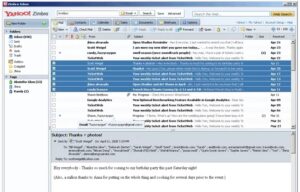 If you are looking for the best free Email Clients For Mac then Zimbra is a perfect choice. It is a smart mailbox that enables users to locate, handle, and respond to critical emails rapidly. This best Mac email client has a plethora of features and collaboration solutions optimized for cloud computing. In addition, Zimbra allows online and offline access to all your email accounts from one location, unlike other email apps!
Highlights: Zimbra Desktop
An effortless way to compose, edit, delete, or create drafts.
Supports any POP or IMAP email.
Manage multiple color-coded calendars.
Supports syncing Yahoo! and Gmail contact lists.
It stores all your contacts in one place for all your accounts.
Edit docs, add images, spreadsheets before sharing.
Drag & drop functionality to attach folders.
Access to smartphones and through Zimbra web-client.
| Price: | Compatibility: | Latest Version: | File Size: |
| --- | --- | --- | --- |
| Free Version/$25 per Month | macOS X 10.9 or Later | 7.3.1 | 77.8 MB |
Limitations in the Unregistered Version:
It lacks tons of PRO features when accessing the collaboration suite.
4. Mozilla Thunderbird – Best Free Email Provider For Power Users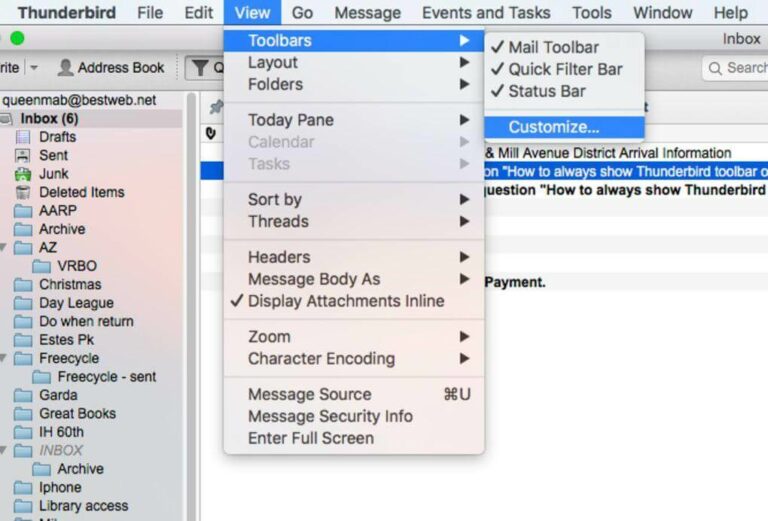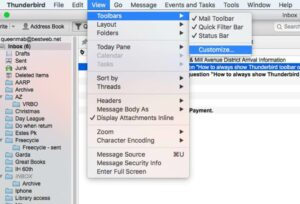 It is one of the top-rated Email Clients For Mac you should try. While Mozilla is perhaps best known for its browser, Firefox, its other main utility is its free email program, Thunderbird. It is extremely comprehensive and emulates the traditional Outlook email program's look and feel. Additionally, several notable features include sending huge attachments, changing the layout, and sending tabbed emails.
Highlights: Mozilla Thunderbird
Enjoy multiple channel chats.
Use attachment reminders so that you never send an email without attaching files.
Effective Quick filter toolbar for simple email management.
Efficiently manage the largest files without any hiccups. Send in a single tap!
Perfect Phishing protection to enjoy top-notch security while communicating.
Install a wide variety of add-ons directly from within Thunderbird.
Easily import entries from Apple's Contacts app.
| Price: | Compatibility: | Latest Version: | File Size: |
| --- | --- | --- | --- |
| Free | macOS 10.9 or Later | 78.10.1 | 69.8 MB |
Limitations in the Unregistered Version:
None, as it is a free email client for Mac.
5. Airmail – Feature-Rich Alternative To Apple Mail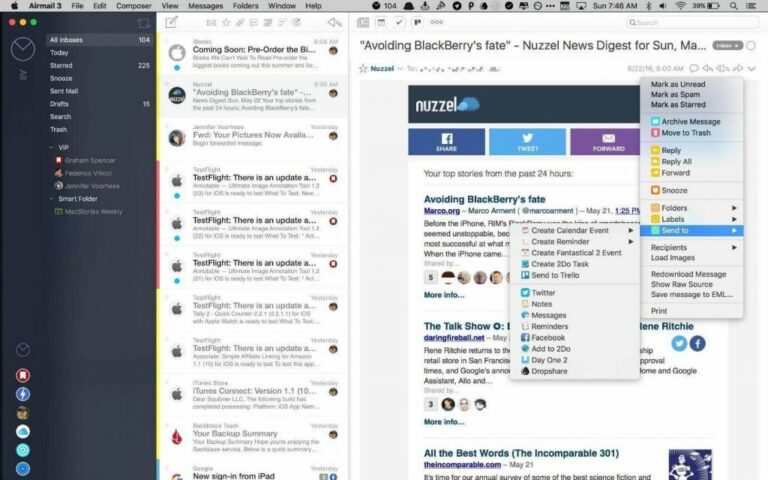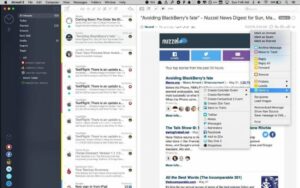 If we talk about the best Email Clients For Mac free, Airmail is a well-known email app that has existed for some years. It works with all major email providers, including Google, Yahoo!, IMAP, Outlook, and iCloud. In addition, airmail makes it simple to combine various apps such as Google Drive, Evernote, Todoist, Box, OneDrive, Asana, and Trello to boost overall productivity.
Highlights: Airmail
Handy sorting and searching features
Modern and easy-to-use user experience.
Mark an email as unread or essential, move it to the trash, flag it, or transfer it to any folder.
Support for iCloud, MS Exchange, Google Apps, Gmail, IMAP, POP3, Yahoo! etc.
Switch between accounts like a breeze and instantly revert to incoming mails.
Create a new reminder or calendar event.
Use multi-touch gestures on your Mac's trackpad.
| Price: | Compatibility: | Latest Version: | File Size: |
| --- | --- | --- | --- |
| Free/$2.99 per Month | macOS 10.12 or Later | 5.0.4 | 60 MB |
Limitations in the Unregistered Version:
Issues in syncing to Slack or Google Drive.
6. Postbox – The Most Powerful Email Platform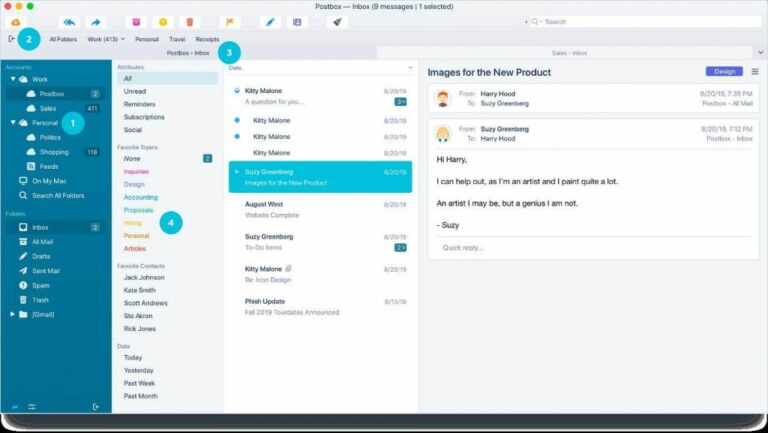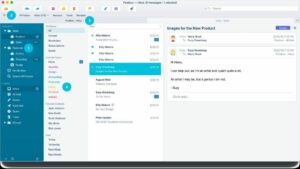 Postbox is an outstanding email provider solution with many answer templates and much more. In contrast to most Mac email clients, Postbox allows for the reuse of HTML snippets within answers. Additionally, it is one of the top-rated Email Clients For Mac in 2022. it has over 25 signature templates, Gmail Labels, the option to make reminders, and the ability to pin critical emails.
Highlights: Postbox
Hassle-free file searching while composing emails.
Supports all POP & IMAP email accounts.
Let's you send Dropbox links instead of large attachments.
With a Conversation view, you can see the 'Big picture.'
Integrated with Google Calendar.
Capability to clean up cluttered Re: Fwd mails.
Displays high-priority emails in Important View mode.
Ability to generate a well-formatted conversation digest
| Price: | Compatibility: | Latest Version: | File Size: |
| --- | --- | --- | --- |
| Free trial/$39 for Lifetime | macOS 10.13 or Later | 7.0.48 | 59.3 MB |
Limitations in the Unregistered Version:
The 30-Days trial is available.
It includes almost all requirements, but you can only manage two accounts.
7. Newton – Best Mac Email Client For Hassle-Free Experience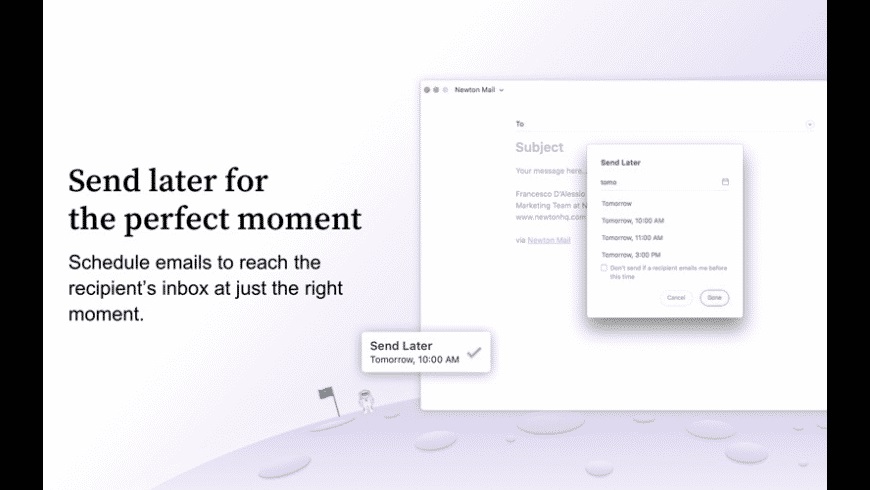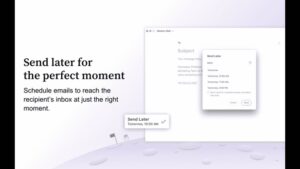 Newton is among the good Email Clients For Mac that consolidates all of your inboxes and facilitates synchronizing your contacts and email settings across all of your devices. So what distinguishes Newton from other email clients? Further, the option, via the Newton website, is to deactivate your email account from any connected device remotely.
Highlights: Newton
Newton comes with a cleaner design and eliminates all the unneeded buttons.
It assists you in syncing your preferences to multiple accounts in no time.
Pull back that email blunder you just sent with the Undo option.
It is integrated well with other famous apps to ease your daily tasks.
Email tracking to get read status for every email you send.
It works with cloud storage apps such as Google Drive, iCloud, Dropbox, etc.
It lets you manage your emails using keyboard shortcuts.
Works well with project management apps like Slack, Trello, and Asana.
| Price: | Compatibility: | Latest Version: | File Size: |
| --- | --- | --- | --- |
| Free Trial/$49.99 per Year | macOS 10.12 or Later | 10.0.55 | 37.2 MB |
Limitations in the Unregistered Version:
8. Kiwi for Gmail – Best Alternative To Gmail On Mac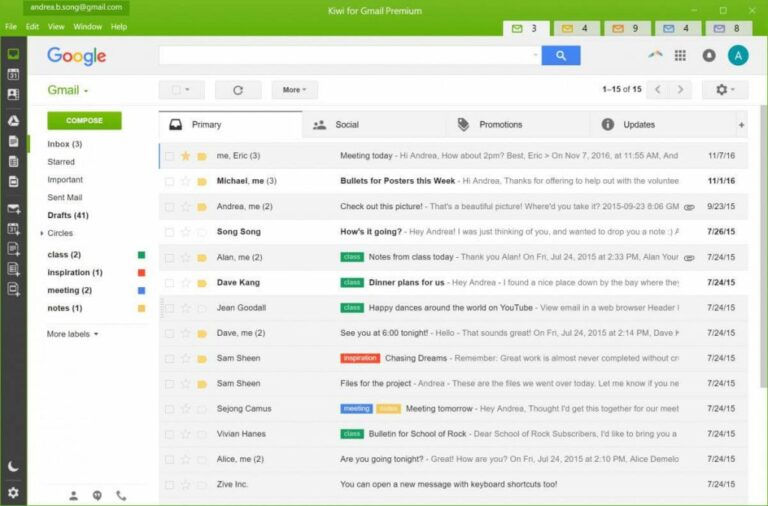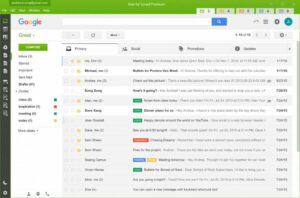 Kiwi is one of the best ideal Email Clients For Mac if you're a die-hard Gmail user. Besides, this best Gmail app for Mac enables the consolidation of several accounts and filtering inboxes to organize emails by date, attachments, and relevance, among other criteria. According to the firm, Kiwi users save at least 30 minutes each day compared to Gmail users.
Highlights: Kiwi for Gmail
It accesses all your email accounts in one place.
Integrate popular plugins such as Grammarly and more with the email client.
Make use of expanded screen size to improve overall email management.
Simplify the file-sharing process by sending large files in a single tap.
Use the integrated search feature to find files on Google Drive quickly.
It effortlessly manages the address book to pull out contacts and communicate.
Access Google Drive, Calendar, Hangouts, and other popular services through the email client's dashboard.
| Price: | Compatibility: | Latest Version: | File Size: |
| --- | --- | --- | --- |
| Free Trial/$29.99 per Year | macOS X 10.10 or Later | 2.0.40 | 159.7 MB |
Limitations in the Unregistered Version:
Capability to manage one account only.
Keyboard shortcuts are not available.
DND functionality isn't available.
9. Polymail – Best Email Provider For Productivity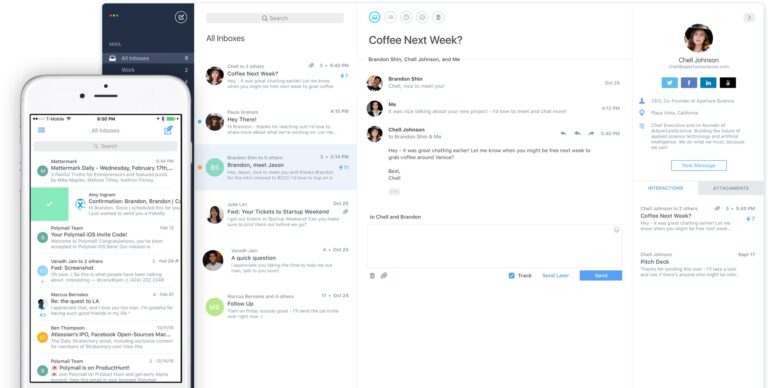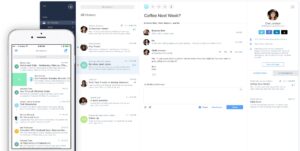 Polymail is a modern email client that has been redesigned to include a slew of new features such as limitless email tracking, snoozing, and scheduling emails. Furthermore, the email app for Mac is designed to boost your productivity by assisting you with little but critical adjustments. What makes this best email app for the Mac unique? Polymail simplifies the newsletter unsubscribe process by requiring users to complete a simple form to cease receiving these types of communications.
Highlights: Polymail
Create customizable message templates.
Automatically surfaces detailed profile and contact info to receivers.
Receive automatic reminders to follow up.
Schedule messages to send later automatically.
Track when the receiver taps on the link and downloads sent attachments.
Manage analytics of your team's activities.
One-tap Unsubscribe process to get rid of unwanted Newsletters.
| Price: | Compatibility: | Latest Version: | File Size: |
| --- | --- | --- | --- |
| Free trial/ For Basic – $10 per Month | macOS X 10.10 or Later | 2.2.6 | 86.2 MB |
Limitations in the Unregistered Version:
Only a 7-Days trial period is available.
With the Basic version, you can only connect up to two accounts.
Limited email tracking.
Have limited message templates.
FAQs – Email Clients For Mac

What is the top email service for Mac?
Apple Mail is the greatest choice for basic needs, Thunderbird is a good choice for folks who prefer features and simplicity, and Spark is an excellent choice for email collaboration. But, of course, the ultimate decision is entirely up to you and your requirements!
What is the top Gmail client for Mac?
Select none other than Kiwi as your Gmail client. Additionally, it has the same look and feel as Google Email and may offer additional improved email management and productivity capabilities.
Is Thunderbird better than Apple Mail?
Comparing these two email provider solutions, we discovered that Thunderbird is more user-friendly and feature-rich than Apple Mail. However, we believe that Apple Mail is the superior option for product support.
Conclusion – Email Clients For Mac

Dear Visitors, this ends our list of the best free Email Clients For Mac. Well, if you are aware of any other free Email Clients For Mac, please let me know in the below comments section.