Linux is an open-source operating system that continues to gain popularity. Although web-based emails are popular because they are quickly accessible via a computer browser, many users still prefer email clients. Various apps are available for each platform, like Thunderbird and Microsoft Outlook on Windows. In addition, IOS and Android apps such as K-9 Mail and Nine are available. So the primary question is, what is the email client for Linux?
Although numerous Linux releases have been made throughout the years, just a handful of email clients have offered features equal to Windows and others. However, one significant advantage is that most of the best email clients for Linux are free. Thus, you may test them easily.
A key advantage of a Email Client For Linux is that developers can modify the source code on Linux if they dislike a feature, hence building their version and publishing it for download. In addition, it has led to the development of exclusive email clients for Linux, which you can test out.
Nonetheless, finding the best Email Client For Linux remains the primary concern. Therefore, this article will compile a list of the best email clients for Linux; whether you're looking for a GUI (Graphical user interface) or command line email client, you'll find something on our list.
Excited? So, let's get started
The 8 Best Email Client For Linux in 2022
Here is the list of the Best Email Clients for Linux.
1. Mutt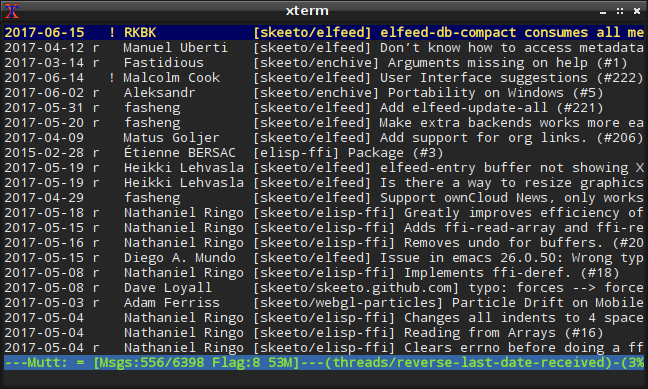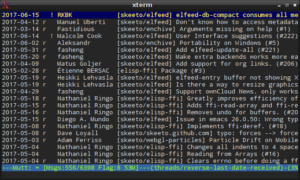 Mutt is the best email client for Linux users who prefer command-line interfaces. Often, elaborate user interfaces are not the best option. A mutt is an excellent option if you like to check and send emails from the console. It is simple to install on your device. It supports color as well. Once familiar with the UI, sending and receiving emails is straightforward.
The software is built on an ELM client, but it has undergone significant development in recent years and now offers some of the most advanced features for mailing lists, message threading, colors, and MIME/PGP. It is even customizable and allows you to build key binds and macros so that you can work on emails quickly. It also includes email searching using regular expressions, delivery status notifications (DNS), and a mechanism for email tagging. In addition, Mutt email client is a compact, simple-to-install program that uses few system resources.
However, Mutt and other command-line email apps are inappropriate for all users. However, it may be an excellent option for specialists who use the console frequently.
Standout features:
Easy to navigate command-line interface
Highly configurable
Better customizations
Download This Best Email Client For Linux
2. Sylpheed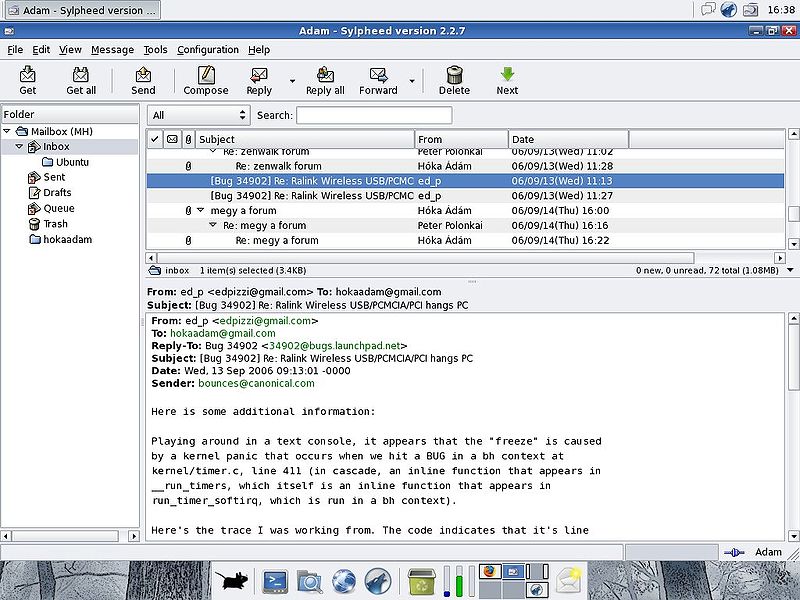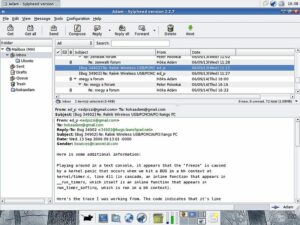 Another lightweight app, Sylpheed, is a versatile option that is likely available on all systems. It is regarded as one of the top email clients for Linux due to its efficient and straightforward functioning, which makes it suited for various tasks. In addition, many users favor the software's three-panel display, which mimics Outlook Express's.
It is among the Best Linux email clients in 2022. The email client is written in computer C and focuses mainly on performance and functionality. If your inbox is regularly flooded with thousands of emails, several email clients will automatically crawl and become slower. Despite being loaded, Sylpheed performs brilliantly. Even while simultaneously managing thousands of emails, it seldom crashes.
This best Email Client For Linux also provides automatic junk mail control, filtering, support, and GnuPG-based email encryption. Additionally, you can use email filters to receive specific emails and external instructions that will aid in automating the operation. However, there is a downside: HTML email functionality is limited.
Standout features:
Dated UI
Uses certain deprecated APIs + GTK
Ideal for use with thousands of emails
Download This Best Email Client For Linux
3. Thunderbird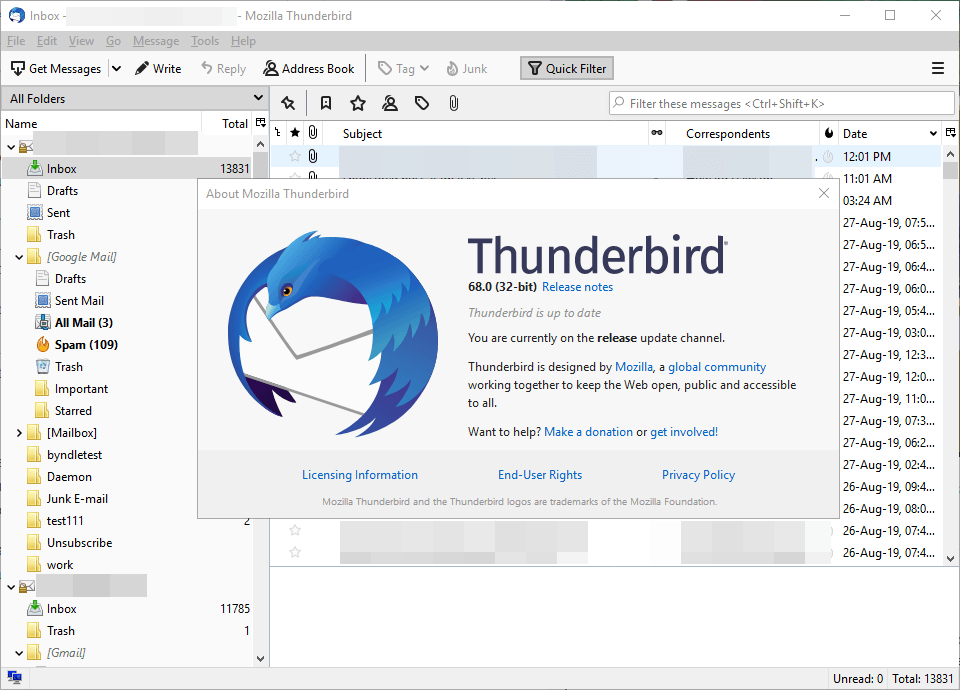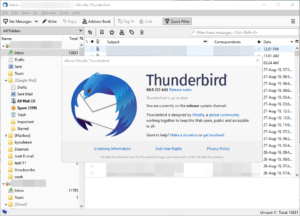 Next in our list of the Best native Email Client For Linux is Thunderbird. It is one of the popular email clients for Linux and has a large user base. The app has numerous advantages, making it a good option for a large user base. The app is both free and open-source, and it was designed to work with the Mozilla Firefox internet browser. The concept can be gleaned from its tabbed email interface, allowing you to keep many emails open simultaneously for faster reference.
This best email client for Ubuntu 2022 is simple for Windows users who have recently made the switch, providing nearly the same user experience and interface. In addition, it features robust theme compatibility and ships with light and dark themes as defaults.
A notable feature of Thunderbird is the presence of a quick filter toolbar, an advanced search tool designed to assist in locating specific email groups. In addition, Thunderbird has a tool with a nifty timeline graph that displays the number of emails received over a specified period. Using filters, you can easily organize incoming emails from many accounts into smart folders. Instead of attaching a large media file to an email, online storage providers upload the file to the storage and share a link to it.
Additionally, Thunderbird offers over 1,500 add-ons that allow you to customize or alter the functionality of the email client to suit your needs.
Standout features:
User-friendly interface
Toolbar for swiftly locating email groups
Online storage service for simpler sharing
Download This Best Email Client For Linux
4. Geary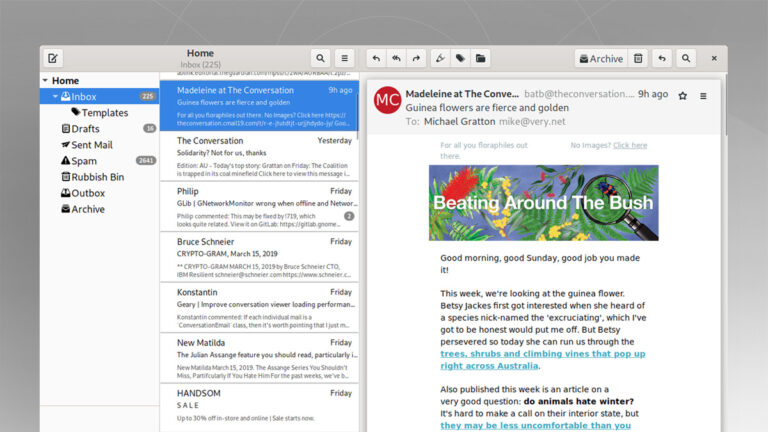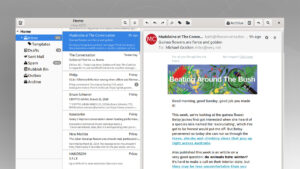 Nearly all of the top email clients for Linux on our list necessitate a relatively current computer to function properly. Nonetheless, Geary, a lightweight email client, is an excellent option if you are using an older piece of hardware. Besides, this program is part of the GNOME desktop environment's open-source initiative. It aims to provide quick and simple functionality, particularly for the GNOME desktop, but you can also download and use it for other operating systems.
Although Geary lacks advanced features such as a calendar and intelligent contact management, the email search options are basic. In addition, although the feature is still in development, it does not currently support labels. Aside from that, Geary has a slick and appealing UI that gives a more contemporary look than popular alternatives such as Evolution.
If we talk about the popular and best Email Client For Linux reddit, Geary intends to make the email simple, as it does not require a lot of resources. Geary should be a top priority if you enjoy using a GUI email client but want an alternative without all the additional contact books and calendars.
Standout features:
Compatible with older machines
A choice that weighs little
Appealing user interface
Download This Best Email Client For Linux
5. KMail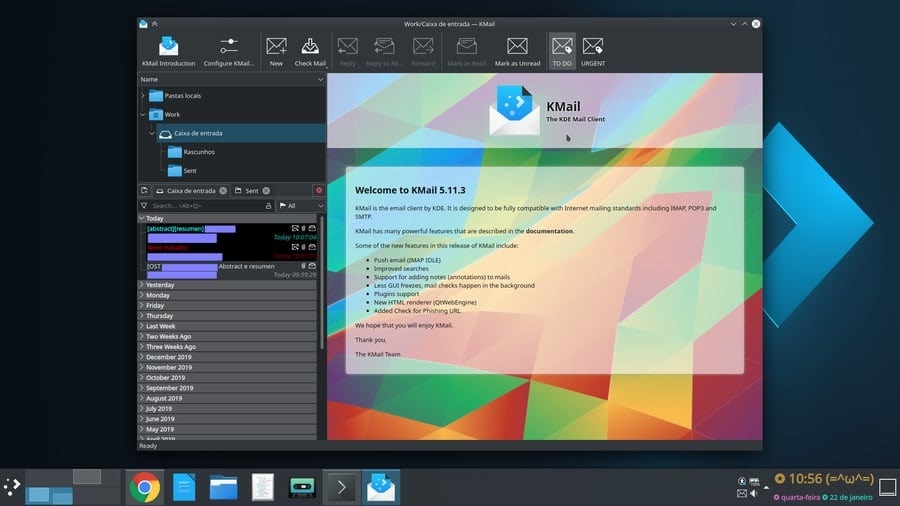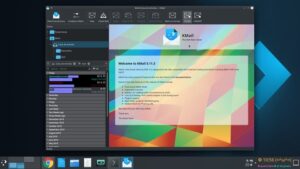 For the KDE-based Linux distros, KMail is the top email client for Linux and is also the default choice. It integrates well with KDE desktop environments and other programs, enhancing its functionality and benefits. For example, meeting invitations received by email from clients are instantly identified and added to the KOrganizer calendar. In addition, KAddressBook simultaneously handles the auto-completion of the email address.
This email client Linux reddit provides a template system for automating the writing process. In addition, it features a robust filtering system and mailing list management. KMail's ability to automatically recognize hotel reservations and upcoming flights and import them into KOrganizer is a significant advantage. In addition, it allows you to combine KMail with popular spam filters such as SpamAssassin and Bogofilter.
This KDE email client has one disadvantage: it does not support Microsoft Exchange, restricting its applicability in certain contexts. It does, however, provide end-to-end encryption with OpenPGP. In addition, if you are not a user of KDE distributions, KMail may require the installation of numerous components, which may require a significant amount of disc space.
Standout features:
OpenPGP support for end-to-end encryption
The optimal option for Linux users using KDE
It supports Spam filtering
Download This Best Email Client For Linux
6. Blue Mail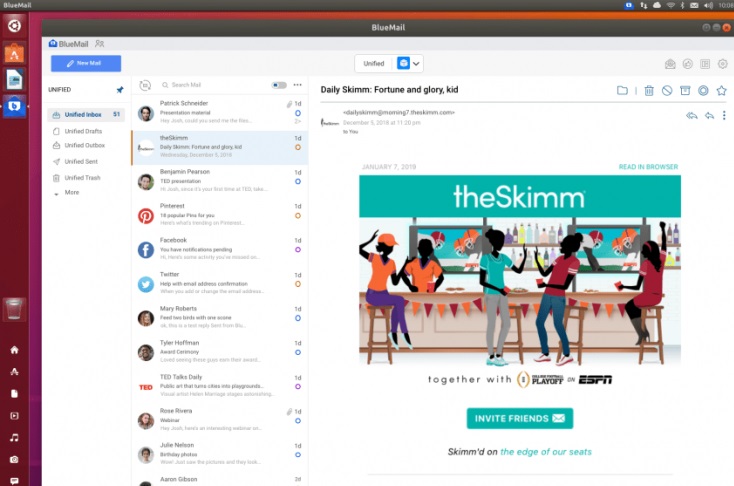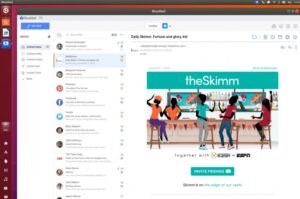 Next in our list of the top Email Client For Linux is Blue Mail. It is a well-known Android, iOS, Windows, and MAC email client. In 2020, it was also made available to Linux users. It soon established itself as one of the best email clients for Linux regarding features and aesthetic appeal. The modern appearance, mixed with the trendy themes, colors, and menus, places it above a particular clumsy interface that we frequently employ on Linux. In addition, it includes a dark mode.
The app provides a consolidated email inbox that allows you to import all your email accounts into a single inbox. Additionally, it supports POP3, IMAP, Exchange, and additional protocols. Further, Blue Mail includes many features that prioritize the intelligent organizing of your inbox. For example, the clusters organize talks and individuals into a corpus. With the group's tool, you may define a group of people by entering their names and photos for easy recall. It supports a people mode that only displays e-mails from specific individuals while hiding other distracting content.
The fact that the email client is not open-source gives many individuals the impression that it is not acceptable for them. However, if you can get over the occasional issues, it's a terrific email client that delivers strong functionality and is compatible with many operating systems.
Standout features:
Graphical user interface
Unified Inbox
Simple to use
Download This Best Email Client For Linux
7. Evolution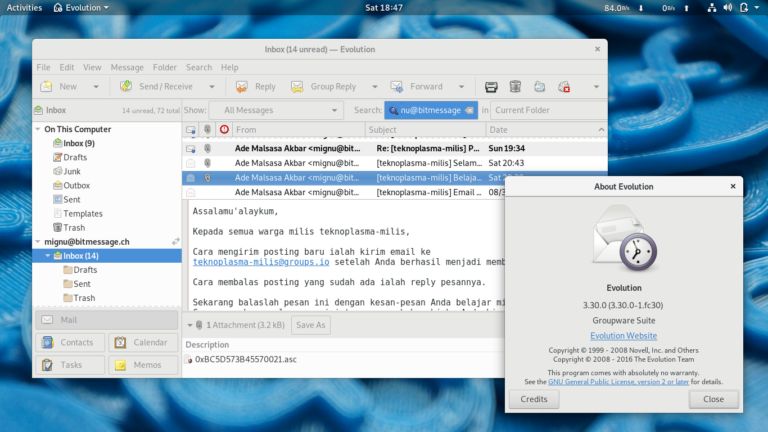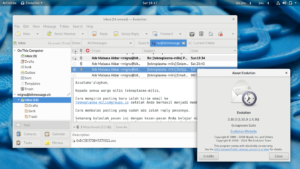 Evolution is a fantastic choice if you are a GNOME desktop user searching for the best email client for Linux. It is a GNOME-designed open-source email client, but users of other distributions can also profit from it.
Using the simple wizard, you may quickly integrate Evolution with other web services like Gmail. Evolution email client Linux is also compatible with proprietary email clients such as Microsoft Exchange, Kolab, Novell GroupWise, LDAP, WebDAV, etc. Evolution has more functionality than a conventional email client, which is a huge advantage. In addition to task lists, you may also manage a calendar, contact list, and memos. These capabilities can be combined to enhance email accounts such as Outlook and Gmail. In addition, it provides an RSS plugin for aggregating Atom, and RSS feeds.
This Best Desktop Email Clients For Linux is a more versatile option, making it a perfect pick for anyone seeking an app that can deliver the benefits of an email client and a manager. It includes folders and filters that provide virtual folder customization for each filter and query. With S/MIME and PGP encryption, numerous advanced privacy and security capabilities exist. In addition, you can add a variety of plugins to expand its functionality.
Standout feature:
Effective privacy and security characteristics
Contact management
Integrate Evolution with popular services such as Gmail
Download This Best Email Client For Linux
8. Claws Mail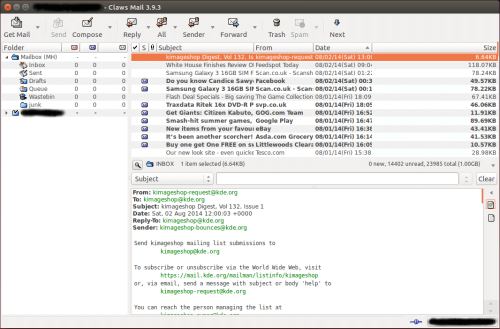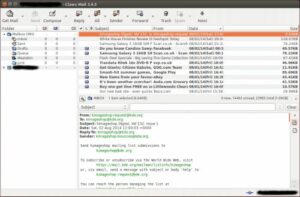 Are you still seeking the Best and Free Desktop Email Clients for Linux and Windows? Claws Mail is another great option on our list of the best email client for Linux, with a lightweight and quick interface. It is an open-source GUI app with a similar genetic makeup to Syllpheed. However, the approach is not exactly comparable. Claws Mail provides more features and aspires to be less basic than other options, eventually supporting the most modern authentication protocols. Plugins enable support for iCalendar, RSS, and Atom Feeds. Additionally, it supports Inline PGP.
This top Email Client For Linux is well-known for its practical plugin system. It provides about 30 plugins and around 30 command-line scripts that can be used to expand its functionality. For example, it may consist of a mail archiver, a PDF viewer, and an HTMP email viewer. Claws is a little more difficult to set up, but the modular design guarantees that the core software remains minimal while still providing all the features you may need.
ALSO SEE: Best Linux Games
Additionally, it provides approximately 40 themes that may be used to enhance the app's icons without significantly altering the UI.
Standout features:
Lightweight and quick
Plugin the theme architecture
Efficient interface
Download This Best Email Client For Linux
FAQs
What is the top email client for Linux?
ThunderBird and Evolution are the two leading open-source email clients for Linux. You can use them efficiently and supply a variety of functions and uses.
What is the best email client for Linux to use with plenty of emails?
Sylpheed is the best email client for Linux in this regard. It will allow you to manage thousands of emails simultaneously reliably.
Is the best email client for Linux free?
There are a few completely free options in this area. However, some of these may require you to purchase a premium beyond the trial period, making them not fully free.
Final Words
The user's choices and needs determine which email client for Linux is optimal. We intend to simplify the work for you by highlighting the most popular options in the category. You are now responsible for making a sensible decision based on the facts supplied. Thunderbird, Evolution, and Mutt are our top three choices in this category.