One of the biggest sources of stress across all age groups is an over-reliance on technology. Long working hours, deadlines, and an addiction to smartphones and other digital devices all contribute to stress and anxiety. While many individuals can find time to relax and meditate, others cannot. Some apps may help you reduce stress and meditate to relieve tension and get a good night's sleep. Several meditation apps for Android users assist you in falling asleep and relaxing. Let's look at some of the best meditation apps for Android for relaxing and sleeping.
Top Meditation Apps For Android

To Use
Listed below are the popular Android meditation apps available on Play Store.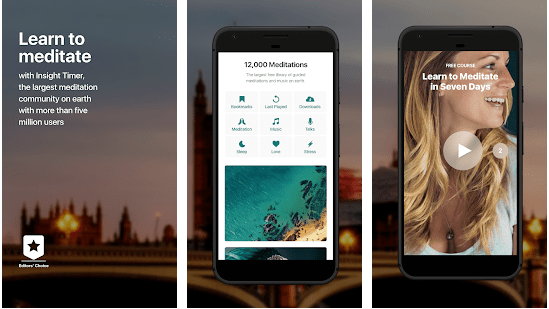 Insight Timer is among the best meditation apps for Android that may help you relax, manage stress, enhance your quality of life, and so on. TIME magazine and Women's Health named it the Apps of the Year Winner, and it has over 1,000,000 users. The best meditation specialists, psychologists, and mindfulness experts from prestigious colleges such as Stanford have endorsed Insight Timer. Not only that, but it also offers a fantastic playlist with some of the world's most recognized musicians. It has 15,000 meditations for free, the most medication recordings accessible to date. Insight Timer also offers a premium subscription for additional services, such as access to offline playback, meditation classes, and so on. If getting a good night's sleep is your top priority, Night Mode is the mode for you. It also offers a 10-day course to help you get a good night's sleep and relax.
Many meditation apps are available, but Headspace is the best in the category since it is committed to giving mindfulness, tranquility, concentration, and meditation based on clinically validated research. A Buddhist monk developed it to deliver app-based meditation most simply and straightforwardly possible. Users may download the trial version, including ten free meditations, or pay for the full advantages. The best part about Headspace is that it is divided into numerous areas from which users may choose according to their requirements. Headspace provides something for everyone: stress and anxiety, personal development, or physical wellness. Users may access the whole meditation library with numerous topics, such as relaxation, sleep, and so on, with the subscription. There is also a whole section devoted to sleep, among other things.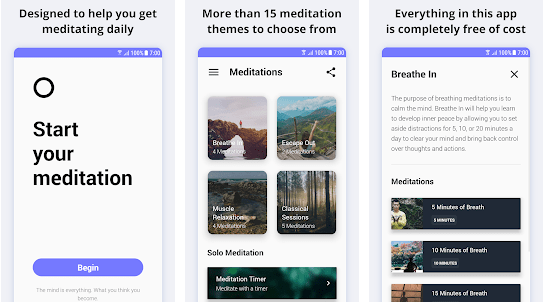 Deep meditation is a famous meditation app in the category of best meditation apps for relaxing and sleeping. With rising stress and anxiety levels, comforting us somehow has undoubtedly become necessary. It may be spending money on yoga or meditation sessions or downloading a cool app that allows you to relax. The majority of us would choose the second option. Deep Relax created it, and it has over 100,000 installations, making it one of the best meditation apps for Android. Deep meditation de-stresses a person and allows them to sleep well and enjoy life. It is free to use and offers a selection of themes. It includes six meditation collections: Breath, Deep Muscle Relaxation, Escapes, Mindfulness, Classical Sessions, and Sleep Series.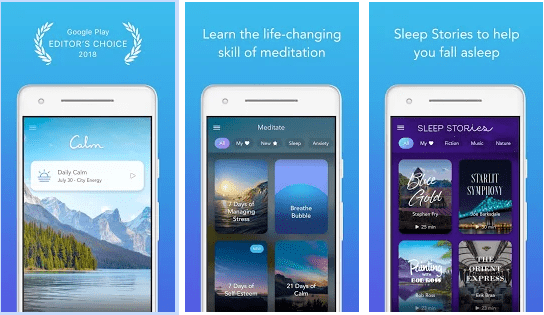 Calm is one of the best meditation apps for Android, having received an Editor's Choice award from Google Play in 2018 and been named the happiest app in the world by the Center for Humane Technology. At the same time, Headspace focuses primarily on meditation, and Calm attempts to provide strategies that encourage comfort and mindfulness. The main draw is the specialized function that caters to sleep. The best feature is that it offers tales of celebrities with pleasant voices. Some include Bob Ross and Stephen Fry. Weekly updates bring more fresh tales so users have something new to look forward to each visit. While all of these options are accessible in the free version, Calm offers a premium edition jam-packed with features such as Calm Body, which offers a series of films to guide you through a journey tailored to meditation and even yoga moves to relax you.
Consider The Following:
Conclusion:
Everyone needs a respite from the stress of their personal and professional life. While some people choose a vacation to combat stress, others try to sleep well and relax. With the best meditation apps for Android listed above, you can enjoy guided meditations and quickly help yourself de-stress and feel invigorated.