Choosing the proper video editing software is crucial if you wish to produce a video with a professional appearance. The best video editing software can assist you in achieving your objectives through simple editing, special effects, transitions, and color correction. In this article, I've ranked and evaluated the best video editing software and my top 5 recommendations so that you may choose the best one.
Want to get the best video editing software immediately? Adobe Premiere Pro CC & Corel VideoStudio Pro are my top options.
Choosing the best video editing software determines whether you appear to be a Hollywood director or a complete amateur.
Moreover, the need for video content is increasing rapidly. People are making money on YouTube, live-streaming content on Twitch, and even starting their own over-the-top (OTT) video subscription services similar to Netflix.
You must begin immediately if you are not already using the immense power of video content. And if you're a skilled video editor, you can transform nearly any raw movie into a work of art.
I began video editing in 1999 when I was 12 years old, and it has been my passion ever since. However, I will never forget the first time I edited a video clip and added the gunshot sound effect from my orange water gun.
My companion was struck by an invisible bullet, causing him to swing backward and crash hard into the pool below.
I was hooked.
Furthermore, I proceeded to produce (at first embarrassing) videos, honed my editing skills, and then attended Michigan State University to study video and audio production. As a result, I've used many video editing programs throughout the years.
In this article, I list the best video editing software available this year for:
The best for PC.
The best for Mac.
The best free video editors.
Top video editor when screen recording on an iPhone.
The easiest video editors to use.
Best for high-quality movie production.
Best for small businesses.
The best green screen software options.
Let's get started.
What is the Best Video Editing Software?
There are multiple factors to consider while selecting the best video editing software. Consider, for instance, your computer, file transfers (inputs), editing options such as filters, transitions, video, and audio settings, and video file rendering (outputs).
10 Best Video Editing Software of 2022 + Free Tools for Mac & Windows
Here are my picks for the top-rated video editing software:
1. Final Cut Pro X
Best Video Editing Software for Mac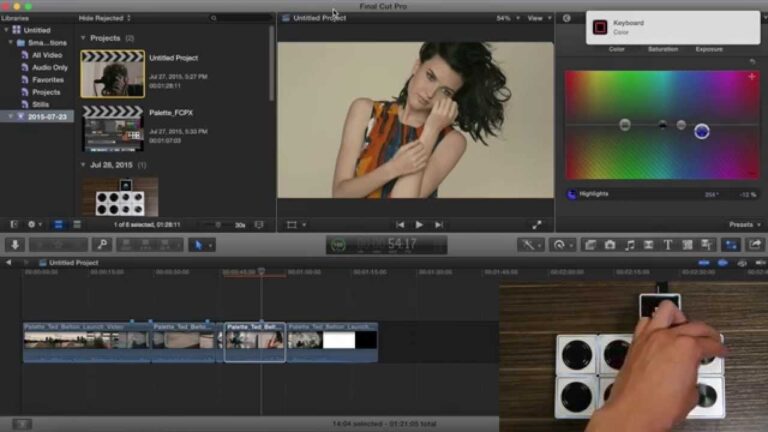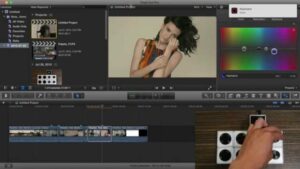 Apple's renowned Final Cut Pro X is a prosumer video editing suite that combines professional video features with a user-friendly learning curve.
Furthermore, with over 2 million users and a price reduction from $999 to $99 on Amazon, its popularity is at an all-time high. If you use a Mac, this is one of the most fantastic offers available today.
Additionally, the interface employs a three-pane view with a trackless Magnetic Timeline, which makes it ideal for dual monitors. In addition, clips can be imported and grouped in the library as Roles, assets like video, music, titles, voiceovers, and more.
After completing video production, you can use their 149 video effects, 109 audio effects, 183 title animation templates, and 100 transitions. These transitions are simple to perform with keyboard shortcuts, which can be made more efficient with customized vital combinations.
Key features:
Final Cut Pro X offers native MacBook Pro Touch Bar Editing, enabling touch controllers for timeline scrubbing and text customization, among other tasks. Moreover, text editing is enjoyable due to its 3D features. You can add various 3D templates, textures such as plastic and concrete, and lighting effects from any display aspect.
Multicam editing, infinite video tracks, chroma-keying, format support with many exporting options, such as 4k and 360 movies, and lightning-fast performance, even on older MacBooks, are fantastic features.
Final Cut Pro X is the optimal solution for Mac users, prioritizing power, sophisticated features, usability, and speed.
User Experience:
Final Cut Pro X should be used for all video editing on macOS.
Apple developed the software. Therefore, you can rest assured that it is compatible with this system.
There are numerous features, some more advanced than others, but the overall experience is outstanding.
Pricing:
You can test this software to determine if it meets your needs.
After a 90-day free trial, the price is $299.99.
Final Cut Pro X: Pros and cons
Like:
The app renders everything in the background, allowing you to continue working.
Dislike:
With so many alternatives accessible, it is simple to become confused and overwhelmed. It can be a pro and a con depending on your prior knowledge.
Only available on Mac.
Product Updates:
The app uses machine learning to adjust background noise levels to enhance speech clarity.
Using highlighted clip ranges or the Timeline Index, it is possible to discover media that appears multiple times in a project rapidly.
2. Corel VideoStudio Pro
Top Standalone Video Editing Software ($63.99)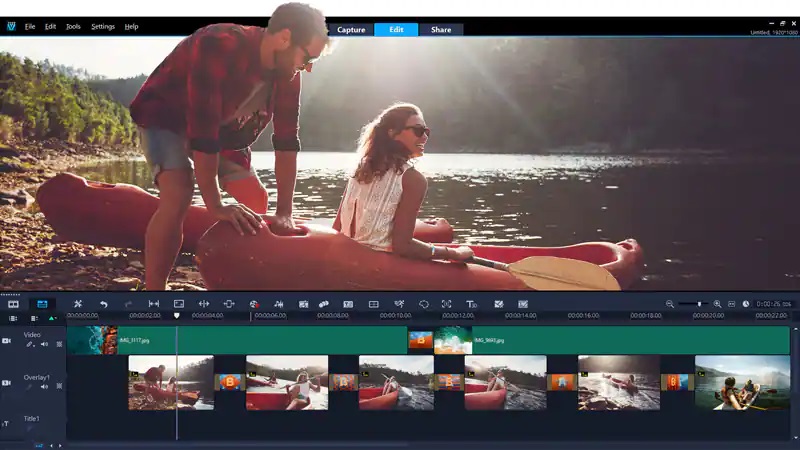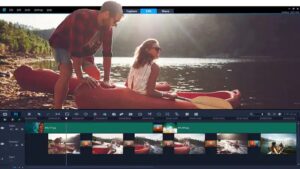 Corel VideoStudio Pro is the top-notch video editing software that facilitates storyboard and timeline video editing.
Furthermore, this PC Video Editing Software delivers creative effects, project templates, title themes, transitions, and over 1500 filters, among other features.
Its slideshow creator allows you to create movies and slideshows with various design possibilities; simply upload your media. You can also blend photographs, movies, and sounds on numerous tracks.
Key features:
MultiCam Capture Lite allows you to record your screen and webcam to produce videos simultaneously. Sub-products such as Corel Painter & PaintShop Pro can also be used to create animated overlays, static images, and live paintings.
The video editing software includes:
All necessary editing tools for cropping.
Trimming.
Splitting video straight on the timeline.
Additionally, you can modify the aspect ratio and rotate or alter the movie to your liking.
In addition, you may eliminate fisheye distortion with the lens correction function and alter the temperature with color-correct clips. Finally, the color correction function may help you highlight the colors in your movies by using auto-tune changes, saturation, and more.
Moreover, you may add subtitles to your videos, record narration, fade and layer sounds using audio ducking, and more.
In addition to being designed for Intel and Nvidia processors and graphics cards, the program is also tuned for AMD processors. It helps to accelerate the rendering process for all prevalent file formats.
Some of its other prominent features include:
Optimized for 4k display
Drag & drop video editing
Multi-camera editing
360-degree video editing supported
Stop motion animation
Pan and Zoom
Color & Lens correction
Chroma key/Green screen
Split-screen video
Record voiceovers & add subtitles
Batch processing
Create Custom motion path graphics, overlays, and shapes.
Get new textures, gradients, and templates from NewBlueFX, Boris X.
It converts 360-degree videos into Tiny Planet or Rabbit Hole effects (Spherical Panoramas).
User Experience:
With a large preview window that dominates the interface and an integrated media library, Corel VideoStudio Pro is ideal for users who wish to quickly and simply begin video editing.
The design is user-friendly and intuitive, with all functions and tools adequately labeled and organized.
Pricing:
VideoStudio Pro is available for $79.99. In addition, there is a 30-day money-back guarantee.
What I Like/Dislike About Corel VideoStudio Pro:
Like:
The optimized 4K screen option and the integrated media library make it simple to access your movie and images.
The drop-down feature and easier access menus make it easy to locate your required tools.
Dislike:
The app frequently stalls when other minor processes are operating in the background.
Some software was slow to load and process, which can be unpleasant when attempting a task rapidly.
Product Updates:
You may now edit and export your 360-degree movies in a format compatible with the majority of popular VR headsets, thanks to the new 360-degree video format and conversion support.
The new native support for movies taken in portrait mode allows you to edit and export them without having first to rotate them.
3. Adobe Premiere Pro CC
Best Video Editing Software for Windows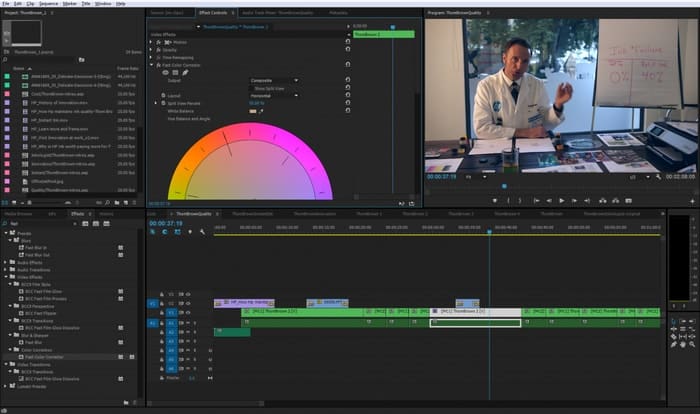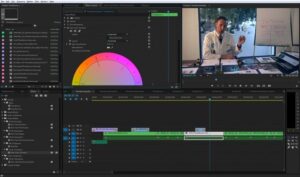 Adobe Premiere Pro CC, a component of Adobe Creative Cloud, is a leading video editing software. It offers well-integrated workflows, allowing you to edit videos without leaving your timelines. In addition, this software is efficient in terms of time due to the Adobe Sensei technology, which provides various automated tools.
Premiere Pro CC allows you to work with the most recent video formats. It is possible to edit video material in both 8k and virtual reality. In addition, the content delivered by Premiere Pro CC is tailored for any screen size.
Key Features:
This software is compatible with other high-quality Adobe CC products, including Adobe Stock, Audition, and After Effects. Therefore, you can download a motion graphics template from Adobe Stock or After Effects without leaving the interface of Premiere Pro.
Its end-to-end VR 180 capabilities are an outstanding feature.
Here, you're able to create the most immersive videos and:
Implement VR 180 compatibility that improves your format and effects.
Publish your content using the Google VR180 format on YouTube, Vimeo, and other platforms.
Color correction and grading are also robust features. With the Lumetri Color tools, your curve modifications will be more accurate and precise, and the chroma key choices will allow you to erase the background from green screen recordings.
Premiere Pro is also an excellent audio editor. With the Essential Sound Panel's clever sliders, you can simply add effects such as reverb, flangers, compression, amplification, and stereo balance. In addition, with Adobe Audition's inherent functionality, you may take your audio to professional levels.
Premiere Pro provides the entirety of the tools necessary to create a professional video. As a newbie, you will appreciate its simple UI, particularly the drag-and-drop features and mobile companion app.
User Experience:
Adobe Premiere Pro CC's drag-and-drop interface makes it simple to import video and audio assets into your project.
Then, you can use the editing tools to modify the video or audio track.
The UI is intuitive and user-friendly, making video editing simple, to begin with.
Pricing:
Adobe Premiere Pro CC costs $20.99/month.
What I Like/Dislike About Adobe Premiere Pro CC:
Like:
Adobe Premiere Pro CC's uniformity in keyboard shortcuts and interface with other Adobe Creative Cloud programs is one of my favorite features.
You may easily clone, copy, and paste content in your project with a few keystrokes, which saves a great deal of time when editing video.
Dislike:
The interface is somewhat less intuitive than those of other Adobe Creative Cloud programs.
Product Updates:
With the new Camera to Cloud feature, it is now simple to transfer your camera's video footage to Adobe Creative Cloud. It means you can access your movie quickly and simply from anywhere, making editing and distributing your recordings easier.
The new Review workspace in Adobe Premiere Pro CC makes sharing and receiving feedback on your videos simple. In addition, with the integration of Frame.io, you can send your videos for evaluation and collaboration directly to Frame.io.
4. WeVideo
Best Video Editing Software for Education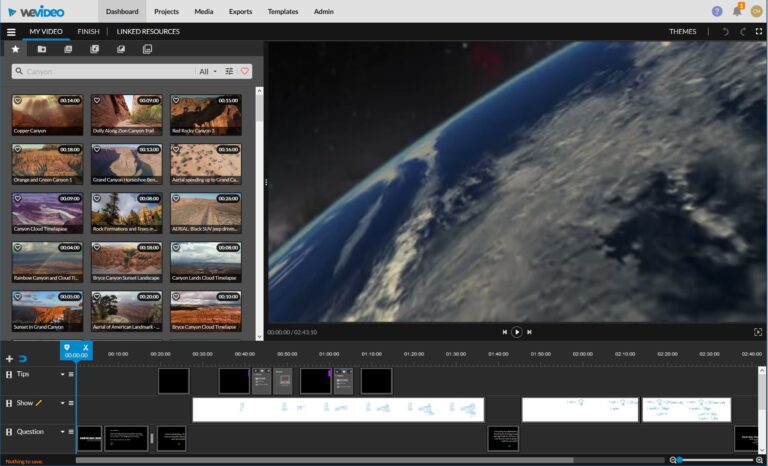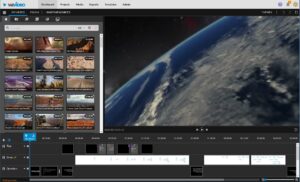 Next in our list of the Professional video editing software is WeVideo. WeVideo is a cloud-based platform that provides businesses and educators with several video editing software programs.
Educators may integrate WeVideo with their existing LMS (such as Google for Education or Canvas), making it simple for them and their students to export projects. In addition, there are education-specific software solutions for individual teachers and school systems.
Moreover, there are numerous software packages available for entrepreneurs and marketers to pick from. With Professional and Business, you can access unlimited licensed and royalty-free visual and audio stock files. In addition, the feature set includes the capability to customize projects with your company's logos and graphics and submit a video project directly to your company's social media channel.
Editing movies on any system, including Windows, Mac, Chromebook, Android, and iOS mobile devices, is simple. In addition, a green screen can be used to be inventive with video backgrounds.
Pricing:
This best video editing software for students is a favorite among users with various needs due to its affordable cost, which ranges from $4.99 per month to $36.99 per month for a business-friendly video editing tool.
5. Adobe Premiere Elements
Best Video Editing Software for Beginners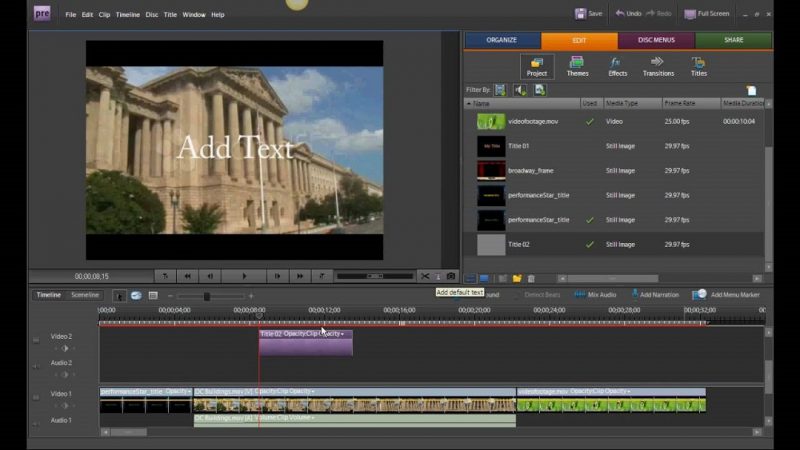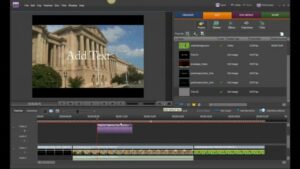 Adobe Premiere Elements is one of the novices' most versatile best online video editing software.
Premiere Elements includes many valuable capabilities, including hundreds of transition effects, improved face detection, haze removal, and focus correction. In addition, there are live search capabilities, a guided editing interface, video collages, and touch-based editing capabilities.
Moreover, Adobe Premiere Elements is incompatible with 360-degree videos and other revolutionary features such as multi-cam editing. However, all of them are forgivable, given their enormous array of skills.
Key Features:
Your video creation options are Quick, Guided, and Expert.
You can select your favorite material for your video in fast mode, and the app will organize it on the timeline for you. In addition, it automates features of your video, such as automatic motion tracking, video stabilization (ideal for GoPro), and intelligent toning.
Guided mode is, as its name implies, more aid. The software instructs you on its features and functionalities, and you acquire knowledge of the interface and its operation as you progress.
Expert mode is reserved for more advanced users, and you control everything manually. Although Adobe Premiere Elements is not as advanced as other tools on this list and isn't as speedy, it's a wonderful app for beginners.
User Experience:
Adobe Premiere Elements offers a high-quality user experience by allowing you to fine-tune your photographs and movies.
Use filters, text, and other effects to distinguish your photographs and movies.
Pricing:
Premiere Elements 2022 costs only $99.99, or you can purchase it packaged with Photoshop Elements for $149.99.
It is a terrific all-around app available for Windows 10 and Mac PCs.
What I Like/Dislike About Adobe Premiere Elements:
Like:
Adobe Premiere Elements is the ideal free online video editor for anyone who wishes to edit videos as a hobby, as it is incredibly user-friendly and equipped with all the necessary tools.
Advanced capabilities allow you to advance to the next level.
Dislike:
It is adequate for basic video editing, although it lacks some of the functionality of more expensive video editing software.
In comparison to other software, the quantity of available songs is restricted.
Product Updates:
Auto-reframing allows you to maintain your video subject in focus regardless of the video's size or aspect ratio.
Choose the ideal aspect ratio for your project from various popular options, such as social media-friendly dimensions.
6. VideoPad
Great Video Editing Software for YouTube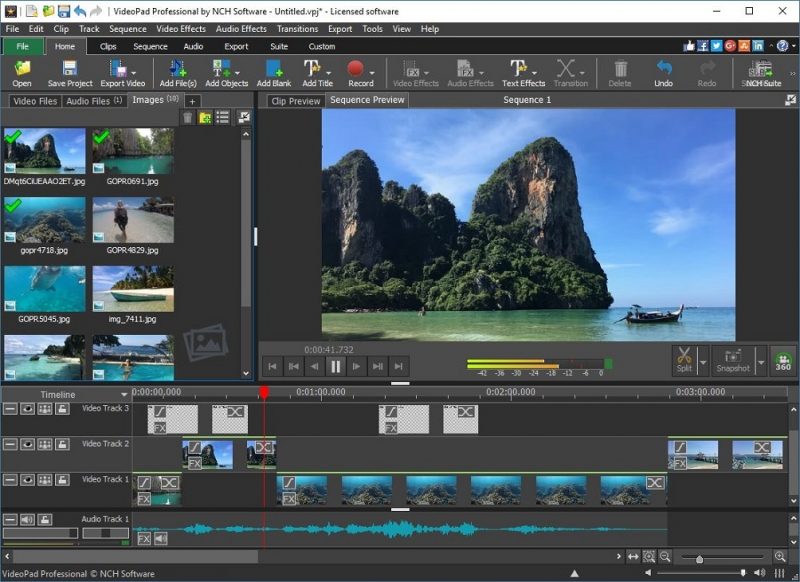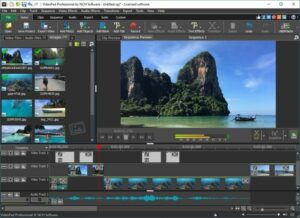 VideoPad is an easy-to-use and intuitive editor for YouTubers. It is among the video best editing software for YouTube in 2022.
The Home Edition and Master Edition are both paid editions. However, the Home Edition is limited to two audio tracks and does not support additional plugins. In contrast, the Master Edition limits the number of audio tracks and external plugins.
Recently, VideoPad was modified to offer 360-degree video capabilities. Additionally, you may add dynamic titles, background clips, simple text, and picture overlaps via the new "Add Objects" command on the editor's Home tab.
This BEST Free Video Editing Software For Windows 2022 user interface is one of its most appealing aspects, making it a breeze for newcomers. In addition, VideoPad is compatible with Windows and macOS computers.
Additionally, these cross-platform components allow you to easily publish your completed movie from the editor's main menu to your chosen social media platform.
This 4k video editing software makes up for its lack of flashiness with its user-friendliness and the necessary tools to begin posting high-quality movies online; you can render anywhere from 480p to 4k resolution.
7. MiniTool MovieMaker
Best Free Video Editor Software for Windows
MiniTool MovieMaker is a robust, free movie editor that allows you to make and edit high-quality videos with ease and in a matter of minutes. Its drag-and-drop interface makes importing files and adding titles, transitions, and effects a breeze.
Another fantastic feature is their tool for creating movie trailers in the Hollywood style. To use it, you select a pre-made template, import your movies, and then save or share the resulting video with your loved ones.
Here is a list of more key attributes:
Auto-save project feature.
A video editor that makes it simple to trim and divide video files.
Creative filters and expert LUTs produce pleasing visual aesthetics.
Titles and subtitles are animated.
There are numerous transition effects available.
Pan and zoom effects are used to give motion to videos.
A speed controller allows you to accelerate, decelerate, and reverse clips.
The team is constantly releasing new features and upgrades, such as the ability to download YouTube videos, the addition of text templates, the correction of issues, and the enhancement of stability.
This Windows video editor is one of the most excellent free movie editing software compatible with Windows 7, Windows 8.1, and Windows 10.
Straightforward Online Video Editor for Windows and Mac ($49.99 per year)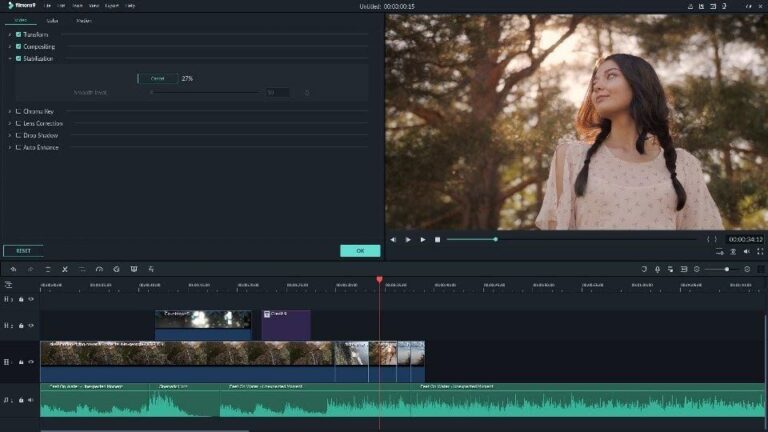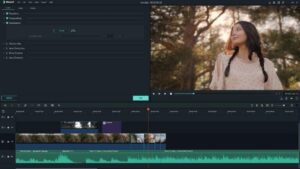 Wondershare Filmora is video editing software online for Windows and Mac that includes a variety of drag-and-drop effects, templates, audio, filters, and soundtracks.
There are also a variety of other capabilities, like split-screen, motion tracking, green screen, and more. For example, Keyframing allows you to build bespoke animations between clips, whereas Motion tracking facilitates intuitive object tracking. Then, a color matching tool will enable you to apply the color settings of one video clip to other video clips.
Besides, the video editor even allows you to assign keyboard shortcuts to various tools to save time.
With the drag-and-drop tools, you can add various transitions, filters, motion components, video, audio, and titles.
You also have access to the Green screen tool, which allows you to change or eliminate the video's background.
In addition, you can use 'Audio Ducking' to lessen the loudness of background music and transition from one audio track to another.
Other important aspects include:
Keyboard abbreviation
Color gradation
This best video editing software for YouTube lets you upload your videos directly to YouTube.
Hardware acceleration for Mac that accelerates the editing process.
Using a blending mode to layer media for unique effects.
Pricing:
Filmora has the following features:
The monthly rate of $49.99 per year
Perpetual Plan: $79.99 per year
Annual Bundle Subscription Rate: $109.99
Every plan includes a 30-day money-back guarantee.
9. Apple iMovie
Best Free Video Editing Software for Mac & iOS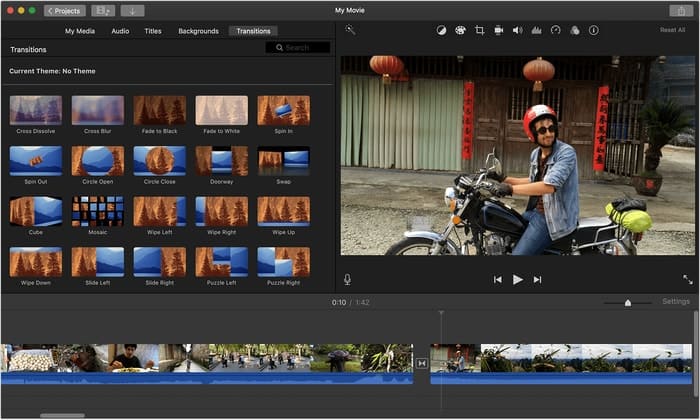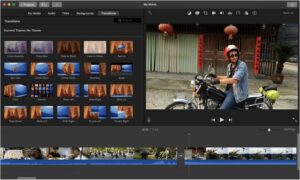 Apple iMovie is the popular and best free video editing software and one of the most famous tools for macOS and iOS users. iMovie is a user-friendly video editing app with support for 4k HD and a vast array of functions.
If we talk about the best free video editing software reddit, IMovie runs well on recent Macs and is compatible with Macbook Air & Macbook Pro.
Moreover, recent improvements include support for the touch bar and 4K video capabilities. Additionally, you can process video footage at playback speeds of up to 60 frames per second. Green screen, video filters, & Multicam editing are video effects.
Apple compatibility is another significant selling point. It is simple to import and export video, audio, and images from iCloud. Additionally, you may make slideshows and view them on your Apple TV.
In addition, many excellent iMovie tutorials are available online to assist you in using their free software.
Exporting choices are likewise essential, with the most common file formats supported.
Try iMovie if you require a basic and free movie editor for macOS.
10. HitFilm Express
A Robust Choice with an Array of Add-Ons
Are you seeking the Best Free Video Editing Software Programs? HitFilm Express is the best free version of HitFilm Pro, developed by FX Home. Their Express edition is distinguished by its capability for more than 180 visual effects, special effects compositing, and MP4 H.264 exporting.
You can choose your high-quality settings using HitFilm Express. These include pause and playback customization options. These abilities accelerate playing, sparing you the agony of high-resolution formats' typical viewing delays.
The configurable layout panel is an additional powerful feature. With HitFilm Express, you may arrange items in a scene using tools for precise alignment. Additionally, you get access to 360-degree and colorist workspaces. With these capabilities, you can remove irrelevant functions from the panel and focus on the most important ones.
This Video Editor App Free Download excels at video rendering and export. As a result, you can export a movie rapidly in the background while working in the editor.
What is Video Editing Software?
Video editing software enables the modification, editing, and manipulation of video files in a timeline format to create movies and short films.
Video editors allow you to adjust a video's frames and add messages, graphics, colors, and filters. Additionally, you can include audio snippets, speech, and background music in your video.
Other valuable characteristics include:
Assisting you in trimming your video.
Eliminating portions of your video.
Arrange clips & frames in a video in various ways to improve its flow.
Adding different effects and filters to improve the video's quality.
Including audio and music in video segments.
What Should You Look For in Video Editing Software?
Before deciding on a video editing software free download, it is essential to consider the following factors.
Cross-Platform Compatibility — Choose a video editing program compatible with various systems, such as macOS, Windows, and Linux. It will allow you to use your video editing software on any device.
File Formats and Support – It must be able to read and write common video, image, and audio formats, such as MP4, MP3, jpg, and WAV. It will provide you with the necessary flexibility to modify anything you desire.
Easy Clip Editing — With a few simple clicks, you should be able to resize, scale, snap, or cut your clip. Additionally, the software should permit you to edit clips from various positions, X or Y axis, and more. These capabilities will allow you to modify the video from multiple angles.
Real-Time Previews — You should be able to examine the edited footage in real time to understand your work better.
Effortless Video Transitions – Video transitions can let you link two clips intuitively and seamlessly. Look for a video editing tool that provides a variety of transition effects for creating distinctive videos.
Custom Titles and Graphics — Your video editing software should include a variety of title options, fonts, colors, and transitions to accommodate various video needs.
Timeline Editors – To complete a video editing project, you need a timeline that is rich in features. Keep an eye out for features such as drag-and-drop, predefined animations, zoom in and out, clip resizing, alignment, snapping, slicing, etc.
Speed Adjustments – You must be able to adjust the speed of your video. Further, select a video editing platform that allows you to speed up or slow down the playing of your video.
Audio Editing – Audio editing functions such as the display of waveforms on the timeline and the rendering of waveforms as part of the movie are also advantageous. In addition, the software should allow you to separate the audio channels from the video and tune them independently.
Before selecting the appropriate video editing software, consider all of these capabilities.
Conclusion – Best Video Editing Software
It concludes the list of the most excellent software for creating video magic. Whether you are an experienced expert, a novice, or a tech enthusiast, I hope this advice was helpful.
I recommend Adobe Premiere Pro CC if you're seeking the most excellent video editor overall.
Select Final Cut Pro X for Mac users.
Adobe Premiere Elements is a good choice if you're a newbie looking for a low-cost solution with a wide range of capabilities.
You can download iMovie if you want to use the most excellent free video editing software for Mac.
Which video editor do you use? Please tell me in the comments.