Choosing the appropriate SEO tools is crucial to the success of your business. From keyword tracking to backlink research, the most effective small SEO tools may help you achieve your objectives. In this article, I have ranked and reviewed the best SEO tools and my best choices so that you can choose the most effective one.
Some claim that SEO is the most challenging digital marketing skill to master yet is one of the most vital.
Whether you're launching a blog, eCommerce brand, or SaaS company, you need website traffic. And to receive organic traffic, you must rank on Google for particular keywords.
Using the proper technologies is crucial because just 10 % of pages receive organic Google traffic.
Whether you require to perform keyword research, audit your website, conduct competition research, or want to see how well your site ranks on Google, you must ensure that you're doing everything most efficiently.
This article ranks and reviews the best SEO tools, including Ahrefs, SEMrush, and Moz, to help you improve your SEO game in 2023.
Let's get to the list.
Best SEO Tools of 2023 (Honest Reviews & Free Options)
Here are my picks for the best SEO tools to use this year.
1. SERanking


Lets talk about the best Best SEO Tools for eCommerce. It is among the best SEO tools that provides agencies and enterprises with an all-inclusive SEO platform.
SERanking can be used for every SEO analysis and study procedure.
It comprises keyword research, competitive analysis, and a website audit, among other things.
It provides additional capabilities like rank tracking and backlink analysis.
Use the Website Audit tool to examine your site for issues that may be hindering its SEO performance.
Using their SEO management tool, you may also track your keyword ranks, backlinks, etc.
With built-in marketing features, SERanking is one of the market's most popular and used SEO tools.
KEY FEATURES:
An in-depth website audit guarantees that your website remains ahead of the competition by identifying problems that may be hindering its SEO performance.
Perform backlink monitoring checks for links that may have been deleted or compromised, as well as monitors your website for newly acquired backlinks.
On-Page SEO checker analyzes the code and structure of your website to guarantee that it is search engine optimized.
With White Labeling, you can brand SERanking reports with your logo and corporate name.
The marketing plan tool facilitates the creation of a business-specific marketing plan.
Keyword research enables you to identify the best keywords for SEO campaigns.
API Access provides access to SERanking data and features programmatically.
PRICING:
There are three pricing plans once it comes to SERanking:
Essential: $39.20/month
Pro: $87.20/month
Business: $191.20/month
USED FOR:
Those that wish to boost their website's ranking will discover SERanking to be a helpful business.
SEO specialists can use SERanking for keyword research, competitive analysis, and website audits.
Digital businesses can use SERanking to pitch their clients on SEO services and give comprehensive data.
CONS:
More information about competitors could provide additional insight.
Simple guidelines for using the available quotas would help get started.
On occasion, SERanking cannot locate any backlinks, keywords, or traffic statistics for more minor, less-established websites, which can be irritating in this industry.
2. GrowthBar
GrowthBar is one of the most user-friendly best SEO tools available. They allow customers to view millions of keyword results, your competition's backlinks, and Google Ads data and generate blog content with a single click.
GrowthBar is a tool developed with Open AI, the most advanced language model yet created. That indicates the results and recommendations are optimal. In addition, it is smooth, elegant, and 100 percent user-friendly.
It is gaining popularity among entrepreneurs, small firms, and freelancers due to its intuitive user interface and rich data sets. However, GrowthBar also serves larger firms such as Minted, MagicJack, Square, Spekit, and Teepublic.
Additionally, GrowthBar offers a free Chrome extension that provides SEO analytics while you browse the web.
KEY FEATURES:
Organic Research – View millions of keyword suggestions and their respective competitiveness scores.
Competitiveness Metrics – View your competitors' top organic keywords and backlinks and export any metric as an Excel-compatible CSV.
Content Generation – Automatically generate blog post outlines with the correct keywords, headlines, word count, tone, and links with the press of a button.
PRICING:
You can try GrowthBar for free for five days before upgrading to a paid plan. After that, it is an all-in-one, super-powerful SEO tool for $29/month, making GrowthBar much less expensive than most other quality solutions.
USED FOR:
Content generating for bloggers.
Through competitive research, you can learn your rival's top organic keyword, Google Advertisements keyword, backlinks, and Facebook ads.
Obtain word counts, difficulty scores, keyword ideas, backlinks, and more to develop your content strategy.
CONS:
Insufficient SEO metrics
absence of past tracking data
Absence of SEO audit feature
Start with a 5-day free trial of GrowthBar, the most innovative new SEO tool.
3. SEMrush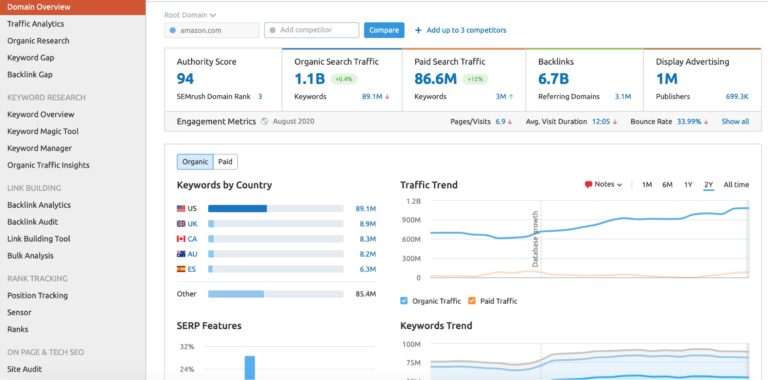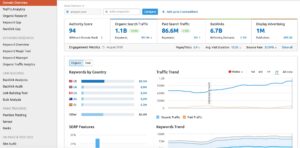 SEMrush is among the popular and best paid SEO Tools for competition analysis that enables users to assess their competitors' content and their own. It gives robust metrics and allows users to identify the most effective pages, content, and keywords.
SEMrush has assisted numerous website owners and eCommerce entrepreneurs in understanding their competitors' SEO methods. As a result, it's one of the most often used best SEO tools for small and medium-sized businesses.
Moreover, the SEO tool provides the most effective assistance with SEO, PPC, ad campaigns, backlinks, keyword research, and search engine results pages (SERP).
KEY FEATURES:
Organic Research – This tool allows customers to view the top keywords used by competitors and compare domain modifications.
By studying your competitors' advertising costs, advertising research helps you conduct more effective advertising campaigns. Additionally, you can localize your ad campaigns.
Product Listing Ads – SEMrush enables users to view the Product Listing Ads and product feeds of competitors.
Traffic Analytics – SEMrush accurately reports a website's online performance and traffic. It also helps you analyze the media consumption and behavior of prospective clients.
PRICING:
There are three paid SEMrush plans. The Pro plan costs $99.95, the Guru plan costs $199.95, & the Business plan costs $399.95. There's also a quote-based Enterprise plan that can be tailored to the unique requirements of entrepreneurs.
USED FOR:
Creating strategy for guest blogging.
Analyzing the competitors' strategies
Monitoring past and present website position
Technical SEO audits and user experience evaluations
Identifying beneficial advertising options for CPC
Do robust keyword research to make your content rank higher.
CONS:
It could be a bit complicated for novices.
Costly fees must be paid for more advanced functions.
Instances of erroneous information about ads and backlinks
4. Ahrefs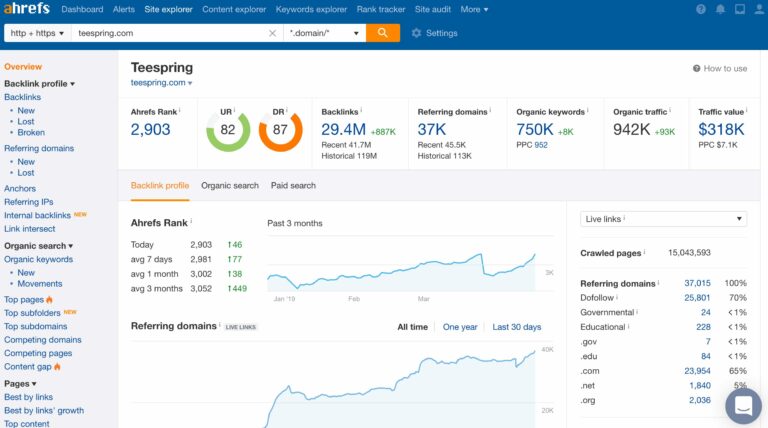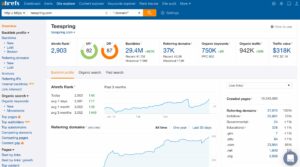 One of my best SEO tools 2022 on the market is Ahrefs. Not merely is it the second-fastest web crawler on this list (after only Google), but it also offers the most excellent user interface.
Additionally, it is primarily used for backlink audits, competitive analysis, URL rankings, and keyword research, among other things. In addition, Ahrefs, like SEMrush, offers organic search reports for analyzing the traffic of your competitor's websites.
Users then employ the extracted information for link building, keyword research, SEO, rank tracking, and content marketing.
Every day, I use Ahrefs to monitor fresh backlinks, my keyword's search position, and competitor insights.
I adore their Keyword Explorer tool, which allows you to observe the keyword difficulty and associated keywords that "also rank" for specific keyphrases.
All these remarkable capabilities make Ahrefs a highly competitive SEO tool used by SEO professionals and entrepreneurs worldwide.
KEY FEATURES:
Excellent Keyword Tools – Ahrefs creates millions of keywords with a single research query.
You may view the ranking history of any keyword used on any page of your site.
Content Explorer – With Content Explorer, you may perform a content search within the Ahrefs database, which contains over 1 billion web pages.
Monitor Outgoing Links — Ahrefs displays a report on outgoing links in the site explorer. It lets you keep track of the locations to which your guest posts connect.
PRICING:
You can evaluate the product by purchasing a seven-day trial for $7. After that, you can upgrade subscription options from $99 to $999.
USED FOR:
Getting site improvement tips for increased visibility and ranking
To obtain a comprehensive analysis of backlinks.
To determine the URL ranking.
To analyze historical backlink data.
To construct a content strategy.
CONS:
Managing an agency without automatic client-facing reports is inefficient.
5. Advanced Web Ranking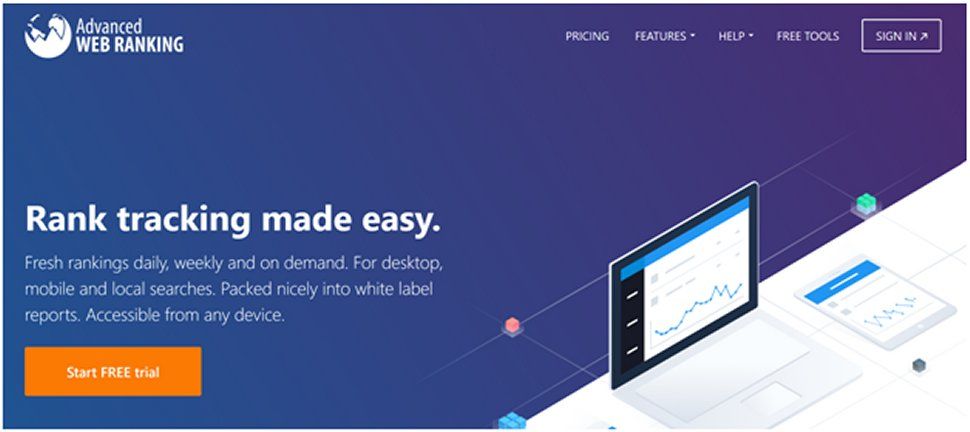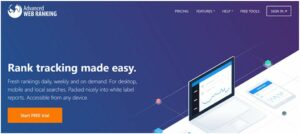 Advanced Web Ranking is among an excellent SEO Tools for teams who wish to monitor a significant number of keywords. It is suitable for agencies and in-house teams due to its ability to track keywords on a hyper-specific level (including search engine results features) & white-label reports.
Further, this app can track 3,000 search engines and more than 170 nations, including Google, Baidu, Yandex, Amazon, YouTube, and others. Advanced Web Ranking also does a comprehensive competition study that covers variables such as market share, expected visits, & the identification of new competitors.
KEY FEATURES:
Since 2002, this instrument has been in existence.
Offers hyper-specific local SEO results on desktop and mobile devices (country, city-level, or GPS coordinates).
3,000 search engines and over 170 nations (also offers support for SEs such as Baidu, Yandex or Amazon & Youtube)
You may white-label reports, export them as PDF or CSV, generate permalinks, and interact with Data Studio, among other features.
It can store vast quantities of keywords (which is great for agencies and large in-house teams).
Furthermore, the app supports an unlimited number of users with varying permissions (administrator, team member) at no additional cost.
PRICING:
Advanced Web Ranking offers four paid options, each with a free 30-day trial. After that, plans rise in price as additional "units" are included, granting you access to more keywords to track.
Starter: $49 per month.
Pro: $99 per month.
Agency: $199 per month.
Enterprise: $499 per month.
USED FOR:
Performing keyword research.
You are tracking large volumes of keywords.
Finding specific keyword rankings at the local level.
Competitor insights & understanding of SERP features.
CONS:
If you are tracking a large number of keywords, updates may take a while because the rankings are collected in real-time.
There is no module for link building.
6. Sitechecker
If we talk about the best SEO Tools, Sitechecker.pro is an excellent website checker that delivers a comprehensive SEO analysis to improve SEO. Simply enter your website's URL and click the analyze button. After Sitechecker has analyzed your website, you are provided with traffic, backlinks, rankings, and more information.wee
KEY FEATURES:
Website Change Monitoring – Their continuous website scans evaluate your website and provide information on modifications that have been made & how they affect your SEO ratings.
On-Page SEO Audits — Sitechecker analyses your web pages and identifies issues to resolve.
Website Traffic Check – Unrestricted access to competing site traffic.
Daily Backlink Tracking – Receive alerts anytime new links point to your site (or old ones disappear), allowing you to take appropriate action.
Rankings Check – See your keyword rankings (including local and mobile orders).
PRICING:
There are three primary pricing tiers for Sitechecker, beginning at $29 per month. Their $29 per month Startup Plan allows you to use their website checker on five domains, 5,000 URLs, 500 keywords, & 5,000 backlinks. Plans are priced according to the number of websites, URLs, keywords, and backlinks you choose to monitor.
USED FOR:
Individuals that require a website checker for site audits.
Competitor monitoring
Keyword position monitoring and tracking
Tracking new and lost backlinks
7. Authority Labs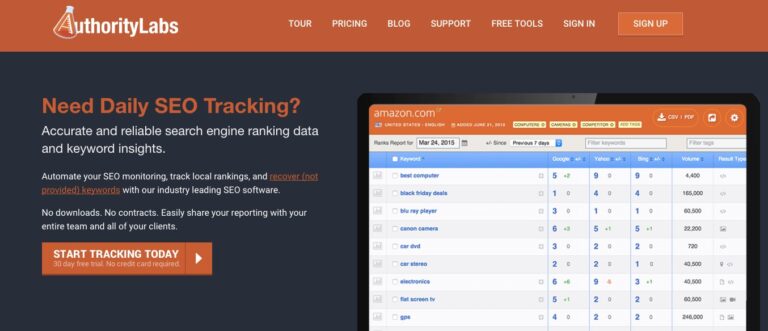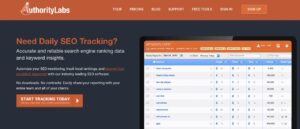 Authority Labs is another unique SEO tool with an incredibly intuitive UI. With Authority Labs, creating several websites and improving SEO strategies is simple. It also allows you to gain location-specific rank tracking to target your audience precisely.
Additionally, users may also monitor the SEO operations and techniques of their market competitors.
KEY FEATURES:
Tracking on a Worldwide Scale – You may efficiently perform local and global tracking for many countries and localities.
Effective Keyword Targeting Using Keyword Research Tools
Free Trial – Authority Labs also offers a free 30-day trial.
Daily Reporting — Receive in-depth reports with daily rank checks to assist you in analyzing your position.
PRICING:
Authority Labs has four distinct pricing tiers. The Plus package costs $49 per month, while the Pro plan costs $99. Other advanced levels include the $225 Pro Plus plan and the $450 Enterprise package. In addition, you receive a 30-day free trial with no credit card necessary.
USED FOR:
Monitoring rival domains
Monitoring product ranking across multiple websites
Comparing mobile and desktop rankings
Provides comprehensive analytical reports incorporating automated reports into the reporting procedure
CONS:
There is no possibility to adjust this filter setting, which sorts keywords alphabetically.
8. Serpstat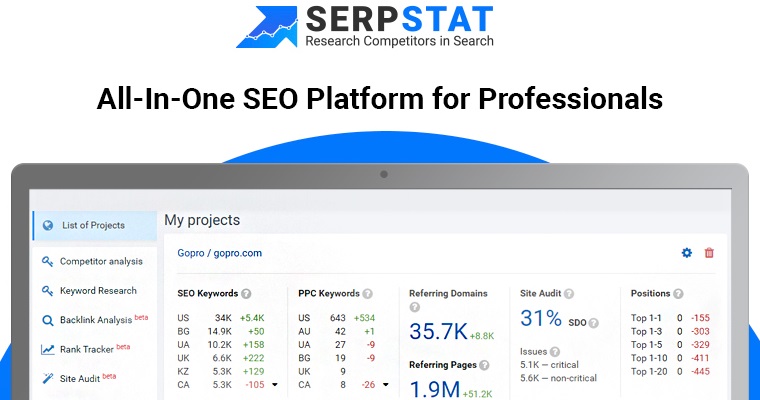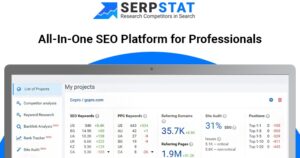 Next in our list of the best SEO Tools is Serpstat. It is an all-inclusive resource for SEO and digital marketing solutions. From boosting your SEO to managing your advertising and content marketing initiatives, it aids you in virtually every aspect.
Besides, the Serpstat instrument performs keyword research, competition research, PPC analysis, etc. The dashboard is intuitive and straightforward to use to avoid complications. In addition, it assists website owners in keeping track of their competitors' backlinks.
KEY FEATURES:
Website Analysis – Serpstat analyses a website by monitoring its domain and URL. The analysis contains extensive SEO and PPC research.
Keyword Research – Keyword research consists of cluster research, search suggestion, search volume, content marketing, and SERP analysis.
Backlink Analysis – Collects complete backlinks data for the past two years and monitors the backlink practices of your competitors.
Site Audit – Cleans up your website's HTML and page performance and never lets you overlook a possible problem.
PRICING:
Serpstat has four distinct pricing options, including monthly and annual subscriptions. The Lite plan costs $69/month, the Standard plan $149 per month, the Advanced plan $299 per month, and the Enterprise plan costs $499 per month. Also included is a 30-day free trial.
USED FOR:
Searching for keyword variants and gathering global data
Comparing the usefulness of several websites
Monitoring global search results
Discovering the advertising strategy and budget of your rivals
CONS:
Site auditing for heavy websites is quite sluggish.
Occasionally displays erroneous keyword results.
9. Long Tail Pro
Long Tail Pro is the top keyword research tool that facilitates the discovery of less competitive keywords. Whatever your niche, these keywords can assist you get conversions through web traffic.
Moreover, it provides good keyword recommendations in bulk and a measure of the keyword's competition. This SEO tool is ideal for newbies and new businesses.
KEY FEATURES:
Create Multiple Projects – Keep Your Campaigns for Various Websites Organized
Input and Export – Quick export of the best keywords to Excel and import into the Long-Tail Pro interface
Here is how Long Tail Pro works:
PRICING:
Long Tail Pro provides three distinct price levels and a 10-day money-back guarantee. The Agency plan is $98 per month, Pro is $45, and Starter is $25 per month.
USED FOR:
Discovering competitive keyphrases
Creating long-tail keyword phrases
CONS:
Confined manual important phrases
Limited seed keywords
It does not help in analyzing backlinks.
10. SEObility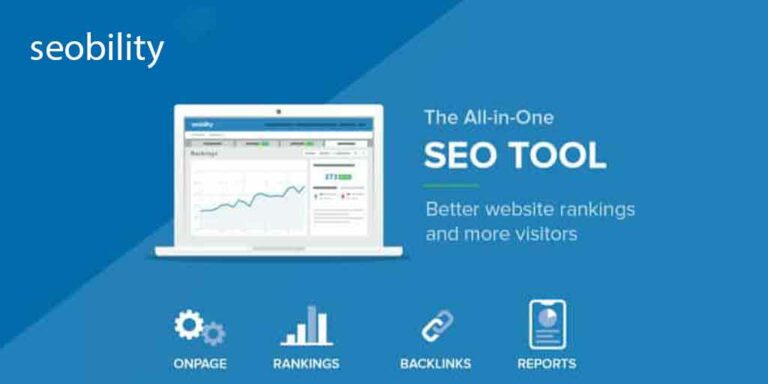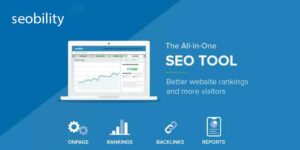 Are you seeking the best free SEO Tools for beginners? SEObility is a robust, all-in-one SEO software that assists you in monitoring your website, which is helpful for SEO optimization. In addition, its daily updates and link-building tools, SEObility, makes it simple for business owners to increase their search engine rankings.
In addition, it swiftly crawls all the related pages of a website and identifies problems such as duplicate content and broken links.
KEY FEATURES:
Rank Tracking allows you to monitor daily term rankings depending on demographics and search engines.
Keyword Monitoring and On-Page Analysis — Performs on-page crawling and keyword monitoring while providing customers with appropriate improvement ideas.
Google's Search Results Regarding Local Keywords – Users can also review and monitor local search results, which will assist them in getting a higher ranking for a specific target audience.
Competitors Comparison – Quickly analyze and compares the content of your competitors' websites so that you may optimize your procedure.
PDF Export and Email Reporting – Generate periodical reports indicating a change in the website's rating.
PRICING:
The free Basic plan is created just for novices. The Premier plan, which is meant for professional websites, comes with a 30-day free trial. After the trial, the monthly cost is $50. The final Agency plan is ideal for prominent websites and agencies and costs $200 per month.
USED FOR:
Crawling and inspecting a website
Monitoring regularly updated Google position tracker
Link building and verifying backlinks
Regular monitoring and white-label reporting
Metadata and on-page validation.
Blacklist and secure browsing evaluation
Monitors your page response time
Exports detailed reports as CSV and PDF files
11. SEOquake
SEOquake is one of the most effective and best free SEO Tools 2022 and a browser extension that provides a variety of SEO metrics. It is very effective for content marketing because it rapidly includes information about any website.
It gives crucial metrics, including:
Number of external links
Alexa rank
Google rank
Domain age
SEMrush rank
KEY FEATURES:
SEO Bar – Simply navigate the web pages with SEO Bar, which will present you with immediate information.
SERP Overlay – It allows you to view a comprehensive analysis of the SERP and export the data in CSV format.
Keyword Analysis – Provides thorough and well-structured keyword reports.
Print and Export – Data from any file can be saved in CSV format.
PRICING:
Free.
USED FOR:
Conducting an SEO analysis of the page
Internal and external connection analysis
Comparing domains and URLs in real-time
Exporting data into CSV file format
CONS:
High-level parameters are highly perplexing to inexperienced users.
12. SEOptimer
If we talk about the best SEO Tools for digital marketing, SEOptimer is a clear and easy-to-use SEO auditing tool that helps you increase your page's rating. It excels at both on-page and off-page optimization and link development.
KEY FEATURES:
White Label SEO Audit – Offers websites with reports bearing their brand by analyzing several factors.
Embeddable Audit – Assists in generating more leads and sales for websites.
SEO Crawler – Aids in the detection of technical SEO issues by crawling each page of a website.
SEO Audit API – Used for trend analysis, problem tracking, and reporting in bulk.
PRICING:
The pricing levels comprise one website plan and two digital marketing programs. The monthly fee for the DIY SEO plan for websites is $19. The White Label and Embedding plan and the White Label plan cost $29 and $59 per month for digital marketers. You also receive a free 14-day trial.
USED FOR:
Content marketing
On-Page Optimization comprises the enhancement of numerous site features.
Off-Page Optimization, which includes link building
Ad campaign management for rapid traffic generation
Social campaigns to improve social presence
CONS:
No mobile app
13. LinkMiner
If you are looking for the best SEO Tools 2022 then LinkMiner is a perfect choice. It by Mangools is a highly effective tool for detecting broken backlinks. In addition, it includes statistics such as Domain Authority, Facebook likes, backlinks from Ahrefs, Moz, and more.
KEY FEATURES:
Powerful Backlinks — LinkMiner identifies Do-follow and No-follow backlinks by applying simple and complex criteria.
Link Strength — Evaluates the backlinks' strength using Citation Flow, Trust Flow, and Alexa Rank.
Advanced Backlink Analysis – Provides opportunities for link building by discovering fresh backlinks.
PRICING:
You begin with a 10-day free trial. After that, the premium plans start at $29 per month and range up to $79 per month.
USED FOR:
Exploit the backlinks of your rival's website.
Identifying particular types of backlinks
Assessing the quality of the connections
CONS:
Not consistently accurate in assessing the value of backlinks
14. Pitchbox
Pitchbox is an all-in-one influencer outreach and content marketing platform that streamlines and automates the process. It lets you connect with influencers and bloggers, eventually providing huge link-building potential.
KEY FEATURES:
Campaigns – Pitchbox facilitates the execution of campaigns to contact publications, bloggers, and influencers.
Product Review – The product review function instantly identifies websites with product reviews.
Email Templates – Provides email templates designed to engage prospective leads.
Opportunity Detail Screen — Displays each prospect's information and adds tags to opportunities.
Workflow – gives users the ability to search and filter results.
PRICING:
The pricing structure of Pitchbox is entirely customizable. After scheduling a demo, their team will present you with a bespoke monthly fee.
USED FOR:
Identifying influential individuals, bloggers, and publishers
Personalized email outreach with automatic follow-up
Making optimal decisions based on empirical evidence
15. Google Search Console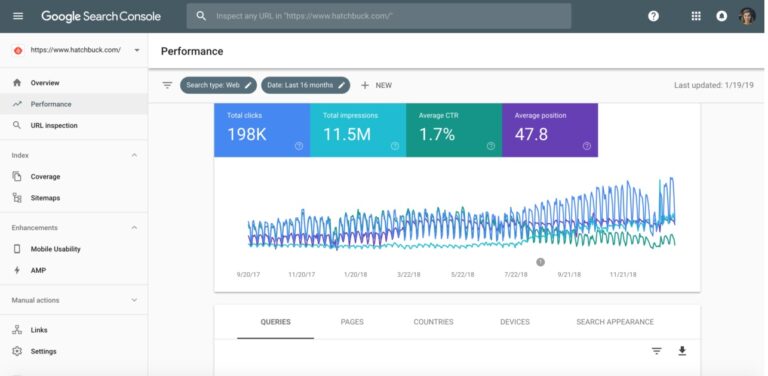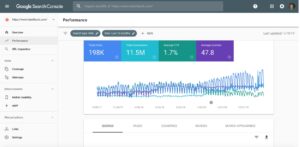 Are you still seeking the best Google SEO tools free for WordPress? What could be more effective than using Google's SEO tool if you want to improve your website's Google rating?
Google Search Console (previously Webmaster Tools) assists you in comprehending Google's perspective on your website, measuring the site's search traffic, and resolving issues with your sitemap and indexing. Google Search Console is the backbone of your SEO as it offers many data points and ideas. This software should be used in conjunction with Bing Webmaster Tools.
Furthermore, every website must have a Search Console in addition to the Google Keyword Planner, which runs through Google AdWords. This tool may be easily installed on WordPress using the Yoast SEO plugin.
KEY FEATURES:
Communication Channel — Serves as a communication channel that transmits information on website faults.
Control Center — Enables users to monitor the XML sitemaps that assist them in re-evaluating and correcting problems.
Data Source – Permits users to extract data in Google Analytics or other analytic tools.
PRICING:
Free of charge.
USED FOR:
Optimization of search engines and data analysis
Audience targeting and tracking organic performance
Testing of metadata and security monitoring
CONS:
Sometimes cautions and suggestions are accompanied by an incorrect explanation.
It doesn't provide any information on your competitors.
The updated version lacks essential SEO capabilities.
What Are SEO Tools?
SEO tools are search engine optimization software that assists website owners in increasing their Google presence. The primary purpose of best SEO tools free online is to help website owners with keyword research, link building, keyword rank tracking, on-page SEO, technical SEO, and more.
ALSO SEE: Best CRM Software and Tools
Moreover, these instruments are often SaaS programs that may be accessed online for a monthly charge. Due to Google's ever-changing algorithm, it is necessary to have a variety of SEO tools, as they serve diverse purposes.
For instance, you may use Ahrefs for keyword research, SurferSEO for semantic keywords and on-page SEO, and SEMrush for technical SEO analysis while launching a new website.
Content & Links In The Game of SEO
Content is SEO's bread and butter. You will not rank well in search engine rankings if you lack quality material. It is because your website must be pertinent to people searching.
Even if you have the best website in the world, you won't rank if nobody searches for your offer. Therefore, keyword research is crucial. First, you must determine what people are searching for and provide content containing relevant keywords.
In addition to solid content, you also need backlinks of good quality. Backlinks are links that point to your website from other websites. Google uses these backlinks as an indicator of your website's quality.
You will rank better in search engine rankings with more high-quality backlinks. It is why link building is an integral aspect of search engine optimization. You must actively seek out high-quality websites that will connect to yours.
Additionally, there are numerous techniques to accomplish this, with guest blogging, broken link construction, and the skyscraper strategy being among the most common.
All of these chores may be accomplished with the proper SEO tools. In addition, they may assist with keyword research, SERP analysis, rank monitoring, and link monitoring.
SEO Tools FAQ
How long does SEO take?
SEO efforts typically take three to six months to bear fruit. If your blog and website are new, it will take longer to index than a reputable, high Domain Authority (DA) domain. For example, it took me around eight months to receive my first one hundred thousand monthly visits.
Now that my DA is higher, I can write a new page, have it indexed, and have it appear on pages 2-3 of Google the same day. The goal is to view each blog post as a long-term investment and to make frequent changes to boost your search engine results.
What is the best free SEO tool?
There are numerous free best SEO tools available, but they lack the features of their paid counterparts. If you want to monitor your SEO and conduct keyword research for free, you can use one of the following tools:
1. Google Keyword Planner.
2. Moz Link Explorer.
3. Google Trends.
4. Google Analytics.
5. Google Search Console.
6. Keyword Hero.
7. Screaming Frog.
Can I do my SEO?
Yes, if you know SEO tactics, you can run your SEO. I perform all my SEO for this blog, which I established last year and now receives 300,000 unique monthly visits, so it is certainly possible.
Here are the steps to do your SEO:
First, read SEO articles and enroll in courses to improve your skills.
Know your intended audience.
Conduct keyword research to identify valuable keywords to use in your writing.
Optimize your web pages and blog entries for search engines.
Increase Domain Authority (DA) via backlinks through guest posts and outreach link building.
Learn how to use Google Analytics to track your website's traffic.
How much should I spend on SEO?
An SEO expert's hourly rate might range from $75 to $150 ($750 to $1,500 per month) if you employ someone to assist you with SEO. Upscale digital marketing agencies may charge up to $20,000 per month for complicated projects for significant websites. Moreover, best SEO tools are free or cost approximately $99.00 monthly. Calculating your return on investment (ROI) based on your website and niche is the first step to determining how much to invest in SEO.
Is SEO difficult?
SEO is challenging since it involves knowledge across numerous fields, and search engine algorithms constantly evolve. To be effective with SEO, you must develop links to your website to increase its Domain Authority (DA). You must also be an expert in keyword research, writing, content marketing, WordPress, and more, as well as know how to generate content that ranks well.
Conclusion
Using the best SEO tools will expedite your keyword research and search engine rankings. Before deciding on a device, investigate the required features (and their cost).
Whether you are a blogger, a SaaS company, or a local business, free SEO tools are required to compete on search engines. Most of these products come with a free trial so that you can evaluate them before making a purchase. What SEO tools do you employ? Please let me know in the comments.