An easy-to-use image service, PostImage, was founded in 2004. Primarily, websites, auctions, message forums, and other platforms that handle images are granted free access. Customers with limited English proficiency will find their web site available in multiple languages. Customers are not required to create an account or register. It is easy for them to upload their image. Simple Image Upload is a mod that allows users to upload images directly from the publishing page.
PostImage accommodates files with a maximum size of 24 MB and a resolution of 10kx10k pixels. Users with a premium account are permitted to upload files with a maximum size of 48 MB and a resolution of 10kx10k pixels. One thousand is the maximum number of images that can be uploaded simultaneously. To upload additional images, customers must first create an account. Additionally, customers have the ability to upload an unlimited number of photos. PostImage offers all the necessary features for customers to upload images, including copy/paste, resize and drag & drop, copy/paste, and more.
What Is PostImage?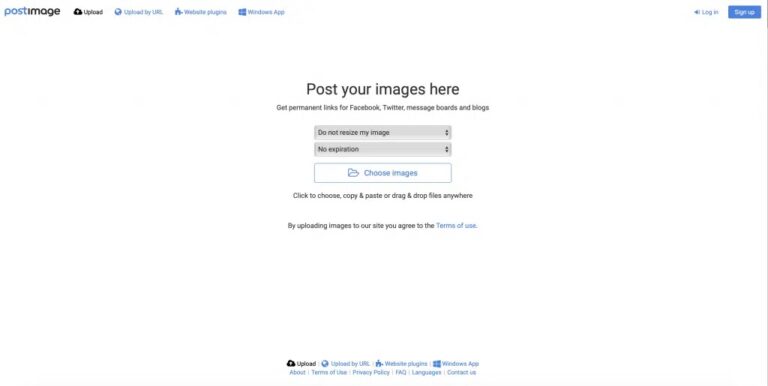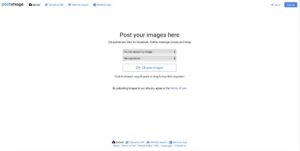 The free image service provider PostImage.org is quick and easy to use. It offers free hosting and image upload integration for forums. Free photo hosting and picture sharing services for blogs and websites. Postimage.org is superior to its rivals due to the fact that it provides a quick, professional, free screen capture utility, a variety of options, and a simple, user-friendly interface. Postimage.org offers a free image hosting service that takes care of all of your issues. On your websites and blogs, this hosting service allows you to host images.
Postimage.org allows you to host images and attach them to your eBay product description or any other shopping image you choose. The experience as a whole is enhanced. The following are some advantages and disadvantages, in addition to the most notable features of the services provided by postimage.org. The dominant photo-sharing platform is PostImage, which was founded in 2004. It provides both a forum and a method for users to upload and share their images. As an alternative to TinyPic, these sites exist. With additional tools and features, they offer the same basic services. Using a URL, you can easily upload and share images.
Prior to proceeding, you must create an account. Once authentication has been completed, images may be uploaded. People who want to save their photos online should consider this option. To enhance the user experience, you can also upload videos and GIFs. The interface of the website is quite impressive. The site lets you drag and drop images and allows you to upload enormous files. PostImage offers fundamental account features such as unlimited friend sharing, premium and free accounts, and more.
PostImage Features
It is among the most prominent websites for uploading images. Its primary goals are to make it easy to share images across various platforms, including social media, blogs, forums, and others. It offers free image uploads and forum hosting integration. On blogs and websites, it offers free photo hosting and sharing. The image hosting site is the best and most dependable. It is resistant to design and graphic modifications.
This site is loaded with excellent features. This site is loaded with excellent features. Additionally, it offers file sharing and allows you to upload photos automatically. Lightweight and capable of importing images. Furthermore, a multi-account support system is provided. Registration is not mandatory for participation. Additionally, this website offers screenshot tools and photo sharing tools.
Postimage.org offers features that are unmatched. Furthermore, there is no cost associated with any of them. You also have the option to choose to upgrade to the premium membership, which will give you access to additional features. Register on the site in order to commence. If you choose to host your images on postimage.org, you will receive the subsequent features. The main features of PostImage.org make reviewing images more enjoyable.
Rapid image sharing
Multiple images may be simultaneously uploaded.
Use the context menu in order to upload images.
This is the quickest method for creating a personalized screenshot.
Global hotkeys that activate screen capture in an instant.
The highlights that make this review even more intriguing are listed below.
Size Limit
You are granted an extraordinary limit despite having a free account. The free account picture size is limited to 24 MB and 10k*10k pixels per picture. The limit can be increased to 48 MB, and the dimensions of the images are restricted to 10k*10k pixels if you choose to upgrade to a higher account.
Limitation On Batch
The cluster limit on Postimage.org is an additional interesting feature that you will appreciate. Postimage.org allows you to transfer up to 1,000 images in one session. You won't have to manually transfer all of your photos anymore, thanks to this. The ability to select all of the photos at once and have them transferred to red will still be available to you.
Images Count
The best part of everything is that the pictures count. That is not limited in any way. It can be guaranteed that space will never be depleted. You can upload a lot of photos to postimage.org for the best image facilitation, as long as you abide by all agreements.
Website Plugin
For those who aren't proficient with coding or prefer not to manage the connections, Postimage.org has a plugin that makes the facilitation experience easier. The plugin is compatible with the majority of websites. To acquire the facilitated photos, every site that is accessible will desire to use the plugin.
Windows App
Additionally, you will have the opportunity to partake in their Windows app. This concludes the process. With the help of this app, you'll be able to manage all of the highlights and the entire picture more effectively. The Imagehost.org Windows app is available for installation from the Windows Store. It includes all of the image facilitation and is simple to download.
Best PostImage Alternatives
An unhappy user of PostImage? There are largely free alternatives that are of comparable quality. The following are seven viable alternatives to PostImage.
PicturePush
With the best quality conceivable, PicturePush allows you to transfer your entire collection. There is no need to be concerned about who might view it in the future. You can transfer a large number of photos using one of the many apps we offer. Large collections of photos can be simply browsed without the need to manually turn the pages. Editing photographs online is feasible. Photos are capable of being cropped and rotated. No constraints are placed on transmission capacity or available space. To share your photo graphs, PicturePush allows you to choose.
BlueMelon
BlueMelon, a premium web-based photo sharing platform, offers image storage and online sales. Implementing drag-and-drop functionality grants you access to it from any location in the world. BlueMelon offers all-in-one solutions that give you access to high-quality, large-sized photos. This site allows you to sell your photos or videos, create backups, and share images. In your albums, you can upload videos and photos. It has incorporated watermarking and access control tools, privacy modes, and safe photo hosting, among other privacy and security features. It is considerably more potent than other platforms of its kind.
Image Hosting Biz
This free image-sharing website is accessible to all users. Image Hosting Biz allows you to drag and drop your photos wherever you want and then upload them. For anyone who wishes to be able to access their images from any device, at any time, and on any device, a group of artists created it. Additionally, you can upload programming codes and HTML thumbnails for free. Prior to proceeding, you must create an account. An email address, a name, and a password will be required. After logging in, an unlimited number of images, videos, and other files can be uploaded. In contrast to other platforms, it also lets users share their content by providing a URL.
PiXhost
PiXhost, a web-based image hosting platform, allows users to upload, search, and share images with other image hosting platforms around the world. It is entirely free and accessible everywhere in the world. As an alternative to TinyPic, this site exists. With new features, it still offers all the necessary services. This website allows you to search for and download high-quality images free of charge. On this website, you'll find images from a wide range of categories, including nature, automobiles, and video games, among others. Without restrictions, you can readily access the photos in each category. In order to use this feature, you must first create an account. After logging in effectively, you are able to upload and share photos, either publicly or privately.
ThumbSnap
ThumbSnap allows you to share photos with family and friends quickly and effortlessly. Additionally, photos can be uploaded to online forums, groups, messages, websites, barter systems, and long-distance interpersonal communication sites. ThumbSnap is accessible without registration. You are free to transfer and depart! You may also use a Twitter account to sign in and transfer multiple photos simultaneously or to view previously relocated images.
Upl.co
Upl.co allows you to upload an unlimited number of photos, store them, and then share them. As an alternative to TinyPic, it is available. With new tools and features, it offers all the essential services. Additionally, documents such as photos, videos, audio, and data can be transferred with a single click. Automatic perception of the records results in the presentation of an editable review for each one. Additionally, there are connections for you to share it on message boards, Facebook, Twitter, and emails.
Deffe.com
A brand-new service called Deffe.com is renowned for its free, quick image hosting platform. It is an effective upload, discover, share, and sharing tool that allows you to share your images with others. This platform allows you to upload multiple photos rapidly from your desktop and create brief links for desktop sharing. Deffe.com offers a simple dashboard that allows you to access your images rapidly. The search box allows you to easily find your image. Additionally, images from the catalog can be shared. Select the desired links and copy and paste them using the sharing icon. On Facebook, Twitter, and other popular platforms, this site allows you to post images directly.
Best FREE Image Hosting Sites
With the assistance of image hosting tools, it is simple to upload and host images on the web. The majority of image hosting platforms offer these features free of charge. Many image hosting platforms offer the same features, including unrestricted upload and sharing across multiple platforms, complete privacy control, image modification and enhancements, and complete control over privacy. On this platform, you can upload images. They become "hosted" and are accessible online once the images have been uploaded.
Preserve the images as your own. You can share them with others and organize them in a single location. This specialized platform allows you to distribute images to audiences all over the world. Advanced features, such as the content distribution network (CDN), which accelerates the loading of images, are available for use. They also offer ample bandwidth for the distribution of images online without having to limit their services, unlike photo-sharing sites. It provides a boost to the work of photographers, graphic designers, wallpaper artists, artists, and modelers. The following are some image hosting sites that are completely free for you to use immediately!
imgChili
It is among the most well-known and reasonably priced image hosting services. ImgChili allows you to upload images and photos, categorize them, share them with friends, and even make money! It does not represent the only option. ImgChili ranks among the very best. It has numerous advantageous features. Additionally, it is searchable online. Uploading your photo is an easy way to make a lot of money. Adult images can be uploaded, and the site will compensate for traffic from around the world.
UltraIMG
A free image hosting service is provided. UltraIMG is the best platform for uploading and sharing images with friends. A simple interface, unlimited storage space, the ability to create image albums and galleries, the ability to list contents, the ability to generate a unique username, support for multiple languages, sharing on almost all social media platforms, and more are just a few of UltraIMG's intuitive features. Check out the numerous ad-on options that are accessible to Ultraimg online as well!
Imgur
This image hosting service is simple, free, and includes an image modification feature. No registration is mandatory. The size of uploaded non-animated files is limited to 20MB. When non-animated images are compressed losslessly, the file size is decreased while the quality is maintained. The maximum file size for animated images (such as GIFs) and video is 200MB. Video uploads cannot be longer than sixty seconds. GIFs and videos over 2 MB in size will be converted to GIF V. Then, the sound will be eliminated. GIFV transforms large GIFs into GIFV. This results in a smaller file size without sacrificing quality. ideal for our GIF creators. Hourly upload limits are fifty images.
Cubeupload
It is an image-sharing website where your images are not altered or compressed. It is open source and created by three British developers. Cube Upload is the best option, though there are many other options. The best aspect of CubeUpload is this. No alteration is made to the image. To begin, enter your email address and log in. Images are preserved, which is the best part. A directory containing all images is called an "image area." By using these links, the image can be shortened drastically. It is simple to maintain your file identifiers.
Buddy Image
The image hosting website Buddy Image derives its name from a cat. It offers unlimited storage and allows each user to store up to 8 MB of images. Additionally, users can organize their photos and GIFs into public or private albums. Buddy Image offers a variety of codes that can be used on your blog or eBay store (HTML and BB codes, markdown, direct links). There is no video functionality. At this time, the website is ad-free and does not charge an advertising fee. Buddy images offer a wide range of beneficial features. A search engine can be used to locate add-on features for the companion image. In addition to image hosting, Buddy Image offers other services.
Mger
You won't find a more widely used free image hosting and upload service than this one. You can find the best photos online and upload your own right now. Upload an unlimited number of images. The service is entirely free. The safety of your images is assured. Furthermore, it is extremely safe to use. In MGER online, you'll find a ton more features. For more information, you may also consult the website online. MGER offers more than hosting and image uploading.
FAQs:
What Is Postimage?
A free image hosting service called Postimage.org allows you to capture screenshots of your entire desktop or a part of it.
Is PostImage Free?
Postimage.org offers numerous options, even for its free accounts, which are accessible without charge.
Is Postimg Safe?
PostImage guarantees safety. However, the issue of quality and security arises due to the fact that it is free. It is advisable to use premium services such as SmugMug if one is concerned with the privacy and security of their image.