Paramount Plus Free Trial 2022: Who does not love streaming shows and movies online these days? Going to the movies has become obsolete due to the ease with which new and fascinating content can be accessed online with a simple click. However, with the proliferation of new and inventive streaming services accessible today, the issue arises as to whether they are worth your subscription. And how can you be sure that your money is not being squandered?
It is where a free trial service comes in. It enables you to evaluate the service for a limited time to determine whether you want to continue using it. And when it comes to free trial services, nothing beats Paramount plus.
Whether you enjoy award-winning originals or family-friendly programming, this streaming service should be your first pick. It provides access to thousands of TV episodes, movies, and even live sports and news for the entire family.
Please continue reading to learn everything there is to know about Paramount Plus Free Trial. Additionally, we shall explore what differentiates paramount plus app from other streaming services.
What is Paramount Plus (Paramount +)?
ViacomCBS provides a streaming service called Paramount +. CBS All Access was relaunched as Paramount Plus in March 2021, retaining the CBS Entertainment Group's media archive and introducing new programming. It has a slew of new live sports, news, on-demand content, and hundreds of new original series on the way.
It's packed with original and classic programming from CBS, BET, Comedy Central, and Paramount Pictures. Additionally, it includes CBS All Access originals such as Star Trek: Discovery and CBS Sports and ET Live's award-winning reporting and sports programming.
It blends live sports with streaming services. Additionally, fans can watch the NFL and the UEFA Champions League. It's nearly paradise for golf fans, as they can stream live sporting events such as the Masters and the PGA Championship.
Paramount Plus Specifications and Features
The specifications & features of Paramount Plus Free Trial are the same as that before the rebranding. Some of the features include
User-Friendly Interface- The user interface is simple to use. The home screen consists of a top menu, channel hubs, & rows of the latest trending shows and on-demand live streams of sports and news. Besides, all titles organize by genre & include episode descriptions, similar suggestions, and future trailers.
Multiple Screens- Paramount plus lets you stream on multiple screens simultaneously. It allows you to screen on three devices rather than just two. The premium membership even allows you to download & stream the content offline.
Video Quality- The video quality of paramount plus tops at HD or 4k for some content. Additionally, the most impressive thing is the quality of their live streams. It streams live content at up to 1080p & refreshes the screen at a rate of 60fps.
Compatible Price- They have different subscription plans for their user. On either plan, their pricing makes it a reasonably affordable streaming service.
Audio Quality- It offers standard 2.0 stereo audio, making the experience better.
Mobile Download- It lets you access their content through mobile. You can even download the content on your mobile as well.
Paramount Plus – Stream Live TV, Movies, and Sports
What Can You Watch on Paramount Plus?
Due to recent mergers and acquisitions, you may now watch hundreds of thousands of shows effortlessly and efficiently at a competitive price. Comedy Central, MTV, and even Nickelodeon are all represented on this list. Additionally, you can view some rare and historical content.
It contains a library of over 35,000 TV episodes and over 2,500 feature movies. It debuted over 36 original programs in its first year, several of which earned accolades. The movies are distributed by various well-known studios, including Paramount Pictures and MGM.
The original content exclusively available on Paramount network includes:-
The SpongeBob Movie: Sponge on the Run
Kamp Koral: SpongeBob's Under Years
76 Days
For Heaven's Sake
The Stand
Star Trek: Picard
The Good Fight
Star Trek: Discovery
Star Trek: Lower Decks
The Twilight Zone
George of The Jungle
Among TV shows and Movies include:
Big Brother
SpongeBob SquarePants
Teenage Mutant Ninja Turtles
PAW Patrol
The Adventures of Jimmy Neutron: Boy Genius
Chappelle's Show
Dora the Explorer
The Backyardigans
Bob the Builder Classic
Adam Devine's House Party
Young Sheldon
Clarice
Mom
Max & Ruby
Undercover Boss
Indiana Jones
The Godfather
Mission: Impossible
Nacho Libre
Tommy Boy
Kate and Leopold
Rat Race
Paramount Plus Pricing
There are four Paramount Plus memberships provided. The prices are competitive. All of these options include a no-contract commitment, which means you can leave at any time if you wish to. You can even get a 25% off if you are a student.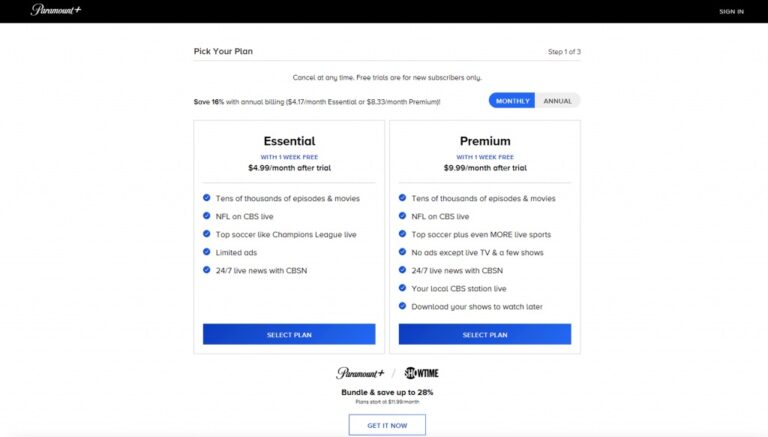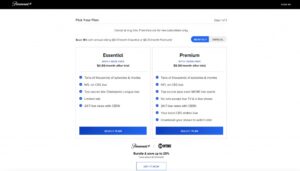 The Essential plan with minimal advertisements costs $5/month. It is the most straightforward membership the paramount offers. This plan provides minimal advertisements, and if you do not mind a few commercials, you should acquire them.
The Premium plan costs $10 per month. It lets you download material from the site to view offline at your leisure, making it an appealing proposition for many users. In addition, there will be no advertising to interrupt your fun, so you'll be able to watch ad-free.
The Yearly Essential Plan costs $50/year. It results in a monthly saving of 16%.
The yearly Premium plan, which costs $100 each year, will save you roughly a premium every month.
Compatibility
Paramount Plus, according to ViacomCBS, is available on all smart TV devices and gaming consoles. Paramount Plus is compatible with the following devices:
iOS
Android
Chromecast
Roku
Xbox Series S
Apple TV
Fire TV
Portal TV
Samsung smart TV
Vizio TV
LG TV
PlayStation 4
Xbox One
Xbox Series X
Xfinity Flex
How to Sign-up for Paramount Plus Membership?
Subscribing to Paramount Plus is quick and straightforward. To complete your subscription, follow a few simple steps.
Navigate to paramountplus.com and click the "Free Trial" option.
After selecting your monthly subscription, click "Continue." Following that, establish a profile.
To register for an account, enter your username, email address, passcode, and desired name, and then click "Continue."
Then you'll be requested to enter your billing information and select the amount to begin with.
It's crucial to remember that you will not be charged until your free trial period has elapsed.
Advantages
Among the advantages of Paramount Plus over other subscription services are its inexpensive cost and Paramount Plus Free Trial period. Their prices are competitive. It charges $6 per month for an ad-supported membership and $10 for a commercial-free plan. Additionally, it provides continuous broadcasting of live sports and news programming and excellent closed captioning options.
New customers receive a one-week trial period before committing to a monthly or yearly membership. It enables them to confirm that the service satisfies their expectations before making a purchase.
Besides, the premium subscription includes the ability to download content offline. It enables you to watch your episodes at your leisure, allowing those with demanding schedules to continue to enjoy their series.
Is There a Paramount Plus Free Trial in 2022
Paramount offers a free trial. In addition, if you are a new member, you can Paramount Plus Signup for a complimentary trial of their Basic or Premium subscriptions. Both subscriptions include access to the NFL on CBS, major soccer games, and hundreds of episodes and movies, all available for Paramount Plus Free Trial.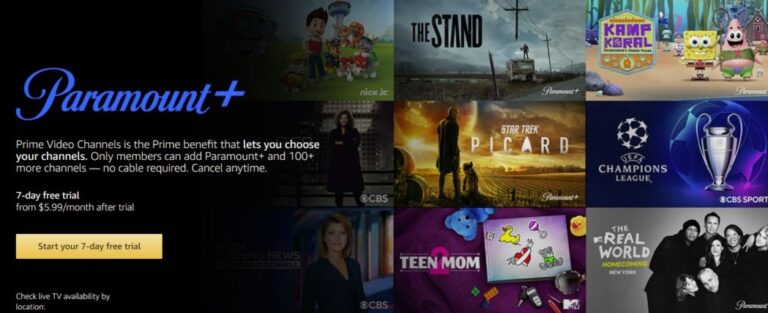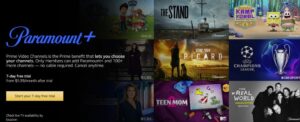 You may now join up for a 7-day Paramount Plus Free Trial. Following that, you can choose between monthly and annual plans.
It is worth noting that Paramount Plus occasionally provides special packages that include a 30-day Paramount Plus Free Trial using a coupon.
How to Get Paramount Plus Free Trial?

Here is how to get a week of Paramount Plus for free. To get a Paramount Plus Free Trial, follow these few simple steps.
Visit the official sign-up page for Paramount Plus.
Select the service (Essential or Premium) you want to get. Both come with a 7-day Paramount Plus Free Trial.
Create an account with your Id, email, & password.
Enter your billing information.
Tap Start.
How Can I Access Paramount Plus?
Paramount Plus debuted in the United States, Canada, and other Latin American countries on March 4. The preliminary data is likely later this year and is still being batted around in other regions.
Fortunately, you do not need to wait this long, and you can acquire access to Paramount via various other methods, including a premium VPN.
ExpressVPN, NordVPN, and SurfShark are three of the best VPNs for international Netflix access.
Pros
The pros of Paramount Plus include:
Massive collection of TV shows & movies.
Option of three streams & six profiles per account.
Live TV options, including a live feed from CBS station.
Early access to Paramount movies.
Live sports coverage.
It supports offline downloads & 4K streaming.
Tools for effective Parental control.
Final Words – Paramount Plus Free Trial

The primary selling point of Paramount plus is its vast library of CBS, Comedy Central, Nickelodeon, and MTV shows. Although the original shows are improving, Paramount plus will need to compete with Netflix and Hulu to keep up with demand.
ALSO SEE: FuboTV Free Trial
Additionally, it caters to followers of European soccer by broadcasting live matches from both the Europa League and Europe's Champions League.
You can also sign up for a Paramount Plus Trial to test their service without paying anything. It has contributed to the service's and subscriber base's growth in recent years.