Printed photos could be an excellent complement to your interior design; a means to preserve cherished memories, or an opportunity to exhibit your work. Occasionally, it may be necessary to Resize an Image for Printing or alter the size of an image before printing it. It is especially critical when an image is too massive for a given format, must be cropped to meet a specific aspect ratio, or is too small to seem sharp and well-defined when enlarged.
Choosing the appropriate size for photo printing guarantees that your image will appear as intended. However, it would help if you examined several factors to make the best decision. Continue reading to discover the standard size for printed photos and popular tools for upscale and Resize an Image for Printing.
What is the Standard Print Size for Photos?
A 4×6 format is a common photo print size that displays the aspect ratio of a digital camera. However, you may also like to print your image in a square or panoramic format. To determine the optimal picture size for publishing your photos, you must answer the following three questions.
Why am I printing?
Pictures for private collections are not subject to the same stringent printing requirements as those for photo exhibitions. You may choose a tiny format, such as 4×6 or 5×5, for a personal collection. To print your image for a marketing banner, you may need to choose 20×30 or bigger.
What is the current and desired image resolution?
A photo may look nice, but its quality will diminish if it is greatly enlarged. Always check the image resolution beforehand to ensure the print will seem as similar as possible to the original. Before printing, it is best and safest to improve the image's quality if its resolution is low.
What is the aspect ratio of the original photo?
Printing it with a different aspect ratio will alter its appearance. In certain instances, the alterations will be minimal and inconsequential. However, in some cases, low image quality and cropped image portions might damage the overall effect. In such a case, you must either print the photo with its original aspect ratio or alter it before printing.
How to Calculate the Best Size for Printing Photos
There is no one-size-fits-all technique for calculating file sizes for printing, given that several factors affect the method. For example, what works for a typical 10×15 photo will not be optimal for an A4 poster, and vice versa. Therefore, the greater your knowledge of image resolution and aspect ratio, the simpler it will be to calculate the ideal file size for your particular purpose.
What is Image Resolution?
Photos and illustrations are examples of raster images, which consist of pixels — colored squares arranged in a particular manner to make an image. The image resolution is the pixel density. Low-resolution photos contain fewer pixels and, when manually resized, lose quality. Images with resolution of at least 300 PPI (pixels per inch) look great in enormous formats, such as billboard posters.
You can compute a photograph's resolution when printed in a specific format if you know its pixel dimensions. To accomplish this, divide the image's length (in pixels) by the desired print size (in inches). The number you receive will represent the resolution. If the resolution is 300 PPI or higher, the printed version will appear as crisp and detailed as the original file.
What is the Aspect Ratio?
The aspect ratio is the ratio of width and height that shows actual image proportions.  The width is often listed first, followed by the height. When an image with a 16:9 aspect ratio is reproduced with an aspect ratio of 32:18, for example, its proportions will remain the same. However, if you attempt to extend a 9:9 image to 32:18, the outcome will be unsatisfactory because the image's original proportions will be lost and appear stretched.
Check the pixel size of your image to determine the optimal aspect ratio. For instance, an image of 1800x1200px will appear excellent in a 3:2 aspect ratio, whereas a photo of 1000x1000px will fit in a 5:5 format.
How to Quickly Prepare and Resize Photos for Printing
You can use automated or manual editing options to downsize and optimize an Image for Printing when your photograph's aspect ratio and resolution are undesirable. Each technique is determined by your professional requirements, editing talents, and available resources. Use one of the following online apps to enhance and resize image for printing.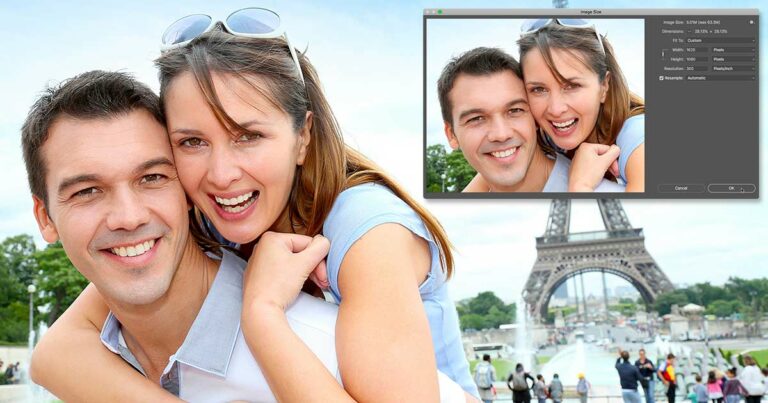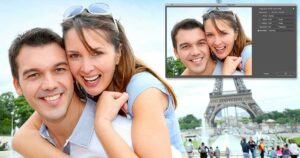 1. Depositphotos Image Upscaler
Lets talk about how you can resize your Image for Printing without losing quality. The Depositphotos Image Upscaler is a free online enhancement tool to resize image online free, that produces high-quality results within seconds. The app supports JPG and JPEG images up to 15 MB in file size. It uses AI-based techniques to expand, brighten, and increase the quality of your photos.
ALSO SEE: Prevent Security Misconfiguration
The procedure of scaling up is straightforward. You can access the enhancer at https://depositphotos.com, upload your image, evaluate the enhanced version, and get the final product. To save the processed file, a free account must first be created. After that, the upscaled results stay in the system for three hours before being destroyed automatically.
2. PicResize
PicResize is an online tool for resizing, cropping, and editing photos without registration. Its editor provides a variety of filters, including grayscale, oil paint, and warming, as well as a few special effects, like borders, rounded corners, sharpening, and blurring. It also facilitates the uploading and processing of numerous images.
3. PhotoResizer
If we talk about the free online Image Resizer to resize photos easily, PhotoResizer is a registration-free tool that gives multiple image editing options without requiring registration. You can resize and crop your image manually or based on your selected aspect ratio. You can also use a simple editor to rotate an image, apply blur or sharpness, delete or restore image portions, add text, or convert the image to grayscale.
4. Adobe Photoshop
Adobe Photoshop is downloadable software that provides numerous resizing, scaling, and editing functions. It is even available via a web browser. However, it can be challenging to grasp the program, depending on your talents and knowledge. You must first understand how to resize an image for printing in Photoshop. If you've never used the tool, stick to easy options such as cropping and resizing. If you are more comfortable with the software, you can apply color correction, restore or delete image elements, and do other types of editing.
5. ILoveIMG
ILoveIMG is a registration-free editing platform with ten free intelligent image-editing tools. You can rotate, crop, and resize an Image for Printing, convert them to different file types, apply watermarks, and compress your files. In addition, the ILoveIMG editor permits the app of color correction filters, the addition of frames, captions, or stickers, and the rounding of image edges. The resizing tool is compatible with JPG, PNG, SVG, and GIF files.
Conclusion
To choose the correct photo size for printing, you must examine the intended usage, the desired photo format, and the appropriate aspect ratio. There are offline and online tools available for adjusting the image size. Adobe Photoshop is one of the most sophisticated offline image editors available, but you must first understand how to use it to Resize an Image for Printing.
For beginners, however, online tools such as Depositphotos Image Upscaler are indispensable. Web-based enhancers are simple to use and require no prior knowledge of visual editing tools. Select a program from the list in this article to swiftly prepare your visuals for printing.