There are now a plethora of fascinating and educational internet games for pupils. From Kahoot, Gimkit, SplashLearn, & Quizlet, among others. These games have a remarkable set of features and interaction levels designed to educate and engage the player's mind. None of the games I've reviewed are as fascinating as Blooket. You can read our evaluations of Kahoot, Quizlet, and Gimkit.
As a teacher, I strongly suggest Blooket. In my opinion, this game is more fascinating for students to the point where they demand to play it repeatedly, regardless of the subject or difficulty. Their passion for playing Blooket and giving it their all is not only admirable, but I've discovered a significant degree of attention that they apply to other areas of study. So, let's begin by discussing what Blooklet is and how it works.
Blooket Overview
What is Blooket?
It is a relatively new service that offers teachers online trivia and quiz choices. It is a website, not an application. After creating a teacher account, you can construct "sets of questions" on any subject. Additionally, you can look for "sets" created by other educators. By creating a set of questions, you can host games for your students.
Moreover, it is unique among the sites I've used with students in that the same set of questions may be used for a variety of different game forms. So, for example, along with five other possibilities, the teacher might conduct a Gold Quest, a Battle Royale, or even a Classic game (like Kahoot).
Furthermore, students aren't required to register for an account. Students can join any game hosted by you by visiting blooket.com/play and entering the pin provided to you while hosting a game. The majority of games allow students to work at their own pace and do not require them to watch the teacher's screen. As a result, they are the best alternative if you work with virtual students. You can host activities for students to play concurrently or give homework for students to do within a specified time frame.
How Does Blooket Work?
It follows a 5 step process, with each design presented in a step-by-step module. It operates in five steps. First, decide on a Question Set.
Blooket enables you to select your collection of questions either by generating your own tailored to your class's needs & importing them using Blooket converter tools or by searching their Discover database for a range of questions. Whichever one you choose, you will undoubtedly find the ideal set of questions for your kids.
1. Choose a Question Set
Blooket enables you to select your collection of questions either by generating your own tailored to your class's needs & importing them using Blooket converter tools or by searching their Discover database for a range of questions. Whichever one you choose, you will undoubtedly find the ideal set of questions for your kids.
2. Select a Game Mode
After writing & uploading your questions or selecting appropriate questions for your students from the Discover Database, the following step is to choose a Game Mode. Again, there are various game types to choose from, each one designed to maximize your kids' participation. Additionally, keep a lookout for seasonal and event modes only available for a limited period.
3. Host & Join
Well, as a teacher, you must host a game on a large screen in front of your class & invite your students to participate in and compete using their devices equipped with the Game ID.
4. Play to Review
Students will not just have a good time during a game session, but they will also be answering questions to review the material covered in class.
5. Analyze the Results
Here, you can examine the findings in-depth via thorough score reports and question analysis. As a result, you'll be able to quickly assess your pupils' performance and highlight crucial areas that may require additional review, as well as encourage them during the following game.
How to Create an Account on Blooket
To begin engaging your children with Blooket, visit https://www.blooket.com. You'll then need to create an account. You may make an account if you are a Google user. After registering, you may begin using Blooket to increase student engagement. Here's how to create an account.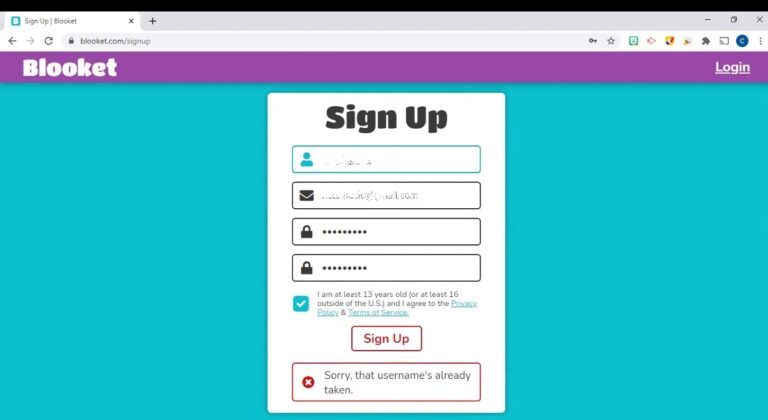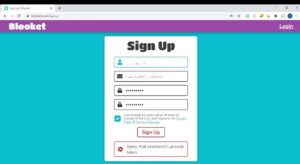 Go to blooket.com. Tap Sign Up in the upper right corner to begin the account creation process.
Select your sign-up method. Tap on Sign Up with Email to create an account or Sign Up with Google to link your account to your Google account.
Next, fill out the boxes with the required info. For example, it may include your email, username, & password. (Signing up with Google only needs entering a username while signing up with email requires your email and a username and password.)
Confirm your age. Must ensure to check the box that you are over 13 (or at least 16 outside of the U.S.), confirming you're of age to use Blooket.
Tap Sign Up to create your account.
Choose the type of account you'll be signing up for. State whether you're a student or teacher once prompted. You can later alter this in the settings.
How to Host Blooklet Live Game
Following account creation, the next step is for you to host a Blooket as a teacher so that your students can participate and engage.
ALSO READ: Mail User Agent
Create a Blooket for your kids to join and organize a game. First, you will need to search for currently accessible Blooket sets. Once you've selected one you like or covers your needs, click the button to create a Blooket. It generates a code to distribute to students using Google Classroom or other discussion platforms. Students will then navigate to https://www.blooket.com/play and enter the code you've supplied to begin engaging with, practicing with, and learning from the Blooket you've hosted.
What are the Pros & Cons of Blooket?
Pros
It is now available for free use. Account upgrades, on the other hand, are accessible for a price.
In several games, students can work at their own pace to answer questions.
It is a highly competitive game, making it extremely engaging and enjoyable for pupils.
Discover questions enable you to get started instantly without creating your collection of questions.
Cons
Blooket entails a plethora of inquiries. While there are built-in questions, you must add numerous questions to personalize them to your students' needs.
There's no room to edit queries from other users and tailor them to your students.
Blooket FAQs
How do you host Blooket for free?
A Blooket's registration, hosting, and participation in games are all entirely free. Additionally, there is no premium edition of Blooket, which means that everything is completely free.
What is a Blooket code?
When a teacher hosts a Blooket join game, a Blooket Code is generated. This Blooket join code is used to register students and participate in the game.
Is the Blooket game free?
Blooket game is entirely free to host for teachers and play for students. There are, however, options for upgrades for improved features.
Can you play Blooket by yourself?
Yes, you can play the Blooket live game by yourself. It is, however, fun and engaging when others join.
What age is Blooket for?
Children under the age of thirteen may become users of it, only with parental approval. It gathers only the information necessary for users to create accounts on our Service.