Here, I've collected a list of free Architectural Design Software that could be a great alternative to expensive 3D design, CAD, and modeling software tools.
Architectural design software allows users to virtually create facilities of any size or function without the assistance of a construction company. For example, it is possible to create a 2D or 3D image of a house, apartment, office, or playground using specialized design tools.
This free architecture software aid in visualizing how a completed structure will appear. It also pertains to apartment renovations and interior design. You should visit the Architecture Lab website if interested in the program's job and, in general, new architecture trends.
Best Architectural Design Software in 2022
Architecture software list: To facilitate your decision, the following list of free 3D Architectural Design Software or Free Architecture Software Tools [2022] includes open-source, floor-planning, general-purpose CAD, and BIM (building information modeling) based on availability and architectural problem setting.
1. FreeCAD – Modular 3D parametric modeler with BIM tools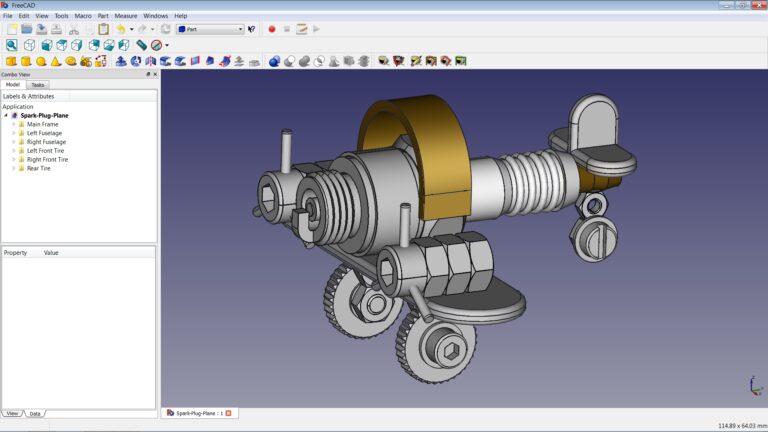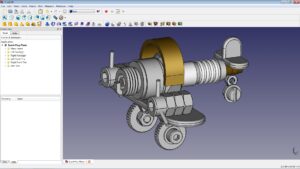 Lets talk about the best free Architectural Design Software for beginners. FreeCAD is the best parametric online 3D modeler of real objects. The app enables users to create 2D thumbnails for 3D object creation and vice versa. It supports exporting specific file types (STEP, IGES, STL, SVG, DXF, OBJ, IFC, and DAE). Reverting the model's history makes it simple to modify a component in parametric modeling. Objects, walls, floors, etc., are not limited to conventional shapes.
FreeCAD's modular architecture enables users to integrate the functionality and workspaces of specialized modules into the core app. In addition, this best software for architecture provides a workflow similar to building information modeling BIM and IFC compatibility (industry base classes).
Moreover, the integrated Python interpreter, macros, and external scripts provide complete access to all aspects of the FreeCAD architecture software.
2. TAD: The Architect's Desktop – Open-source interior design app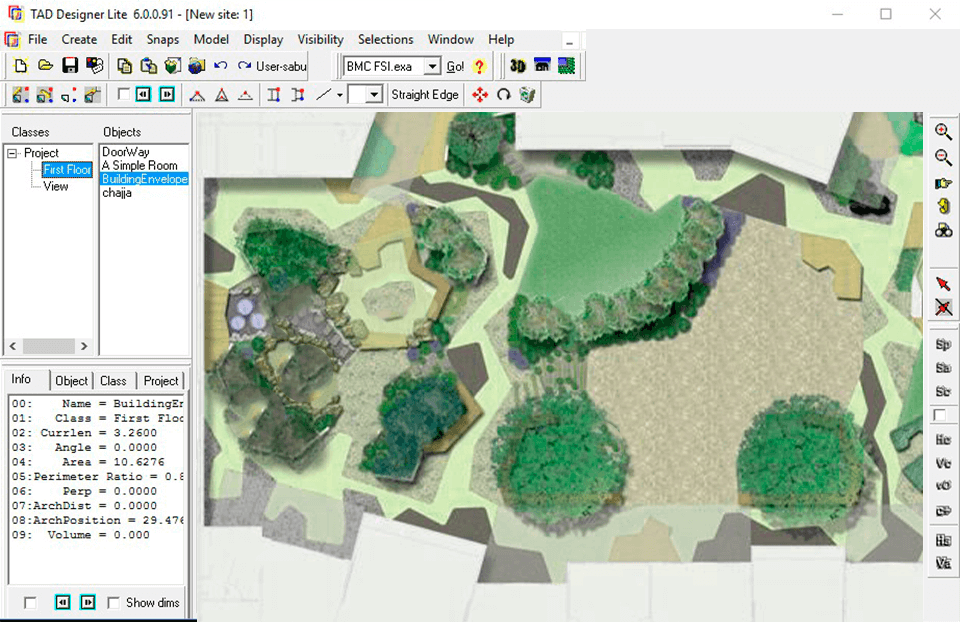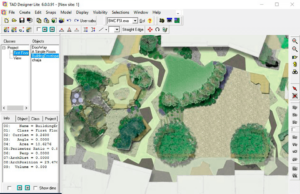 TAD: The Architect's Desktop is a building information modeler and architecture software free based on basic architecture research with relatively minimal file size. It is famous for its broad query capabilities and ability to obtain objectivity from stages represented by bubble diagrams.
TAD is designed to be used beginning with initial idea sketches and drawings. This free architectural design software allows users to explore various configurations of people and spaces before refining the design.
This 3D architecture software focuses on engineering while ignoring architectural design's conceptual aspect. TAD is intended for usage by senior architects who explain the concept of a building, as opposed to developing it in minute detail as other BIM software does. Subsequent solutions fill up details.
3. Sweet Home 3D – Open-source interior design app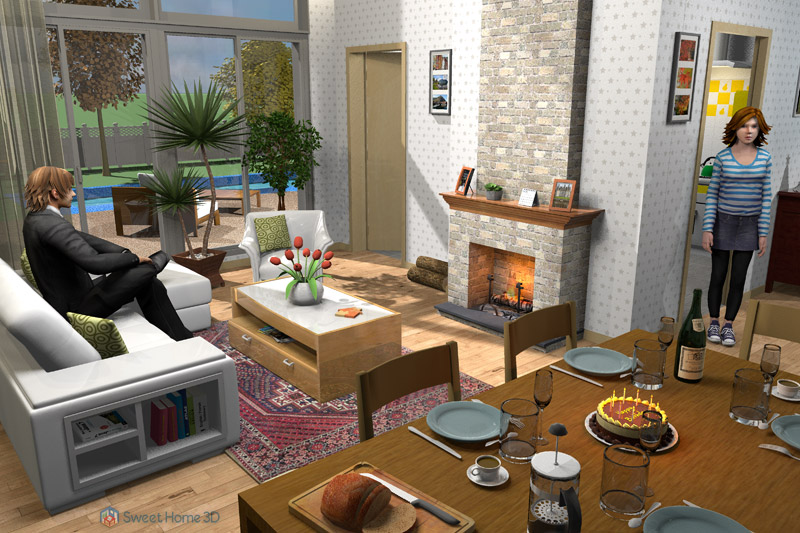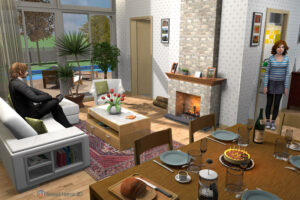 If we talk about the popular Architectural Design Software free online, Sweet Home 3D is the top free construction drawing software for interior design that allows users to examine 2D floor plans in 3D for presentation purposes. It is also the best interior design app for producing home or office floor plans and designing interiors.
Users can generate photorealistic photos and videos based on their blueprints and add various light sources to recreate their environments under specific situations.
It is possible to obtain a furniture catalog, a list of home furnishings, a house layout, and a 3D image of the house. Users can import an existing property plan or create a new one, draw walls or modify existing ones, and add doors, windows, and furnishings. In addition, this best free architecture software for beginners allows users to integrate additional 3D models from external sources and export designs in various common formats.
4. Revit – Multi-disciplinary and collaborative BIM-approach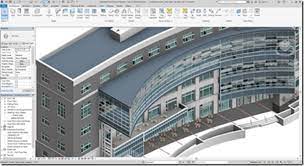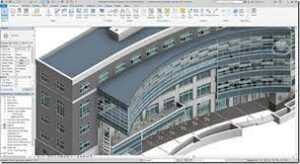 Next in our list of the best Architectural Design Software free is Revit. It works nicely with the publisher's tools and supports DWG files as a free trace reference for model production because Autodesk offers free.
Furthermore, universal architecture design software for 2D and 3D projects produces the project's full result, including modeling, rendering, and construction papers. Instead of lines and circles, users can insert essential building components and attributes.
The capabilities of BIM modeling seek to integrate all building design disciplines. Architects cooperate with MEP development teams, electricians, and mechanics; therefore, using the same app facilitates communication and coordination. All building components are linked, allowing planners to make modifications without redrawing each component.
5. AutoCAD – To create representative drafts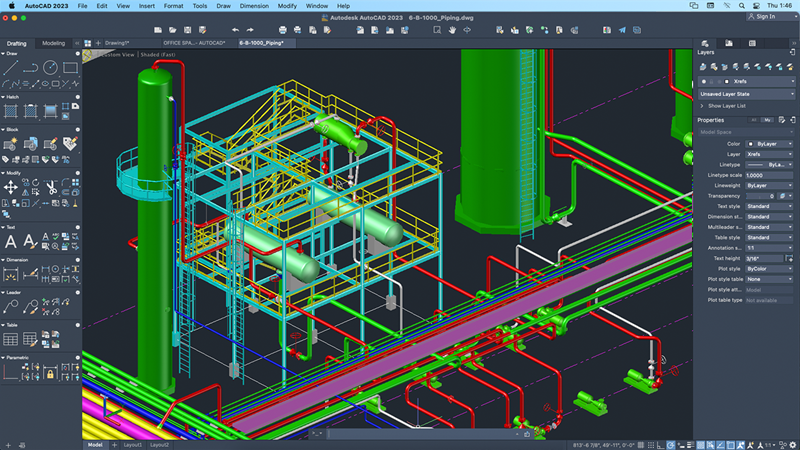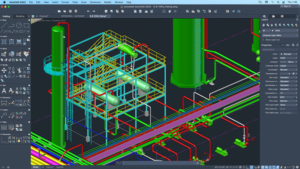 Specialists often use AutoCAD for effective design, development, and documentation. You are unlikely to experience compatibility issues unless you have cracked AutoCAD. Exploring layers and line weights will produce a respectable project with established drawing norms and quantifiable design elements.
If we talk about the top-notch Architectural Design Software, AutoCAD Architecture, an integrated set of tools tailored to the demands of architects, is an alternative version. The produced drawings will exhibit realistic activity and acquire form and structure. This free architecture design software uses AEC components (windows, doors) as design elements to generate spatially oriented and practical three-dimensional floor designs.
6. SmartDraw – For building diagrams and schemes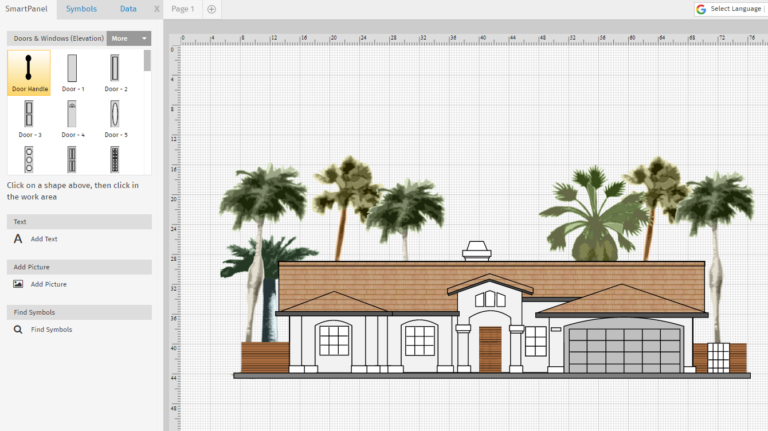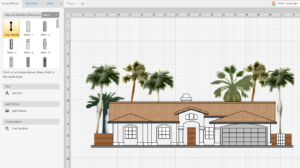 This free architectural drawing software emphasizes a quick and uncomplicated structural design process. In addition, it offers integration with well-known apps (Trello, Visio, Jira) for streamlining the process and exporting drawings and plans to several printing formats.
This free architecture software download provides hundreds of templates that may be tweaked and personalized for various design possibilities with thousands of premade characters.
Users can create and print architectural and engineering diagrams to scale using simple and robust charting. This building design software free helps make diagrams, flowcharts, process maps, CAD and floor plans, project diagrams, graphs, organizational and network diagrams, wireframes, and other layouts for contractors and architects. In addition, the architect of the organizational structure provides an online floor plan for user-friendliness, cooperation, and sharing.
7. actiTIME – Time tracking software with intelligent data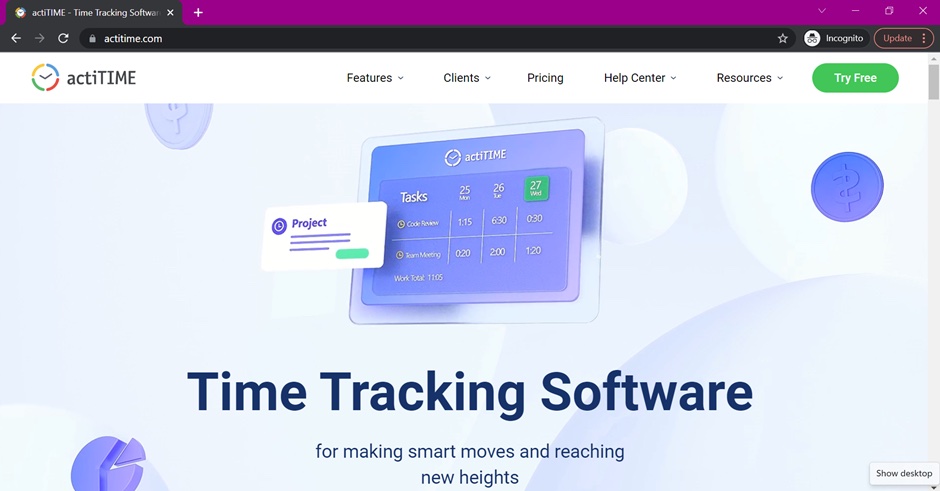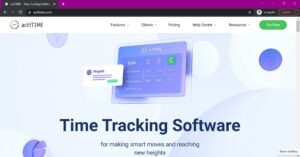 Are you still seeking the best free Architectural Design Software in 2022? ActiTIME is an intuitive time tracking solution that works well for individual architects and architectural studios. It aids in the recording of time spent on various projects. In addition, this free 3D architecture software enables users to make simple invoices for clients that include a comprehensive analysis of the work accomplished as a contractor.
Users will be able to analyze the team's efficiency, the profitability of projects, and the most time-consuming activities and actions using dependable reports.
The service is dependable, well-integrated into the business process, and facilitates a greater emphasis on the business than technology. Thisbest 3D modeling software for architecture in 2022 was incredibly simple to install and adjust based on the company's demands, allowing immediate production. However, there will be noticeable improvements to the workflow.
8. FloorPlanner – Easy 2D/3D floor plan drawing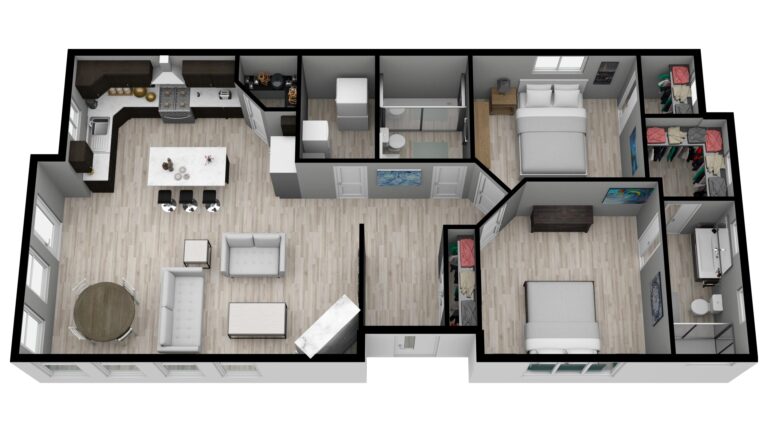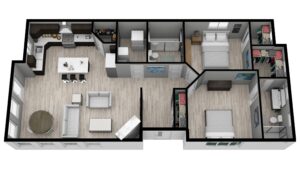 It is among the popular and best Architectural Design Software. FloorPlanner enables the creation of 2D and 3D floor plans and sharing of interactive versions of these plans online. The "automatic finishing" feature makes it simple to decorate rooms according to the blueprint. The planner's completed floor plans appear clean and professional, ready for presentation.
This free floor plan design software facilitates efficient and trouble-free design with various features. Its Google Chrome and iPad apps are excellent supplements to the web app. In the design view, the drag-and-drop function is convenient. In addition, the ability to navigate between design elements, floors, and viewing options is unquestionably advantageous.
9. SketchUp – For 3D designs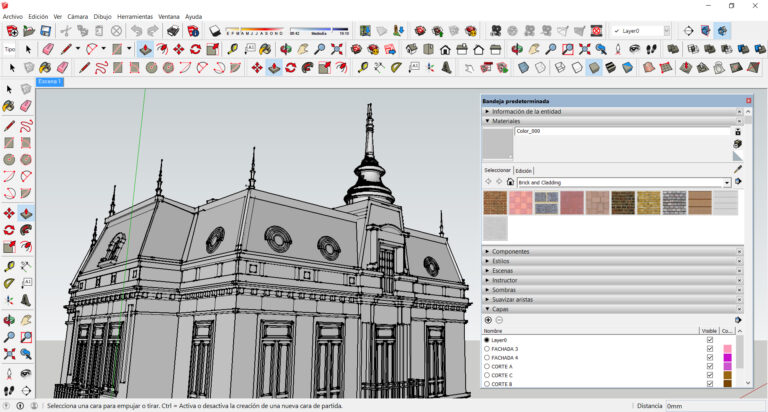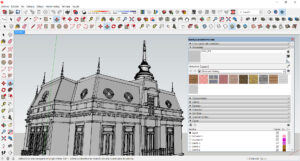 This architectural design software freeware operates from schematic design through construction documentation and provides an intuitive CAD solution for generating and editing 2D and 3D architectural designs, interior models, furniture, and landscapes. In addition, users can create and complete plans, facades, sections, and architectural details with the title blocks.
ALSO SEE: Project Management Software Tools
This design software free online offers a variety of add-ons and a forum. SketchUp architecture is simple to master and produces clear 3D images. Every object, surface, and substance has a distinct texture. Its user-friendly interface will appeal to architects, designers, builders, and engineers at all stages of the construction design process.
10. Blender – For 3D modeling and compositing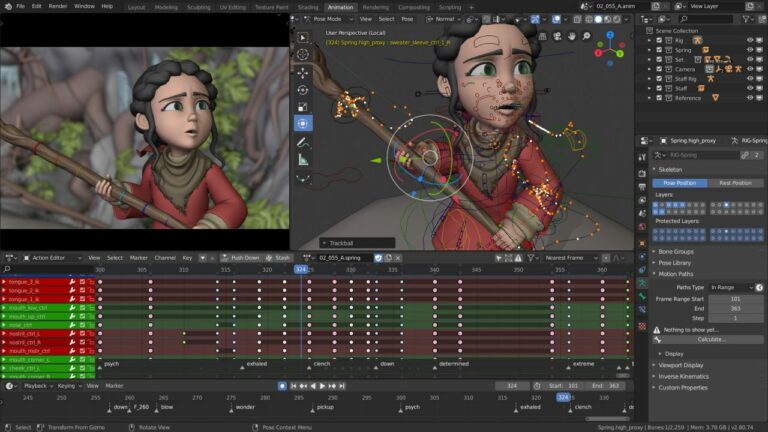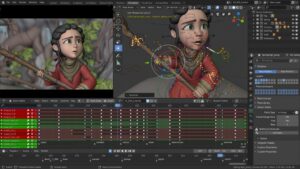 If we talk about the best Design Software for Architects, Blender, a free video editing software, enables users to acquire the technical abilities necessary to create architectural scenes and 3D models.
This open source architecture software supports the entire model creation process, including modeling, rigging, compositing, rendering, simulation, and motion tracking. In addition, it supports video editing and animation. The layer management system of this free architectural design software enables users to handle architectural projects.
In addition, users have the option to add structural elements to a 3D environment using the Archimesh tool. Then, using the environment's textures, they will experience the actual lighting conditions within the software. This versatile program for Architecture Design is simple to configure and may be enhanced with several community-developed free extensions.
11. My Virtual Home – 3D home design planner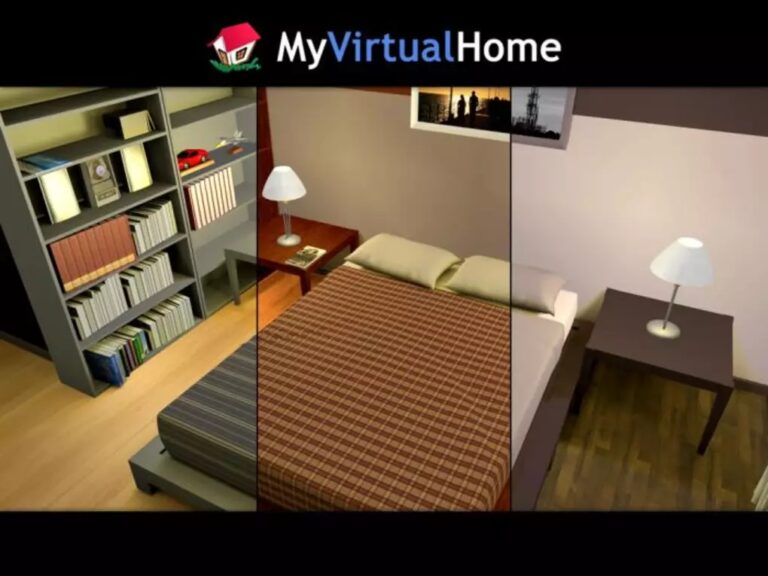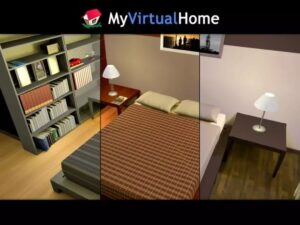 Next in our list of the best Software Architecture & Design Introduction is My Virtual Home. It is the top free home design software based on the game. It features a collection of standard blocks and variations for space planning in homes, offices, and other locations. Besides, it is the go-to software for folks who prefer to visualize what a house would look like, as it displays the actual effect of a certain construction type, such as walls, doors, and bathrooms.
The Architectural Design Software provides interactive models of things, surfaces, and materials. Moreover, it influences how lighting will seem in various layout sections. My Virtual Home is mainly geared toward beginners; it is simple to master and can be used to construct a complete design within an hour. To give realistic lighting effects to a virtual world, it is possible to modify latitude, longitude, and time of year.