Apple TV Plus Free Trial 2022: Are you, like us, an iPhone addict? If you've used an iPhone or iOS device for any time, you're familiar with Apple TV and what a game-changer, lifesaver program it is with its plethora of functions.
However, if you're unfamiliar with this fantastic app and are still unsure whether you should spend some more money on it rather than on typical video streaming apps like Netflix, Amazon Prime, HBO, or Peacock TV, you've come to the perfect spot.
This guide will cover all you want to know about Apple TV Plus Free Trial. So, therefore, take a seat and unwind. We are about to embark on an extremely thrilling journey that will blow your mind away. 
Apple TV Plus: Is it worth it? Everything you need to know
What Is Apple TV Plus?
Apple TV Plus, which Apple Inc. owns, is an American subscription-based video streaming service that offers a slew of unique content. This type of programming is not available anywhere else, as Apple TV Plus exclusively includes Apple Originals.
Apple Originals are Apple-produced shows and dramas available only on Apple TV. So without a hitch, access an infinite amount of uncommon and unusual stuff on your preferred devices.
Numerous celebrities attended the Apple TV Plus launch event, including Jennifer Aniston, Oprah Winfrey, Steven Spielberg, and Jason Momoa. 
How Did Apple TV Begin?
Apple has long been interested in launching a video streaming service. Finally, in 2015, Apple began negotiations with various programs, networks, and TV studios to bring their idea to life.
However, the initiative was abandoned because no precise result could be obtained due to disagreements. Nevertheless, Tim Cook, CEO of Apple Inc., stated once again in October 2016 that he and other Apple employees are highly interested in developing some unique content that will prove a terrific business proposition.
Apple hired Jamie Elricht and Zack Van Amburg, who previously served as co-president of Sony Pictures TVs, in June 2017. Now, we might be able to observe some improvement. Matt Chernis was appointed in August 2017 as the Head of Domestic Creative Development. In addition, Apple grows its staff by acquiring various specialists throughout the year.
To summarize, Apple hosted a press conference on March 25, 2019, to announce the official introduction of the Apple TV Plus. In addition, Apple also debuted several teases for upcoming original programming, including Helpsters, Sesame Workshop's first series. 
How Do I Get Apple TV?
You can follow these straightforward steps to get your Apple TV Plus.
Simply go to your device's app store.

Search for the Apple TV app or Apple TV Plus app.

Now, download the app.

Open the app, then follow instructions to complete your Apple TV account setup.
Here are some quirks you can do in case of any inconvenience
Check for your device's compatibility if you cannot find the app.

If you are not signed in, open the app and go to account settings. Now, you should log in with your Apple Id and continue.

If you are still unable to watch content, you may require to get your Apple Id ready for purchases.
Apple TV Plus Free Trial + A Review – Streaming Services Guide

How Much Does Apple TV + cost?
Apple TV Plus Review – Price, content and features:
It is one of the most accessible solutions for internet video streaming currently available. Apple TV Plus's monthly subscription fee is now $4.99. This offer includes a seven-day Apple TV Plus Free Trial period during which you can decide whether to continue with the service or cancel it. Additionally, you can purchase a yearly subscription for $49.99 each year. 
The monthly cost of this service in some other local currencies is given below:
Australia: $7.99

Canada: $5.99

Europe: €4.99.

India: Rs. 99

New Zealand: $8.99

The UK: £4.99
What's So Special Or Different About Apple TV Plus?
Suppose you invest your money in a video subscription service. In that case, you need to understand what differentiates it from the competition and what features you won't find anywhere else on the market. Here are a couple of Apple TV Trial best features that make it worth your money. 
New Originals Every Month
That is correct. Apple TV Plus continuously adds new original series throughout the year. So each month, discover new shows that you won't find anywhere else. 
Download Your Favorite Shows On Your Device
With Apple TV Plus, you can watch your favorite series, seasons, movies, and documentaries on the move. On your Apple device, you can download your favorite shows. The next time, you'll be able to watch them without an online connection. 
What Channels Are Available To Watch On Apple TV Plus?
Apple TV plus channels: Apple TV Plus includes all of your favorite shows from your favorite streaming services, including HBO Max, Disney+, Hulu, and Amazon Prime Video. And, of course, there are the Apple Originals. 
Here is a list of free channels you get on Apple TV Plus.
Flickr

ABC News

Vevo

PBS Kids

Daily Motion

Bloomberg

Smithsonian

Trailers

Young Hollywood

Tastemade
We'll discuss some of the Premium channels and video streaming services accessible on Apple TV Plus. Each channel has a different price. Additional information is available on Apple TV's official website. 
Netflix

MLS (Major League Soccer)

NHL channel (Nation Hockey Leagues)

MLB TV (Major League Baseball)

KORTV

Qello

WWE Network

Willow

NBA
What Shows Can I Watch On Apple TV Plus?
If you are still confused about what you should watch on Apple TV Plus, here are some recommendations that you should watch.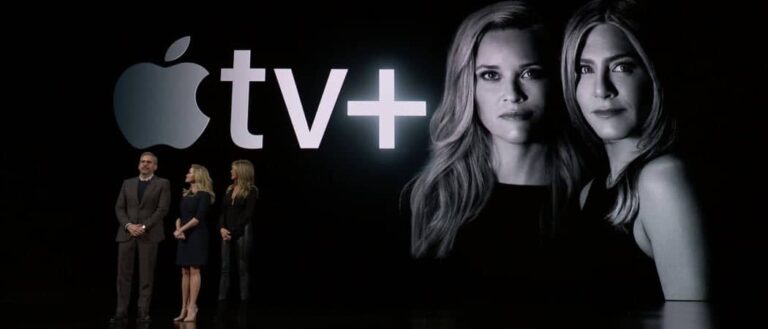 The After-party

Severance

Schmigadoon

Ted Lasso

Central Park

Mythic Quest

Dickinson

For All Mankind

Beastie Boys Story

The Tragedy of Macbeth

The Velvet Underground (Music Documentary)

See

Defending Jacob

Truth Be Told

Snoopy in Space

Helpsters

Calls

Little America

The Shrink Next Door

Twas the Fight Before Christmas
Which Platforms Are Compatible With Apple TV Plus?
Following are the platforms compatible with Apple TV Plus.
Web at tv.apple.com
Supported browsers
Google Chrome

Mozilla Firefox

Microsoft Edge

Apple Safari on macOS

Windows

Chrome OS

Apple TV app
Supported OS
    iOS 10.2 and later, macOS 10.15 Catalina and later
Supported media devices
Apple TV

selected smart TVs

PlayStation

Xbox

Roku

Amazon Fire TV

Chromecast with Google TV

Android TV
Apple TV Plus Free Trial
Beginning November 1, 2019, Apple will offer a full Apple TV Plus free year subscription to anyone who purchases its hardware products. This deadline was extended twice and will ultimately expire on July 31, 2021.
However, Apple stated in mid-June 2021 that new owners will now receive a three-month free subscription to Apple TV Plus rather than a full year. 
Can I Cancel My Apple TV Plus Subscription?
Without a doubt, you can. You can, however, alter subscriptions for tvOS apps that are already installed on the Apple TV. To manage subscriptions on a third-generation or earlier Apple TV, you can use an iPadOS or iOS device or PC.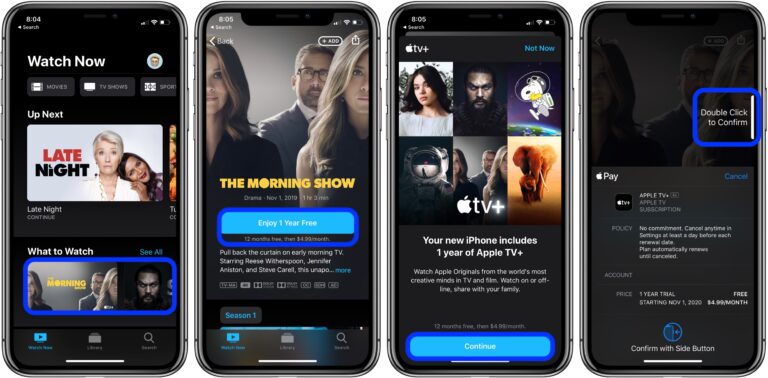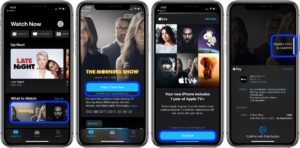 The following are a few simple steps to cancel your Apple TV Plus subscription. 
Go to settings.

 Select Users and Accounts.

Choose your account.

 Select the subscription you desire to cancel.

Now, select cancel the subscription.
If you can not see any option saying cancel your subscription, your subscription is already canceled and will not be renewed.
Final Verdict –

Apple TV Plus Free Trial



To summarize, Apple TV Plus is one of the most excellent online video streaming apps accessible. In addition, you may take advantage of numerous benefits, particularly if you're an iPhone or iOS user.
ALSO SEE: Disney Plus Free Trial
Additionally, Apple has created many low-cost bundles to boost sales. It is your chance to seize this offer and enjoy uninterrupted access to high-quality content. Consequently, what are you waiting for? So gather your popcorn and headphones; the evening is waiting for you! 
FAQs
Now, allow us to quickly address some of the most frequently asked questions regarding the Apple TV Free Trial. We hope these responses address your concerns. 
Can I share Apple TV Plus with my family?
Yes, you can. Apple TV Plus cares about you and lets you share your subscription with five family members.
Are there commercials and ads on Apple TV Plus too?
Apple TV Plus is always free of advertisements and adverts. So watch your favorite shows indefinitely and without interruption. 
What if I reset the Apple TV app or Apple TV Plus app?
The Apple TV Plus app reverts to its default state if you restart your app or device. You'll need to re-login using your Apple Id. 
What if I have lost my device, but my Apple TV Plus is still logged in there?
If you've misplaced your device but remain logged in, you can opt to log out. That can be accomplished by removing the device from your list. 
Is there any special offer for PlayStation users regarding Apple TV Plus subscription?
The good news is as follows. Yes, there is an excellent promotion for PlayStation users interested in purchasing Apple TV Plus services. If you possess a PlayStation 5 gaming console, you can get six months of Apple TV Plus services free if you apply before July 22, 2022.