Disney Plus Free Trial 2022: Disney Plus offers a comprehensive on-demand collection of movies and TV series from household names such as Walt Disney Studios and Walt Disney TV. In addition, Disney Plus is the streaming destination for a diverse selection of vintage animated movies, the latest Pixar productions, and the latest movies from key franchises such as "Star Wars" and the Marvel Cinematic Universe.
The streaming service features the finest of Disney's back catalog in addition to original programming explicitly created for subscribers. Disney Plus's original series such as " Hawkeye" and " The Mandalorian" have been the most popular streaming TV shows. In addition, the collection of classic Disney programming does not change monthly, unlike other streaming services.
Subscriptions begin at $8 per month and go to $80 per year. It can also be coupled with Hulu and ESPN+ for a monthly fee of just $14. As of October 20, 2021, the software had amassed over 118 million users.
Disney Plus was a breakout success in a sea of new streaming services. It is due to the company's massive collection of movies and TV shows and an ever-growing pipeline of exclusives and originals.
However, while Disney Plus previously streamed several big-screen movies on the same day they were released in theatres, that is no longer the case with movies such as Encanto and Marvel's Eternals. Instead, Disney is re-releasing the most anticipated movies in theatres, only one more. Encanto and Eternals, on the other hand, are moving much more quickly toward Disney Plus than they would have been before the pandemic.
Disney Plus Free Trial – Disney+ Free Trial, 30 Days Free Trial
Disney Plus Free Trial: Can You Watch for Free in 2022: These are the necessary details about Disney Plus. Everything you need to know.
What is Disney Plus?
The Walt Disney Company launched Disney Plus, an ad-free, on-demand streaming service.
Subscribers to Disney Plus have access to thousands of Disney movies and TV series via their devices (smart TVs, smartphones, tablets, laptops, and gaming consoles). With limitless downloading, you may watch any movie or TV series anywhere.
Disney Plus material is derived from the most recognizable brands within Walt Disney Studios and Walt Disney TV: Disney and Pixar, Marvel and Star Wars, National Geographic, and 20th Century Fox.
Disney Plus was introduced in November 2019 as a streaming service for The Walt Disney Company's entertainment brands. Pixar and Marvel are two of these brands. National Geographic is Star Wars. So we can see why Disney Plus will have over 100 million subscribers by June 2021.
Almost every Disney, Pixar, and Marvel movie are available on the streaming service. Users can stream blockbuster movies such as Raya and the Last Dragon and the live-action Mulan through the service. Additionally, it features original programming such as The Mandalorian and WandaVision.
While Disney Plus is unmistakable, there are several streaming options (Netflix, Hulu, Amazon Prime HTML2F), and it's easy to see why. Likewise, it's understandable why users would want to know if Disney Plus offers a free trial period so they may evaluate the service before signing up. Disney Plus is now offering a Disney Plus Trial. Continue reading to discover how to access Disney Plus Free Trial.
How much does Disney Plus cost?
Disney Plus costs $7.99 per month or $79.99 per year. It results in a monthly savings of around $16 for users. In March 2021, the price was increased from $6.99 to $7.99.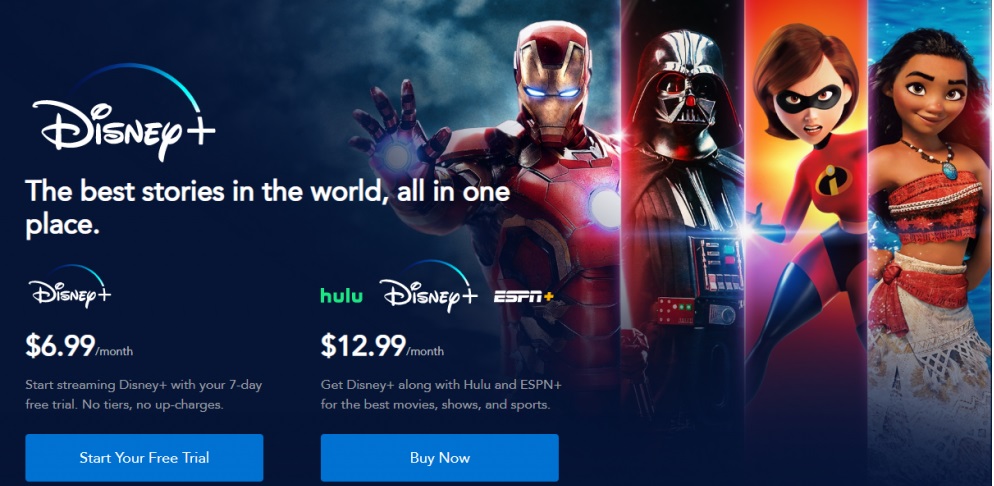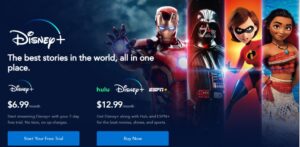 How much is Disney plus a month
Disney Plus costs $8 per month or $80 per year in the United States. A subscription grants you ad-free access to the service and access to all streaming titles. Unfortunately, Disney Plus does not presently offer a Disney Plus Free Trial.
Additionally, you can purchase a package that includes Hulu or ESPN+. The monthly fee for this plan is $14 and consists of all three services. ESPN+ and Hulu's ad-supported versions are also $7 per month. Therefore, you will save around $8 each month with the package.
If you subscribe to one of Hulu's live TV subscriptions, you'll also receive the Disney package. Hulu + Live TV enables you to watch over 75 channels. Hulu (with advertisements) plus Live TV with Disney or ESPN Plus is $70 per month.
Which devices can you watch Disney Plus on?
That is essentially all. Disney Plus is one of the leading and famous streaming services. It is compatible with virtually any device, tablet, phone, connected TV, or streaming media box, including Apple, Google, and Microsoft.
With a Disney Plus subscription, you can watch up to four shows concurrently on four devices.
Disney Plus was evaluated on Roku, Apple TV, and Fire TV. They all usually functioned, except for a few anomalies during the November launch. If your streamer supports 4K HDR, there are many games available. However, specific titles, such as The Mandalorian and Marvel movies, are accessible only in HD.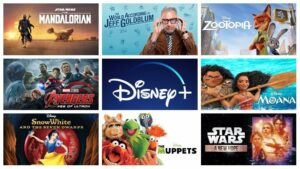 With Roku, Fire TV, and Apple TV, voice commands directed us to the show's title or a general Disney service. Except that Fire TV crashed when it wasn't installed, voice searches worked wonderfully.
Where is Disney Plus available?
Disney Plus is now available for streaming in the United States of America, Canada, the Netherlands, Austria, Germany, Italy, Spain, Switzerland, France, India, Belgium, Denmark, Iceland, Finland, Norway, Portugal, and Sweden, as well as the United Kingdom, Ireland, Isle of Man, Monaco, Wallis and Futuna, French West Indies, French Guiana, New Caledonia, Japan, Indonesia, Latin America, Reunion, Mayotte, Mauritius, Singapore, Hong Kong, Taiwan, and South Korea.
What is Disney Plus With Premiere Access?
Disney Plus with Premiere Access, a paid add-on to Disney+, enables customers to watch certain movies released in theatres. If they intend to view another movie, they will need Premiere Access. Premiere Access movies are not available in perpetuity. Most movies are available for free streaming on Disney+ three months following their theatrical releases, regardless of whether a subscriber has Premiere Access.
Does Disney Plus have a free trial? Or other free offers?
Disney Plus doesn't offer a standard Disney Plus Free Trial. Unfortunately, the one-week free trial ended in June 2020, just before Hamilton's premiere.
From now to Sunday, Disney Plus offers one month for $2. So it is essentially a $6 savings.
Other deals could unlock Disney Plus for free or at no additional cost.
Disney and Verizon have partnered to offer a free year of Disney Plus to consumers with a 4G or unlimited plan. This offer is also valid for new Verizon Fios home internet and Fios services customers. In addition, according to a Verizon FAQ, customers who purchased a Disney Plus plan, such as the now-expired 3-year discount subscription deal, are eligible to stack their free year.
Amazon Music Unlimited is also running a promotion for new users to their streaming music service. It entitles them to a complimentary six-month subscription to Disney Plus.
Disney Plus has a free trial
Unfortunately, Disney Plus Free Trial period expired in 2020, but there is still a method to view free episodes like The Falcon and the Winter Soldier and classics like Mulan. Continue reading below to learn about some of the best-kept secrets for obtaining a Disney Plus Free Trial in 2022.
Should you get Disney Plus?
The service's low monthly fee makes it an excellent value for fans of Disney's Star Wars, Marvel, and Pixar movies. In addition, parents who wish to expose their children to Disney's numerous family movies and TV series will enjoy the same benefits. It is also conceivable for everybody interested in the current adventures of Baby Yoda.
Is it conceivable for individuals to forego other services to afford this one? Possibly. If forced to choose between Apple TV Plus and this, this is the better option. If you have children and like Disney or Hulu, this is a must-have. It is precisely what you require. HBO Max also offers a robust selection of children's programming at a monthly cost of $15. In our opinion, Disney Plus is the best streaming service, coming in second place to Netflix and much ahead of Amazon Prime Video and Hulu. If you do not have children, one of these may take precedence over Disney.
Original programming like The Mandalorian or WandaVision is excellent, and subscribers will be more likely to renew their subscriptions each month if they have access to over 100 years of programming. In addition, Disney Plus is enjoyable, straightforward to use, and reasonably priced.
Are there Disney Plus gift cards?
Yes. If you wonder about the ideal gift for a Disney enthusiast, you can purchase a Disney Plus gift subscription for as little as $80. The gift subscription is only available to new members. It comes with a one-year subscription to Netflix.
How to cancel Disney +
Customers who signed up for Disney Plus as part of a Verizon promotion in exchange for a free year or another amount of time will immediately be able to convert to the $7 monthly plan after their free year expires.
If you continue with the subscription, it will begin automatically billing $7 each month through your Verizon account. You could revert to the original plan if you purchased an annual or multi-year membership before Verizon's 2019 offer.
If you do not wish to terminate your subscription but want to change wireless providers, you can upgrade to Verizon's Play More or Get More Unlimited plans. Included in this are Disney Plus and Hulu Plus.
To discontinue your service, log in to My Verizon Customer Support Portal and select "Manage Disney Plus."
Who should sign up for Disney +?
Disney Plus is an excellent service for Disney enthusiasts. In addition, this service is perfect for families interested in viewing classic Disney movies and contemporary Disney flicks.
While the original programming roster is constrained, popular titles such as "The Book of Boba Fett," "Loki," and "Hawkeye" will retain their value. Additionally, Disney will remove its content from various streaming providers, including YouTube. Disney Plus will soon be the company's exclusive subscription streaming service, offering access to many of its properties.
For additional information and extensive impressions, see our Disney Plus parent review to learn about the platform's family-friendly features.
How do I sign up for Disney +?
Disney Plus can be subscribed to directly through the Disney Plus website. But, first, establish an account by providing an email address and a payment method.
Should you keep Disney Plus or cancel?
While Disney Plus boasts one of the most robust on-demand streaming libraries, you may quickly cancel your subscription. It may be accomplished simply by visiting the account details area of your profile and following the on-screen instructions.
Disney Plus 30-day free trial: It's frequently a good idea to trial numerous services before committing to a membership. The majority of streaming providers offer a Disney Plus Free Trial period during which you may choose whether the service is suitable for you. For example, Netflix and Amazon Prime provide a vast library of material, including well-reviewed originals and oldies. Both services are complimentary for 30 days. Additionally, Prime members receive free two-day shipping from Amazon.
Apple TV+ is another excellent option for fans of small, niche libraries. You can give it a free week's trial. Additionally, you can sign up for a free month-long Hulu trial. It will help you determine whether or not the Disney Plus bundle is worthwhile.
Disney Plus Login – How to login to Disney+
Launch the Disney+ app or visit DisneyPlus.com and choose login.
Enter the email address & password used to subscribe to Disney+
Choose Log in to confirm.
To login on to the web, visit Disney+ Login Page.
FAQs – Disney Free Trials

When you sign up for Disney Plus for the first time, you may wonder what all the hype is about. The service is packed with features and is especially well-suited for families with little children. It offers a limited selection of TV shows and movies, including popular series and movies not available on other streaming sites. In the future, the service will serve as the sole source for all things Disney. If you want to learn more about it, start with this guide.
ALSO SEE: Showtime Free Trial 2022
While the service is ad-free, some users will encounter a Starz advertisement upon registration. However, it is a condition of the arrangement with Disney+ and will have little impact on most consumers. The Disney Plus website has expanded the number of markets available to users, and the recent coronavirus outbreak may have prompted more consumers to sign up for the program. In addition, the Disney+ website includes a detailed Frequently Asked Questions section for consumers.
One of the most frequently asked queries about the program is how to sign up. Fortunately, Disney has simplified the process by offering explicit instructions on how to enroll. After registering, you'll be able to browse the site, browse hundreds of thousands of movies, and even vote on your favorite titles in the "Continue Watching" section. Additionally, the site includes a list of commonly asked questions that can assist you in determining whether Disney+ is perfect for you.
How do I log into Disney Plus on my TV?
On your Smart TV, simply open the Disney+ app.
Choose Log in.
Follow the instructions on-screen to sign up.
Next, enter the URL into your browser on your computer or mobile device.
Afterward, enter the 8-digit code you see on your TV screen.
Now, enter your email address and password.
How many devices can log in to Disney Plus?
Not only does Disney Plus allow for simultaneous viewing on four devices, but it also allows for the creation of seven distinct profiles.