As smartphones capture treasured moments from our lives, our gadgets are becoming more crowded with video. However, only some devices can play every format, which is where a video converter comes in. We've put in a lot of effort to find the best video converter for Windows 10. The best video converter software is easy to use and supports many file formats. Video files often employ a variety of codecs and container formats, resulting in various file extensions. Different codecs affect video file quality, size, and conversion speeds. A Windows video converter typically takes an input video file and converts it to another format.
There are a variety of online video converters accessible. Still, we do not recommend using one since it takes a lot of bandwidth to upload and download the movie, and the privacy of our video is compromised because it has already been posted on some portal. There are a variety of reasons why you would want to convert a file format. Perhaps you want to play a certain movie on a device with limited storage and need to lower the file's size or quality. You may want to retain your whole video collection in a certain file format or change a recorded video to a readable and shareable format; you will need the best video converter software to achieve this. An efficient Windows video converter can convert MKV, AVI, MP4, FLV, MOV, 3GP, and many more formats.
Top Video Converter Options For Windows
1. NCH Prism
NCH Prism is only capable of converting popular video formats. You may also use software to do rudimentary video editing. It enables you to split or cut videos and add effects to your liking. It also has a direct DVD converter for professionals who don't want to transfer the content to their devices. Only a few Video Formats are supported, which is a drawback. If you can find support for the format you want to convert, it is one of the best Video Converters for Windows 10 on the market.
Features:
Videos may be split and trimmed.
Effects may be added to videos.
Convert DVDs.
The ability to convert to a different language is a bonus.
Video Converter Software Companies are attempting to add as much functionality as possible to their software, even if it is not connected to the fundamental functioning of their software. Wondershare also includes a feature that allows you to record the screen with your audio narration, which is a fantastic addition. On the converter side, it can assist you in converting videos with over 1000 distinct input and output formats (I had yet to learn there were that many). It supports Batch Conversion for power users. If you can get beyond its sometimes-confusing UI, it is undoubtedly one of the best Video Converters for Windows 10.
Features:
Screen recorder built in.
The number of times a person's name is written down on paper.
Allows Batch Conversion.
GIF Maker.
3. WinX HD Video Converter Deluxe
WinX HD Video Converter Deluxe is a high-quality and powerful video converter software. With WinX HD Video Converter Deluxe, you can convert big 4K files into over 420 distinct formats ideal for every device you can think of, including iPads, iPhones, Android, DVDs, Camcorders, etc. It can process all videos significantly faster thanks to Level-3 Hardware Acceleration technology. WinX HD Deluxe is one of the best Video Converters for Windows 10 since it has all of the features and an easy-to-use UI.
Features:
4K/HD videos may be converted to MP4, AVI, MKV, WMV, MOV, MP3, and over 420 more formats.
It's possible to get a free copy of the book if you're interested.
From Video, Extract Audio and a Screenshot.
Make a photo slideshow.
File size should be reduced.
4. VideoProc Video Converter
VideoProc is a popular and easy-to-use Video Converter for Windows 10. It also comes with extensive editing tools. You may convert 4K and even 8K videos into over 420 different video formats with VideoProc's sophisticated engine. For example, WinX HD Video Converter Deluxe can convert videos considerably faster. It is free for Windows and Mac OS and supports Batch Conversion. VideoProc Video Converter is one of the best Video Converters for Windows 10 because of its many Conversion choices, powerful video editing tools, and many additional features.
Features:
More than 370 input formats are supported.
Allows you to convert videos into more than 420 different video formats.
Batch conversion is possible.
Integrated Video Downloader lets you download videos from over 1000 websites, including YouTube, Facebook, and others.
5. Wise Video Converter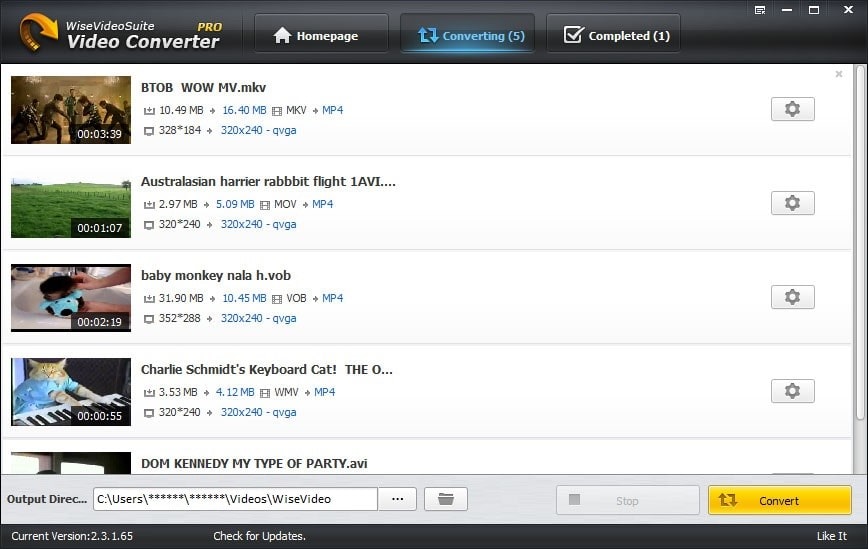 Throughout our testing, Wise Video Converter was ranked as the best video converter for Windows 10. Its extensive features and settings enable you to convert videos in almost any file format. With its converting codec feature, any movie may be readily played on any multimedia device. This converter is portable and can be wrapped in a USB stick or Memory card and carried with you on the road. This converter is best suited for converting video clips to be played on PC, Smart-TV, Tablets, Smartphones, Gaming Pads, and other devices.
Features:
Console that is simple to use.
Adding a watermark to your videos is a great way to get people's attention.
Video Conversion with Just One Click.
All Devices Can Watch Video.
At the Same Time, Several Video Conversions.
Simple, Quick, and Efficient Video Conversion.
Conversion on the fly was made possible by the portable version.
6. Any Video Converter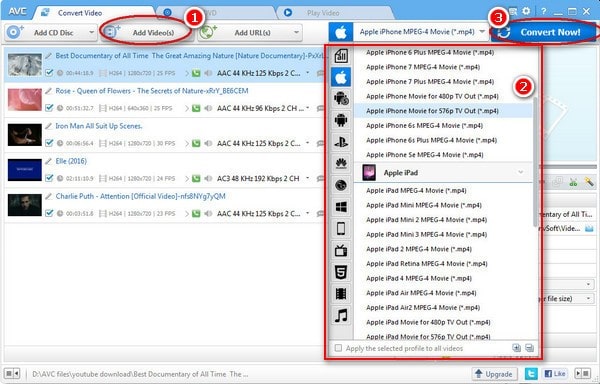 Any Video Converter for Windows 10 will be okay to gain additional file formats. This is one of the best software because it converts online or offline files. This means you can quickly convert an online video from YouTube or Facebook into a format suitable for offline viewing on any device without exceeding your data limits. You may also use Any Video Converter to rip audio files from CDs or DVDs. It also features cropping, cutting, and rotating. You may also add various video effects to get a distinct look. Any Video Converter can convert videos by eliminating DRM protection and immediately burn videos to disc.
Features:
Excellent Formats are Accepted.
Online Video Hosting Conversion.
Filters and effects are optional extras.
More than 60 different input formats are supported.
Converting Multiple Files in Batch Mode.
User-Defined Video Outputs for Multiple Files at Once.
7. Ashampoo Video Converter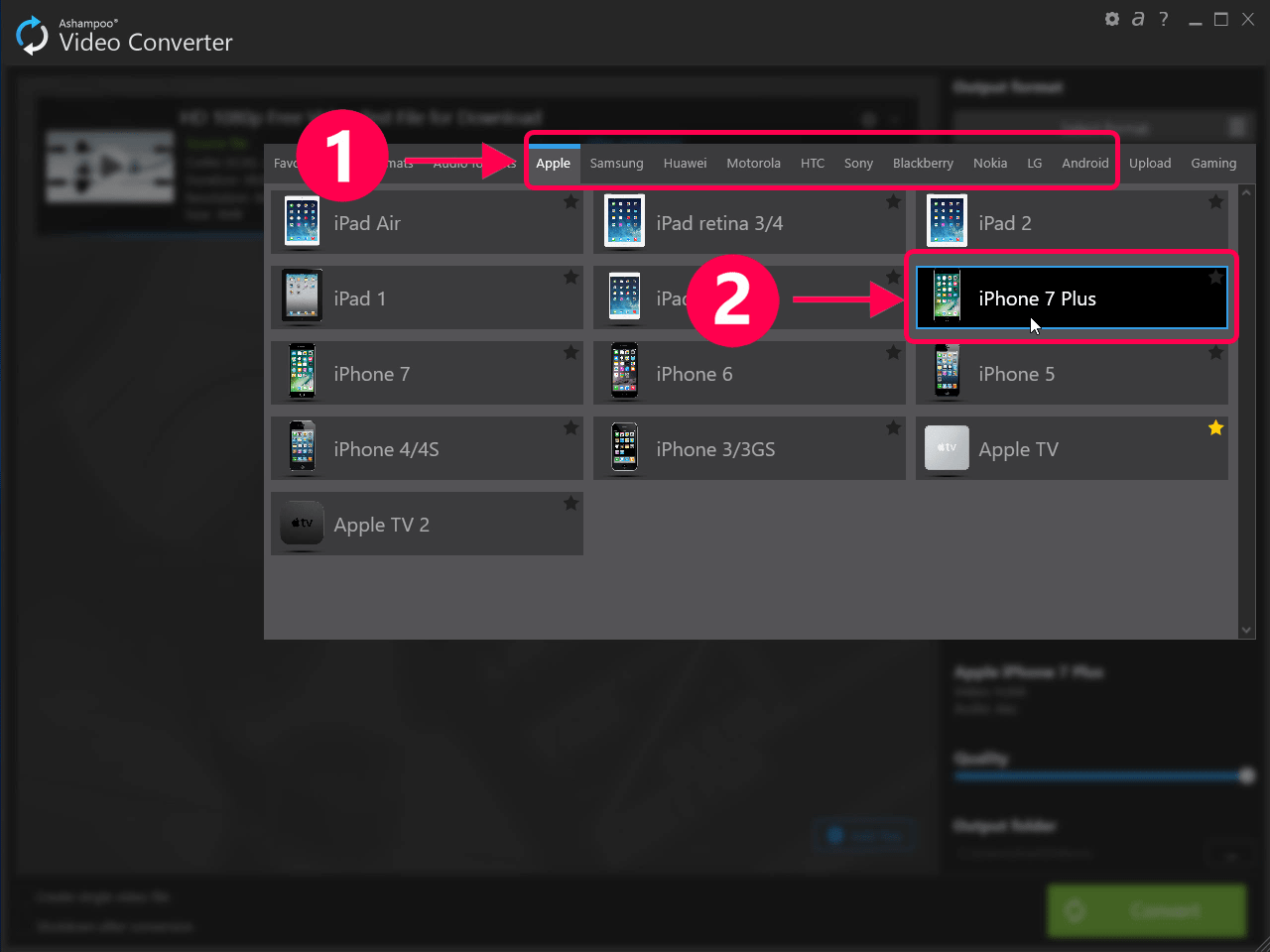 This is ranked next in our assessment of the best video converter for Windows 10. Ashampoo video converter includes all of the features needed for the best watching experience. Ashampoo Video Converter converts your videos to any file format in three easy stages. You just need to select the video you want to convert and specify the device you want to play it on, and you're done. You don't have to be an expert or understand file formats or device specs to convert a video.
Features:
It is simple to convert any file format.
Ideal for high-resolution displays up to 4K.
Video Sharpness Editing Tools Included.
Provides a flawless viewing experience across all Devices.
NVENC with Intel HD Graphics for Quick Conversion.
Provides Optimal File Formats for Facebook and YouTube Uploads.
Audio may be extracted in MP3, AAC, OPUS, WVA, FLAC, and WMA formats.
8. HD Video Converter Factory Pro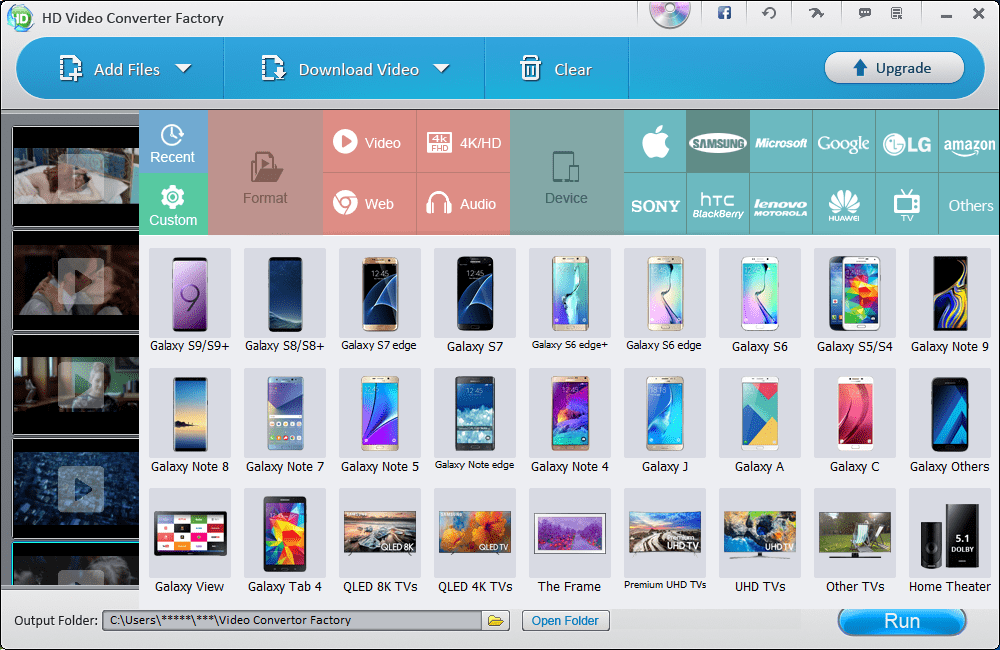 HD Video Converter Factory is such an easy-to-use video converter tool for Windows 10 that the business website includes a 10-second tutorial. This may seem dramatic, but it is true. Drag & drop a movie or use the application interface's selection menu to select the appropriate file format or target playing device, then click the Run button. It just takes a few seconds to convert a video. You may begin the conversion process immediately but want to spend more time selecting the desired outcome. Destination formats may be accessed very imaginatively to select the precise codec for conversion. Novices may select a specialized output format for a single playback device, while professionals can choose from various customizing choices.
Features:
Video quality has improved from SD to HD.
Beginners may use ready-made device profiles.
Editing Tools Included for a Perfect Conversion.
Mastering the Conversion Process Only Takes a Few Seconds.
Favorite settings or a custom profile may be saved for future use.
Advanced cropping, cutting, and special effects.
Enhanced Video and Audio with Special Smart-fit Settings.
9. HandBrake Video Converter
HandBrake is a popular and free video converter that works on Windows, Mac OS, and Linux. Despite its popularity, HandBrake must catch up in the number of video formats to convert videos. It's a free and open-source video converter. The software can convert videos at breakneck speed thanks to Hardware Acceleration. HandBrake is one of the best Video Converters for Windows 10, especially if you only convert videos from a few various video formats.
Features:
The ability to convert to a different language is a bonus.
Hardware acceleration is available for speedier output.
Scaling, deinterlacing, and cropping may be done manually or automatically.
10. Freemake Video Converter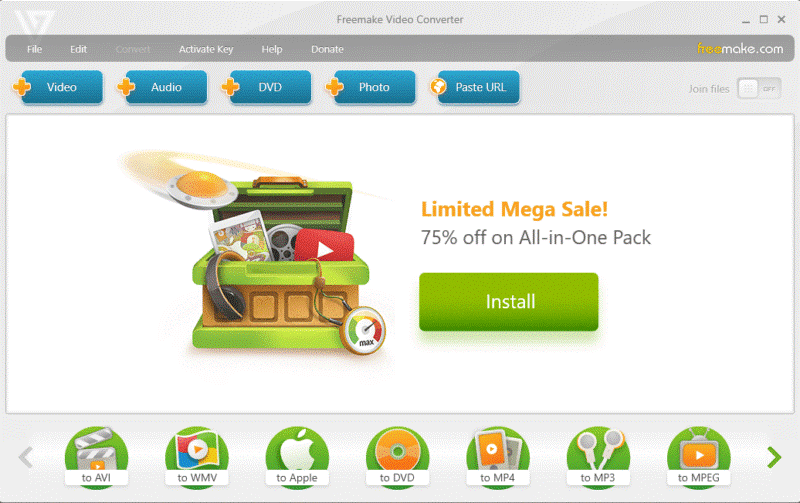 As the name implies, this is a powerful, easy-to-use video converter for Windows 10 software that is also free. Freemake Video Converter is the best free video converter software, with outstanding online video converting capabilities and a few restrictions due to its status as a freebie. Freemake Windows video converter not only converts files stored on your hard drive but can also download and convert live videos from YouTube in any file format. The option to convert to a DVD is a feature of the program, as is the possibility to use it as a source of income. Some features, such as converting YouTube videos, may look restricted the first time you install Freemake Windows Video Converter; however, after three days, it will give you a free Web Pack as a gift to remove the limitation. The free web bundle should display as a notice in the System Tray notifying you of its availability.
Features:
Available in a variety of languages.
Effects and editing are simple.
Free and unlimited use is available.
Save Your Video's Output to Portable Devices.
Video Converter that works with Windows 10, 8, and 7.
Convert videos from your computer or the internet to any file format.
FAQs:
What Does Video Converter Software Do?
The format in which the Video File is stored on your device may be converted using a Video Converter. The format of a Video is crucial for various reasons, including the fact that the format in which it is stored determines the output of the video. Video Converter Software is often used to make a video compatible with a certain device or software.
What Features Does Good Video Converter Software Possess?
An easy-to-use interface is a key feature of a good Video Converter. Even though most people need basic format support, the more formats a Video Converter software can handle, the better. A handy feature is converting the resolution, codec, and bitrate.
How Does Video Converter Work?
Video Conversion Software converts videos in two ways: one by changing the container format and the other by changing the video itself. The second way compresses the video is via a process called transcoding.
Consider The Following:
The Bottom Line:
So that brings us to the end of our list of the best video converter for Windows 10. We hope you found this post informative. Please follow our blog for more stuff like this. If you found any other best video converter software with more features, please share your experience in the comments area or add value with your thoughts. If you found this post useful, please like and share it with your peers.