When Wi-Fi networks are used to their full potential, they operate admirably. And to accomplish this, it is critical to monitor and enhance the network constantly. Fortunately, there is excellent software such as Wi-Fi Analyzer Software that can assist users in identifying potential Wi-Fi network faults and providing the required tools to optimize performance. In addition, it collects and graphically visualizes pertinent Wi-Fi data, allowing you to learn about current signals, quality, and frequency channels, among other things.
Using a reputable Wi-Fi Analyzer Software, you can quickly determine the optimal location for your router and obtain information on adjacent Wi-Fi networks and devices.
When Should You Use Wi-Fi Analyzer Software?
Allow me to illustrate the need for a free Wi-Fi analyzer Windows 10with the following example: If you use the default Wi-Fi channels (1, 6, 11) that come pre-configured on Wi-Fi devices, there is a good chance that multiple adjacent access points are also using those channels. As a result, it leads to significant interference and, thus, low signal strength. It is where a specialized Wi-Fi Analyzer Software may assist you in properly determining the signal strength using heat maps.
Additionally, these tools display detailed information about your network connection. It contains critical information such as the network's name, signal strength, signal quality, channels, bitrate, and BSSID.
Moreover, by using the Wi-Fi Analyzer Software, you can determine the optimal location for your router, ensuring uninterrupted network performance.
6 Best Wi-Fi Analyzer Tools For Windows And Mac (Free & Paid)
To optimize your Wifi, use a reliable Wi-Fi Analyzer Software for Windows & Mac:
1. inSSIDer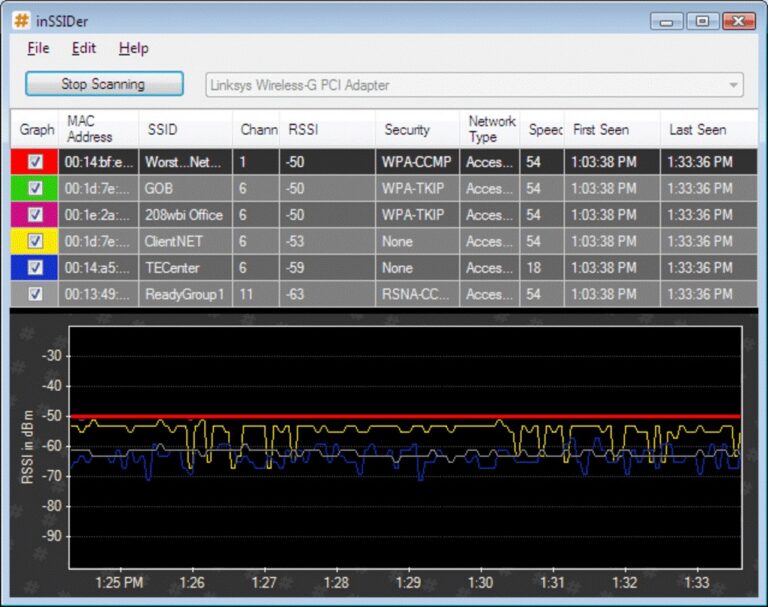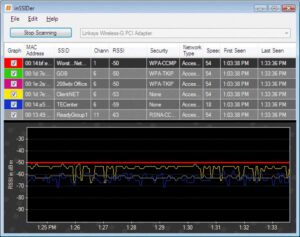 As the name implies, inSSIDer WI-FI Analyzer Software provides visibility into the Wi-Fi environment you are operating. Additionally, it enables users to learn about the network they are connecting, advises them in selecting the optimal channel for their purposes, and monitors user traffic data on a dedicated basis. Unlike the other utilities described here, inSSIDer is updated regularly and is one of the top Wi-Fi Analyzer Software for Small to Medium Business networks & and professionals.
2. NetSpot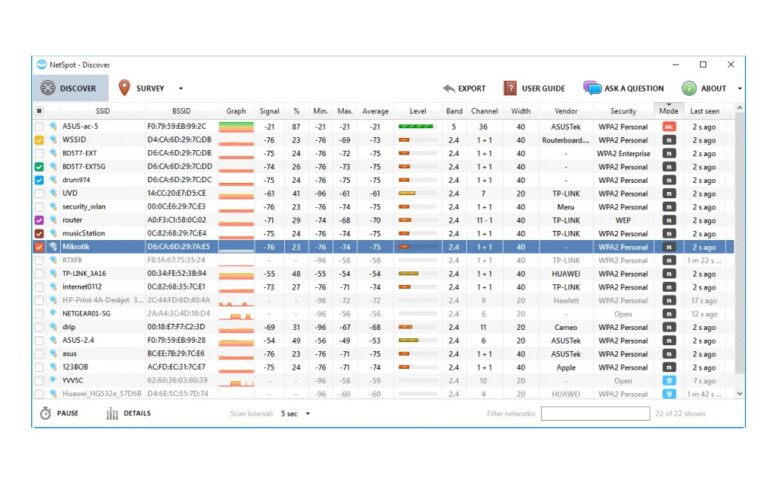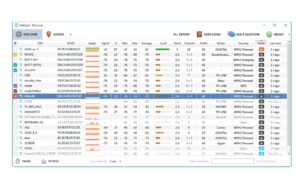 NetSpot, like several other free Wi-Fi Analyzer Windows, provides a comprehensive collection of analysis and performance data, such as signal strength and coverage. Additionally, NetSpot is not a straightforward Wi-Fi Analyzer Tool; it bills itself as a professional program for wireless site inspections.
Besides, NetSpot Wi-Fi Analyzer enables users to verify their Wi-Fi connection's speed with an integrated Active scanning tool. It allows users to receive a quick overview of each accessible strong point in your network area. Quite helpful. That is why it makes our list of the Best Wi-Fi Analyzer Software for Windows and Mac.
3. Acrylic Wi-Fi Home Scanner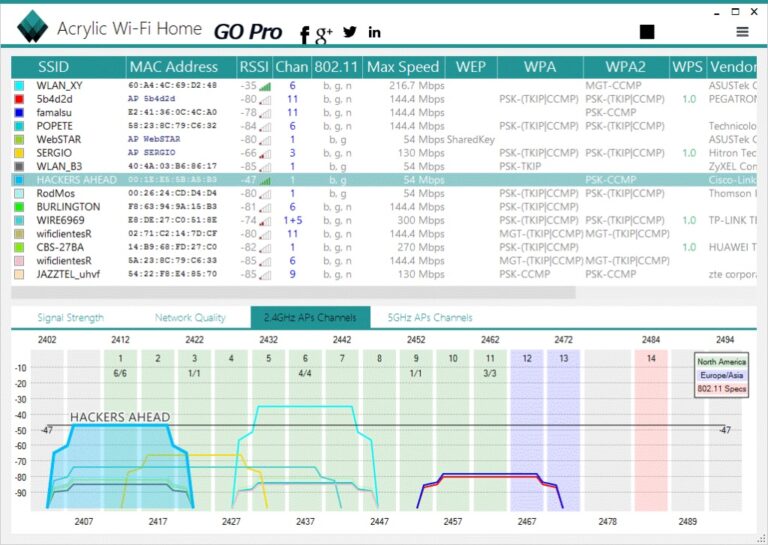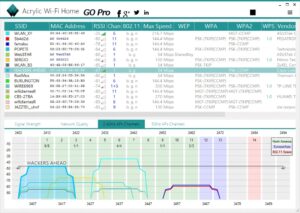 Meet Acrylic Wi-Fi Home Scanner, one of the best free Wi-Fi analyzer for Windows 10 available only for Windows operating systems. The software lets users study Wi-Fi traffic in detail, scan for nearby access points, and view access points and clients at any range. Additionally, it uses GPS, enabling you to easily view the geolocation of Wi-Fi networks using apps such as Google Maps. The main drawback to this best free Wi-Fi analyzer app is that it lacks reporting and exporting options.
4. Vistumbler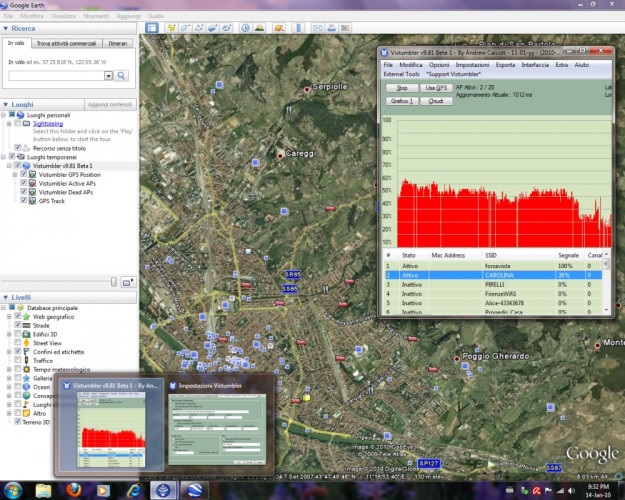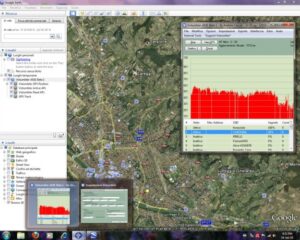 Vistumbler is the next tool in our Best Wi-Fi Analyzer Software list. What sets it apart from other Wi-Fi Analyzer tools? It enables GPS and location-based approaches to network performance optimization. Vistumbler creates a wireless heat map on top of a Google Earth image. It allows you to pinpoint the specific location of a wi-fi network to obtain information about its strength, quality, and encryption, among other things. The software for Wi-Fi Analyzer is highly compatible with Windows 10, 8, 7, and Vista.
5. PRTG WiFi Analyzer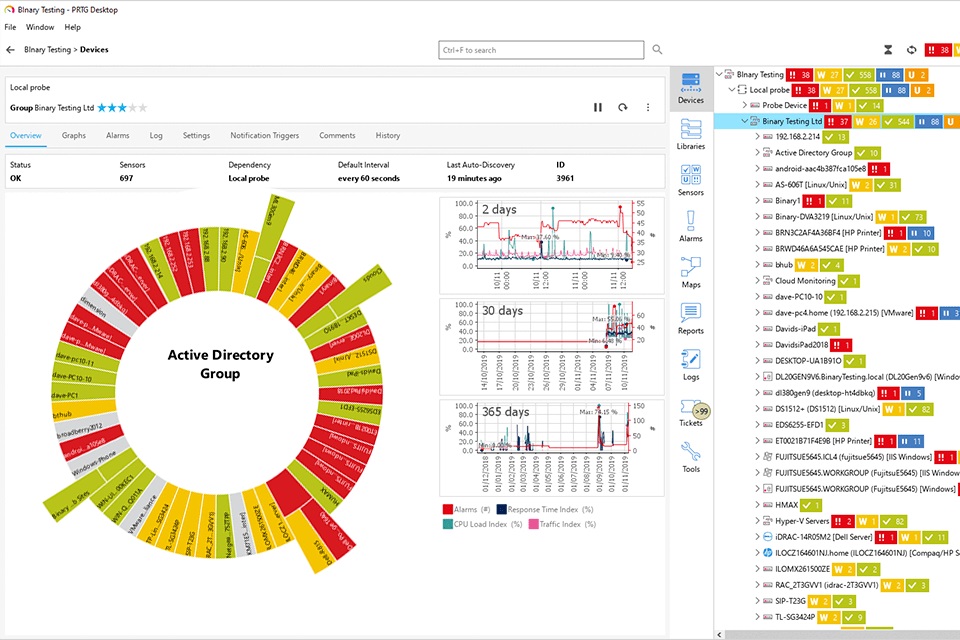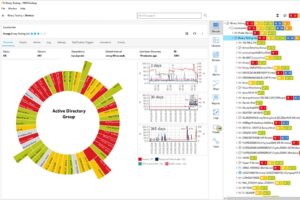 PRTG is a comprehensive and the best Wi-Fi monitoring software free that enables users to monitor every aspect of their wireless networks and generates detailed reports on adjacent Wi-Fi devices, traffic, and signal strength. Additionally, the PRTG WiFi Analyzer Program enables you to monitor the status of Wi-Fi devices easily and keep a watch on their uptime and downtime. Moreover, you may observe the amount of traffic that flows across the wired and wireless networks at any given time.
6. WiFi Analyzer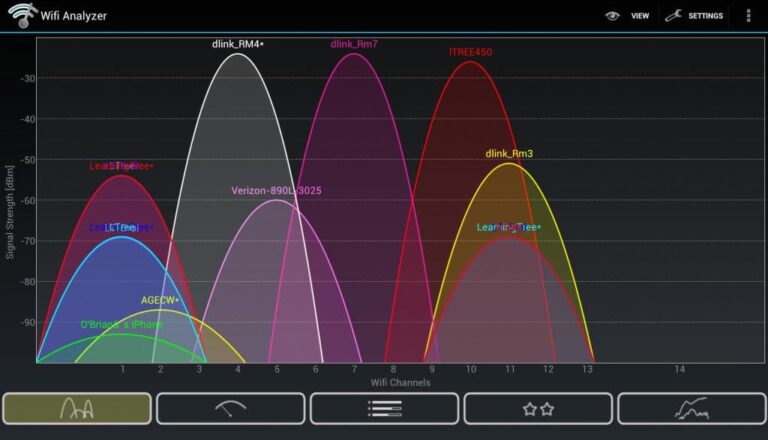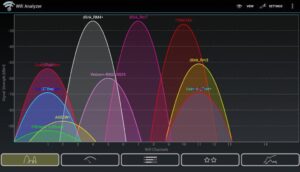 Windows 10 users may undoubtedly use WiFi Analyzer to determine the optimal location for their router/access point. The app visualizes a list of potential channels using heat maps, making it simple to decide your router's ideal location. Additionally, the Wi-Fi Analyzer Software displays all Wi-Fi devices transmitting signals in your immediate proximity and their signal strength and channel number. Besides, it enables you to modify your channel to avoid interference from surrounding Wi-Fi devices.
Frequently Asked Questions
Which Is the Best Wi-Fi Analyzer Software For Windows & Mac?
Choose none-other than WiFi Analyzer Windows users, accessible on the Microsoft Store. In addition, NetSpot is available for Mac users! Both Wi-Fi Analyzer Tools are extremely capable of analyzing Wi-Fi signals and much more.
ALSO SEE: 3D Texture Painting Software
Which Is The Best Free Wi-Fi Analyzer?
Are you looking for Wi-Fi Analyzer Windows 10 free download? Consider using the Acrylic Wi-Fi Home Scanner. It has an intuitive UI suitable for both novice and advanced users.
How Can I Analyze My Wi-Fi Signal?
To determine the intensity of the Wi-Fi signal, you can use any of the Best Wi-Fi Analyzer Software for Windows and Mac aforementioned. Our recommended products include the Acrylic Wi-Fi Home Scanner, NetSpot, and PRTG Wi-Fi Analyzer.
Are There Any Free Wi-Fi Analyzer Tools?
Microsoft Wi-Fi Analyzer, Vistumbler, and NetSpot are a few examples of freemium software for analyzing wireless signals.