Are you having trouble with Roblox's default FPS limit? Roblox's FPS is limited, which causes the game to lag, and lag occurs most frequently when the FPS is too low, thereby ruining your gaming experience. To avoid choppy frames, download the Roblox FPS Unlocker app. Users can increase their FPS and play games smoothly, even on low-end devices. Those with higher refresh rates on their PCs can take full advantage of this software and bypass the FPS cap.
Yes, it is completely legal and will not result in your account being suspended or banned by Roblox Corp. This is because it does not alter files created by Roblox developers. Additionally, with the Rbx FPS unlocker, you can increase your FPS while playing Roblox games.
How To Download Roblox FPS Unlocker Version 4.4.0?
1 – Download FPS Unlocker Roblox 
2 – Github.com is the official place to get this file. 
3 – Download the latest version, 4.4.0 (64-bit), by clicking the blue download button. 
4 – It will automatically start downloading the program.
How To Install RBX Frame Per Second Unlocker?
1 – Extract the zip rbxfpsunlocker-x64 
2 – Now run the rbxfpsunlocker.exe 
3 – It will start up for a moment, then appear to stop working. It's running in the background. 
4 – In the bottom-right corner of Windows, open your computer's, System Tray. Frame rate Unlocker appears as a red Roblox logo. 
5 – Now press Shift + 5, and it will show fps in the game
How To Use FPS Unlocker Roblox

?
1 – Go into your System Tray and click on the app. A menu will appear.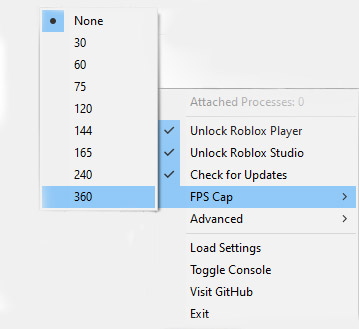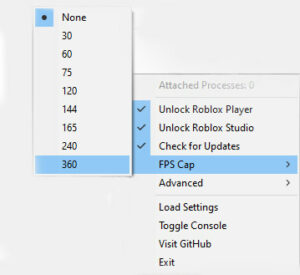 2 – First, toggle "Unlock Roblox Player." That option completely removes the frame rate cap. 
3 – Additionally, toggle "Unlock Roblox Studio" to unlock the frame rate cap on Roblox Studio if you have plans to make Roblox games. 
4 – Should you wish to cap your frame rate, move to FPS Cap to reveal a second menu. 
5 – Pick a frame rate cap. For example, if your refresh rate is 144Hz, it would be ideal for capping it to 144 frames. 
6 – Start the app; it works automatically in the background.
FAQ:
Is FPS Unlocker Roblox Safe? 
Yes, the software is completely safe to install and will not breach any Roblox terms and conditions, which would result in a ban.
It is no longer a punishable violation as of 2019. So you can install these FPS Unlockers without worrying about them becoming a virus or causing your computer to slow down in any manner.
Why Is Roblox FPS Unlocker Not Working? 
The Roblox FPS Unlocker Not Working an outdated FPS Unlocker version typically causes the issue. We recommend updating your FPS Unlocker app to the most recent version available (4.4.0).
What Is FPS Unlocker 
The RBX FPS Unlocker app removes the default FPS limit (60) for Roblox Games. Also, Users can increase RBX FPS up to 360 FPS without fearing getting banned by Roblox Corp.
Note: A 32-bit version of FPS Unlocker is available; however, it is outdated.