List Of Best Free PDF Readers For Windows That Enables You To View, Edit and Annotate Docs.
The Best PDF Readers For Windows PC enable you to effortlessly view, modify, annotate, share, and sign documents. Although PDFs were designed to prevent content modification, there are currently a variety of Paid and Free Editors available that can assist you in managing, manipulating, splitting, merging, and converting PDFs according to user preferences.
Moreover, while the first thing that springs to mind when you want to access and read a PDF document is a web browser, nowadays, they almost always include an integrated PDF reader! However, if you require digital signatures, form filling, and form protection, you will need sophisticated PDF Reader Software.
Best 11 Fastest PDF Readers For Windows 10, 8, 7 PC (2022 Edition)
Because the market is overflowed with hundreds of Desktop PDF Management Tools, some of which cost nearly a thousand dollars per year, we combed the Internet to bring you the Best Free PDF Readers For Windows.
1. Nitro Reader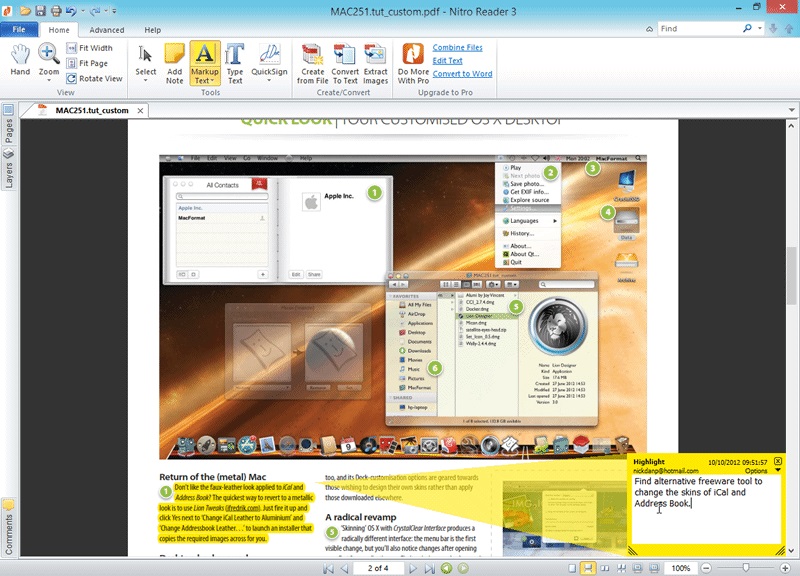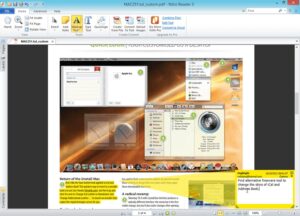 If we talk about the best free PDF Readers For Windows, it is a robust free PDF reader that offers an ideal balance of essential features for reading, annotating, and converting files between various formats without a hitch. Nitro Reader features an easy-to-use design with an optional touchscreen mode, which gives it an advantage over other PDF Reader Software for Windows 10, 8, and 7. In addition, before sharing papers with others, you can use the app to add comments to them.
Pros:
It supports extracting images from documents.
You can highlight, underline & strikethrough.
Enables you to convert other file types to PDF.
Customize the top toolbar for quicker access.
Cons:
It needs you to register.
Lacks tool to edit the document text (with free version).
Price: Free version available; Plans start from $159/user | Try Nitro Reader!
2. EaseUS PDF Editor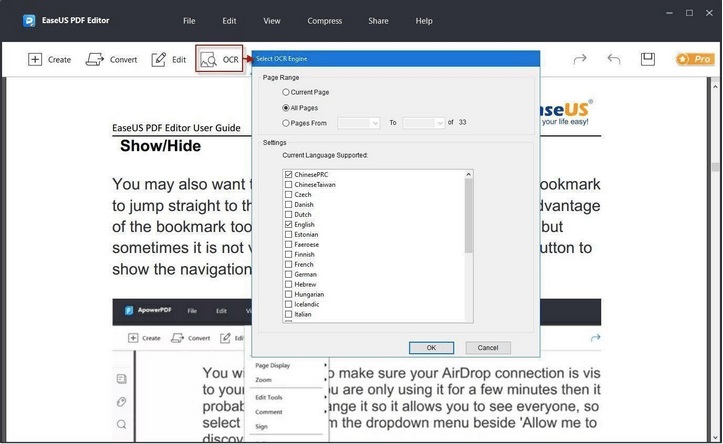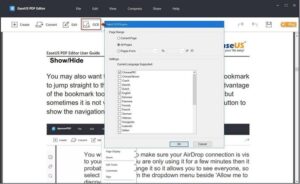 EaseUS PDF Editor is a newcomer to Best PDF Editing Software (2022). Still, it makes a great first impression with a broad collection of features such as document editing, conversion, merging, splitting, e-signing, watermarking, and adding strong encryption.
Additionally, it is one of the best free PDF Readers For Windows. With the help of this all-in-one PDF Creator, Reader, and Editor, you may use tools for inserting text, reordering pages, extracting photos, cropping a PDF, editing scanned documents, and compressing them.
Pros:
Clean and easy-to-use dashboard.
256-bit AES encryption and document security options.
Uses OCR technology to make scanned docs editable.
Value of money, especially once you go with lifetime licensing.
Supports converting PDFs into 10+ file formats.
Cons:
The free version of PDF Editing Tool adds a watermark.
Price: Free, PRO Version = $19.95/month | Try EaseUs PDF Editor!
3. Expert PDF Reader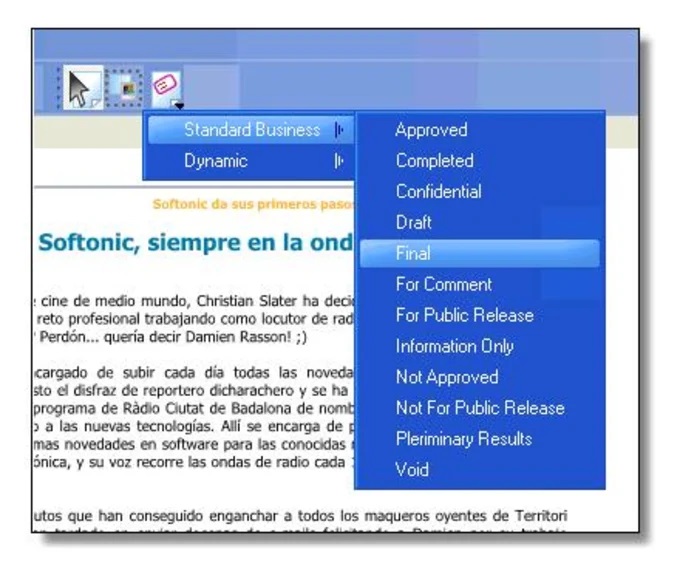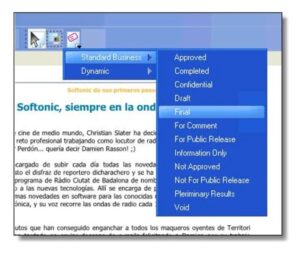 Are you seeking for the top-rated PDF Readers For Windows? Expert PDF Reader is another free PDF manager for Windows. In terms of appearance, it will remind you of older Microsoft Office apps. And while we're on the subject of features, this straightforward PDF Reader allows you to work with virtually any type of document.
Additionally, it provides options for annotating, adding rubber stamps, and more. You can easily create bookmarks for your favorite files and use the tabs feature to browse several PDF documents sequentially.
Pros:
Easily print your favorite PDF files.
Lightweight PDF Reader doesn't consume many.
It lets you read, edit, annotate & sign documents.
Supports older Windows versions.
Cons:
Limited features as compared to other Free PDF Readers For Windows.
Price: Free | Try Expert PDF Reader!
4. Foxit Reader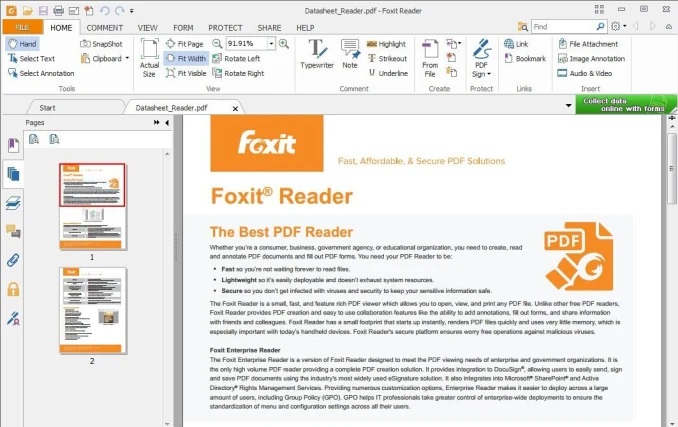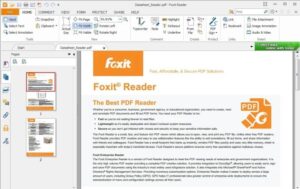 Go no further than Foxit Reader if you're looking for a powerful and quick PDF Readers For Windows 10, 8, 7, & other operating systems. The free PDF Manager tool is comparable to Acrobat Reader in size and offers a plethora of options for creating, sharing, and protecting PDFs in the cloud.
This best free PDF Reader Software For Windows even facilitates collaboration with your friends and coworkers — grant access, and you can track who opened, edited, and viewed the document in real-time. Foxit Reader is the Google Docs of Windows PDF Readers for Windows.
Pros:
Offers support for drawing tools and adding signatures.
Enables you to open multiple PDF files, each in separate tabs.
Has a Full-Screen Mode for a better viewing experience.
The GUI doesn't seem crowded, making it the Best PDF Reader Software.
Cons:
The trial version is different after updates are initiated.
Price: Free | Try Foxit Reader!
5. Advanced PDF Manager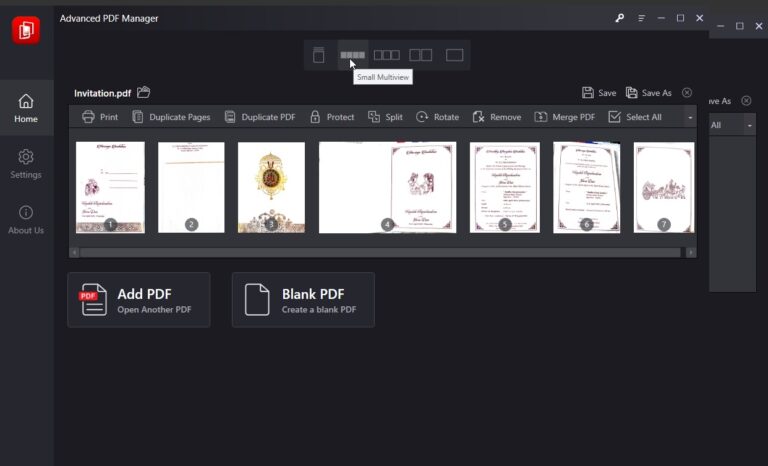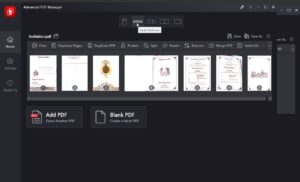 If you are wondering for a PDF Reader that quickly opens and reads your personal/professional PDF documents, go no further than Advanced PDF Manager. Systweak Software designed and developed the program, enabling users to open, read, print, divide, combine, rotate, move, and duplicate PDF pages with a few simple clicks.
Not only that, but one may secure their confidential documents with strong passwords while using the PDF Reader Software for Windows.
Pros:
Excellent PDF page reordering & organizing capabilities.
Modern and straightforward dashboard.
It provides an effortless way to manage single or multiple PDFs.
Multiple PDF Viewing Modes for a consistent reading experience.
Merge and split PDFs of any size without any hiccups.
Cons:
Lacks compatibility with other OS other than Windows.
Price: Free/$39.95 + Lifetime free access for Photo Organizer | Try Advanced PDF Manager!
6. Slim PDF Reader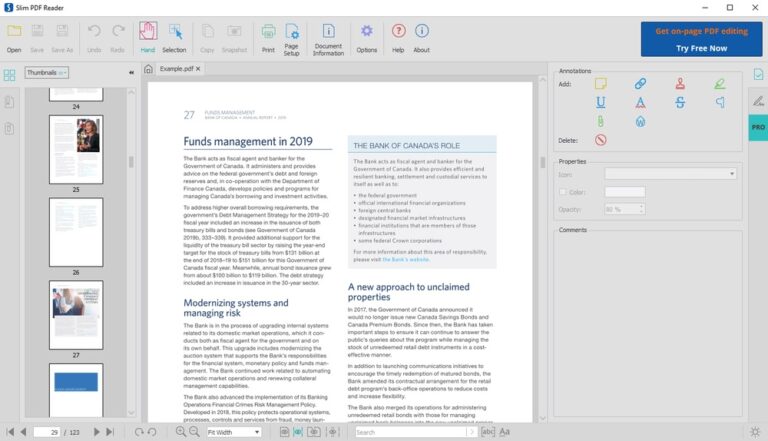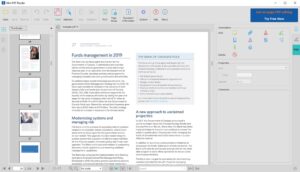 Slim PDF is the next entry on our list of the Fastest PDF Readers For Windows 10, 8, and 7. It enables users to access and read PDF documents without requiring much disc space on their computer.
This best PDF reader for Windows of 2022 enables users to edit, share, and search various files and print the desired PDFs. Unlike other free PDF Readers, Slim has a dark mode that prevents your eyes from straining over extended reading periods.
Pros:
World's smallest desktop PDF reader.
Supports several languages, making it the Best PDF Reader Software.
Has a good response time in comparison to other PDF viewing programs.
Best Portable PDF Reader Software, suitable for every type of user.
Cons:
Does not support many popular keyboard shortcuts.
No highlighting of text is possible with Slim PDF Reader.
Price: Free | Try Slim PDF Reader!
7. Adobe Acrobat Reader DC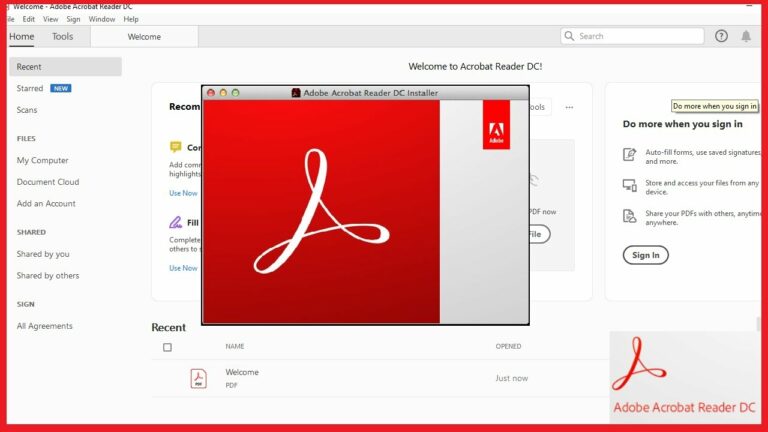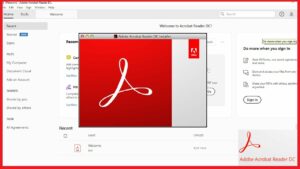 Well, Adobe Acrobat Reader DC is one of the most famous Windows PDF Readers of all time. This best PDF reader for Windows 10 free download, enables users to access, view, and modify PDF files from any location. Adobe Reader for Windows 10 has an attractive interface and is not overburdened with showy features.
It is among the highly-rated PDF Readers For Windows. You'll find choices for quickly filling out forms, converting PDFs to various file formats, adding comments, and even signing documents. To access additional capabilities for manipulating and combining documents, you must upgrade to the Premium edition.
Pros:
Supports extraction of words and images.
Hide any unnecessary menus & switch to full screen.
Settings such as character casing, bookmarks, and comments.
It offers multiple viewing modes (to reduce eye strain).
Cons:
The export function contains a relatively slow speed.
Price: Adobe Reader Free download for Windows 10, PRO Version = $15/month | Try Acrobat Reader DC!
8. Javelin PDF Reader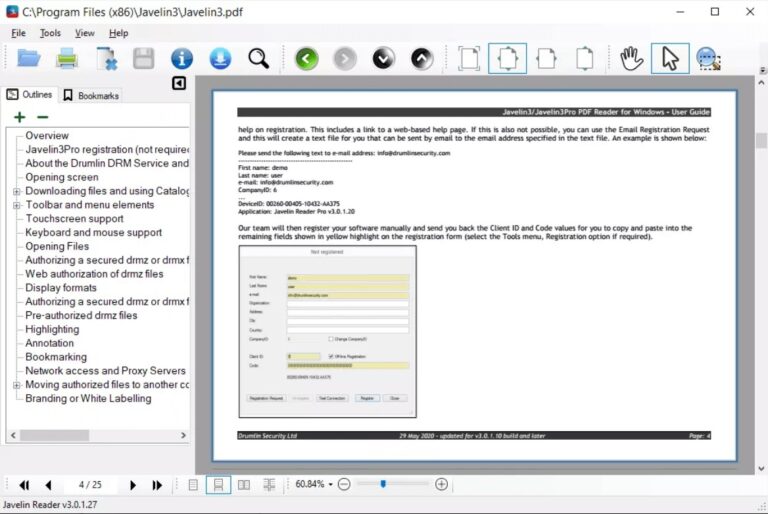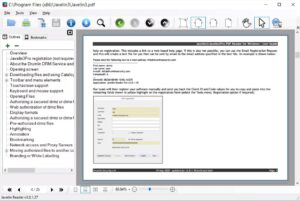 Javelin is among an excellent PDF Readers For Windows that provides the best reading experience with lightning-fast performance and essential functionality for managing your PDF files. You may open any PDF file in full-screen mode to enhance your reading experience, and the search functionality works flawlessly to discover specific keywords and phrases.
To read numerous pages, click the screen and scroll through the files. On the downside, it's a rudimentary PDF reader lacking editing and conversion tools.
Pros:
Comes with advanced encryption tools.
It supports text-to-speech conversion, making it the best PDF reader software.
With its Mobile Version, you can manage metadata as well.
Available for Windows, Mac, iOS, and Android.
Cons:
Complicated installation process.
Occasional clunky performance.
Price: Free, Paid plans start from $199/Year | Try Javelin PDF Reader!
9. PDF-XChange Editor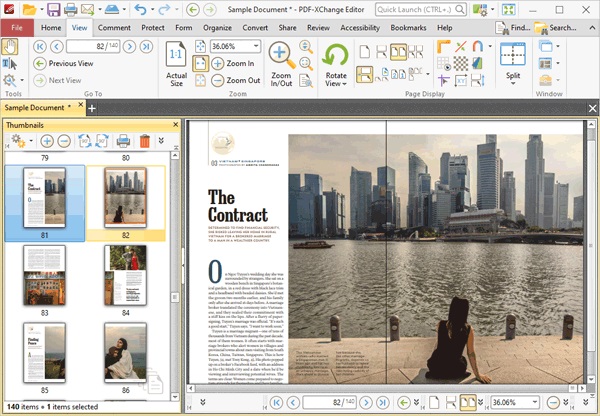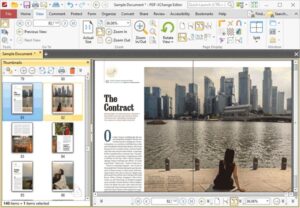 Without mentioning PDF-XChange Editor, our list of the Best PDF Readers For Windows 2022 would be incomplete. The app was recently entirely redesigned and simplified to improve the user experience when working with many PDF documents.
This best lightweight PDF reader for Windows 10 provides the fastest reading, annotating, extracting photos/text, and printing experience. The only disadvantage is that the free edition lacks basic editing capabilities.
Pros:
Feature-rich yet well-organized & user-friendly interface.
It supports adding comments before sharing files.
Let's edit PDF files by attaching notes.
Bookmark & edit the images. Best portable PDF Reader for Windows.
Cons:
Price: Free, Paid plans start from $46.50 | Try PDF-XChange Editor!
10. Google Drive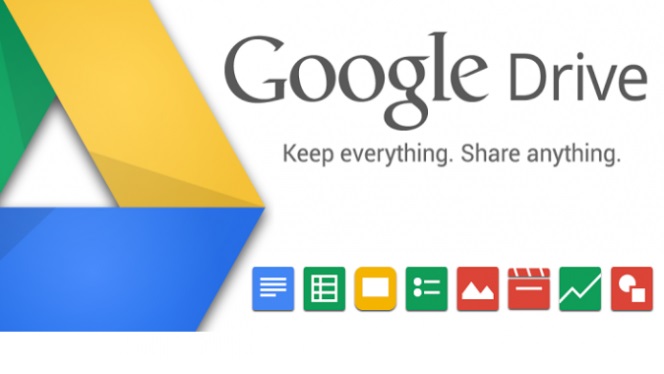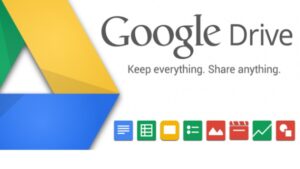 If you want to rapidly access, view, and annotate PDFs, Google Drive is one of the Best Free PDF Readers For Windows available. You may open, view, convert, and share any of your PDF files on the platform.
It's the best free PDF Reader for Windows for anyone with a Google account (which most of us do) and needs to read, rapidly edit, and print PDF files online. Additionally, you may use this online PDF Reader to convert your files to an editable doc format in a few clicks.
Pros:
Straightforward and clean interface.
Supports SSL encryption.
Store videos, PDFs, presentations, & photos.
Enables you to access your docs from anywhere
Cons:
While using the drive, we need to be connected to the Internet.
Price: Free, Paid plans start from $1.99 per month | Try Google Drive!
Final Words: Tips On Choosing The Right PDF Readers For Windows
To that end, if you're looking for a dependable yet powerful PDF Reading app for your Windows PC, keep the following aspects in mind:
The free versions are limited in functionality and are intended for beginners. Choose if you are a beginner and require the Fastest PDF Reader for viewing and minimal editing.
Choose a PDF Viewing & Reading Tool with an intuitive user interface to streamline the navigating process. You may like to use Foxit Reader for an optimal viewing experience.
Choose a free PDF Reader that includes editing, annotating, and sharing capabilities for advanced users. Expert PDF Reader is an excellent solution for using these features.
Select a PDF reader for Windows that is highly compatible with all prevalent file types. Consider using Google Drive or Nitro to manage a variety of file types.
ALSO SEE: Screen Recorder Tools
I hope you enjoyed today's Top List of the Best PDF Readers For Windows. If you've any queries, please leave them below.
FAQs: Fastest PDF Reading Apps For Windows 10 PC
Which is the best PDF reader for Windows?
Adobe Acrobat Reader is the most excellent free PDF viewer Windows and reader software available. In the paid category, you can consider Wondershare's PDFElement. It includes all of the capabilities necessary for reading, editing, annotating, and signing PDFs.
Is there a free PDF reader for Windows 10?
To that end, we've compiled a comprehensive list of the Best Free PDF Readers For Windows. Among the glut, the top options include Adobe Acrobat Reader, Foxit Reader, Javelin, Nitro, and Slim PDF Reader.
How do I get Adobe Acrobat Reader Free on Windows 10?
Adobe Acrobat Reader is the industry-standard free app for easy viewing, annotating, printing, and signing documents. You may download the tool by clicking here!
What is the difference between Adobe Acrobat & Adobe Reader?
Adobe Reader is a free PDF management app that lets users view and interacts with PDFs and other portable document file formats. On the other hand, Adobe Acrobat is a commercial version of the Reader that includes additional functionality for printing, protecting, and manipulating PDF files.