The rise of remote work that has been taking place over the last few years significantly changes the rules of the game in the market of collaborative software. Real-time document editing tools, like Google Docs or Microsoft Office Online, have turned into a must-have for teams of any size.
In this article, we will take a look at ONLYOFFICE Docs, an open-source alternative to the existing leaders in the industry, diving into its main features, benefits and pricing.
What is ONLYOFFICE Docs?
ONLYOFFICE Docs is not a relative newcomer to the industry. It's been around since 2012. In a nutshell, ONLYOFFICE Docs is an open-source online office package that is freely distributed under AGPL v3 and offers commercial editions for SMEs and software developers.
The office suite consists of web-based editors for text documents, spreadsheets, presentations and fillable forms and is designed for creating a collaborative environment on a local server or a private AWS cloud.
Interface
The suite's interface is intuitive and very familiar to the last editions of Microsoft Office. You will find all the editing and collaborative tools on the top toolbar divided into tabs. Navigation through the interface elements is easy, and even inexperienced users won't have any trouble trying to find what they need.
ONLYOFFICE Docs comes with three interface themes — Classic, Classic Light and Dark. You can switch between the themes at any moment in the Advanced Settings.
Supported formats
What makes ONLYOFFICE Docs a decent alternative to Microsoft Office online is its full compatibility with Word, Excel and PowerPoint files. The office suite uses the OOXML formats (DOCX, XLSX and PPTX) by default, so you can flawlessly work with the most popular file extensions.
Also, ONLYOFFICE is compatible with other popular formats through conversion to OOXML. For example, the office suite allows you to work with the outdated Microsoft formats (DOC, XLS and PPT), OpenDocument formats (ODT, ODP and ODS) and others, including TXT, RTF, EPUB, FB2 and HTML.
The built-in viewer makes it possible to open PDF and DjVu files and even convert them to DOCX.
Editing tools
As a modern office suite, ONLYOFFICE Docs lets you create text documents, spreadsheets and presentations for any purpose using a large set of editing and formatting features. You can easily apply various fonts and change their size, create and customize styles, insert different objects (tables, images, charts, shapes, headers, footers, etc.) in text documents, analyze and visualize data using conditional formatting in spreadsheets, create slides and apply transitions or animations in presentations and much more.
Importantly, the ONLYOFFICE editors come with third-party plugins. These extensions enable new features in addition to the standard functionality or make it possible to connect various services. Due to the plugins, the office suite becomes more powerful making the editing experience more pleasant.
For example, using the Mendeley and Zotero plugins, you can quickly create bibliographies and apply the required citation style with a few clicks. The Google Translate and Deepl plugins are designed for translating text into foreign languages. With Telegram and Jitsi, communication is made much easier. It's also possible to edit images and insert YouTube videos.
Fillable forms
What distinguishes ONLYOFFICE Docs from other office suites is the ability to create fillable forms. Starting from version 7.0, you can create documents with fillable fields from scratch or using an existing DOCX file. ONLYOFFICE forms combine the benefits of Microsoft Office content controls and Adobe forms.
Currently, ONLYOFFICE Docs supports text fields, images, radio buttons, combo boxes, checkboxes and drop-down lists. Each field has its own properties, so you can create tailor-made forms for any purpose, whether it be an application form or a legal contract. Ready-to-use forms can be shared with other users so that they can fill out the required fields and save the final version as PDF.
On the official ONLYOFFICE website, there is a free collection of form templates to suit any taste. Interestingly, you can even request a form that is not available yet.
Real-time collaboration
The following are several key collaborative features ONLYOFFICE Docs offers:
Two different co-editing modes, Fast and Strict;
Flexible access permissions —  full access, reviewing, commenting, viewing, form filling for ONLYOFFICE forms and Custom Filter for spreadsheets;
Track Changes;
Version history and control;
Document comparison;
Comments;
User mentions;
Built-in chat for text messages.
The co-editing experience is somewhat similar to what you usually get with Google Docs or Microsoft Office Online. You simply share a document with other users giving them the required access permission and start editing it in real time. When collaborating in Fast mode, you will instantly see the edits made by your co-authors. In Strict mode, all changes become visible only after you click the Save button.
Enhanced security
As a self-hosted solution, ONLYOFFICE Docs allows you to control your data because no bit of personal information is stored on ONLYOFFICE servers.
Additional security features that you can find in ONLYOFFICE include:
JSON Web Token to protect files from unauthorized access;
In-transit data encryption via the HTTPS protocol;
Encrypted real-time collaboration in Private rooms.
What's more, you can protect documents with passwords and digital signatures as well as restrict the copy, download and printing options. You can also prevent other users from changing the existing sharing settings.
Integration options
Currently, there are more than 30 integration options for ONLYOFFICE Docs. You can integrate the suite with various document and content management services and file storage platforms using ready-to-use connectors. The most popular integrations are ONLYOFFCE Workspace, WordPress, Nextcloud, ownCloud, Redmine, Jira, Plone, Seafile, Drupal, Alfresco, Confluence, Nuxeo, Seafile, SharePoint, Chamilo, Moodle, etc.
ONLYOFFICE Docs also supports the WOPI protocol, so it's possible to integrate it with any WOPI-compatible software.
Mobile and desktop apps
The ONLYOFFICE project offers a free desktop app for Windows, Linux and macOS. The desktop editors are built on the same engine as the online editors, so you will hardly notice any difference between the desktop and online versions.
There are also official mobile apps for Android and iOS that can be downloaded from the corresponding app stores. The ONLYOFFICE mobile apps are free and have no ads or in-app purchases.
Pricing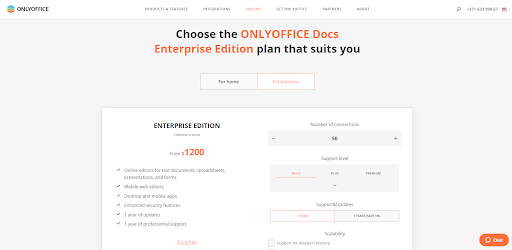 ONLYOFFICE Docs is available as Community Edition that is free and comes the the full editing functionality.
However, you can always switch to a commercial version if you need professional technical support and instant access to regular updates. All commercial editions of ONLYOFFICE Docs offer a free 30-day trial, so you can test the solution before purchase.
For SMEs, prices start from $1,200 per server. For software developers, there is a special version of ONLYOFFICE Docs that allows them to distribute the ONLYOFFICE editors as part of their own web solutions.
Conclusion
ONLYOFFICE Docs is a reliable online office suite that combines the collaborative benefits of Google Docs and Microsoft Office Online with advanced security and privacy control. That fact that you can integrate it within the frameworks of any IT ecosystem is a real competitive advantage in comparison with the products by the above-mentioned tech giants.