Here's A Rundown To The Best Free Anti-Tracking Software, Browsers and Extensions For PC (2022)
Regardless of what you do, you leave a digital footprint if you use the Internet. It doesn't appear to be a problem as long as those footprints are not being followed for financial advantage. Unfortunately, that is not the case anymore, but the reality remains that every time you spend online is being tracked. You may not be aware, but your online actions, such as browsing, playing games, streaming movies, talking, and using social media, are tracked. It enables us to ascertain your preferences and interests and target you with relevant adverts.
Moreover, it was never a coincidence that you desired to get a TV and that TV ads began appearing on YouTube, odd websites, and other ad-supported apps. Well, this article best AntiTrack software for better online privacy will help you in selecting the best anti-tracking software that will not prevent advertising from being displayed but will ensure they are not personalized to your searches.
According to the Beyond the Front Page Study conducted in 2020, 55 cookie files are loaded when you visit a website, and around 78 cookies are loaded when you visit more pages on the same website. Certain websites permit you to access material only if you agree to allow them to set cookies on your computer, gathering and sharing your information with these websites. There is a global debate about this monitoring industry.
Furthermore, Apple was one of the first to implement App Tracking Transparency in iOS 14.5 to allow consumers to choose whether or not they want to be tracked by the apps on their phone. Facebook has long been opposed to this function, believing that it would deprive many marketers and marketing agencies (including itself) of the opportunity to attract users by presenting them things relevant to their interests.
Additionally, while the debate continues over whether tracking users is appropriate or not, let us look at the finest Free Anti-Tracking Software that will assist us in safeguarding our data, browsing history, and online activities. Besides, these Free Anti-Tracking Software contains the following features:
Browser Extensions
Secure Browsers
Desktop Apps
Best Free Anti-Tracking Software/Plugins/Apps You Must Use (2022)
Browsers are the tools that enable you to browse the internet; therefore, it is only natural that we halt tracking activities at their source. Thus, the best way for preventing trackers from collecting any information about you is to use a browser extension that can be termed an add-on or plug-in.
Moreover, browser extensions are often free, resource-efficient, and interoperable with most common browsers. For example, ad-blocking extensions are the most frequently used extensions for preventing adverts from loading on the pages you visit.
Best Anti-Tracking Browser Extensions to Prevent Tracking (2022 Picks)
Check out the topmost recommended browser plugins/add-ons you must try using in 2022.
1. Privacy Badger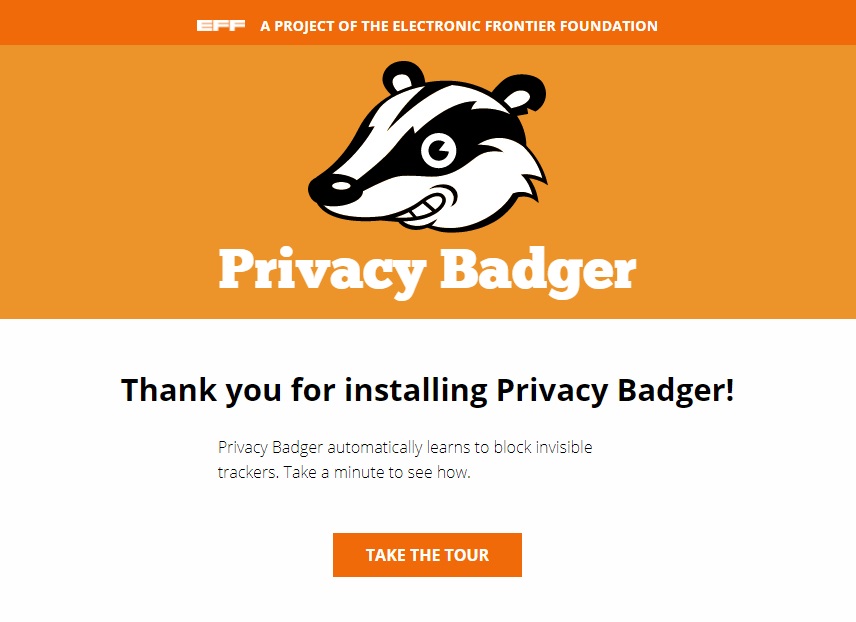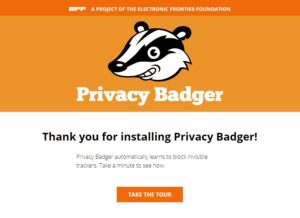 The first Free Anti-Tracking Software to enhance your privacy on the list is Privacy Badger, compatible with Microsoft Edge, Opera, Firefox, and Google Chrome. The Electronic Frontier Foundation, a non-profit organization dedicated to civil rights in the digital age, produced this addition. It employs sophisticated algorithms to prevent cookies, local super cookies, and domain-specific fingerprinting methods.
Furthermore, users can accept or refuse domains, disable cookies, and modify the filtering process with Privacy Badger. The list of blocklisted web trackers is presented, complete with their names, numbers, and origins. Additionally, users can transfer their preferences from another browser and sync them with the current device.
Pros
Easy-to-use and configurable.
The extension does not block ads unless they happen to be tracking you.
Securely block invisible trackers.
Blocks a wide selection of annoying ads on YouTube, Facebook, etc.
Cons
Uses a significant amount of RAM.
Click Here for Official Website
2. Ghostery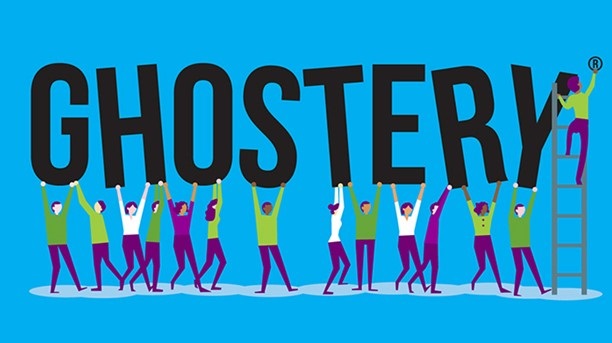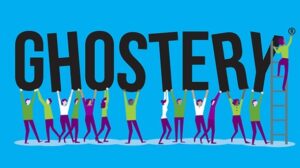 Ghostery is the next Free Anti-Tracking Software or extension on the list, and it is available for Firefox, Opera, Edge, Cliqz, and Google Chrome. It features a customizable interface and an easy-to-use interface.
Additionally, it displays a status bar at the bottom and not recognize by many websites that have implemented anti-tracking techniques.
Pros
Equipped with award-winning AI anti-tracking technology.
Open-source anti-tracking extension for popular browsers.
Stay informed about what companies are tracking you.
Declutter webpages and speed up page loads.
Cons
Some sites require you to pause Ghostery.
Click Here for Official Website
3. Disconnect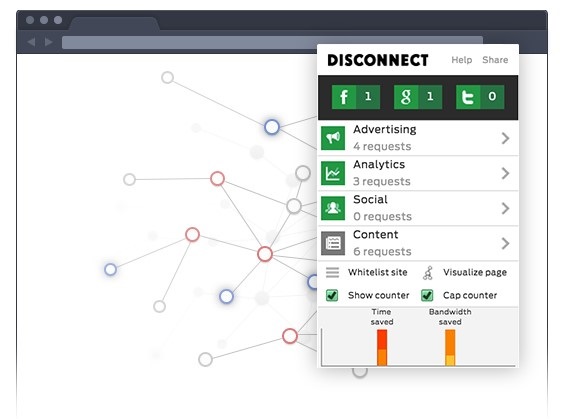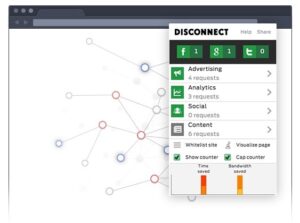 Disconnect's basic version is Free Anti-Tracking Software that works with all popular browsers, including Opera, Samsung Browser, Firefox, Safari, and Google Chrome. Because advertisements on websites contain trackers, this extension disables all ads and trackers, resulting in a website loading 27 percent faster and consuming 17 percent fewer data. Additionally, it displays the actual statistics at the bottom of the window and prohibited requests from Facebook, Twitter, and Google.
Besides, this anti tracker app has a Whitelist button that enables users to manage websites that may gather data manually if necessary.
Pros
Supports blocking 2,000+ websites.
Support for Whitelisting and Blacklisting sites are supported.
Known for improving page loading time up to 27%.
A visually attractive dashboard shows the time, bandwidth, and other details.
Cons
Click Here for Official Website
4. uBlock Origin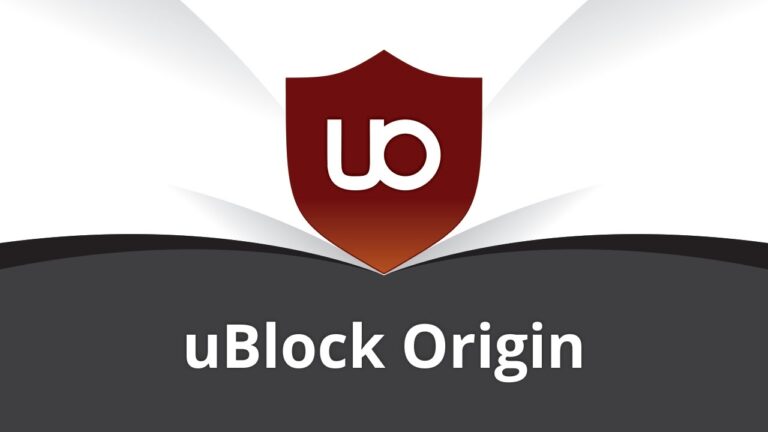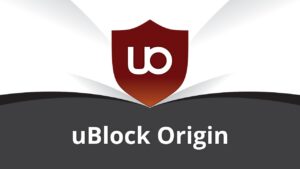 The most excellent and Free Anti-Tracking Software is uBlock Origin, which displays the figures and information about what has been blocked in the most informative manner possible. Additionally, users can switch to manual blocking of web page elements. Besides, it means that users have complete control over the ability to disable JavaScript and popups. Customer filters are easily applied to various websites, displaying trackers and sources.
Pros
Free and open-source anti-tracking app.
Support for Dark Mode has recently been added.
Stays easy on a CPU and memory.
Highly customizable and powerful anti-tracking extension.
Cons
It can cut off your access to other video-based sites like YouTube & more.
Click Here for Official Website
5. AdGuard
Regarding the best Free Anti-Tracking Software, one cannot overlook AdGuard, which has a vast number of filters comprised of more than 5000 criteria. These rules ensure that trackers cannot acquire data or information without the user's authorization. This plugin is responsible for disabling site trackers, advertisements, and other technologies implied to collect data.
Additionally, it indicates the number of trackers blocked for each website but did not specify what was stopped. Besides, this plugin allows you to conceal your search queries and IP address when connected to a Virtual Private Network.
Pros
Make your web surfing faster, safer, & more comfortable.
Good user-dashboard.
The anti-tracker software hides your data from a multitude of trackers.
Excellent parental control features are supported.
Cons
Click Here for Official Website
Best Anti Tracking Software – Secure browsers
Secure browsers do not require addons and are well-designed to disable trackers by default. They also include a VPN to conceal your IP address. While browser plugins can assist prevent tracking to some extent, if you want greater privacy and are willing to change your browser entirely, here are three anti-tracking browsers.
6. Tor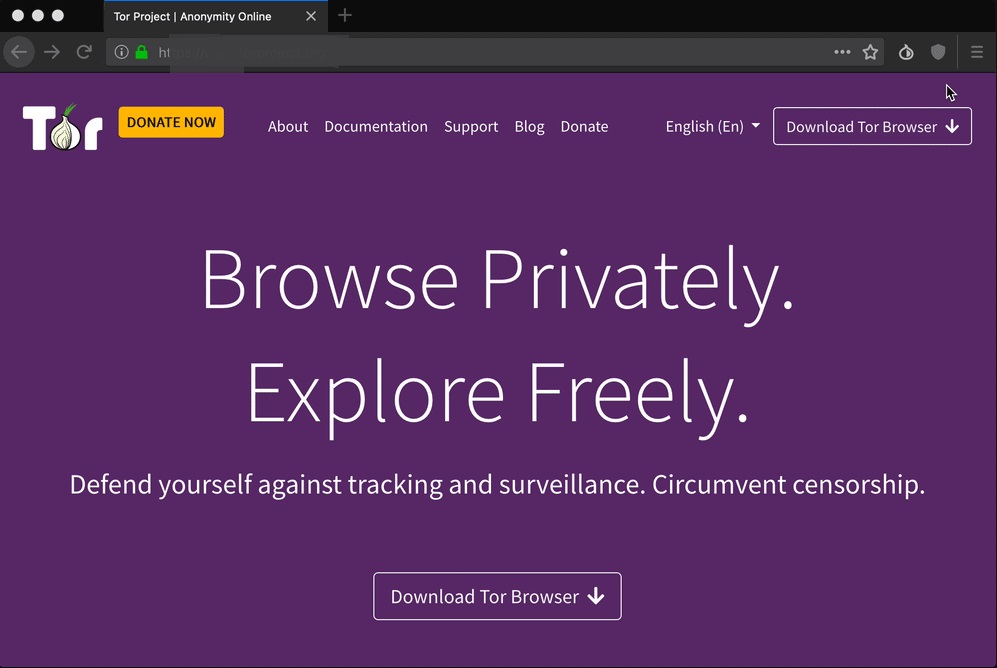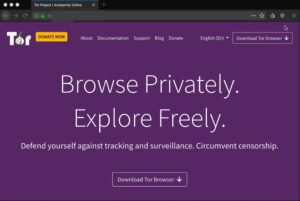 Tor is a great browser that doubles as a Free Anti-Tracking Software. It runs on Windows, macOS, and Linux. This browser connects to an anonymous proxy network and enables users to bypass geo-restrictions. This browser is based on the Mozilla Firefox platform and is compatible with all Firefox extensions and add-ons. This enhanced privacy browser prevents users from altering settings inside predetermined sets.
Moreover, standard mode is one of the predefined sets; it is a standard browser mode that accomplishes nothing. The next mode is Safer, in which many advertisements are blocked, but some do appear on occasion. In addition, the fourth mode is the safest, as it bans nearly all advertisements on websites that use Javascript. While the Tor browser does not include a list of web trackers and their origins, it is the most secure and protected browser available today. It detects advertisements, scripts, cookies, and fingerprints and masks your IP address.
Pros
Top-notch protection against tracking, surveillance, and censorship.
It can be used at the same time as a VPN service or other proxy.
Free anti-track software and relatively easy to setup & use.
Supports almost all major operating systems.
Cons
Bandwidth speeds are often reduced when using this free anti-track software.
Click Here for Official Website
7. Cliqz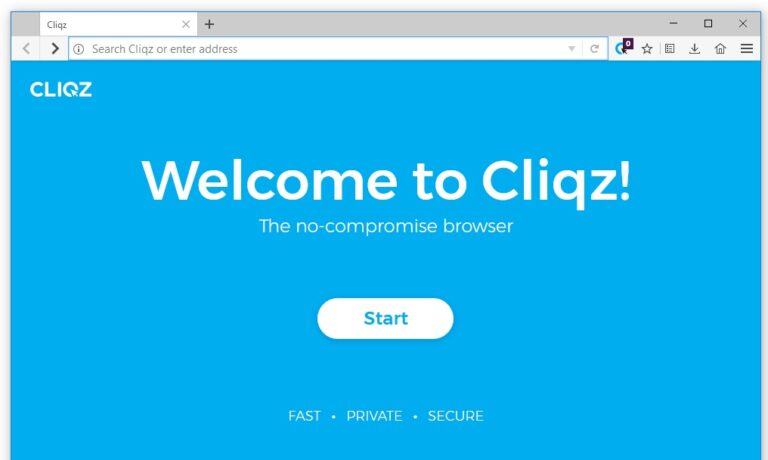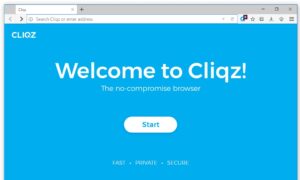 Cliqz Browser is the next entry on our list of the best Free Anti-Tracking Software because it is built on the same platform as Firefox. It's compatible with both Windows & Mac OS X. The anti-tracking feature is quite sophisticated, as it disables all suspicious data exchange in circumstances where the user has inadvertently accepted and allowed cookies while browsing. In addition, there is a Strict box that, when ticked, stops all advertisements from appearing.
Additionally, this browser's address bar includes a Cliqz search engine that can be used instead of Google and Bing. The search engine returns relevant results, and the browser also allows users to use whatever search engine they like.
Pros
Its built-in search revolutionizes the way you search the Internet.
Its safety architecture provides you back your anonymity.
Get all the essential information even before you visit the websites.
The Cliqz browser will safe you from such identity theft.
Cons
Doesn't receive frequent updates.
Click Here for Official Website
8. Brave


Brave is now included in the list of Free Anti-Tracking Software for browsers. This browser is renowned for its unmatched privacy and security features and has consistently ranked as one of the most secure browsers. The Brave browser does not store or keep any user information on its servers, implying that all data used while browsing is saved on the user's hard disk. Besides, by default, this browser uses the HTTPS protocol, which ensures that all communication between the user & website is encrypted at all times. Other security threats such as Malware, Adware, Trackers, and Phishing are prohibited by default.
Furthermore, Brave browser is unique in that it maintains a reward system based on its own money, BAT. Users can earn this cash by seeing Brave partner advertisements and donations to the developers. Although most of the needed settings are set by default, users can still customize specific options such as an adblocker, cookies, social media, HTTPS, and script blocking.
Pros
Provides better protection from Google and Big Tech.
Anonymized network routing is supported.
Cross-site trackers blocked.
Malware and phishing protection is provided.
Cons
Lack of extensions & add-ons.
Doesn't always work well with every website.
Click Here for Official Website
The Tor browser provides anonymity, security, and protection; however, if you prefer an easy-to-use browser with a VPN, Brave may be your best option. However, if you wish to avoid Google, you can use Cliqz's search engine.
Best Anti Tracking Software – Desktop apps
If you're seeking the best Free Anti-Tracking Software on a more comprehensive level, you may need to look beyond Browsers and Extensions and choose a full-featured program that monitors all online actions on your PC. Besides, this software includes numerous features like anti-tracking, ad-blocking, anti-phishing, anonymous IP addresses, parental control, fingerprint management, and the ability to manage all of your browser history and data.
9. AdGuard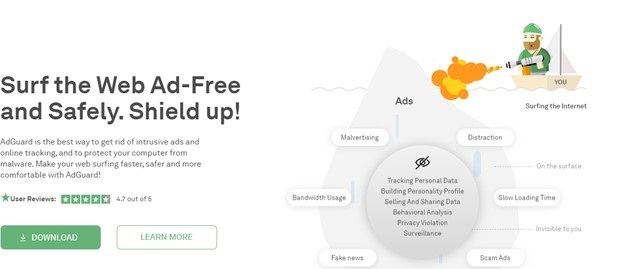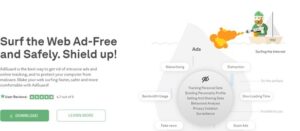 The first Free Anti-Tracking Software installed on your computer is AdGuard, which offers a slew of unique features for $30 for a one-year personal subscription. Parental control, anti-malware, cookie blocking, anonymous IP address, adblocking, and anti-phishing are among the features. In addition, there is a Stealth Mode in which sophisticated users can modify the cache and cookie clearing process. Additionally, users can enable do not track requests and disable WebRTC, Flash, and Java content.
Moreover, the IP address concealment feature is not a VPN app because it covers the system and browser settings completely but allows the IP address to be recovered. However, given that this is anti-tracking software, these settings are pretty enough. In addition, users can use the Parental Control feature to prevent pornographic content and filter search results. Besides, the AdGuard is compatible with all browsers and even with third-party apps such as Utorrent.
Pros
The ad-tracking software works silently in the background.
Has an excellent GUI interface.
It efficiently blocks pop-ups, trackers & malicious websites.
Available for multiple platforms like Windows, Mac, Android, and iOS devices.
Cons
Some bugs are working when starting the app.
Click Here for Official Website
10. Avast AntiTrack Premium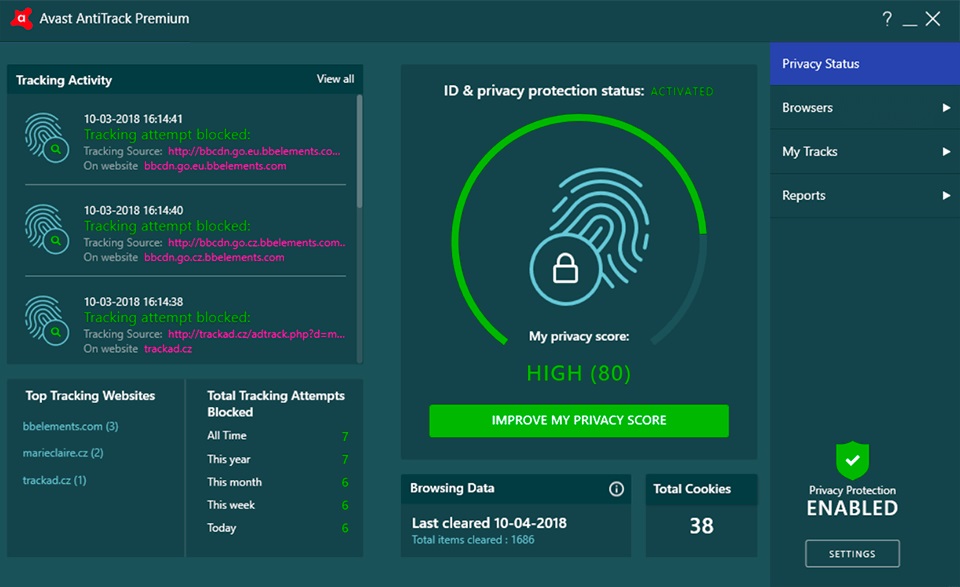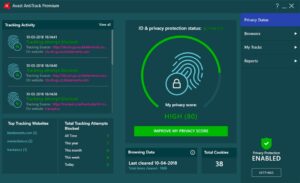 The following Anti-Tracking Software is Avast AntiTrack Premium Software, which Avast developed. This software company has been around for a long time and is well-known for its Anti-Virus. This best antitrack software has a straightforward design and provides a unique summary of the data blocked. This app's primary functions include anonymous browsing, barring access to dubious websites, notifications on web trackers, anti-fingerprinting, and adblocking.
Further, although the app is running in the background while the browser is open, it disables incoming ad scripts. You can only view the information in the report tab; you cannot edit it. One of the most intriguing security features is the ability to change the digital fingerprint — so avoiding de-anonymization. After identifying tracking attempts, the app automatically adjusts fingerprints.
Pros
It uses anti-fingerprinting technology, making it a top-notch anti-tracking app.
The Free Anti-Tracking Software hides your purchases, so you don't see the same ads.
Block trackers from collecting & sharing your data by disguising your online identity.
Clears your browsing history and cookies.
Cons
Doesn't support hiding your location.
Click Here for Official Website
The Final Word On Best Free Anti-Tracking Software
Free Anti-Tracking Software is available in various forms, including browser extensions, browser add-ons, and desktop software. Users may easily disable advertisements and trackers by installing an extension on their preferred browser or switching to Tor or Brave. Most addons and browsers provide free versions.
ALSO SEE: Manga Sites
However, suppose you are passionate about protecting your PC and safeguarding your privacy and are willing to spend a little money. In that case, you can go for AdGuard complete desktop security and parental control. In addition, you may find us on Facebook, Instagram, and YouTube on social media.
People Also Ask:
What is web tracking?
Web tracking is capturing and analyzing a user's online activity, which may include online buying, streaming movies, playing games, and browsing history, among other things.
What is fingerprinting?
Your IP Address, like your fingerprints, is a unique collection of numbers. Digital fingerprinting is a procedure that tracks your online activity using your IP address, which is the only piece of information that is constant and unique to each user.
Can fingerprinting be avoided by using extensions?
Browser extensions cannot wholly prevent digital fingerprinting since they cannot shield users from the content viewed on a particular browser. In addition, a browser extension does not protect any online activities conducted through apps.
Why should I use anti-tracking software?
Free Anti-Tracking Software download protects users' online behaviors from marketing agencies and advertisers, which means you won't get personalized adverts for the goods you just searched for.
What is a VPN?
Users can use Virtual Private Networks to conceal their IP addresses and protect their anonymity. They are a component of anti-tracking software that consists of a group of modules, of which VPN is one.
Can I use an ad blocker instead of an anti-tracker?
Trackers are typically delivered to a user's PC via advertisements. Thus, an ad blocker can prevent advertisements and pop-ups from appearing on your computer, thus blocking most trackers. However, a few trackers follow your activity using cookies, which a simple adblocker cannot disable.
What are cookies?
Cookies from third parties are small files injected into the user's computer and saved on their hard drive. These cookies capture information about the user's personal information and enable automatic sign-in for the user. In addition, these cookies frequently save the things added to the cart during online shopping so that when the user returns the next day to complete their buying, the products will already be in the cart.
What is phishing?
Phishing is a scam where an unauthorized individual obtains information about a user's personal information and uses it to commit fraud.
Is Anti-tracking software efficient against phishing?
When a user attempts to browse a new website, Free Anti-Tracking Software compares it to harmful domains and IP addresses database. Additionally, by using anti-tracking extensions and browsers, you will verify that you are using HTTPS, a secure and encrypted protocol only used by trustworthy websites.
Do Social Media websites track your online activities?
Social media websites and apps are among the most prolific trackers. They keep track of your online activities and interests to tailor their advertisements, recommendations, and suggestions to the user's preferences and history.
What should I use to stop tracking on my PC?
While Free Anti-Tracking Software such as AdGuard is suggested for total protection against trackers, if you're seeking a free alternative, the Tor browser is the best option, as advised by the majority of specialists worldwide.