Do you wish to protect your personal information on social media? Then it is recommended that you check out how to Deactivate Facebook Messenger or delete it. However, how does Facebook harvest its users' data?
You may recall the 2016 Cambridge Analytica Scandal. Former US President Donald Trump employed this UK-based data corporation to collect over 50 million Facebook users and manipulate the election voting box.
Additionally, it was revealed in 2018 that Facebook was monitoring and collecting data on users' activity via its Onavo VPN service. They are compromising your privacy, acting unethically, violating privacy laws, and primarily targeting children through big data breach incidents (ages 13-17). They eventually moved far away to extract every last bit of data from their subscribers.
As a result, nearly everyone is now avoiding Facebook. On the other hand, if you believe that canceling your Facebook account also deactivates Messenger, you are incorrect. While Facebook owns both, they are different services. Therefore, you may need to deactivate or remove Messenger independently to safeguard your privacy. Keeping this in mind, this is only possible if your Facebook account was previously deactivated. Not to mention, if you want to erase Messenger, you should also cancel your Facebook account. Thus, how can I disable Facebook Messenger? Here's a simple reference guide for you.
Why Should You Delete Messenger?
All of your private information is stored in your Facebook Messenger. You authorize the app to access your contacts, microphones, and cameras during the installation process.
Is your Facebook Messenger account secure? No, it is not. Additionally, it rates poorly on the "secure messaging apps list." It is capable of tracking your behavior and gaining access to all of your device's online activities. Besides, it does not encrypt your private chats end-to-end.
However, block the microphone and camera access if you wish to continue using Facebook or Messenger.
How Do I Deactivate Messenger
Deactivating Facebook Messenger is simple and takes a few seconds. However, whether you choose to deactivate or permanently remove it, you must first deactivate or delete your Facebook account.
How to Deactivate Messenger on iPhone/iPad
Follow the simple steps below to deactivate Messenger from your iOS device.
Open Messenger on your device, then log in.
Next, tap on the profile picture in the upper left corner.
Scroll down to open Account Settings.
It'll redirect you to a page. For example, go to Your Facebook Information.
Tap on Account ownership and control.
Click on Deactivation and deletion.
A new page will inform you that you must first deactivate/delete your Facebook account. Choose your preferred option. If you remove your Facebook account, only Messenger is permanently erased. Otherwise, tap Continue to deactivate your account.
Submit your password to confirm.
Choose Submit.
However, if you haven't deleted your account, you can reactivate it. Log in to Messenger using the same login id and password the next time.
Deactivate Messenger on Android
The process is a little different than the iOS device.
Open the Messenger chat on your Android phone.
From Chats, click on your profile picture in the upper left corner.
Go to Legal & Policies.
Tap Deactivate Messenger.
Next, enter your password.
Tap Submit.
Log in with the same username & password to reactivate. However, keep in mind that you must first deactivate Facebook for this to function.
On the other hand, the deactivation process does not operate on Mac or PC. It is only feasible via mobile apps. Therefore, if you lose your phone or use a device other than a mobile device, contact Facebook support and request that your Messenger account be deactivated.
Alternatively, you can wait until Facebook updates its official documentation on how to deactivate Messenger on any device.
How To Delete Facebook Messenger Permanently
As previously stated, it's not possible to remove Messenger without also deleting the Facebook account. Additionally, deactivating Facebook does not deactivate Messenger. That must be done independently.
Let's know how to delete the Facebook account.
Firstly, log in to your Facebook.
Tap the three vertical rows on the upper right corner.
Now, go to Settings & Privacy> Settings.
Scroll down to find Your Facebook Information and choose Account Ownership and Control.
Choose Deactivation and Deletion.
Select Delete Account and tap Continue to Account Deletion.
Provide your reason and tap to continue further.
Enter your password and tap Continue.
Now that you've uninstalled Facebook, repeat the instructions above to delete Messenger. Indeed, by deleting both, you're eliminating all associated posts, images, videos, and social networking data. As a result, safeguard your online social life.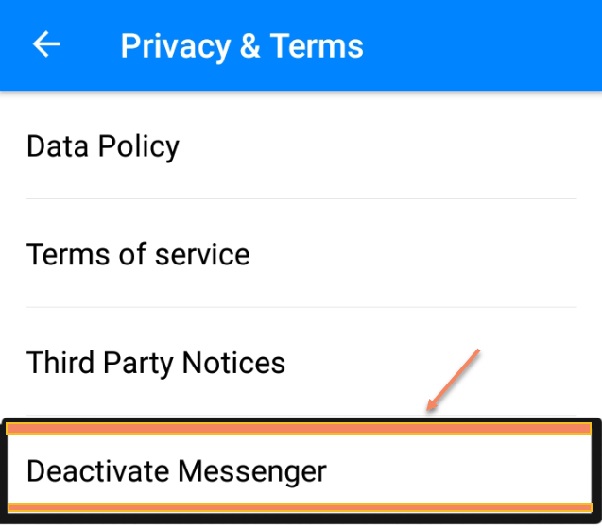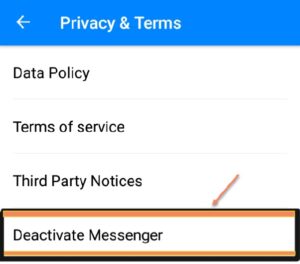 However, before you delete Facebook from your smartphone, you can download photos and posts to it. Otherwise, they are unrecoverable.
How Can You Turn Off Your Messenger Notification
You do not wish to cancel or delete your Facebook Messenger account. There is no issue. Finally, if you're bothered by Messenger notifications, you can disable them and hide your activity status.
Open the chat and tap on your profile picture in the upper left corner.
Tap Active Status.
Toggle the switch off if it's on to show you inactive.
Now go back.
Tap Notifications & Sounds.
Disable Do Not Disturb. As a result, you'll not receive any notification from Messenger. Additionally, you can customize its settings independently, such as turning off the notification sound, ringtone, and vibration.
Summary
To safeguard and conceal your privacy from prying eyes, it's best to avoid social media. The first step is to delete Facebook and Messenger. Unfortunately, however, it appears to be unattainable in today's reality.
ALSO READ: Boxed Packaged Goods
Although Facebook will not easily let go of you. Following your deletion, it may take up to 90 days to erase all your posts and images. Furthermore, you still have your photos on your friend's wall. To delete those as well, contact them and request deletion. Additionally, the messages you send to your friends are retained in their chat history. Therefore, exercise caution when publishing personal information over social media.