Convert PDF To Word: Converting and saving Word documents to PDF files has always been easy; the reverse is not true for PDF to Word conversions.
This post will examine some of the best ways to convert PDF to Word and how to convert Word to PDF. Additionally, we'll look at ten of the best converters available.
Continue reading as we examine a look at some of the most popular free PDF to Word converters available online. Online converters are the most convenient option because they work with the majority of web browsers.
Ten Best Tools To Convert PDF To Word
Tools To Convert PDF To Word that you can use.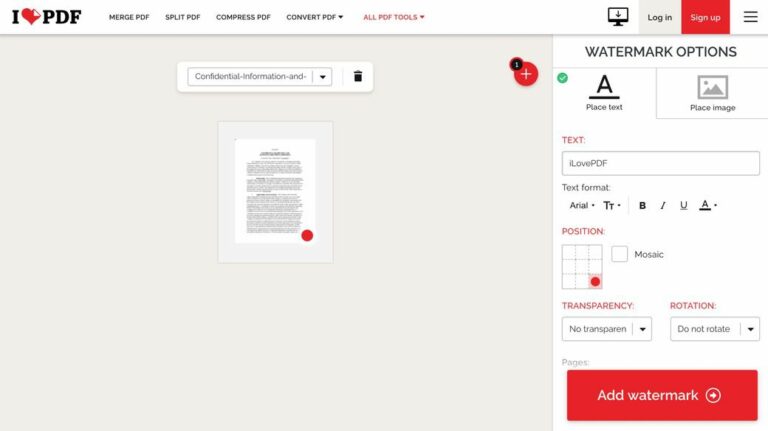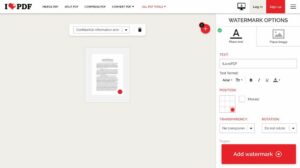 ILovePDF converter is one of the most straightforward PDF tools online available, taking a minimalist approach to PDF conversion. It includes a robust set of free PDF processing tools for file conversions, compression, merging, watermarking, rotation, and splitting, among other functions.
You can register to gain access to additional free features (15 MB files, 2 hours of link life, and 10 downloads). Additionally, a premium version is available that is ad-free and includes premium access to an iLovePDF mobile app, the largest file size per task, and the maximum number of files per task.
1- Either select the file to convert or drag it into the box (you can also choose one from Dropbox or Google Drive).
2- To convert to Word, click the "Convert to Word" button.
3- Once the file has been prepared, download it.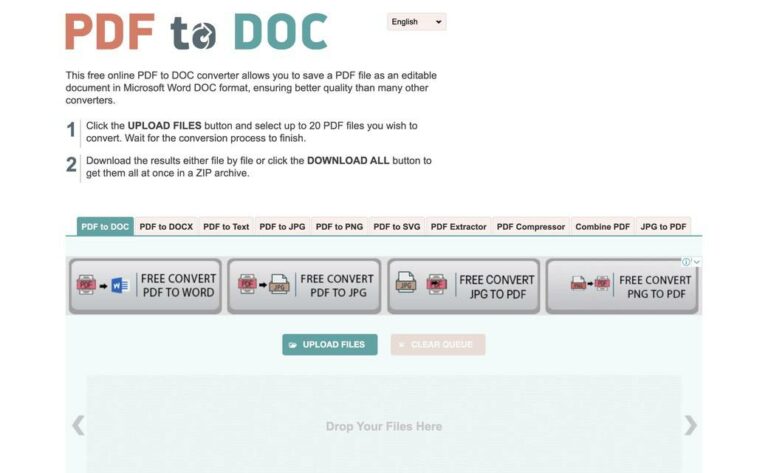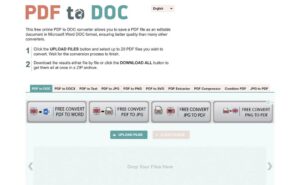 The PDF2DOC web service's interface is fairly straightforward and simple to use; the service is also free and compatible with mobile devices. PDF2DOC generates a Word document that retains the original PDF text, fonts, layout, and bitmap images. Here, You can convert up to 20 files simultaneously and download them individually or in bulk in ZIP archive format.
1- Simply click the Upload Files button or drag and drop your files into the appropriate box (up to 20 files).
2- Wait for the conversion to complete.
3- Download converted files individually or in a ZIP archive by clicking the Download All button.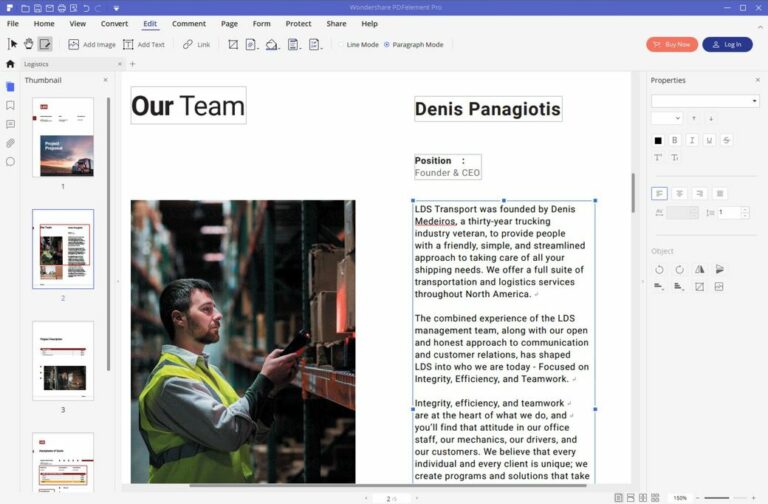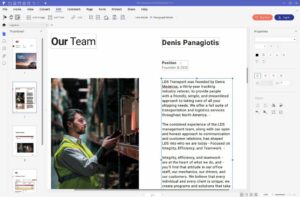 Well, The trick is to find a way to convert PDFs to Word or other programs that are also simple to use. PDFelement from Wondershare accomplishes precisely that.
They've created a professional-looking, feature-rich app that converts PDFs seamlessly to Word, Excel, EPUB, PPT, Pages, HTML, RTF, and text formats without compromising the app's simple user interface. Along with its intuitive interface, PDFelement enables you to annotate files, add text, export data, create forms, and integrate password encryption and permission-based restrictions.
PDFelement is a full-service solution that enables you to easily create and distribute PDF forms. To get started, PDFelement offers a free trial followed by two paid subscription plans. Well, Without all the fancy features you really want, the Standard version is quite limited. So a better option is to purchase the Pro Version, which includes everything you require.
PDFelement has garnered numerous accolades for its outstanding product. PDFelement is used by a number of well-known companies, including Hitachi and Deloitte.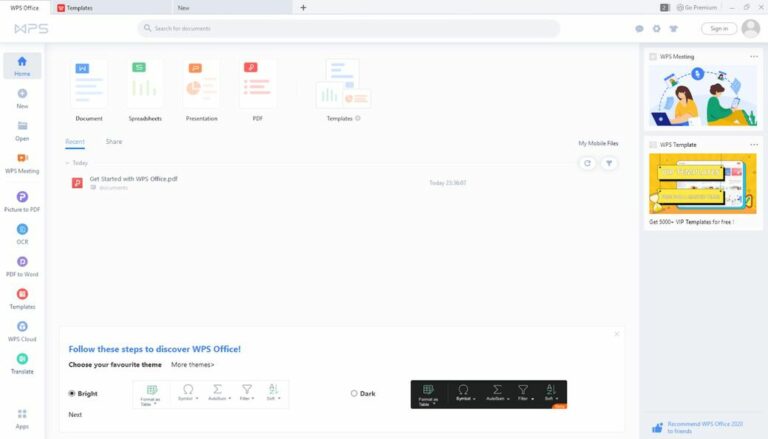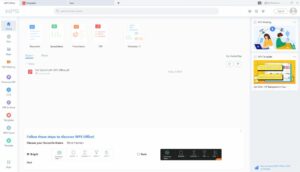 Well, Because WPS PDF to Word Converter is a desktop app, it is significantly faster than many online tools. The app processes files in batches while maintaining their integrity and accurately reproducing text fonts and layout weights.
With the free version of the app, you can convert files up to five pages in length; however, if you need to convert files with no limit on the number of pages, the premium version of the app will cost you $19.99.
1- Once WPS Writer is launched, navigate to Special features > PDF to Word.
2- Once the WPS PDF to Word Converter window appears, drag or open a PDF file from your computer into the converted area.
3- Depending on your needs, select the saved type and location for your PDF file and click "Start" to convert it.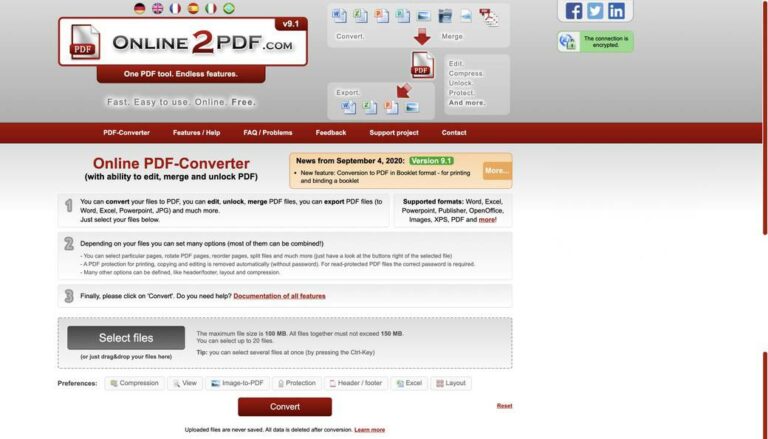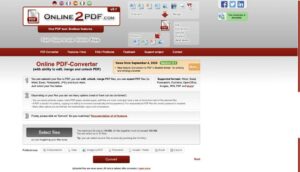 Online2PDF is one of the simplest and quickest ways to convert PDF files to Word documents or other Microsoft Office file types. It is a one-stop PDF converter that supports six different languages, making it one of the most popular and accessible online converters.
Unlike some other converters, Online2PDF preserves PDF annotations during conversion, ensuring that your comments and edits are saved in the new document. Additionally, Online2PDF supports bulk conversions, which is perfect for those who need to work with a large time of files concurrently.
1- To access Online2PDF, click the link in the header.
2- Once the site is open, scroll down to the button labeled "Select files."
3- Select up to twenty files to convert simultaneously by clicking "Select files."
4- After you've selected your files, click the "Convert to" list button to specify which file type you want to convert.
5- To get started, click the large red "Convert" button. This is the final step, as the newly converted files will automatically download. Easy!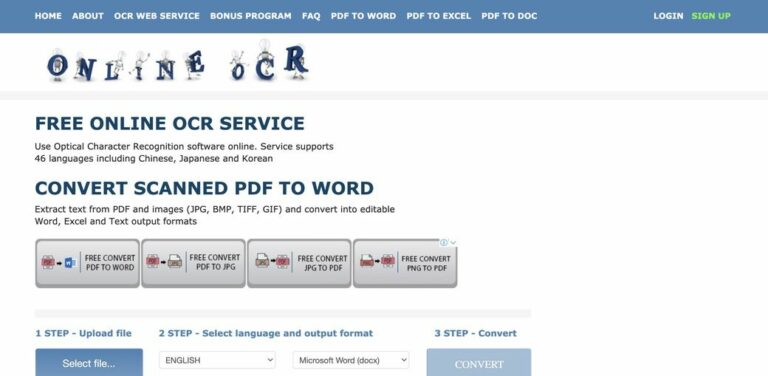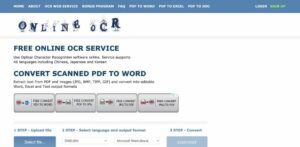 It's all in the name of OnlineOCR. If you're unfamiliar with the term, OCR refers to optical character recognition software, which is required for correctly recognizing foreign characters during the conversion process.
With embedded OCR technology, the OnlineOCR converter is one of the most effective tools for converting documents that contain foreign language characters, such as those found in Korean, Chinese, and Japanese. In addition, OnlineOCR supports over 45 languages, so there is a good chance it will work for you.
The only disadvantage of OnlineOCR is that it has a conversion limit of 15 conversions per hour for guests. Therefore, if you've a large number of conversions to complete in a short service of time, OnlineOCR may not be the best option for you.
1- To open using the OnlineOCR converter, navigate to the site via the link in the header.
2- Complete the steps on the homepage by clicking the "Select file" button and uploading your file.
3- After that, select the language and output format.
4- Click the "Convert" button to obtain the newly converted file.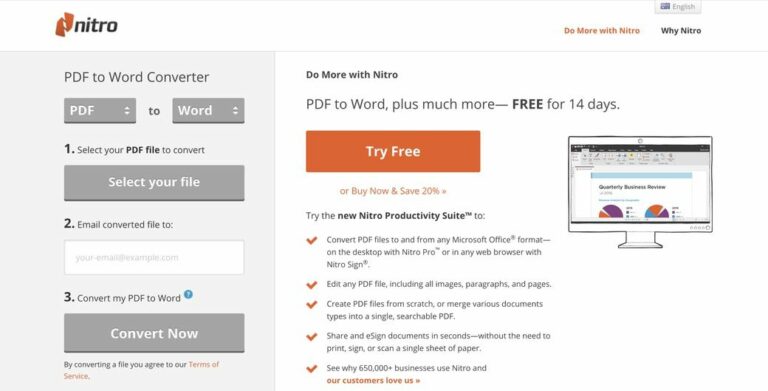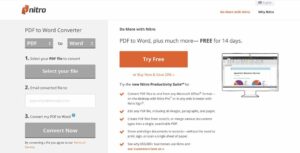 Nitro PDF to Word Converter is available in two versions: a desktop app for Windows and a free online version. We'll take the second into consideration.
The free online PDF to Word converter enables you to upload multiple files and select from a variety of different formats (including Word, PowerPoint, and Excel). Well, Once your file has been converted, it will be emailed to you. Unfortunately, one of the most significant disadvantages is that each email address is limited to five file conversions per month, a limit that is unavoidable.
Although the converted file is of high quality and the text is well preserved, there may be some issues with images, rogue spaces, and line breaks.
1- Choose the PDF file to convert from the select-down menu.
2- Enter an email address to which you'd like to send the converted file.
3- To start, click the "Convert Now" button.


SodaPDF is a versatile program that includes a variety of useful tools for merging and compressing PDF files, as well as editing and, of course, converting PDF files to Word. While SodaPDF is primarily available as an online browser service, its downloadable version is also available for offline use. In addition, SodaPDF supports batch converting, which makes it perfect for performing bulk conversions efficiently.
Well, One of the advantages of SodaPDF is that converted files are deleted from their web servers within 24 hours or less, making it an excellent choice for those concerned about privacy. However, in comparison to other converters such as OnlineOCR, SodaPDF is only available in a select number of languages. Therefore, for those who work with non-Latin alphabets or other special characters, SodaPDF's performance may vary.
1- To open SodaPDF, navigate to the site via the link in the section header.
2- Drag and drop your files into the box or select the "Choose File" button to upload files from your computer, Google Drive, or Dropbox account.
3- By selecting a word document, it will be converted to PDF automatically. When you select a PDF file, you will be prompted to select the output file format you wish to use. By selecting the file type, the conversion process is initiated automatically.
4- Click the "Download Now" button to download your new file.


FreePDFconverter is one of the most straightforward and straightforward converters available online. It is free of annoying and cluttered advertisements and features an elegant and user-friendly interface. With over ten million users and hundreds of thousands of successful conversions, FreePDFconverter is well-known for its dependability among its devoted user base.
FreePDFconverter's extensive collection of PDF-enabled tools enables you to edit your PDF documents by splitting, compressing, rotating, and deleting unnecessary pages. While these tools are excellent for editing PDFs, this converter makes no mention of languages other than English, which means that it is not calibrated for optical character recognition.
Finally, this converter is not free, despite its name. When you attempt to convert, a popup window will appear requesting that you sign up and subscribe for $5 per month. As a result, we are unable to recommend FreePDFConverter, as the program does not live up to its name.
1- To open FreePDFconverter, click the link in this section's header.
2- Click a PDF file by clicking the blue "Choose PDF File" button or by dragging your files into the box.
3- After choosing a file, the converter will automatically convert it to Word.
4- If your document exceeds two pages in length, you must pay and subscribe.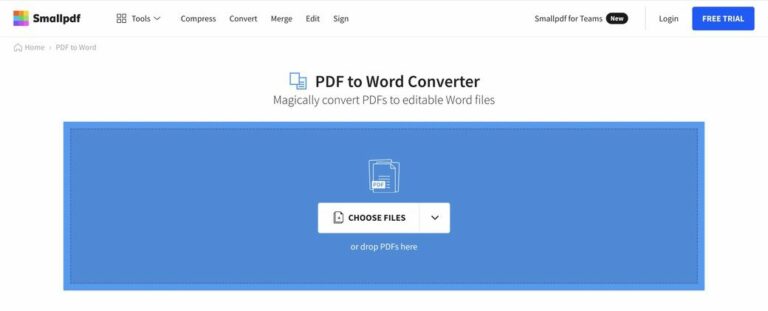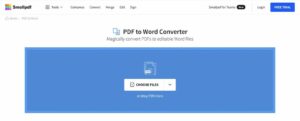 SmallPDF is a powerful browser-based PDF to Word converter that features a straightforward and easy-to-use interface and is focused on converting an excellent user experience. Well, It is capable of converting PDF files to a variety of other formats and vice versa. Additionally, it performs functions such as editing PDFs, merging PDFs, compressing PDFs, scanning, splitting, merging, rotating, and converting documents. Additionally, there are a few limited security features available, such as electronic document signing and password protection.
1- Either click the "Choose file" button or drag the file into the box.
2- Select the output format you wish to convert to (Word, Excel, or ppt).
3- Save the file to Dropbox or Google Drive after downloading it.
Solution:- How To Convert Word To PDF, Free Or Not?
Adobe invented the PDF file type in the 1990s, and it remained a patent-protected proprietary file type until 2008. Since then, manipulating and converting PDF files has become royalty-free; however, converting PDF files to Word documents remains challenging due to the scarcity of free products that provide this service.
For a long time, only Adobe's proprietary software Adobe Acrobat was capable of converting PDF to Word. Fortunately, a number of successful free PDF to Word converters have recently emerged, permanently democratizing this service.
With a plethora of free development kits and converters available online and via Download, manipulating PDF files has never been easier. Apart from Word, PDFs can be converted to other file types, such as image files. While Adobe, the creator of the PDF, retains ownership of the PDF patent, they have made it freely free to the public. This means that anyone can access and manipulate PDF documents as long as they adhere to Adobe's original PDF specifications.
Solution:- How To Edit PDF On A Mac
If you're a Mac user, you can always use Adobe Acrobat, as described previously. Alternatively, you can use the built-in features on the Mac. This is a guide.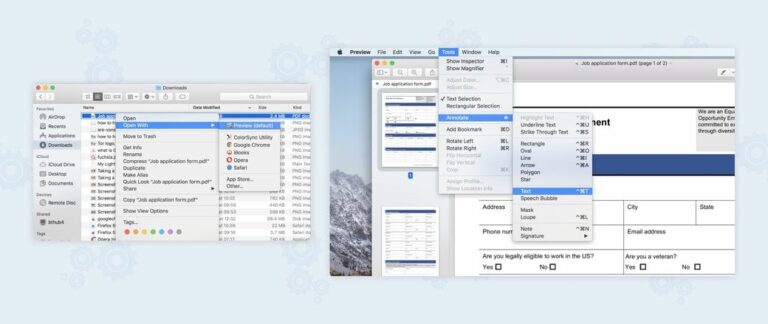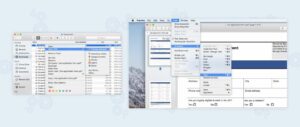 1- Double-click the PDF file to open it.
2- Highlight and copy all of the document's text.
3- Keep Command + Shift + 4 pressed. This command will extract an image from the document.
4- Click and drag the cursor to fit the image's frame. Now, liberate.
5- Verify that the images were saved to your desktop.
6- Open the Pages app and paste the copied text into a new document.
7- Edit the text to remove unnecessary words and make room for your images.
8- Drag the images from the desktop that you extracted and saved into the Pages document. Ensure that they are inserted as necessary.
9- Convert the file to a PDF.
Solution:- How To Edit PDF On Windows
Windows PCs are unable to extract images in the same way that Macs can. However, there's an easy way to accomplish this. Well, Convert the PDF document to Word and then edit it like any other Word document. Easy-peasy! You can either use an online PDF to Word converter or Adobe Acrobat.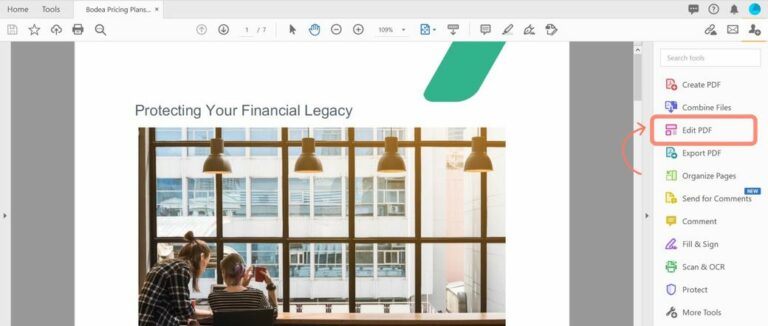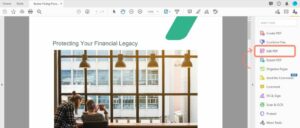 Today, we'll discuss how to use Adobe Acrobat to convert PDF to Word.
1- Open the Adobe Acrobat app.
2- Navigate to File > Open.
3- Select a selection of the PDF document.
4- After the document has opened, on the right-hand toolbar, click on Export PDF.
5- Click Export and then select "Microsoft Word."
6- At this point, you should have an editable word document.
7- Make any necessary changes and then save them as a PDF.
Conclusion:
Well, By now, you should have found a program capable of converting all of your conversion requirements. Unfortunately, it is frequently a rare occasion when one needs to convert from PDF to Word, making the process of figuring out how to do so annoyingly. So, save yourself time and effort in the future by bookmarking this article for future reference!