Knowing precise prayer times, particularly during Ramadan, is critical, as is fasting and leaving active forms. Unfortunately, the timings vary depending on the longitude and latitude of your location. As a result, I have compiled a list of the Best Azan Software free for iPhone and iPad so that you may quickly determine the correct prayer time for any location. These Best Azan Software are remarkably intuitive. They allow you to track your prayers and set alerts and reminders to help you stay in sync with your religious obligations. Let's find out more about these best adhan apps for iOS!
Best Apps for Adhan / Azan for iPhone and iPad
There are many Prayer Times Apps or Best Athan Apps for Muslims Prayer times available on the official stores for Android and iPhone iOS phones that you can download and upload to your phone to keep in touch with ALLAH without interruption.
Find The Appropriate Time For Adhan
In the Islamic society, regardless of how busy one's schedule may be, prayer time is essential and is always observed.
Understanding the hour of Adhan (the Islamic call to worship, also known as Azan) is crucial, especially during Ramadan.
Thanks to several practical Best Azan Software, it is possible to determine the correct time for Adhan and other religious observances that occur throughout Ramadan and the rest of the year. Here are some fantastic options for iOS and Android.
Athan Pro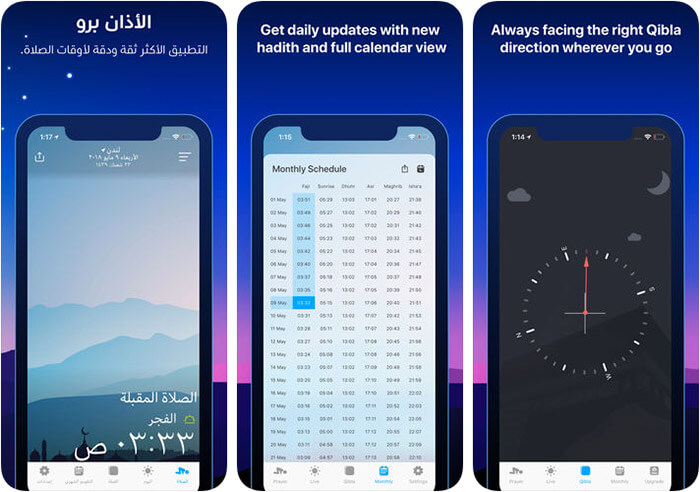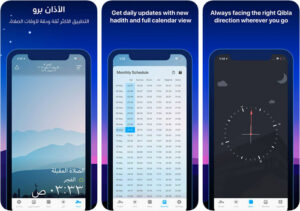 It is among the Best Azan Software for Android free download. Athan Pro by Quanticapps is renowned as a comprehensive smartphone app for obtaining the correct times for Athan & prayer times, and it is relied upon by millions of users.
It includes access to the Hisn Al Muslim and Quran apps, an Islamic calendar, Tasbeeh with phonetic support for English and French, daily Hadith, greeting cards, an integrated compass for locating the Qibla, wallpapers that can be customized, and a variety of athans sounds that can be applied to the call to prayer.
As soon as you launch this best azan app for Android, the software synchronizes with your smartphone and displays the accurate Adhan time. The app is free to download & is compatible with iOS and Android.
Ramadan Times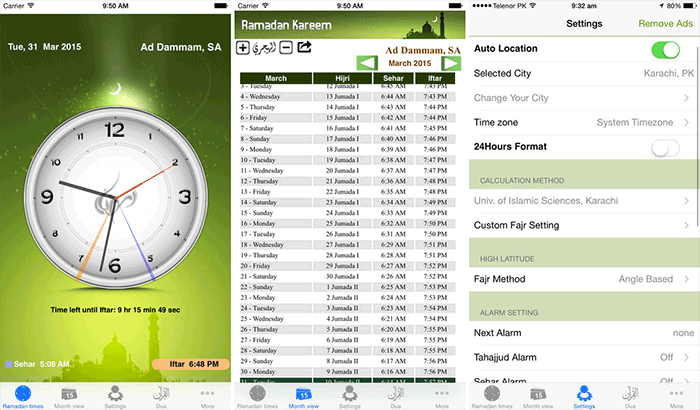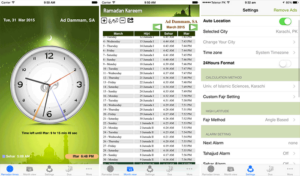 If we talk about the Best Azan Software, PakData has developed an innovative and practical method for determining the correct time for Iftar and Sehar everywhere in the world.
Using the approach employed by the U.S. Naval Observatory to compute sunrise, sunset, and twilight, this best azan app free enables you to set the alarm to mark the times with high precision.
The UI of Ramadan Times is dynamic and displays the remaining time for Iftar and Sehar. In addition, it has an Islamic calendar (Hijri), settings for high latitude time computations, and an Adhan warning that can be heard while running apps.
Ramadan Times is available for free on the App Store and Google Play.
Muslim Pro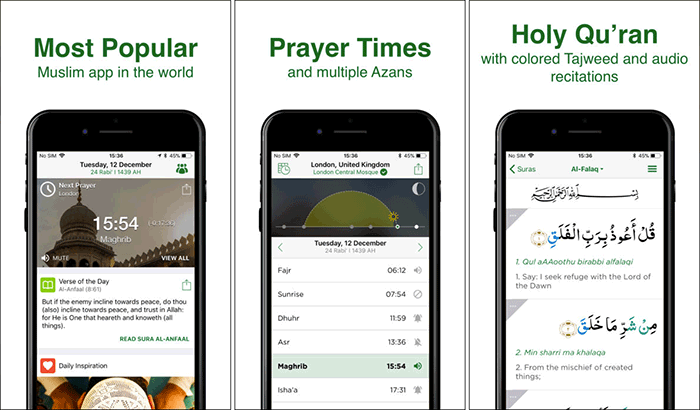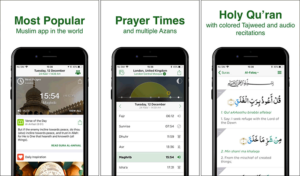 Are you seeking the Best Azan Software free for Android and iPhone? This program from Bitsmedia Pte. is an additional excellent way to determine the most precise prayer and Adhan times.
This best free azan app for iPhone features an Islamic Hijri calendar, a Qibla compass, a listing of Allah's 99 names, and a directory of local mosques and halal restaurants.
If we talk about the top-notch Best Azan Software, Muslim Pro includes the complete Quran with Arabic scripts and translations to various languages, including Italian, Dutch, Spanish, French, audio recitations, and phonetics.
ALSO SEE: Free Text To Speech Software
You can choose from various muezzin voices while receiving audio/video notifications for the call to prayer. In addition, it provides proper Ramadan fasting times and an extensive collection of Islamic greeting cards. Muslim Pro is compatible with iOS and Android devices.
There is both a free version and a $4.99 upgrade available.
Azan Alarm Clock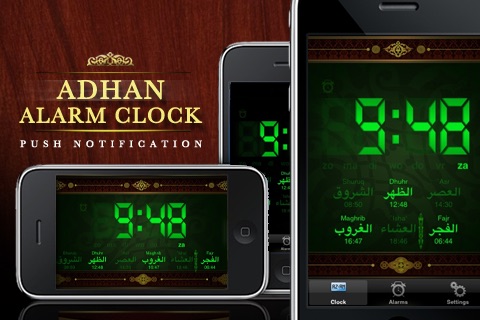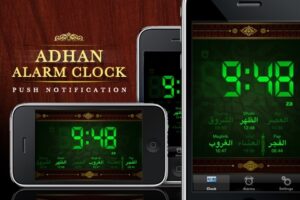 It is one of the Best Azan Software every Muslim must have in 2022. Alarm Clock is a helpful software designed by Omar Mody to help you wake up on time for fajr, sahoor, and tahajjud even while traveling.
You can set the alarm to sound on the weekends for fajr or during Ramadan to ensure sufficient time for sahoor within seconds.
If we talk about the Best Islamic Apps, it has global support and uses the device's GPS to provide precise prayer times wherever you are. In addition, the UI is a stunning Arabic-style clock.
Even if the app operates in the background, Adhan will be played if an alarm is set. It is available free on the App Store.
Azan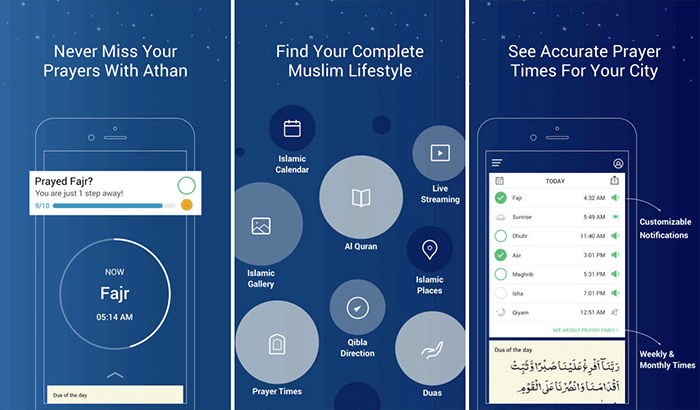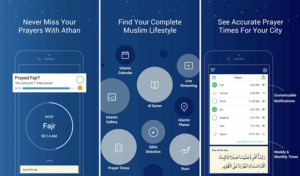 If you are looking for the best Prayer Times Apps for Android & IOS then Azan is a perfect choice. This best azan app for iPhone is very user-friendly. GPS is used to display the exact prayer times. You can fine-tune your prayer times according to your needs and still adhere to your established standards. Use the prayer alarm to ensure that you are never late for prayer. In addition to English, it supports Arabic as well.
Enter your zip code or address, and the correct prayer times will be calculated.
This best islamic apps for Android apk looks up your latitude, longitude, and timezone to deliver location-specific times.
It supports Shia, Sunni, and Azans calculation methodologies.
Furthermore, although the app is still in beta, it functions well and is one of the highest-rated options on Google Play. Moreover, you can download it without cost.
Sun and Moon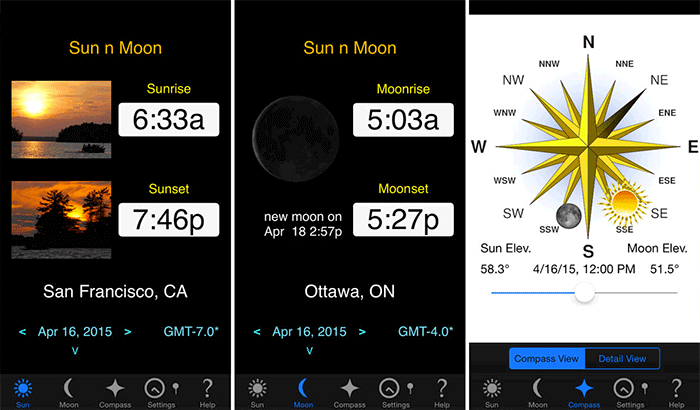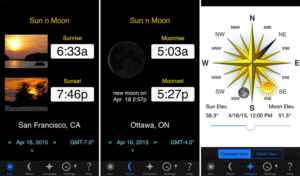 Are you still seeking the best islamic knowledge – apps? Next in our list of the top-rated Best Azan Software is Sun and Moon. Although not developed expressly to mark Adhan, Sun & Moon by Bernard Koenig is an excellent alternative for determining the correct time for prayers as it offers the times of dawn, sunset, moonrise, and moonset.
Enter your location using Google Maps and select your city; the app will offer you precise Sun and Moon information.
Knowing the precise times and locations of the moon will allow you to determine the correct Adhan times. This best islamic apps 2022 is compatible with iOS and available for free download.
Final Words
Now, use these popular Best Azan Software to enhance your prayer discipline. Use the Hijri calendar and its reminders to plan ahead and adequately prepare for holy events. Which of these apps has received the most votes from you? Is there an azan app missing from this list? Please share your thoughts in the below comments section.