Weather Apps: Well, Dressing for the unpredictable weather during this time of year, from sudden heat waves to cold snaps, can be quite challenging. However, having a weather app that provides you with the most up-to-date forecast frequently makes the difference between a good and a bad day.
The days of waiting for the local news or newspaper to deliver the weather forecast are long gone. Instead, a mobile weather app allows you to check the latest forecast at any time and from any location. If you find the built-in weather app, you have a plethora of other options. Some are free, while others are only a few dollars. We've compiled a list to find you in narrowing down your options for the best weather app for your needs.
5 Best Weather Apps
Weather Apps that you can use.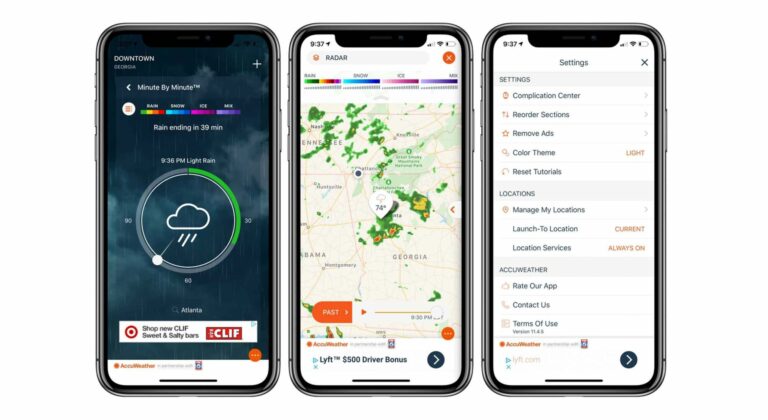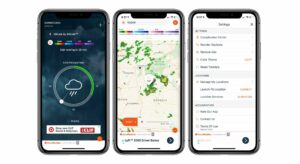 Accuweather was the first weather app to provide hyper-local and accurate data. It is the best Android weather app and is an indispensable addition to your phone. MinuteCast is its best feature. It can provide up-to-the-minute forecasting information, informing you when it will rain and when it will stop. This makes it an ideal choice for areas prone to sudden downpours. Accuweather is a free service. While the app covers all the essentials, it also includes useful features such as radar and Android Wear support.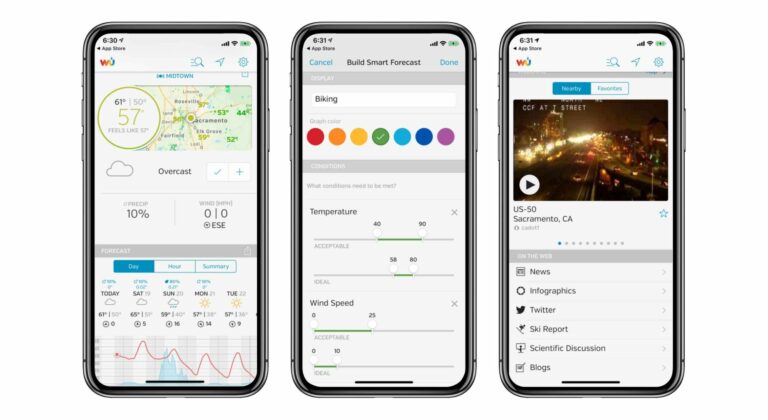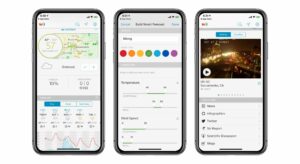 Weather Underground is an incredible app for both hyper-local and long-range weather forecasts. The app's network of over 270,000 weather stations enables it to generate accurate local weather data.
Additionally referred to as Wunderground, the app can provide information about severe weather conditions. Due to its ability to send weather alerts, it is an excellent choice for locations prone to severe weather. For hurricanes, storms, and wildfires, the app includes interactive radar maps and satellite tracking. It is available for free but contains advertisements. If you want an ad-free experience, you can pay a $1.99 annual fee.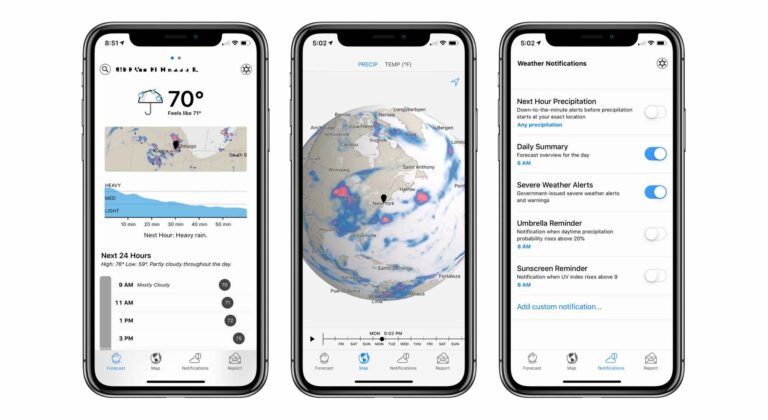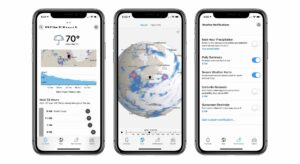 Dark Sky is an excellent weather app to download for your iPhone, primarily due to its beautiful, easy-to-understand interface. In addition, it utilizes excellent visuals to present accurate, minute-by-minute forecasts from its own weather service.
Dark Sky can forecast when it will rain, how heavily it will rain, and when the sun will shine again. Regrettably, the app is not free. It's $3.99 on the App Store, which may seem excessive to some. On the plus side, this is a one-time charge. You do not have to pay additional money to take advantage of all of its benefits. If you own an Apple Watch, you can seamlessly integrate the latest Dark Sky version with your wearable device.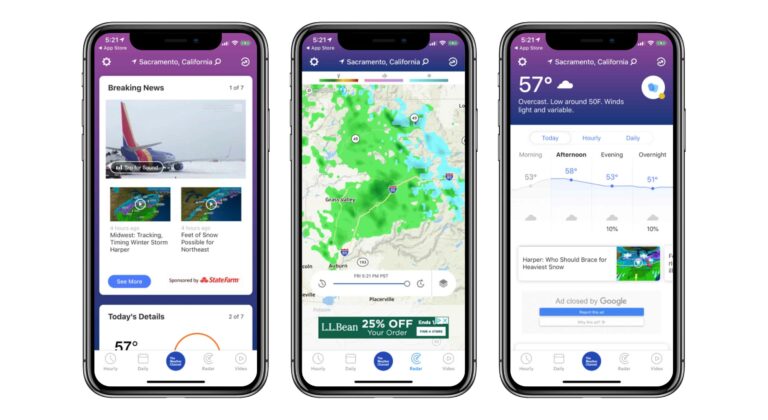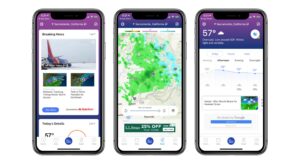 The Weather Channel's free weather app is the best available for Android and iOS. The network has been the primary source of weather data for decades. They now have a free app that will provide you with the most up-to-date weather forecasts. The app provides a 15-day forecast that is updated hourly. Additionally, it provides information about impending storms, safety data, health risks, and even allergy advisories. The app is completely free to download. However, as with other apps, its free version includes advertisements. If you want to avoid advertisements, you can pay a $3.99 annual fee.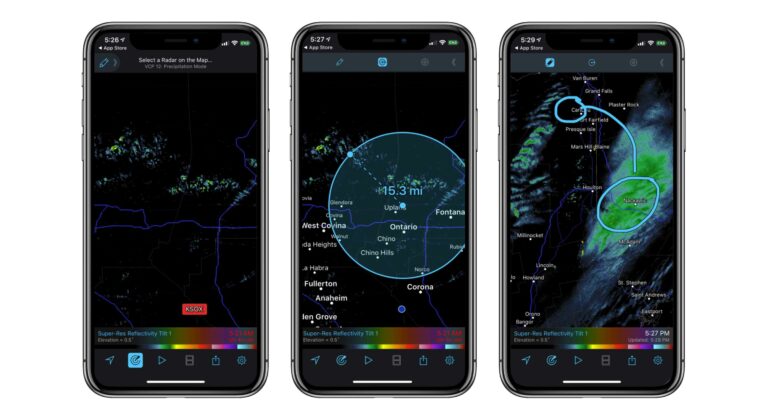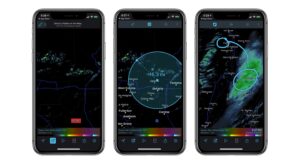 RadarScope is, without a doubt, one of the best weather radar apps available. It's the go-to app for storm chasers of all levels, from professionals to amateurs. That is because it provides detailed information about impending storms and other weather patterns. With access to data from the National Weather Service, NEXRAD, and 233 radar points, RadarScope will alert you the moment a dark cloud data overhead. Almost every digital platform, including Apple TV, supports the app. Its price varies according to the platform, but it is between $9.99 and $29.99.
Solution:- How To Choose the Best Weather App
Which weather app is the best for you? The majority of the time, it's a matter of personal preference. Finally, your choice should be driven by the functionality you desire from your app. Consider the following factors before downloading a weather app.
#1:- Accuracy of weather data. The reliability of a weather app is highly dependent on the source of its data. For example, certain apps merely relay forecasts from government agencies such as the National Oceanic and Atmospheric Administration (NOAA). Well, Others are sophisticated enough to deliver their own weather forecasts. As a result, it's always prudent to investigate the accuracy of various apps. You can, for example, compare their weather forecasts.
#2:- Current conditions. If you prefer an app that displays current weather conditions rather than future forecasts, you're in luck, as the majority of apps can do so for the nearest major airport. The caveat is that this is only ideal if you live near a city.
If you live miles away, the app's forecast for your location can occasionally be way off. In these instances, you should look for an app that includes a robust network of personal weather stations. This way, you've a better chance of obtaining weather information from your current location rather than from a distant airport.
#3:- Radar. Assume you require an app that can inform you whether or not you should bring an umbrella today. Then, you should look for a radar data app that is constantly updated. The majority of radar apps are completely free. Additionally, nearly all radar data in the United States originates from the same source—the National Weather Service.
There are additional options available that go into greater detail. Such an app can inform additional functions in addition to informing you about appropriate clothing choices. These apps can, for example, educate you about the various dangers associated with extreme weather conditions. However, you may have to pay a small fee to download them.
Well, Whether you're an iPhone or an Android user, you shouldn't limit your search for the best weather app to the top-performing apps on the market. Make that you thoroughly research all of your options. Then, utilize the criteria we've provided to find the app that best meets your requirements.