This guide will cover all you want to know about Showmax Free Trial 14 days. So, therefore, take a seat and unwind.
What is Showmax?
Showmax app is an online video entertainment business that provides many services, including children's entertainment, movies, documentaries, and sports. It can be seen online at https://www.showmax.com or downloaded on gaming consoles, tablets, smart TVs, smartphones, and media players via the Showmax app. Besides, to access Showmax, you must subscribe and connect your device to the internet. Assuredly, there are no advertisements, no interruptions, and no restrictions.
The DSTV Showmax Plans
DSTV Showmax comes in four plans: Showmax Standard, Showmax Mobile, Showmax Pro, and Showmax Pro Mobile.
Moreover, Showmax Standard and Showmax Pro are available to subscribers with at least two devices. Laptops, desktop computers, and smart TVs are all examples of devices. These two plans are great for families that wish to stream two shows simultaneously. Additionally, the devices should be High Definition (HD) for optimal video quality. They can also use their game consoles, tablets, media devices, smartphones, computers, and TVs to access these plans. A maximum of five devices can be registered, with only two capable of streaming concurrently. Additionally, a casting feature is advantageous.
Furthermore, Showmax Mobile and Showmax Pro Mobile will operate optimally on smartphones and tablets equipped with Standard Definition (SD) video. Showmax Mobile plans are limited to one registered device and one stream, while Showmax Standard or Showmax Pro customers get full access to everything. Subscribers, on the other hand, are excluded from the casting feature.
Additionally, Showmax's app should have an HD quality option for users to select from and enjoy watching higher-quality movies.
Showmax Free Trial 14 days for new Subscribers – Dstv Showmax Review
Showmax for DSTV Premium Subscribers
Customers of DStv Premium receive Showmax for free, while subscribers of other Showmax packages receive a 50% discount.
Besides, if you are a DStv Premium subscriber, you can add Showmax standard* for free to your DStv payment. Thus, you may binge on even more fantastic movies, domestic and foreign TV series, and children's programming whenever and wherever you like.
Further, if you are a DStv Compact Plus, Compact, Family, or Access client, you can add a regular Showmax  subscription to your DStv bill and save 50%.
Which shows can you watch on Showmax Standard and Showmax Pro?
The Showmax Standard package includes access to thousands of shows and movies. If you want to enhance your experience, consider subscribing to Showmax Pro, which includes everything included in the Showmax Standard plan, live sports from SuperSport, live news, and live music channels.
Moreover, if you're looking for the most excellent sports streaming service, I recommend paying more attention to Showmax. It will broadcast live sports such as the NBA, Diamond League, and Premier League.
It brings families together and educates them about the world's evolution while entertaining them. Documentaries about nature, such as the BBC's Earth from Space and Planet Earth, are educational. In addition, a variety of children's programming from the top children's networks, including Boomerang and Cartoon Network, is available.
As a result, Showmax plans are suitable for everyone, from infants to the elderly, and I would encourage everyone to subscribe to this streaming service.
Does Showmax have a free trial?
How to get your 14-day Free Showmax Trial?
Yes, a 14-day Showmax Free Trial is available. Sign up for Showmax using your credit or debit card, and you'll receive 14 days of free viewing. Signing up is a simple process. All that is required is that you:
Go to https://www.showmax.com
Select your payment method. Canceling within the 14-day

Showmax Free Trial

attracts no charges. So don't worry because nothing gets deducted from your card.
Enjoy watching your best-loved series and movies for 14 days Showmax Free Trial.
After 14 days are over, charges on your card will be applied to keep Showmax entertaining you. After that, subscribers get billed once a month.
Since no contract is involved, feel free to cancel any time.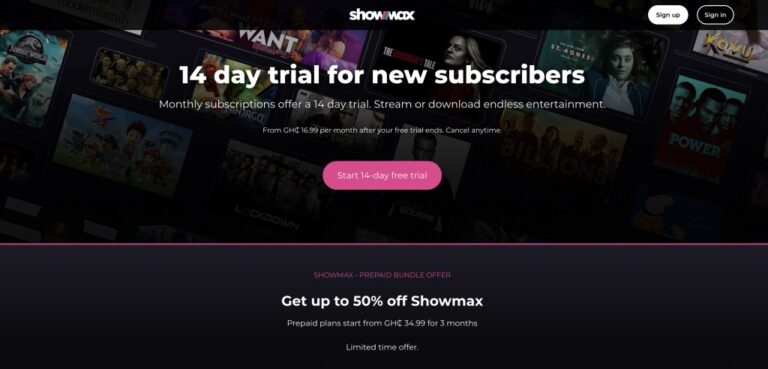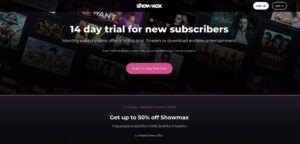 Please note:
Unfortunately, the Showmax Pro plan doesn't have a 14-day Showmax Free Trial because of the live sport.
How much does Showmax cost?
The following are the current Showmax prices for various plans in Africa.
| | | | | |
| --- | --- | --- | --- | --- |
| Country | Showmax | Showmax Mobile | Showmax Pro | Showmax Pro Mobile |
| Botswana | BWP 96 | BWP 36 | BWP 216 | BWP 108 |
| Ghana | GHC 45.99 | GHC 16.99 | GHC 119.99 | GHC 59.99 |
| Kenya | KSH 760 | KSH 300 | KSH 2,100 | KSH 1,050 |
| Namibia | N$ 99 | N$ 39 | N$ 295 | N$ 149 |
| Nigeria | NGN 2,900 | NGN 1,200 | NGN 6,300 | NGN 3,200 |
| Mauritius | USD 7.99 | USD 2.99 | USD 26.99 | USD 13.99 |
| South Africa | ZAR 99 | ZAR 39 | ZAR 449 | ZAR 225 |
| Tanzania | TSH20,000 | TSH 7,800 | TSH 46,000 | TSH 23,000 |
| Uganda | UGX 30,300 | UGX 11,499 | UGX 67,200 | UGX 33,600 |
| Zambia | ZMW 192 | ZMW 72 | ZMW 432 | ZMW 216 |
| **Rest of Africa | USD 7.99 | USD 2.99 | USD 17.99 | USD 8.99 |
| Diaspora | USD 8.99 | USD 4.99 | Not available | Not Available |

Where is Showmax Pro available?
Showmax Pro is available in Benin, Botswana, Burkina Faso, Burundi, Cameroon, Cape Verde, Central African Republic, Chad, Comores, Republic of Congo, Cote D'Ivoire, DRC, Djibouti, Equatorial Guinea, Eritrea, Eswatini, Ethiopia, Gabon, Gambia, Guinea, Guinea-Bissau, Liberia, Madagascar, Malawi, Mali, Mauritius, Mozambique, Namibia, Niger, Réunion, Rwanda, São Tomé and Príncipe, Senegal, Seychelles, Saint Helena, Ascension & Tristan da Cunha, Tanzania, Togo, Uganda, Zambia, and Zimbabwe.
How does Showmax compare to other streaming services?
As indicated by the list of nations above, Showmax is popular in Africa and among Africans. The plans offer a lot of content for a low price, which not all streaming services do. Unlike some streaming services such as Peacock, Hayu, and Paramount Plus, subscribers are entertained from all regions and islands of Africa.
ALSO SEE: Discovery Plus Free Trial
In addition, it features a plethora of excellent local programming. Artists are discovered, their talents are encouraged, and people from all across the continent admire their work. It is one of the reasons I actively encourage my friends and family to subscribe to Showmax's streaming service.
How is Showmax customer service?
It has an average rating of 85 percent based on online evaluations. This good rating is a reflection of their prompt reaction to clients. A review of their Showmax app reveals that they attempt to respond to each consumer who leaves a review, whether positive or bad. As a result, the majority of their app's reviews are positive.
Own verdict
Well, I would recommend Showmax to anyone looking for satisfying video material. This type readily provides a wealth of content for a low price and is available in over 30 international languages.
Showmax FAQs – Get DStv and Watch the Latest Sport
Does Showmax have a free trial?
Yes, it offers a 14-day Showmax Free Trial period. Showmax Free allows you to stream a restricted number of shows with advertisements and has limited features.
Besides, the 14-day Showmax Free Trial period will enable you to experience the full Showmax experience. This trial requires the creation of a Showmax account and the selection of a plan and payment method.
How do I activate Showmax for free?
Access your account by logging in. On your account dashboard, look for the Showmax banner. To activate, click 'Activate'. You'll be prompted to establish an account with Showmax – select Create Account.