We are here to assist you in finding the right rental Property Management Software solution for your work.
Annually, the property management industry in the United States generates around $88.4 billion in revenue. So it's not surprising that several software companies have sprung up to assist investors, landlords, and property managers in staying organized for daily tenant communication, administration, and tax preparation.
Good property management software may assist you in attracting, vetting, and managing renters, responding to maintenance demands, and accounting for all the expenses and revenue.
We reviewed 15 property management software providers to determine which will best satisfy your portfolio size, building and tenant type, and budget. But it is equally vital to comprehend why we chose each of these as the greatest as knowing who is the best.
Best Rental Property Management Software of 2022
Here is the Best free Rental Property Management Software list For Investors (2022).
1. Propertyware
Best for Single Family Homes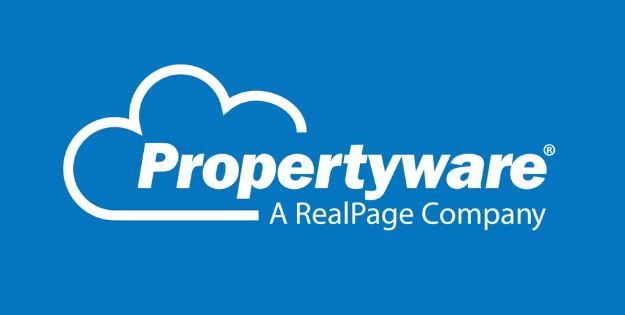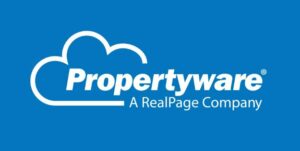 Designed with single-family home landlords in mind, Propertyware has earned its spot as the premier rental property management software for single-family homes.
Propertyware is the ideal choice for single-family home management since it focuses on single-family home property management, is easy to use, and lacks the complex features that commercial property management software can offer. You will notably benefit from Propertyware's management capabilities if you own a single-family property. It includes online rent collecting, accounting, maintenance requests, marketing of vacant properties with leasing agents and listing syndication, tenant screening services, lead tracking and follow-up, and a gateway for vendors.
Propertyware now offers three pricing tiers: Basic, Plus, and Premium, with unit prices beginning at $1, $1.50, and $2, respectively. You may run reports, promote vacancies, manage properties with owner and tenant portals, and streamline maintenance work orders, accounting, tenant screening, and rent payments with the Basic plan. The Plus plan adds text messaging in both directions, eSignatures, and inspections. Finally, you may manage your maintenance projects and add vendor portals at the Premium level. Each respective category has a minimum monthly price of $250, $350, and $450; therefore, this scheme is ideal for managers of at least 250 houses to maximize your unit costs.
Integrations for efficiency include DocuSign, although Propertyware has chosen not to integrate with third-party software for marketing, lead generation, or tenant screening.
RealPage owns Propertyware; a company started in 1998 in Texas that services over 12,400 clients in North America, Europe, and Asia. All Propertyware's management team members have more than 20 years of experience in the real estate market, ensuring that consumers receive software created by experts who understand the industry.
2. Buildium
Best Overall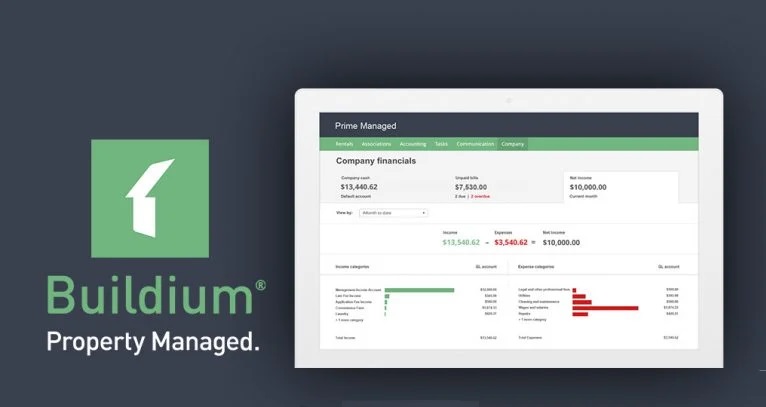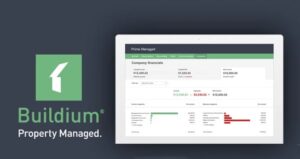 Built by property managers for property managers, Buildium's all-inclusive service enables property owners to remotely manage all parts of their business, making it the perfect option for both residential and association property managers.
Buildium, our overall favorite, is an all-encompassing platform that enables property managers to manage everything from online rent payments to vacancy management and maintenance cycles. Buildium automates property management through accounting, business operations, leasing, and community association management tools. For example, it facilitates the lead-to-rent collection cycle with the tenant and lease tracking, automated rent and fee reminders, complete general ledger accounting, and reports on demand. In addition, Buildium includes a dedicated tenant interface that lets property managers immediately receive online payments.
While there is no free version, a free 14-day trial is available. Besides, pricing is based on the number of units you manage, with the essential plan beginning at $50 per month—the greater the quantity, the lower the cost per unit. Nevertheless, your overall expense will be greater. Buildium additionally offers an annual billing discount of 10% to customers that sign up for the service.
Buildium is somewhat user-friendly, as it simplifies the entire process, yet novice users may be unable to use all of its features. In addition, Buildium provides a ticket-based customer support system to aid users in navigating the platform, although there have been concerns regarding the delayed responses clients received.
Buildium integrates with several external software platforms, including Apartment List, Apartments.com, Forte, HappyCo, HotPads, Lovely, TransUnion, RevSpring, MSI, Nelco, Tenant Turner, PayNearMe, Zillow, and Zumper, to enable its functionalities.
In 2002 and 2003, when Michael Monteiro and Dimitris Georgakopoulos launched their rental property business, they recognized they needed software to make property management easier. As a result, Buildium was created in 2004 and rapidly developed to 10,000 customers by 2014, collecting numerous honors and recognitions.
3. AppFolio
Best for Advanced Features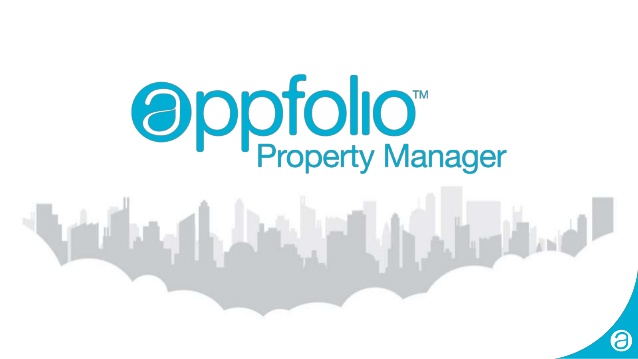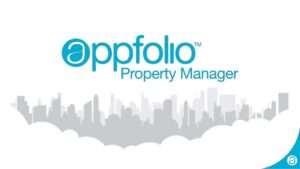 AppFolio, popular among landlords with extensive rental portfolios, provides the most advanced capabilities for remote control of your units and additional support and resources for expanding your business and maximizing efficiency.
In addition to supporting all unit types, AppFolio has built a vast array of capabilities for landlords who need to operate and expand their business remotely, earning it our top choice for sophisticated features.
AppFolio offers two types of plans for residential landlords, in addition to plans for community associations and commercial landlords. The cost per unit for the plans is subject to a minimum, though. For residential landlords, the minimum monthly cost for the core plan is $280.
To create an AppFolio account, you must pay an onboarding charge. After that, each property is priced as follows:
Residential Core: $1.40/unit monthly (min $280)
Residential Plus: $3/unit monthly (min $1,500)
Plans for community associations and commercial landlords are also available.
This landlord property management software is compatible with various property types, including residential homes, business structures, student housing, and community associations. AppFolio includes everything a landlord may need, including accounting software, rent collection features, maintenance requests, marketing tools for many platforms, utility bills, and customizable online leases, all of which are tailored to the unique property type managed.
Advanced features include an artificial intelligence-powered leasing assistant, professional websites for your properties, premium leads, tenant screening, tracking of proof of insurance, online payments, maintenance contact center, utility management, automated accounts payable, and tenant debt collection.
AppFolio was founded in 2006 and has over a decade of expertise in providing clients with property management services. Their property management software was their initial product. Thus, it is the one they are most proud of and continues to develop. More than six million units are managed on the platform, and the company is publicly traded on the NASDAQ.
4. MRI Software
Best for Commercial Property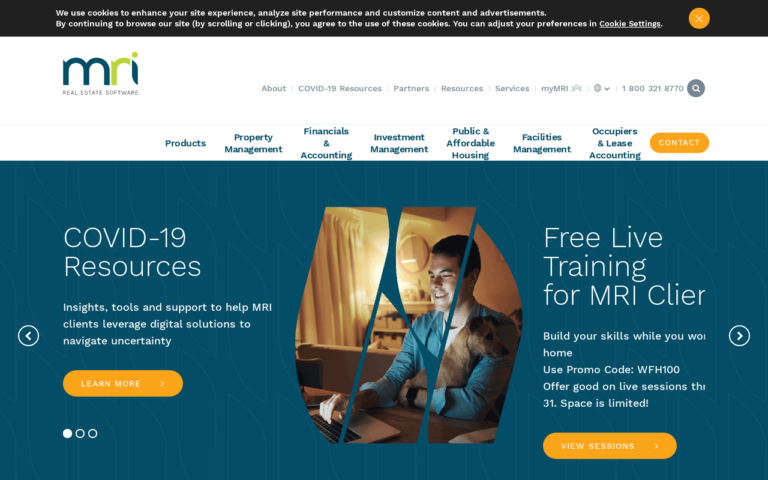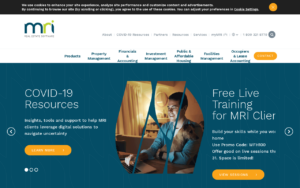 Next in our list of the best free property management software for small landlords is MRI Software. Investment management, strategic planning and analysis, lease abstraction, space management, and compliance with affordable and public housing are not found in competing systems, making MRI Software our top option for managing commercial properties like apartment communities.
Commercial buildings have more financial complexities, and the investors who hold them have varying information needs, such as investment management reports and strategic planning and analysis. MRI Software is the best rental property management software for commercial properties because it was created initially to satisfy these requirements.
This best property management software supports commercial and residential properties; however, due to the design of its features, it is better suited for the commercial sector or extensive residential property portfolios. A smaller residential landlord would pay for too many useless features. Therefore, this commercial property management software is best suited for managing more extensive property portfolios and is available for installation or purchase as Software as a Service (SaaS).
As MRI Software offers various services to various clients, it does not have set pricing tiers but tailors the price to each client's requirements. It means that users can select which services to include in their package and whether they require some or all of them, including online rent collection, lease templates, integrated accounting, maintenance requests, tenant screening insurances, multifamily insurance, resident communication, investor relations, rent and vacancy tracking, manager compliance, and credit risk management.
There is no free trial, and to receive a quote, you must speak with a representative over the phone, so they can determine how you want to use the software. While this is a lengthy procedure, in contrast to competitors who publish their pricing online, there are numerous reviews on Getapp.com and Software Advice from commercial property managers and owners who have rated MRI as a good value for the price they were privately charged.
MRI Software, founded in 1971 and headquartered in Cleveland, Ohio, began by providing property management services and has now evolved to include cloud-based software and an app. More than 52,000 clients in more than 170 countries and more than 300 partners supporting them attest to their dependability and quality.
5. TurboTenant
Best Free Option


The pricing mechanism of TurboTenant places all costs on tenants, making it the most excellent free choice for landlords.
Numerous free online rental property management software systems provide free trial alternatives, but frequently for a limited number of units or a limited amount of time. Not so with TurboTenant, which remains completely free regardless of the number of units you manage. Moreover, while many free rental property management software platforms leave much to be desired, TurboTenant is easy to use and has a basic UI and installation process.
While TurboTenant is free for landlords, tenants are charged $45 for app and screening, 3.49 percent for credit card rent payments, and as little as $8 per month for optional renters insurance. In addition, landlords can acquire state-specific lease agreements for $39, an unlimited amount of electronic signatures for $9, and 32 standard landlord forms for $145 for a one-time price.
This best rental property manager includes various features to assist landlord tenant administration, such as handling apps and screening tenants online, establishing dedicated listing pages, and sending tenant communications in bulk from an inbox. In addition, by integrating with Facebook Marketplace, Realtor.com, Rent.com, Apartment List, RentPath, and additional rental listing sites, landlords may market a vacant property across numerous platforms with a single click.
Then, you may do tenant screenings using TransUnion, send and sign documents online via the platform, and make online payment and maintenance requests. ACH payments are free. However, credit card payments incur a 3.49 percent fee.
Although it is a free cloud-based platform, Forbes and Inc.com have covered and complimented it. Since their creation in 2015, the dependability and support of TurboTenant's online tools have been demonstrated and endorsed by the over 400,000 landlords who use their program.
The company's outstanding reputation has resulted in three rounds of venture capital funding totaling over $10 million from three lead investors.
6. Yardi Breeze
Best Cloud-Based Software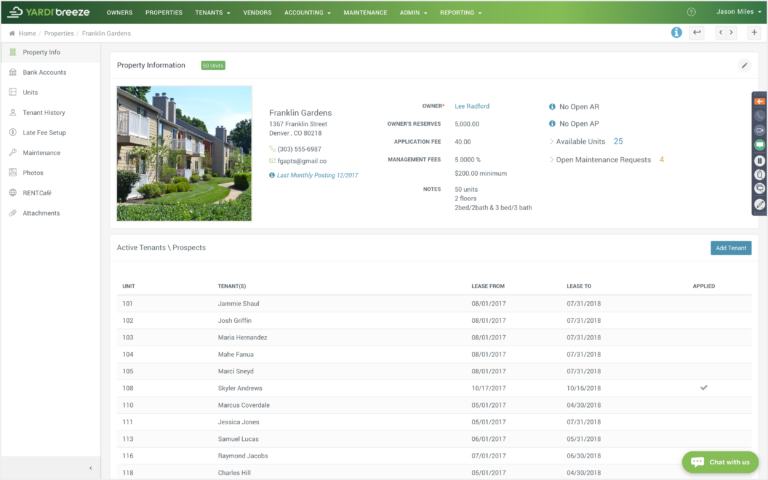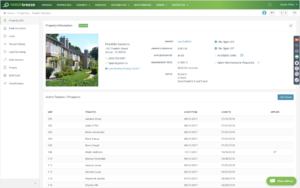 Yardi Breeze, a pioneer in delivering cloud-based rental property management software services, has distinguished itself from other cloud-based software platforms by its added capabilities.
Furthermore, this cloud-based property management software is the best option if you want access to advanced features that facilitate using your cloud-based property management software.
Yardi Breeze has no startup fees. Adding a unit costs $1 per month with the less expensive residential plan, making it a reasonably priced property management software for all of its features. The basic package requires a minimum monthly expenditure of $100 ($1 per unit) for residential properties and $200 ($2 per unit) for commercial properties. Additionally, a second residential package called Breeze Premier costs $2 per unit per month and has a minimum cost of $400.
Among features are built-in accounting software, online rent collection, rental apps, templates, addendums, maintenance requests, automated marketing, activity calendars with tasks, renters insurance, tenant communication options, workflow sheets, and outsourced payments. These allow customers to manage their properties, tenants, and money online effortlessly. In addition, Yardi Breeze is distinguished by a feature that lets tenants take images with a mobile device and upload them straight to an online repair request.
Yardi Breeze provides free training and customer support to help you set up your account and learn the software, even if you have trouble understanding the system itself.
Yardi was created in 1984 to provide real estate sector software solutions.
7. SimplifyEm
Best for Few Properties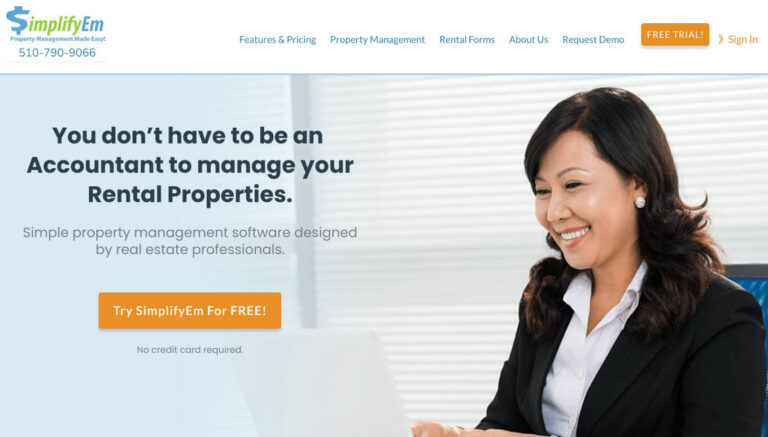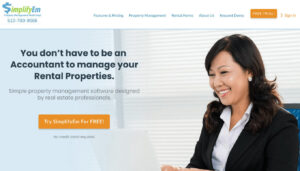 SimplifyEm, which real estate professionals created, offers the optimal mix of pricing and functionality, making it the ideal alternative for landlords who need assistance managing a few properties but cannot afford the exorbitant cost of other software plans.
While SimplifyEm allows units from one to two thousand, it is best suited for a small number of properties because you can start with as little as $25 per month if you have less than ten properties.
The monthly cost begins at $25 for 10 units. The price for 20 units is $35, while 30 units cost $45 each. The price is $60 for 50 units, $75 for 75 units, and $100 for 100 units. Create a free 15-day trial account without entering a credit card number. This platform does not require a specialized professional administrator. It should be accessible to independent property owners regardless of their experience level.
Furthermore, All packages include email and phone support, income and expense tracking, tenant and lease management reporting, renters insurance, and additional services.
ALSO SEE: Best Interior Design Software
SimplifyEm is meant to provide landlords with a simple and cost-effective approach to managing their properties. It permits users to monitor income and expenditures, collect rent and tenant apps online, screen renters, generate and analyze owner reports, manage maintenance requests, store documents, and automate repetitive chores. Because it's cloud-based, you can get started instantly.
SimplifyEm, a company founded in 2006, aims to combine the most advanced user experience and web technologies to provide a software solution that fulfills the needs of busy real estate agents. The company has clients throughout the United States and Canada and has managed approximately $42 billion in real estate assets.
What Is Rental Property Management Software?
Rental property management software free is a set of tools designed to assist landlords in attracting leads, screening renters, and managing leases. Typically, communication tools allow managers and renters to discuss maintenance issues and broadcast worldwide announcements, such as when snow removal is scheduled. Lastly, rental property management software also includes an accounting component. You can accept and record payments and generate reports for income, expenses, cash flow, and other strategic and financial planning considerations.
Who Should Use Rental Property Management Software?
Rental property management software is available to novice investors with small rental portfolios (fewer than 10 units) and major commercial property management businesses. Diverse organizations develop software with specialized features that work well for particular categories of landlords, property types, and portfolio sizes. These programs can benefit a DIY investor and a team of users, including the owner, property manager, facility maintenance, and leasing agent.
How Much Does Rental Property Management Software Cost?
Most property management software solutions charge between $1 and $2 per managed unit. While shopping for a program, it is crucial to know that most providers will charge you a minimum monthly cost, typically $200 to $250, even if you do not own enough properties to justify such a fee. TurboTenant is a significant exception to the norm, as it charges the tenants rather than the landlords. TurboTenant, like nearly all other property management software companies, offers optional options that landlords and tenants can pay for and use.
How We Chose the Top Rental Property Management Software?
We evaluated 15 rental property management software companies and selected the seven best for these frequent categories. Less-priced programs and those with minimal fee requirements performed better. In addition, we favored apps with strong ratings and testimonies for ease of use and installation. The software we suggested has a strong reputation for prompt customer service, integrations to broaden and expedite the rental management process, and a comprehensive feature set to facilitate efficient and cost-effective property administration.
The Bottom Lines
In most situations, rental property management software is a cloud-based solution that enables landlords to manage their processes, including lead generation, occupancy, payment, maintenance, insurance, and financial accounting and reporting. In addition, numerous software platforms specialize in specific specialty circumstances, ranging from tiny portfolios of single-family houses to big portfolios of mixed commercial properties.
Moreover, it is essential to evaluate not just the current characteristics of your portfolio but also how you anticipate it to change in the future. For example, will the platform you select be able to expand with you, and if so, will it be reasonable when you are still managing a modest portfolio? These are the questions we have attempted to address in our analysis. Buildium placed highest overall because its features are solid, and its platform can scale with the growth of your portfolio. In addition, it is a cost-effective solution for those just getting started at $50 per month to manage up to 150 units.