Salesforce has been named among the most prospective career paths for several years. Indeed, providing solutions that allow businesses to communicate with their customers, learn their needs, collect and use the relevant data most efficiently, Salesforce has become the ultimate salvation for companies that understand the actual value of efficient Customer Relationship Management (CRM). If you are thinking of Salesforce training in India and job offers, then the following data may help you to make a good decision.
No wonder qualified and, most importantly, Certified Salesforce Administrators and Salesforce Developers are remaining among the most sought-after professionals on the modern job market.
But will the trend live on in the observable future, and is there a point to invest your time, effort, and money in Salesforce Training today?
In this article, we shall discuss the perspectives of such careers as a Salesforce Administrator or Salesforce Developer on the Indian job market, their salary range, and factors that affect it today.
What is Salesforce, and why is it so popular?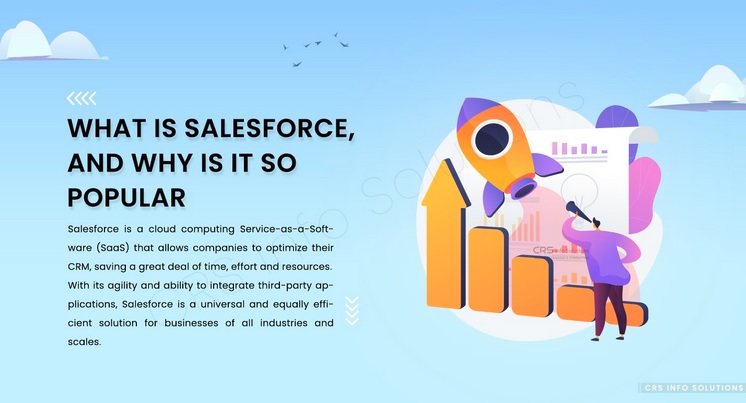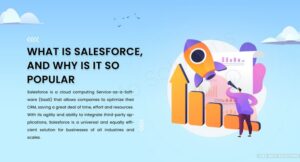 Salesforce is a cloud computing Service-as-a-Software (SaaS) that allows companies to optimize their CRM, saving a great deal of time, effort, and resources.
With its agility and ability to integrate third-party applications, Salesforce is a universal and equally efficient solution for businesses of all industries and scales.
The recent data shows that companies that adopted the Salesforce technologies have shown an average 55% increase in customer satisfaction and at least a 30% increase in sales revenue.
Moreover, Salesforce appears to boost the global economy in general, providing more than 4 million jobs worldwide. It becomes possible because the Salesforce processes themselves, and sufficient training and Salesforce Certification match the demands of the modern time.
For example, CRS Info Solutions, one of the pioneers of Salesforce Training worldwide, allows its aspirants to study Salesforce and prepare for Salesforce Interview and Salesforce Certification online, which helps them adjust, find their career path and develop on the job market of the future.
What are average Salesforce Salaries in India?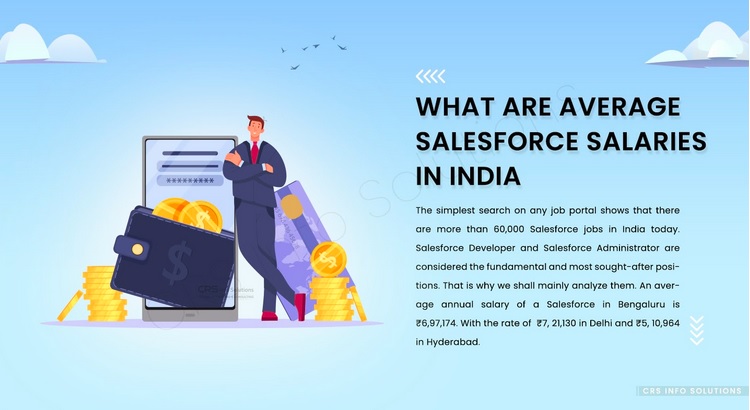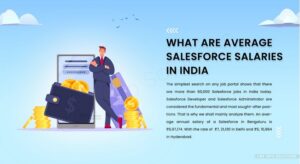 The simplest search on any job portal shows that there are more than 60,000 Salesforce jobs in India today. Salesforce Developer and Salesforce Administrator are considered the fundamental and most sought-after positions. That is why we shall mainly analyze them.
An average annual salary of a Salesforce in Bengaluru is ₹6,97,174. With the rate of
 ₹7, 21,130 in Delhi and ₹5, 10,964 in Hyderabad, it is indeed the average salary rate in the profession on the Indian job market, which is significantly higher than the average ₹3,87,500 annual Indian salary mark.
A Salesforce Developer may see even brighter perspectives on the Indian job market today, starting at the ₹10, 21,224 mark in Bengaluru.
However, the Salesforce salaries in India don`t only depend on the region. Several other factors can influence your paycheck:
The size of the company – the bigger the company is, the larger is its customer database and the more money it is willing to pay to a skilled Salesforce Administrator and a Salesforce Developer to manage it efficiently;
Experience – logically, the more experienced you become, the higher is your salary. For example, a Salesforce developer can typically count on a ₹1,159,441 annual wage after 5 years of work in the field. However, even entry-level aspirants who manage to choose a proper training program and understand the importance of Salesforce Certification show a much higher growth rate than their more experienced colleagues;
Level of skill and preparation – your career perspectives and salary will significantly depend on your set of skills and ability to demonstrate them. That is why it is so important to choose a training program that offers preparation for Salesforce Interview.
Conclusion
Salesforce offers the most relevant and efficient CRM solutions for the business community, which are essential today when companies change and evolve moving to the virtual space due to the impacts of COVID-19.
Mainly because of that and also due to endless development possibilities, Salesforce remains the most prospective career path in India in the observable future. Make sure you should be well versed with the latest Salesforce interview questions and answers to face any tough interview.
However, it is essential to receive proper training from a reputable Salesforce Education Platform and demonstrate your competitive advantage to a prosperous employer through preparation for Salesforce Interview and Salesforce Certification.
All those features, along with dedication and ambition, will give you a competitive advantage over other candidates and open broad perspectives of the Salesforce job market in India.