You might become careless and unprofessional if you make grammar or spelling errors. To check proper grammar and spelling, it is crucial to use a tool like Grammarly or Grammarly alternative. Although both Microsoft Word and Google Docs include built-in spell checks, they could be better and regularly fail to catch spelling and grammar errors. Because of this, you should rely on something other than them and instead use an additional program in addition to the built-in spell and grammar checker in Word or Docs. Use grammar and spell checkers to prevent grammar errors while sending emails or even professional text messages on WhatsApp Web.
Any app without in-app spell checking and grammatical errors, such as Facebook Messenger or Skype. You might not think spelling errors in business emails are a big impact, but they could affect how others perceive you. Although Grammarly is an excellent checker, there are some drawbacks. Some users experience problems like slow loading times while using Grammarly with Google Docs, for instance (Grammarly support for Google Docs is presently in experimental mode). Here are the best free Grammarly alternatives for you, whatever the reason you have for wanting to use one.
Some Best Free Grammarly Alternative Options In 2022
We have compiled a list of the best Grammarly alternatives and the reasons for choosing each one. In addition, each tool has been thoroughly explained, along with its advantages and USPs.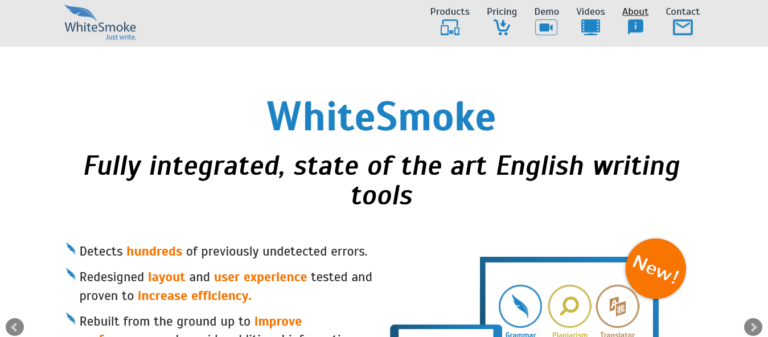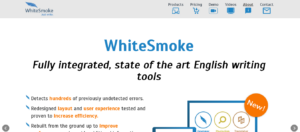 Among the best Grammarly alternatives is WhiteSmoke, a fully integrated program that serves as the cutting-edge English writing tool for detecting grammatical errors by enhancing user experience and advancing English writing skills. It uses Natural Language Processing in conjunction with AI (Artificial Intelligence) and other algorithms to assess documents, identify errors, and generate the most useful recommendations. It is a great Grammarly alternative that is reasonably priced for finding out more about your grammatical errors.

Features:
1 – It aids in error detection and offers more details on each error.
2 – The most recent software version features a revamped user interface, extensive content updates, and user experience testing.
3 – Checks grammar using checking-edge technology, natural language processing technology, and artificial intelligence.
4 – This Grammarly alternative helps a Grammar checker, Spell checker, Style checker, Punctuation checker, and translator to assist you in producing error-free content.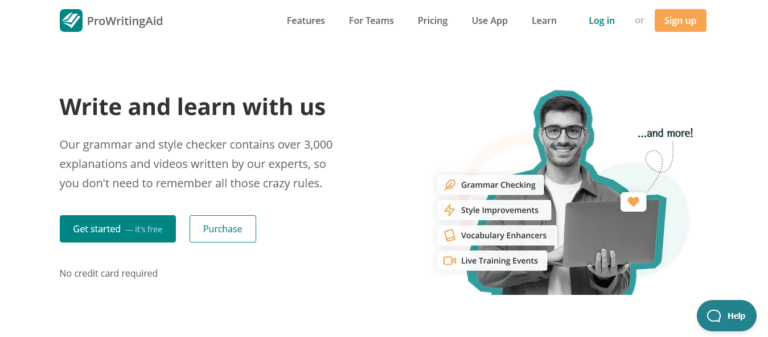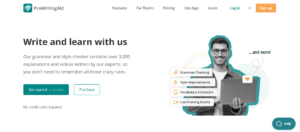 ProWritingAid is a program that contains editing, plagiarism detection, grammar checking, and a style editor to help you improve your writing and English skills. In addition, the program acts as your mentor or private writing coach, ensuring you are comfortable with how you show yourself. Well, the best Grammarly alternative is this app. The useful feature is that it functions on all platforms, including Google Docs. ProWritingAid software is mostly used by fiction and nonfiction authors, bloggers and content writers, students, business writers, and others to check their grammar and minimize grammar errors. ProWritingAid performs pretty well, and the software is quite satisfying, similar to Grammarly, according to numerous customer assessments.
Features:
1 – Comprehensive reports for analyzing your work, including over 20 different types of reports.
2 – Improved compatibility with apps like Scrivener, Apache Open Office, Google Chrome & Docs, and Microsoft Office.
3 – Contextual Thesaurus report for quickly experimenting with different wordings while allowing synonym suggestions for each word in your text.
4 – Word explorer searches many dictionaries for the right words and provides in-depth explanations to save you time.
5 – Grammar checking software for manuscripts assists in detecting redundant words, creating context-sensitive style recommendations, and displaying sentence lengths and variants.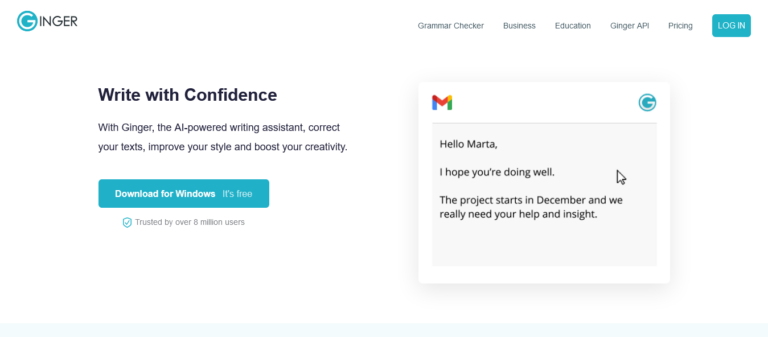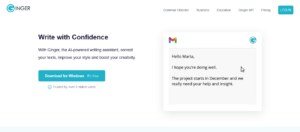 An Israeli start-up, Ginger Software, uses NLP to improve written communication, English speaking proficiency, writing productivity, and grammar and spelling. Grammar errors are automatically found and corrected by the software's grammar checker and punctuation tools, allowing you to write more effectively and quickly. This Grammarly alternative is accessible via various platforms, including a desktop app, a web app, a mobile app, etc. When necessary, it can take the place of Grammarly. Ginger is useful for multitaskers since it boosts productivity and saves time.
Features:
1 – The Sentence Rewriter tool enables you to produce original content and enhance it.
2 – Customized keyboard layouts, word prediction for typing speed, and emojis for self-expression.
3 – A personal trainer to help you get better at English, a dictionary to make sure you never miss a word, and a translator to make sure you never get lost.
4 – All browsers are supported, including iOS, Mac, Android, Chrome, Safari, Windows, and Chrome keyboards.
5 – Grammar rules to make sure your work is correct and proofread to check for errors quickly.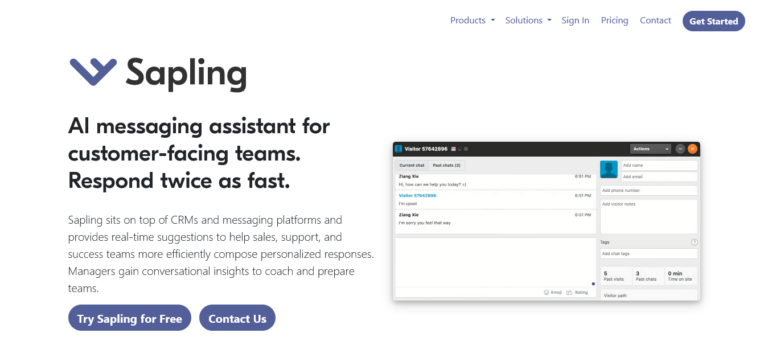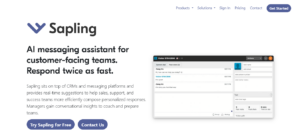 Sapling is a business-focused AI-powered grammar checker, and writing assistant that competes with Grammarly. Compared to other spelling and grammar checkers, this Grammarly alternative detects 60% more language quality and grammar errors thanks to a machine-learning system trained on millions of English sentences. It serves as a browser plugin for all of your text-based web services and business apps, such as Gmail, Salesforce Lightning, and Zendesk. In addition, Snippets and Autocomplete Everywhere boost productivity and writing effectiveness while enhancing grammar and spelling.
Features:
1 – The spell-checking and grammar checker are some of the best in the class.
2 – To save time, automate often-used phrases and extend them using search and shortcut extensions.
3 – Autocomplete – similar to Gmail autocomplete but accessible through browser extensions across all online apps.
4 – Your unique dictionaries, errors, and models.
5 – The only grammar checker that offers a no-data-retention policy or on-premises/self-hosted deployment choices.
6 – Chrome, Edge, and Firefox browser extensions are accessible.
7 – Extensions for Google Docs, Outlook, and Slides total 7.
8 – A pop-up window is accessible for quickly copy-editing phrases.
9 – Over time, it picks up on your habits.
10 – Setup and control by a team.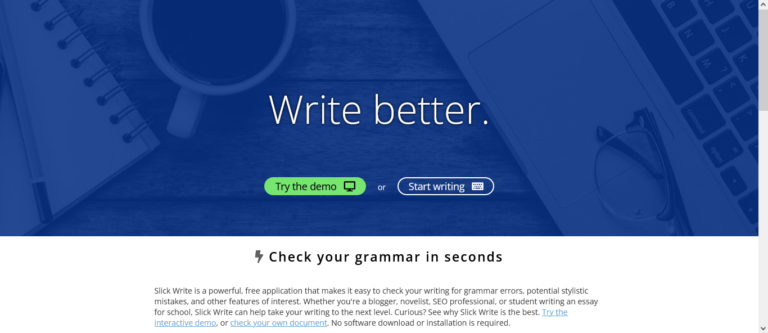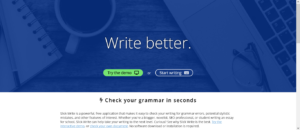 Slick write is a Grammarly alternative. Whether you're a student, blogger, novelist, SEO expert, agency, or teacher looking for plagiarism, Slick Write makes it quick to check your writing for grammar, checker, and style errors. It swiftly checks your grammar mistakes and is, best of all, a Grammarly alternative that is completely free. Well, no software has to be downloaded or installed. This grammar and spelling checker is excellent. The program is accessible to everyone and is web-based. The writer has control over what the website is capable of.
Features:
1 – Use a quick grammatical check to save as much time as you can.
2 – Feedback that you may tailor to your desired style.
3 – Data encryption guarantees the confidentiality and privacy of your documents.
4 – Make reports and presentations with ease and impact.
5 – Improve your rankings by attracting readers with excellent content.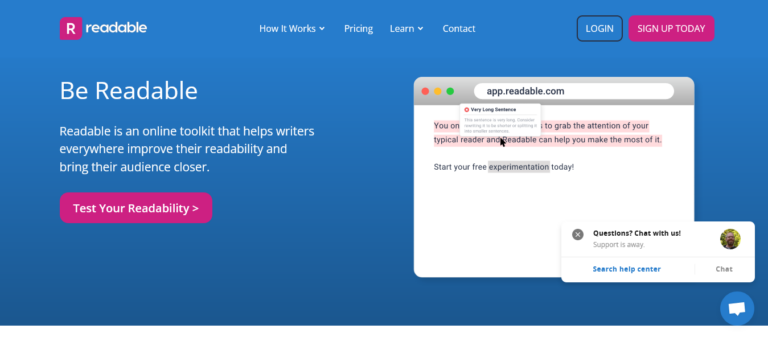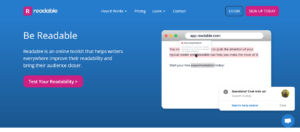 The readability of your work is assessed by Readable using techniques like Flesch-Kincaid and Gunning-Fog, as the name suggests. A grammar and style checker that detects errors like passive voice, cliches, and adverbs is also included in Readable. It may also evaluate the keyword density of your text. The URL checker function of Readable is a helpful tool that enables you to assess current websites. Every URL a premium member has rated is fully accessible in their rating history. So if you're looking to optimize a blog or website, this Grammarly alternative is helpful. Although Readable does not have a free version, the ContentPro plan does provide a seven-day free trial.
Features:
1 – Spelling and grammar checker Readability test with style checker.
2 – Calculator for keyword density.
3 – It may be used in emails, papers, and online.
4 – URL analysis.
5 – Integrations with Dropbox and Slack rank five.
6 – Different varieties of English are supported.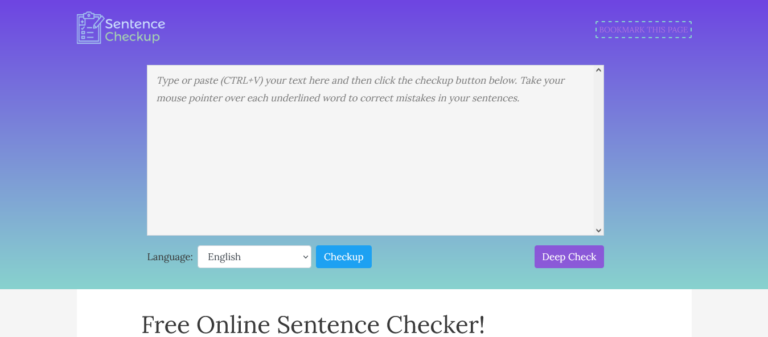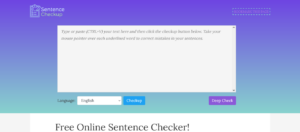 The SentenceCheckup is a free online grammar and spelling checker that does a complete check to ensure that your papers are error-free and that you are writing properly. To make your message clearer and more concise, the software detects grammatical errors and examines your sentence structure. The editor hunts for the wrong words in your text and swaps them out with the correct ones. It offers hassle-free grammatical and spelling checks and is similar to Grammarly. SentenceCheckup should only be used if you want to avoid paying an editor to double-check your work as this site offers this service for free.
Features:
1 – A free, sophisticated online grammar and sentence checker.
2 – Look at the organization of your content to make it more depth.
3 – Grammar examines for errors and omissions in your sentences.
4 – More difficult errors are checked for and removed using sophisticated techniques.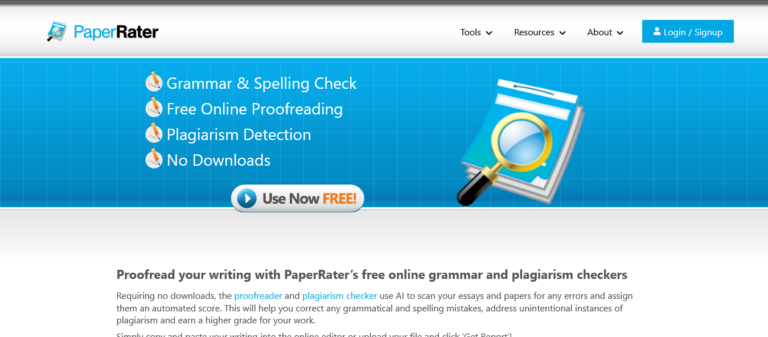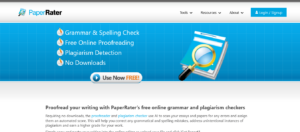 A free online grammar and spelling checker called PaperRater was created exclusively for students to use when revising their papers. For several reasons, it's one of the best Grammarly alternatives. It does rigorous grammatical checking, which helps in the detection of subtle errors, and its proofreading system provides suggestions for making writing better. The program uses artificial intelligence and data science to get quick findings in 5 to 15 seconds. For students who want their projects or content to stand out, PaperRater is a unique tool.
Features:
1 – This Grammarly alternative also uses artificial intelligence and provides cutting-edge content grammatical checking.
2 – To determine how much of your content is unique, plagiarism detection text uses an originality score.
3 – The vocabulary builder provides various words, phrases, explanations, and examples as you write to improve your English writing skills.
4 – A computerized grading system that offers a rough idea of what you may receive for your work.
5 – Automatic proofreader, real-time and straightforward results, comments and writing assistance, grammar and spelling checker.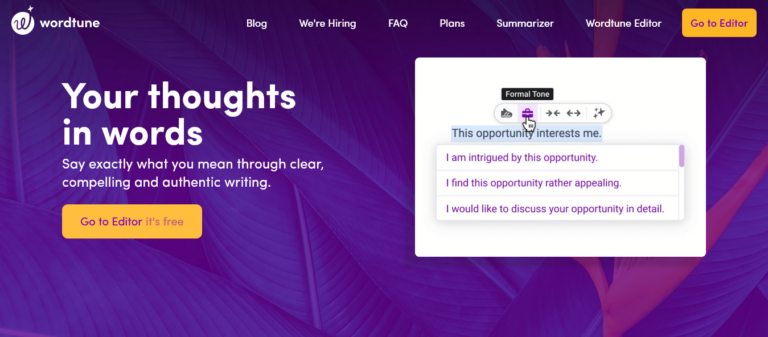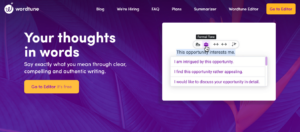 WordTune is a tool for enhancing your grammar and style, much like the other Grammarly alternatives on our list. However, it focuses on whole-sentence rewrites rather than just as a proofreading tool. Many suggestions for sentence rewriting are displayed when you hover your cursor over a sentence. If you type in "I'm looking for the best grammar tool because I want to write awesome content for my website," for instance, it will give you ten suggestions, including "My website needs a good grammar tool if I want to write compelling content" and the more formal "I seek the best grammar tool to produce awesome content for my website."
Features:
1 – Offers several sentences rewriting sentences.
2 – Click on a word or phrase to see synonyms.
3 – An online editor and Chrome plugin.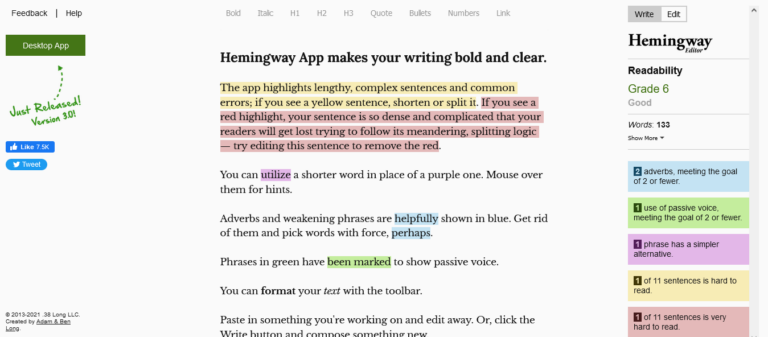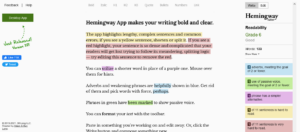 The Hemingway App, one of the best grammar checkers, lightens your job by flagging wordy phrases in yellow and more egregious ones in red, removing unnecessary words from your content. Highlighting adverbs, passive voices, and complex phrases helps keep your writing straightforward and understandable. Hemingway App is the best Grammarly alternative. You may start writing in Hemingway editor right away to assess your work and decide where you need to put more of your attention. Fantastic writing software helps you write better and with better grammar.
Features:
1 – It can be accessed remotely from any place without an Internet connection, according to point 1.
2 – With only one click of a button, Hemingway will format your writing.
3 – You can quickly post your articles to Medium or WordPress with a one-click link.
4 – Export your content to any outside editors you may have, such as Microsoft Editor.
5 – Discuss the best parts of Hemingway's work with your coworkers.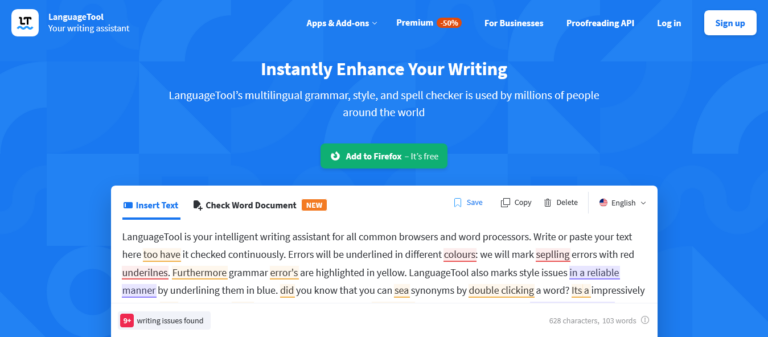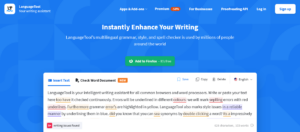 LanguageTool is a plagiarism and proofreading tool that checks your writing for grammatical, stylistic, and spelling errors. It is also the only program that examines your writing in more than 20 languages. It resembles Grammarly and other apps for checking spelling and grammar in several ways. The software is the best grammar checker since it has hundreds of patterns for detecting errors in English, French, German, and other languages. While its Enterprise choices are for businesses, agencies, and other organizations, its Premium plan is for students, authors, and freelancers. It is simple to use as a Grammarly alternative. LanguageTool is a free, open source tool for checking your text in many languages. A wide variety of consumers can use its paid programs.
Features:
1 – A Firefox and Chrome browser add-on.
2 – Add-on for Microsoft Word, LibreOffice, and Google Docs.
3 – It has autocorrection, a customized dictionary, and support for many languages.
4 – There are choices for suggested correction, keyboard shortcuts, rule-based, and privacy.
5 – Online open source software for discovering errors and problems during proofreading.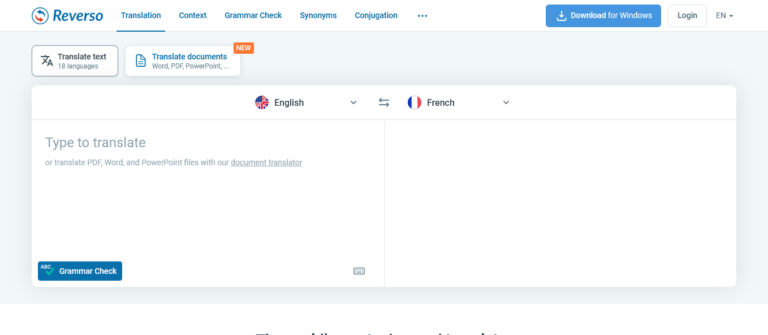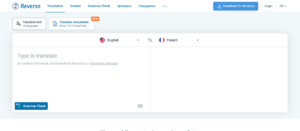 French, Spanish, German, Italian, and Russian are just a few of the 14 languages that Reverso offers online translation and grammar checks in. It is the best among the assortment of Grammarly-like online grammar checkers. With its online translator, you may translate words, phrases, idioms, and short texts into various languages. To help users increase their vocabulary, this Grammarly alternative also provides accurate translations using cutting-edge technology. Websites and documents may be translated using the great translation app Reverso.
Features:
1 – Contextual examples and instant translations into numerous languages.
2 – You may achieve precise results by using a guide to natural pronunciation for sentences.
3 – The program may be used without an Internet connection.
4 – There are options to view previous translations and search history.
5 – Flashcards for word memorization, results sharing, and real-time advice.
FAQs: Grammarly Alternative
What Are The Free Grammarly Alternatives?
Tools like ProWritingAid, Ginger Software, LanguageTool, Druide Antidote, Hemingway App, PaperRater, Reverso Translation, GrammarCheck, QuillBot, and Virtual Writing Tutor are just a few examples.
Is The Grammarly Free Version Worth It?
It's better to use a free version of a wonderful tool than to forgo having a second pair of eyes read your writing. It will find a lot more spelling and grammar mistakes than a typical free checker. Install Grammarly and put it to the test if you're a writer on a low budget.
Is The ProWritingAid Better Than Grammarly?
ProWritingAid is a great tool, although it moves more slowly than Grammarly. Grammarly completes the scanning, documenting, and report generation process in a fraction of the time. A Chrome and Safari add-on and desktop tools for Mac and Windows are all included in ProWritingAid Premium.
Is The Hemingway Better Than Grammarly?
Use our link to check a 20% discount on Grammarly, the best tool for checking your writing for plagiarism, grammar, and spelling. Hemingway is a superior option if you want to sharpen your writing's language and concision.
Is Grammarly Pro Free For Students?
Students can use Grammarly Premium for free.
Also, Check:
The Bottom Line:
Everyone needs a grammar, proofreader, or plagiarism checker tool to create professional, error-free content. These tools also help authors work more effectively, quickly, and efficiently. In addition, these tools help reduce the expense of employing an editor to check for plagiarism and proofreading checking. ProWritingAid, WhiteSmoke, and Ginger are the best Grammarly alternatives for consumers who require advanced features. The best options for those who want to translate and check their work for errors across many languages are LanguageTool and Reverso.