The Converter365 online programme is the answer to the question of "how to convert AMR to MP3." That's all there is to it when it comes to converting files from one format to another. Nonetheless, there is something or more that we will present you to in addition to the complete AMR to MP3 conversion process. Let's start with the AMR and MP3 file formats for beginners.
You may learn how to convert amr to mp3 in this post, which is detailed below.
What is AMR File?
The Adaptive Multi-Rate ACELP Codec file, or simply AMR, is typically used for encoding speech-based audio files. Cell phone voice recording and VoIP applications are prime examples of this. The vAMR format makes advantage of advancements such as DTX, CNG, and VAD. In case you were wondering, Discontinuous Transmission (also known as DTX) is a means of briefly turning down a phone when no voice input is received.
Comfort Noise Generation (CNG) on the other hand, is a programme that generates background noise for voice communications. Finally, Voice Activity Detection (VAD) determines whether or not speech is present.
Many programmes, gadgets, and apps, however, do not support the AMR file format, and therefore must be changed to another file type on a regular basis. VLC, ARM Player, QuickTime, and Audacity are among the programmes that support the AMR file extension.
If you don't have any of the aforementioned audio or video players, you should definitely use an AMR to MP3 converter. Alternatively, an AMR to WAV converter can be used. Also included is an AMR to WMA converter Or any other converter that will convert AMR files to any other common format.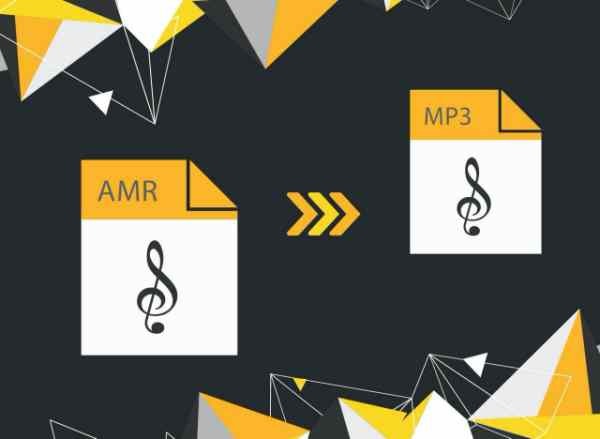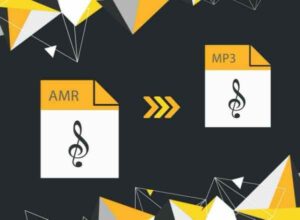 What is an MP3 File?
MP3 is one of the most common audio file formats. It was designed and established in 1992 by a business called Fraunhofer Gesellshart.
It is a digitally encoded file format that is based on MPEG-1 Audio Layer III or MPEG-2 Audio Layer III. MP3 files are also compressed files that are one-tenth the size of popular WAV and AIF files containing the same amount of data. Frames are typically included in MP3 files. Frames, on the other hand, are constructed from a header and a data block. Typically, information blocks contain information on the audio itself, such as frequencies and amplitudes.
Because of its small size, this file format is perfect for online streaming. It is the finest file format for listening to music online, burning CDs, and sharing audio files via social media. Furthermore, the MP3 player is extensively utilised and supported by a wide range of devices and audio players.
However, if you need to convert your MP3s for some reason, there are a few file types to choose from. The most prevalent audio file formats are AAC, FLAC, and OGG.
How to Convert AMR to MP3– Step by Step
Now that you've learned everything there is to know about AMR and MP3 file formats, here's how to convert AMR to MP3. You should follow a simple three-step approach. The best part is that you don't need to download any additional plug-ins or anything to use this AMR to MP3 converter. So, let's get started.
Assume you've already chosen the files you want to alter, and all you need to do in this first step is publish them online. There are several ways to upload your files. To begin, you can use the well-known 'drag and drop technique, or you can browse files directly from your computer system and even include a link that connects directly to your AMR file.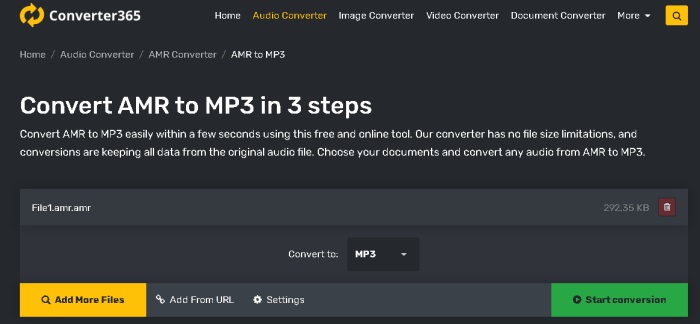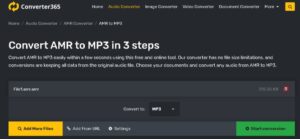 Following that, it's conversion time. After you've submitted the file, click the 'Start conversion' button and wait a few minutes for the algorithm to do its thing.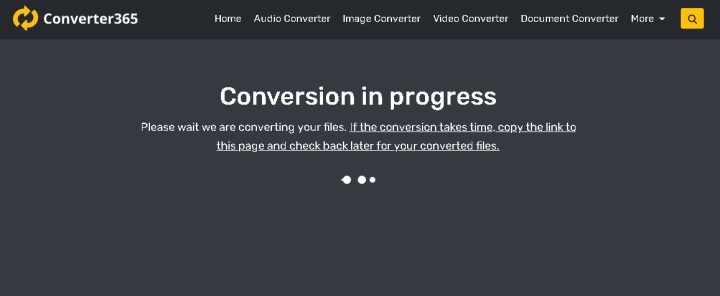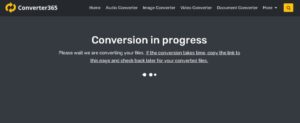 Finally, you must download a newly changed MP3 file. To do so, simply click the 'Download file' option. And that's it. You have successfully converted AMR to MP3. It's quite simple.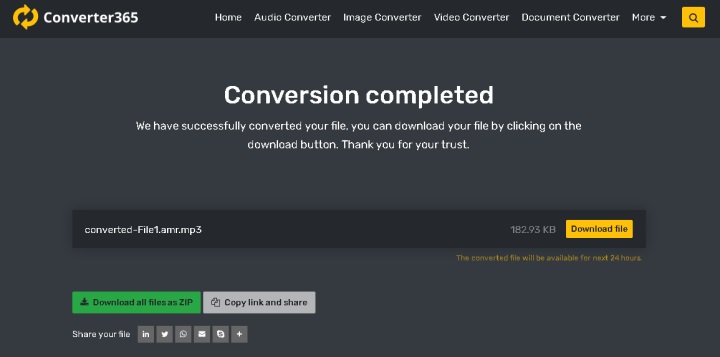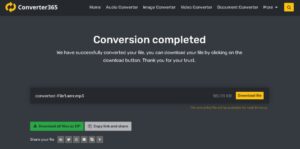 Why Should You Use the Converter365 to Convert AMR to MP3?
You most likely already know the answer to this question. Obviously, you should use Converter365 to convert AMR to MP3 because it is simple to use. But that's not all. There are numerous explanations for this.
Before you decide not to use this converter, you should know that every uploaded file is entirely secure Why? Because it is removed one hour after the conversion is completed. No matter how many files you publish or how significant they are, they will vanish and no third party will be able to access them.
Another advantage of this AMR to MP3 converter is the finest possible conversion quality. All original data is saved throughout the conversion thanks to a variety of well built algorithms. Do you not consider us? Try it out for yourself. Here are the Step-by-Step Instructions for Converting AMR Files to MP3. You can now upload and convert AMR to MP3 online.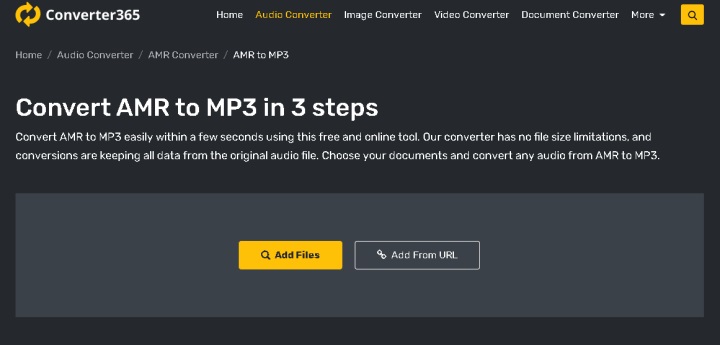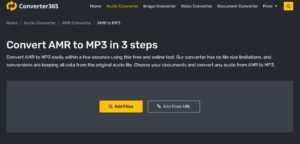 Furthermore, because this converter is available online, it is ubiquitous and available on all devices. It makes no difference if your computer is running Linux, iOS, Windows, or another operating system. You can still convert AMR to MP3 in a matter of seconds. Another reason you should use Converter365's AMR to MP3 converter is its speed. All of your data will be converted from one file type to another in less than 30 seconds.
Similarly, Converter365 is free to use. To obtain all changed files, you do not even need to submit any personal information such as your e-mail address or name. As a result, this AMR to MP3 converter is ideal for all users Furthermore, you can convert as many files as you require. There are no daily, weekly, or monthly limits on the quantity of changed files. It almost sounds too good to be true, but trust us when we say it isn't. Converter365 encompasses all of the foregoing and much more.