Everyone is in search of one or the other ways of easy earning. Many start
something with their brick-and-mortar store while others opt for something online.
There are several ways to earn money easily online but many get cheated in this
business. Some of you might have even lost your money rather than earning. This
means it is important to identify the correct ways to earn money online.
There's one easy way to earn money online and that is reseller hosting. For reseller
hosting you need to have the basic knowledge of hosting. If you are a regular
internet user or have a website might already have an idea about web hosting. In
web hosting, you get a small space and bandwidth for your website so that you can
host it on the server for the world to see it.
In reseller hosting, you can sell the web hosting services to the people who are
looking to host their website. This is the best option for web developers and designer
to earn extra. They can earn extra by selling web hosting services to their clients
along with the website designing and developing services.
When you search for a cheap reseller hosting provider, you will find plenty of web
hosts offering this solution. Therefore, selecting one from them would become
difficult for you. To make it simple, here's a list of the best Swadeshi reseller hosting
providers.
MilesWeb
Started in 2012 in India, MilesWeb became popular in other countries too. They are
an award-winning company and have received awards for their performance,
security, reliability and customer service. They have gained customers trust because
customers believe they are in safe hands with MilesWeb. They offer different types
of web hosting services for different types of businesses.
Plans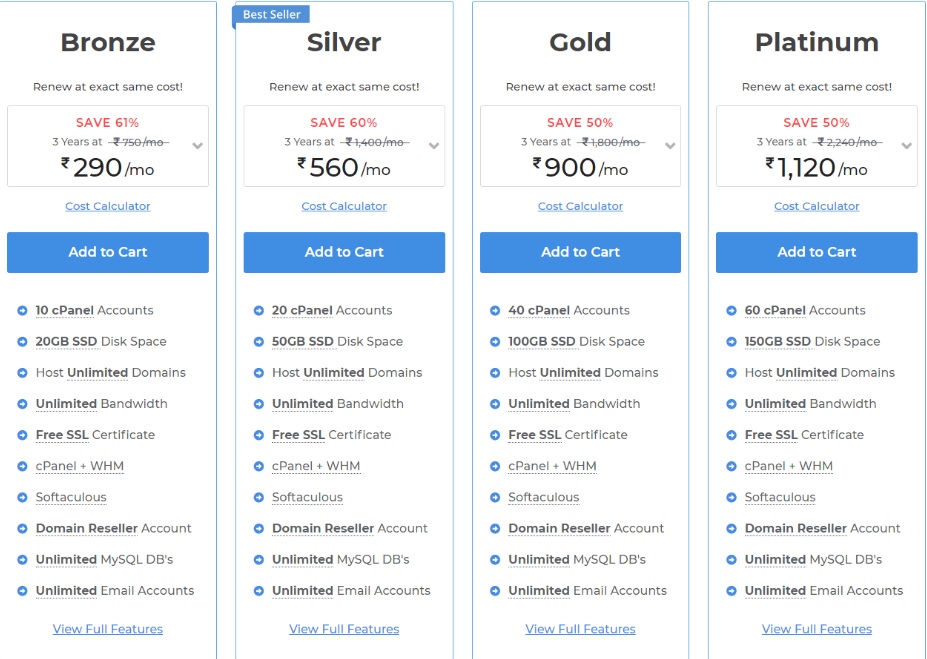 Their reseller hosting plans start with Bronze at Rs.290/mo, Silver at Rs.560/mo,
Gold at Rs.900/mo and Platinum at Rs.1,120/mo.
Features

 Free Migration
 Free SSL Certificate
 Free Domain Reseller
 Host Unlimited Websites
 100% White Labeled
 100% SSD Storage
 Web Host Manager (WHM)
 cPanel Control Panel
 One-Click Installer
 Free Website Builder
 Datacenter Choice
 Malware Scan & Protection
 Email Service
If you have any queries related to your reseller hosting, you can raise them either via
live chat or email. Moreover, they offer 99.95% uptime and 30 day money back.
Thus, MilesWeb helps you to earn more via reseller hosting by offering free domain
reseller account to sell domain and also web hosting add-ons that you can sell to
your customers.
InMotion Hosting
InMotion Hosting was started in 2001 in Virginia, USA and also has its office in India
too. They offer fast, reliable and affordable web hosting. They have an award-
winning customer support team and have received and also have been rated as the
best hosting provider by different review sites. They offer web hosting plans such as
shared, WordPress, VPS, dedicated and reseller hosting.
Their reseller hosting plans start with R-1000S at $15.39/mo, R-2000S at $21.99/mo
and R-3000S at $30.24/mo.
Plans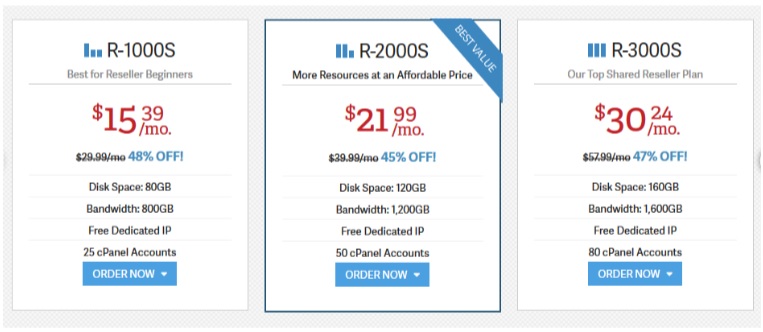 Features

 Free SSD Drives
 Free Billing Software
 cPanel& WHM included
 90-Day Guarantee
 Free Domain Reseller
 Free Auto Installer
Data Backups
 White Label
 IMAP, POP, SMTP
 Multi-Layer Defense
You get 24/7 customer support, 90 day money back guarantee, and 99.9% uptime
guarantee. They also offer free domain reseller account so that you can earn extra.
HostGator
HostGator was started in 2003 in Ontario, Canada. The company has its presence
all over the world including India and are a part of EIG group. Being the oldest web
hosting company they offer web hosting options to cater the needs of all types of
businesses.
Plans

Their reseller hosting plans start with Aluminium at Rs.1019/mo, Copper at
Rs.1199/mo, Silver at Rs.1559/mo and Gold at Rs.1919/mo.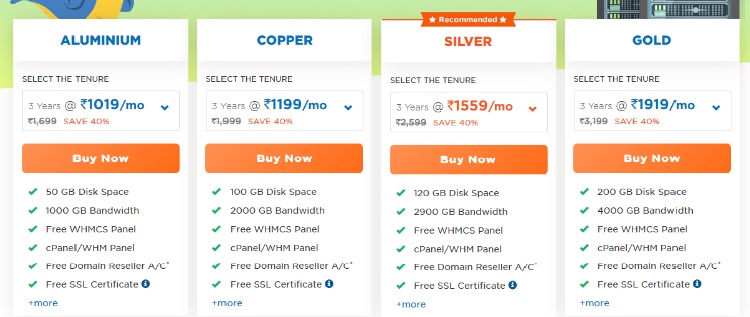 Features

 WHM Control Panel
 Professional Email
 cPanel Control Panel
 Programming & Databases
 Free WHMCS Panel
Free Domain Reseller A/C
 Free SSL Certificate
 Unlimited Domains
 Private Name Servers
 One-click Script Installer
HostGator offers 45 day money back guarantee, 99.9% uptime and 24/7 customer
support. The free domain reseller account helps in earning extra.
HostPapa
HostPapa is one of the best hosting companies started in 2006 in Canada. They aim
at offering a fully-featured hosting package by top customer service and powered by
renewable green energy. They offer shared, VPS, WordPress and reseller hosting.
The company is well-known for their commitment to security, technical expertise,
reliability and best customer support.
Plans
Their reseller hosting Bronze at Rs.2,000/mo, Silver at Rs.2,600/mo, Gold at
Rs.3,400/mo and Titanium at Rs.6,600/mo.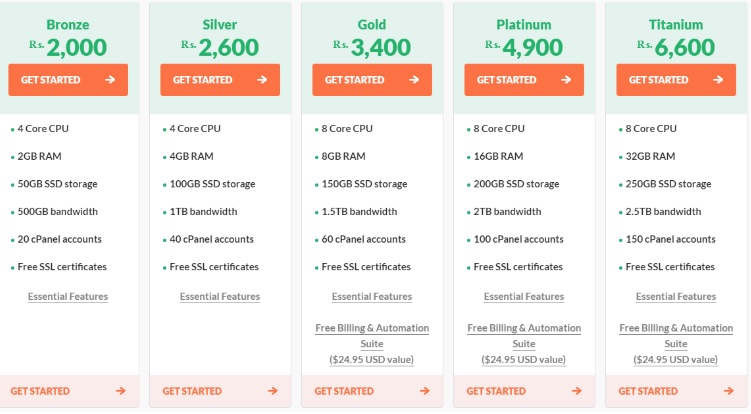 Features

 White‑Label & Brandable Control Panel
 Protection Power Advanced Security Suite
 Softaculous 1-Click App Installer
 Free SSL Certificates
 Resource Management Dashboard
 SSD Drives
 WHMCS
 Free Account Migration
Their team is available 24/7 to support their customers via live chat, email and
phone. You also get 30 day money back guarantee and 99.9% uptime.
A2 Hosting
A2 Hosting was started in Michigan, U.S.A. in 2001. They also have their office in
India. They are popular for their blazing fast web hosting solution. Their web hosting
plans comprise of shared, dedicated, VPS, reseller and WordPress. They offer the
best web hosting features for developers.
Plans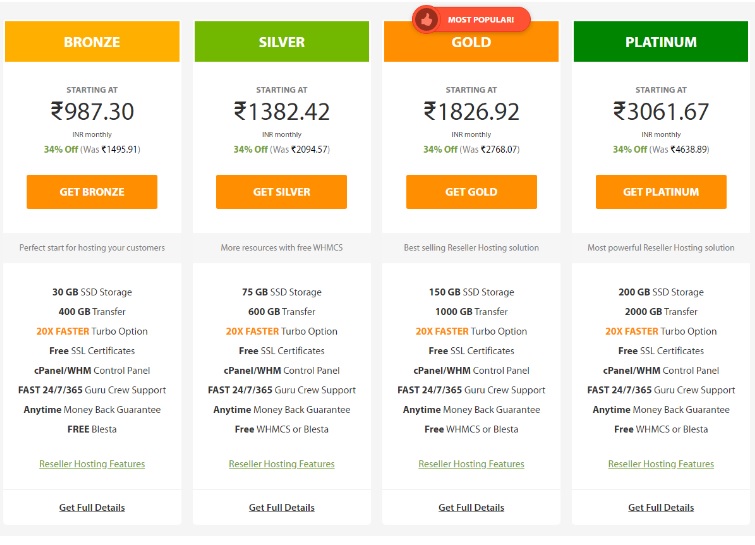 Features

 SSD Storage
 Free SSL Certificates
 cPanel/WHM Control Panel
 Free WHMCS or Blesta
 Free SSL Certificate
 Free Domain Reseller Account
 Server Location Options
A2 Hosting offers 24/7 customer support, 99.9% uptime guarantee and anytime
money back guarantee.
The Verdict
From the above web hosting providers you can select your reseller hosting partner
easily. Each of the reseller web host offers you all the features needed to run your
web hosting business.
But from all of them MilesWeb's reseller hosting plans are more affordable, reliable
and best for you. If you still have doubt you can compare each of them and also
check their reviews prior to selecting one.